LuceLu


New York USA
Member since 8/4/06
Posts: 1637
Skill: Advanced Beginner



Date: 11/19/07 9:07 AM

I have a thread on the Beginner board about reclassifying myself as a beginner because many times I feel like I am an advanced beginner pretender. A seamstress wannabe, faking it. Some of the angst is related to starting new projects and frustrated by the feeling of starting again at square one, reinventing the wheel again. I had a lovely response to my original SOS post and found that many people feel like I do and there are no actual routes one takes to become a comprehensive seamster, just constant trial, error, research, self education, periodic classes, repetition, shampoo, rinse repeat. Above all, i guess to constantly challenge oneself to learn new stuff and stretch, reach for the harder stuff as you go along. There are so many books out there and articles in magazines who talk about the industry technique, the coutoure technique, and of course, we have the pattern directions and our grandma's rules. I never thought there would be some many ways to put in an elastic waist!

My gaps are collars and cuffs (never sewn one, inserted one, have avoided them all together)--thus have never made a button down blouse. Blue jeans, Moving a back zipper to a side zipper, Smocking, Welt pockets, Bound buttonholes (actually, I've never made a buttonhole for a button larger than can fit in my autumatic buttonhole foot), Bias garments (making my first skirt with bias pattern pieces in a dress now), I have never sewn a jacket or coat, gloves, --I don't think I have done a skirt-but one is in the que, I have not fitted a basic shell/dress/pants as a sloper or fitting muslin.

Yet I buy the patterns for these garments, I buy fabric, I collect books, magazines, bookmark and print websites and tips, pore over our talented experts here (our advanced sewers, our couture skilled members) (I so heart the membership here)--I need to move forward. i'm so tired of being the new girl, the novice, the beginner. I can't be the ingenue forever.

So what are your gaps?

TammyD


Georgia USA
Member since 4/4/07
Posts: 396
Skill: Intermediate



Date: 11/19/07 10:11 AM

My gaps are numerous I'm certain. If I run through your list..

I have done collars and cuffs (they're really not that bad)

I have done welt pockets

I have done bias garments

I'm in the midst two jackets right now--one coming along better than thte other.

I've not sewn blue jeans--I have a pattern and fabric but it keeps getting moved to the bottome of my list.

I've not moved a zipper from where ever it's intended spot is.

I've not smocked.

I'm still working completing an FBA.

I still have difficulty getting my shoulder seams just exactly the way I want them--but it's still much better that it used to be.

It seems with every pattern I open and every piece of fabric I buy there is something new to learn and experience....

cecelia


Connecticut USA
Member since 5/4/06
Posts: 76
Skill: Intermediate



Date: 11/19/07 10:17 AM

LuceLu, I can only speak for myself when I say that I think I understand, also labeling myself an advanced beginner. There are so many different ways to do things. I was so confused for a while wondering which way was "the right way." As it turns out. I've had to try a lot of different methods and find out which one I prefer for myself. It usually is the method where I have a "lightbulb moment" after struggling. I've done collars, cuffs, and jackets along with buttonholes, but my latest "Gap" has been with double welt pockets. I love double welt pockets, but the sheer thought of cutting into good fabric on a jacket made me want to cry. I've been sewing all around them making simpler things, but it was always in the back of my mind. So last week I decided to get myself over it. I started making "samples" to ease my stress using different methods. I finally found a method that works for me after 2 weeks and many failures. I hope the coat turns out as well!

------
Cecelia (Christine)
"So what is the solution? Do as the duckling does. Go ahead, struggle through it...Do your art...Keep moving." Clarissa P. Estes


Trinity.


Massachusetts USA
Member since 10/9/05
Posts: 1386
Skill: Intermediate





Date: 11/19/07 10:33 AM

OH, my goodness, I have plenty of gaps. Mostly in the tailoring department, because I have no reason to wear tailored garments. I'm a SAHM of four children (ages 4-17)and it would be completely impractical for me to wear jackets and pencil skirts, LOL!

So, I have never made a jacket, never did a skirt with a vent. Never done a bound buttonhole, but I have done welt pockets.

I've never sewn a coat, but I have made gloves. (1/8 inch SA, by the way. Don't do it unless you're really comfortable with your fingers that close to the needle.)

I haven't done any heirloom stitching of any kind, although I'm hoping to correct that this winter.

And I've never sewn an evening gown with the zipper on the outside....

I do make knit tops for my entire family that they wear and sometimes are unwilling to give up, even when they don't fit anymore. And I make pretty much all of my youngest children's clothing.

I have made jeans for both myself and my oldest son (that met with his approval), although not in denim fabric.

I learned to draft my own children's patterns from measurements, and I've made outfits from them that people have paid me $40-$50 for.

I think for myself, I hope there will always be something I haven't tried.

------
Trinity

http://thimblesthreadsandneedles.blogspot.com/

tourist


British Columbia CANADA
Member since 7/23/07
Posts: 6575
Skill: Intermediate





Date: 11/19/07 10:42 AM

Lucelu - I loved your first thread! I feel the same way and I have been sewing on and off for (OMG!) about 30 years. Set in collars and cuffs are no biggie, but I don't do them these days. I would never sew jeans since I can find jeans that fit me well for much less than it would cost in time and effort to make my own. I do have to hem everything and often have to take the shoulders up on dresses, which sometimes works beautifully and sometimes (like my current project) seems to create more problems than it solves. I need to learn the FBA and have asked for books for Christmas to help with that, but I keep buying these beautiful silk dresses at Winners and I have a feeling that doing an FBA after the fact on RTW is not going to work and I will just keep fumbling and fiddling with them to get rid of the gap in the armpit like have been doing already for the past couple of years I have decided that if a garment is not what I want in the end and not a 100% wadder (a great term I learned here) then it is my donation to a thrift store. Someone else may find a good use for it and I will get the much-needed practice without feeling I am contributing to the landfill.

------
http://bgballroom.wordpress.com to follow the progress on my next ballgown.

nancy2001


Member since 12/3/05
Posts: 6441
Skill: Advanced



Date: 11/19/07 10:50 AM

I have quite a few gaps. I can sew great looking knits -- tee shirts, turtlenecks, zip up jackets and one side seam pants. I can also sew woven pants with side or back zippers and tailored jackets. But my jacket tailoring skills aren't as good as they could be. I can insert a sleeve, bag a lining, sew a simple collar, but I've never tackled a bound buttonhole, a vented sleeve, a lapel or any type of pocket. For this reason all my tailored jackets up to now have been wearable muslins -- I've never used good wool fabric. My sewing goal for 2008 is to improve my tailoring skills.

------
No sewing project is ever a complete success nor a total failure.

jaeng


New Jersey USA
Member since 3/8/06
Posts: 493
Skill: Intermediate



Date: 11/19/07 10:52 AM

I have never done tailoring but I really want to learn.
I got Vogue 8333, Claire Shaeffer's
jacket pattern. The instruction is really
good.
I have not done men pant. I also just mail ordered the men waist band and plan to use Burda pattern and look inside the RTW men pant for sewing
guide.

I have not done wool winter coat but I'm going to...very soon.

EleanorSews


Board Moderator
Member since 7/26/07
Posts: 5195
Skill: Advanced
Body Type:






Date: 11/19/07 11:44 AM

Gaps in my sewing resume... How do I count the ways??? Sew far, over the years, most of what I have attempted and taken thru completion (as opposed to wadding in process) has turned out pretty well (no telling how much work it might have taken to perfect some tiny detial in the process however). That is probably the key: "most of what I have attempted". Not sure a technique is important to me if it has not shown up as a constructon detail on something I have wanted to sew. It might become important if it does show up, in which case that's a bridge to be crossed.

I have mostly gotten "rusty" from lack of use. To fix that, there is a list that keeps getting revised to keep me on course with correctng this situation. Jan 1 is the beginning of "Project Sew for Self".

Gap item: It has been 38-39 years since I made a crocis (sp?) and have no desire to do it again. Same for a sloper. To close that "gap", my goal is to make my doctor happy at my May 2008 physical. If successful, DH is going to help me create a dress form to assist me in fitting me. (It's a serious weight-cholesterol thing.)

Gap item: need a whole new wardrobe of TNT patterns

Gap item; experiment and learn with my serger to get more from it

Big Gap Item: Failure to accept the concept of taking whatever time (short but mostly longer) frame to make something nice for me. Having determined that that is an issue for me, I am not allowing myself to sew to a deadline when I begin Project Sew for Self in 2008. The goal will be to choose designs based on how much they appeal and then produce them to fit and wear well whether it takes a few hours or several days or even more than that.

Bigger Gap: Over time the delight and pleasure of sewing has given way to getting the job done when sewing. Time to fix that!




-- Edited on 11/19/07 11:50 AM --

------
"We don't see things as they are, we see them as we are." Anais Nin

"Attitude is the difference between an adventure and an ordeal." unknown

EleanorSews


Board Moderator
Member since 7/26/07
Posts: 5195
Skill: Advanced
Body Type:






Date: 11/19/07 11:54 AM

About gaps.

Is it a gap if you have no interest in using a technique? Same question about making a particular garment. For example, if you have no use for a gown or any other formal wear, is it a gap if you have never sewn any of those items?


-- Edited on 11/19/07 11:55 AM --

------
"We don't see things as they are, we see them as we are." Anais Nin

"Attitude is the difference between an adventure and an ordeal." unknown

NancyDaQ


New Mexico USA
Member since 1/12/02
Posts: 3838
Skill: Advanced





In reply to EleanorSews <<



Date: 11/19/07 1:06 PM

Quote: EWP601
Is it a gap if you have no interest in using a technique? Same question about making a particular garment. For example, if you have no use for a gown or any other formal wear, is it a gap if you have never sewn any of those items?


I don't think so. It's only a gap if you perceive it to be, or if you're in some type of training program (unlikely for most of us).

I find it much more helpful to focus on the postive. What do you do well? How can you build on existing skills to develop new skills?

Also, if you really want to learn new techniques, take time to make some samples instead of waiting for your first attempt on an actual garment that you need to finish the next day.

------
Now blogging at http://sewwest.blogspot.com
Printable Version
* Advertising and soliciting is strictly prohibited on PatternReview.com. If you find a post which is not in agreement with our Terms and Conditions, please click on the Report Post button to report it.
Online Class
Create a Jacket Muslin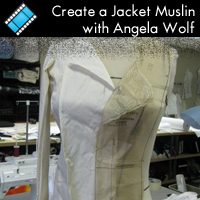 Online Class
All About Buttons and Buttonholes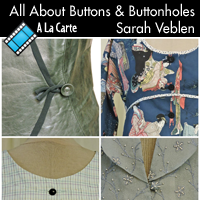 Marfy 2264

by: yorkshire ...
Review
Shapes Eleven Eleven Skirt Pattern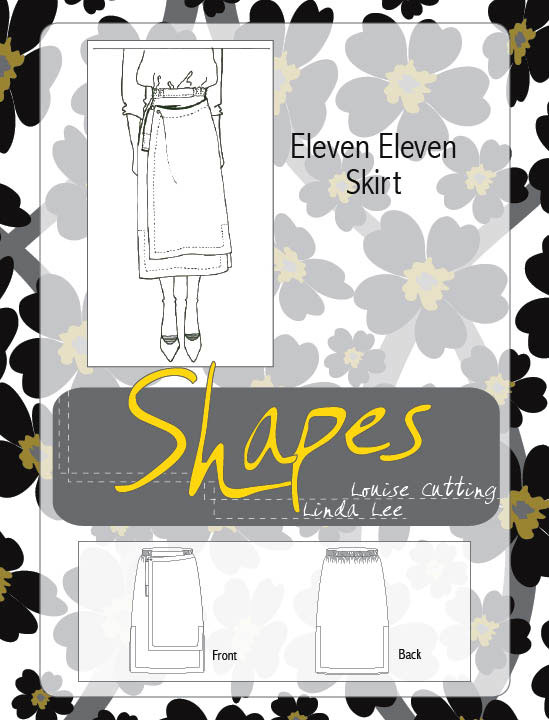 Pattern Details
Christine Jonson Inset Jacket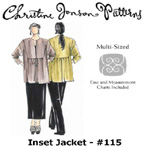 Pattern Details
Kitschy Coo Penny Pinafore

by: with love ...
Review