Sew Confused


Member since 7/13/07
Posts: 2785
Skill: Intermediate



Date: 1/15/08 10:47 PM

I've spent the last 30 years or so denying the existence of fashion trends...First I was a mom, then I was overweight, then I was overweight AND too busy to care, then I wasn't so busy but I was even MORE overweight. Now I've lost some weight and started sewing again, but I feel like I don't really have a personal style, unless you count jeans and t-shirts. I'm trying to upgrade my wardrobe, but it's hard because I can't always tell if something is

me.

Most of my RTW comes from either Eddie Bauer or REI, so I guess you could say that my style is kind of casual and outdoorsy and that's okay and pretty functional for me, since I work from home and never have to go to an office or see anyone in relation to work. But I would like some stuff with a different look for church, a day of shopping or going out to dinner at someplace other than Wendy's.

Anyway, I thought it would be interesting to hear about everyone else's personal style.

------
Paula

"In Seattle you haven't had enough coffee until you can thread a sewing machine while it's running."
- Jeff Bezos, Amazon.com founder

Visit my blog at www.sewconfused.blogspot.com
Pinterest: https://www.pinterest.com/paulag1955/sewing-inspiration/

emelle


Alabama USA
Member since 11/22/07
Posts: 506



In reply to Sew Confused

1 member likes this.



Date: 1/15/08 11:06 PM

My style has developed over time....as most people's does I guess. When young (in the 60's-70's) I wore miniskirts and to my mother's horror...fishnet stockings.

As I grew older and entered the workforce in a business dominated by males, I have tried to look professional and yet feminine at the same time. Classics....Nothing too tight or revealing, but comfortable and put together. This usually means suits or jacket and pants. As my legs have become less attractive over time (spider veins galore) I do not wear skirts or dresses....I always try to have a nice scarf (the nicer the better) or a great piece of jewelry on too.

My two credos are ...1) if I wore it as a younger person...when a style was fashionable the first time, I don't repeat the fashion trend. 2) Could I see someone like Grace Kelley, Audrey Hepburn, Carolina Herrera etc. wear this? If yes, It's ok by me. Not that I look like them, but I guess it's my style barometer if you will.

Weekend at home....different story, casual with jeans or casual pants and a turtleneck or tee shirt...depending on the weather, with jacket as needed.

This doesn't mean I don't love watching and reading about the latest hot fashion trends, but if I can't wear it in the board room or to work, except for the weekend....It's not really for me......ahh to be young and in miniskirts and fishnets...I remember that bright yellow miniskirt

kareninwisconsin


Member since 4/28/07
Posts: 1410
Skill: Intermediate
Body Type:




In reply to Sew Confused

Date: 1/15/08 11:15 PM

Casual & outdoorsy, but with more black. I was an art major, I can do that. (No, actually it goes with my shoes. And I'm really, really tired of pink.)
RTW comes mostly from Kohl's, Farm & Fleet, Chadwick's, LL Bean. Sometimes accessorized with neon yellow-green vest provided by my employer.

CharityAK


Alaska USA
Member since 11/4/07
Posts: 724
Skill: Intermediate



Subject: Whats your personal style? Date: 1/15/08 11:27 PM

I wear lots of black, brown, bronze, denim, ivory, burgundy and red. My style is kind of Funky Classic. I like basic pieces with simple lines, but they have to have something about them that's a little "off." I wear lots of cowboy boots and funky shoes like beaded metallic gold flats or black/red plaid sneakers with lots of metal. I collect vintage southwestern turquoise jewelry and WW2-era charm bracelets. My favorite wardrobe piece is a long and lean black sleeveless jewel neck dress. I can do ANYTHING with it. A denim jacket, cowboy boots and a vintage southwestern necklace and it's casual. If I wear it with my chinese kimino-ish top and funky mary janes, it's kind of kitschy. If I wear it with my black/silver jacket and strappy silver sandals, it's evening wear. I love basic pieces that are versatile like that. Most of my style comes in my accessories and accent wardrobe pieces.

charity

------
Beginning Stash on 01/01/08 - 800 yards
Yardage Sewn in 2008 - 145 yards
Items Sewn - 92
Yardage Given Away in 2008 - 34.25
Wadder Yardage - 5 yards

TOTAL STASH REDUCTION TO DATE: 156.25 yards
DISALLOWED YARDAGE BOUGHT IN 2008 - 36 yards
CURRENT STASH: 643.75 yards

Personal Blog - Vintage Threads, http://www.vintagethreads.blogspot.com

eliz2

Member since 3/11/05
Posts: 95
Skill: Advanced Beginner



In reply to Sew Confused

Date: 1/16/08 0:03 AM

Oh Paula I so identify with your post. I think I used to have style way back when but then kids, weight, more weight, back to work, more weight, happened and I find I'm in a rut -not sure what my style is or even if I have any style. I've just this year, which makes it short lived so far - decided to work at my style while losing weight. I have to keep telling myself that I can still look nice even overweight. Most of the time I am in pants and knit tops for work, but am trying to accessorize more. I have been buying more interesting necklaces and earrings and paying more attention to my shoes and purses. I guess if I have any style it would be a softer, more elegant, classic look, or that is what I hope to have. Ilove the look of Isabella Bird, but it does not suit my too large self right now.
So maybe I'll gain style as I try to lose the yuck!

Sophiecat


Oregon USA
Member since 1/27/06
Posts: 827
Skill: Intermediate



In reply to Sew Confused

Date: 1/16/08 2:48 AM

Hi paulag1955,

I really sympathize with your dilemma. I too, was very overweight (still am, but 80 pounds less so!) and most of my clothing was of the Omar the Tentmaker variety. A few years ago I started to look around, and realized more women were wearing long skirts, so I have added them to my wardrobe. Like you, I don't have attractive legs, and I refuse to wear pantyhose!

I was in the process of trying to start a new career, and needed business-type clothes, so began a sewing orgy. When I finally surfaced, I had made more than 100 items! (I tend to sew complete outfits rather than single garments.) Now, I am rethinking my "style" and leaning more to the artistic, bohemian, unique things I can dream up. I have more than enough "basic" things for the foreseeable future.

But at home, my casual clothes are mostly LL Bean turtlenecks in the winter, "message" T-shirts in the summer, and the denim or twill cotton pants I have made, which all have elastic waistbands. (SOOOOO much easier to take in as you lose weight!

) I even made a duct tape double, but have lost so much that it is no longer my double. I also went through the painful process of making a croquis (photographing me in underwear

) so I could design on paper first and see what suited me best, but now I have to redo that as well.

One technique that helped me was observing other women whose style I did admire, either in person or in the media, and analyze what I liked and whether it would also work for me.

However, the one overriding factor in all of this is: COMFORT!!! If it is not comfortable, either physically or emotionally, I will not wear it.

So, good luck to you in your search for your very own style!!

Regards,

Sophiecat

------
Well-behaved women rarely make history.
Laurel Ulrich

ryan's mom


Member since 11/30/04
Posts: 5404
Skill: Advanced



Date: 1/16/08 7:29 AM

Thinking of more dressy occasions, two words--Grace Kelly.

She always looked so classically elegant. Her style is my style.

------
Big 4 Pattern size 12, RTW bottom: 6, RTW jacket 8, RTW top (no size fits me well!)
Measurements: 34 HB/36 FB (34C bra)/27.5/36 (and working hard to keep it that way.)
Machines: Sewing: Elna 760, vintage Kenmore Model 33 (1967), Janome Gem Gold 3, Singer Model 99, Singer 221/Featherweight, Bernina 1630. Sergers: Babylock Imagine and Babylock Ovation. Embroidery Only: Janome 300E. Embroidery/Sewing Combo: Brother Dream machine. Coverstitch: Babylock BLCS. Straight Stitch: Janome 1600P.

My blog: www.phatchickdesigns.blogspot.com

mastdenman


California USA
Member since 1/12/04
Posts: 6279
Skill: Intermediate



Date: 1/16/08 9:46 AM

I don't know that I have a style. I wear business pants with various jackets and tops to work. I don't wear matchy matchy suits all of the time though. It's a notch up from business casual, but not business formal. When I go out I try to wear a nice dark wash jean with a nice sweater or tee or blouse. At home, I wear more stretchy pants, the kind nobody wants to be seen in.

------
Marilyn

January 2009 to January 2010 81 yards out and 71yards in January 2010 to the present 106.7 yards out and 146.5 yards in. January 2011 to the present: 47 yards out and 69 yards in.


froggiebecky


North Carolina USA
Member since 11/19/07
Posts: 99
Skill: Intermediate



Date: 1/16/08 10:05 AM

I would classify my personal style as formal-funky. I love the look of people like Grace Kelly and Audrey Hepburn, but recognise that that doesn't fit with my lifestyle and personality. I also love really exotic and artistic pieces, but don't have the guts to do it head to toe. My dream closet would be full of beautiful and exotic pieces plus a handful of basics (in a modern cut) to show those exotic pieces off.

I'm still working my way there.



tourist


British Columbia CANADA
Member since 7/23/07
Posts: 6787
Skill: Intermediate



Date: 1/16/08 10:21 AM

My day job is in a daycare centre with toddlers, so that is stretch jeans (not blue - staff rule) and comfortable tops, mostly long sleeved tees in winter and things like collared "golf" shirts in summer. "Fun" job teaching yoga is yoga clothes. Home - yeah - the stuff you don't want to be seen in

My favourite fleece pants have paint all over them and I still seem to be wearing them

The best part of my wardrobe is for ballroom dancing. I have nice stretchy dress pants and movable tops for practice and some great dresses and skirt/top combos for going out to dances. I like classic stuff - often end up with DKNY pieces bought for cheap at Winners. I have started a collection of seriously fierce shoes, which are only worn to and from the dance (we wear dance shoes for the actual dancing) because they are not too comfy, but gorgeous

------
http://bgballroom.wordpress.com to follow the progress on my next ballgown.
Printable Version
* Advertising and soliciting is strictly prohibited on PatternReview.com. If you find a post which is not in agreement with our Terms and Conditions, please click on the Report Post button to report it.
Online Class
Serging Ahead with your 5 Thread Serger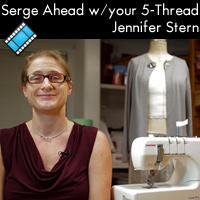 Online Class
The Contemporary Couture Jacket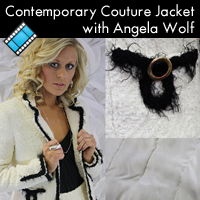 Ottobre Design Magazine 06-2013-21

by: sugarduck
Review
Kitschy Coo Lady Skater Dress

by: LM2HYD
Review
Sewing Workshop Oasis Skirt Pattern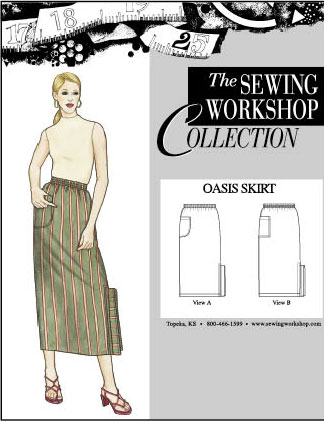 Pattern Details
Sew Chic Fifth Avenue Dress Pattern (ln1311)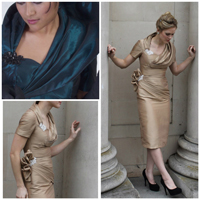 Pattern Details