CharityAK


Intermediate
AK USA
Member since 11/4/07
Posts: 724



Date: 2/9/08 4:06 PM

I am 47 yo and have been sewing since I was 13yo. Most of my years of concentrated sewing, however, were when my boys were young and then again when I had a children's design business. So while I have sewed A LOT, my skill level has not advanced beyond intermediate. Children's wear does not require a lot of fitting skills. Or the tailoring and couture skills I would have developed if I had spent a lifetime sewing clothing for myself. I have not mastered bound buttonholes, welt pockets and jackets requiring much more than a simple lining. Fly fronts can still baffle me. I can only do basic pattern modifications.

This is a year of very focused sewing for me. I am sewing a lot and plan to keep that pace all year as best as I can. If I focus my sewing properly I think I have an opportunity to really develop as a seamstress and begin to master more advanced applications.

What is the best way to do this? Books? Classes? Just jump in and tackle more difficult patterns teaching myself as I go? If you are an advanced or expert seamstress, what did your journey look like? How did you develop the skills that you have? What resources did you find most helpful?

Charity

------
Beginning Stash on 01/01/08 - 800 yards
Yardage Sewn in 2008 - 145 yards
Items Sewn - 92
Yardage Given Away in 2008 - 34.25
Wadder Yardage - 5 yards

TOTAL STASH REDUCTION TO DATE: 156.25 yards
DISALLOWED YARDAGE BOUGHT IN 2008 - 36 yards
CURRENT STASH: 643.75 yards

Personal Blog - Vintage Threads, http://www.vintagethreads.blogspot.com

Karla Kizer


Advanced
Member since 4/8/02
Posts: 7622





In reply to CharityAK

2 members like this.



Date: 2/9/08 5:26 PM

I think we can call ourselves anything we like. Advanced is, for me, simply a suggestion of what I'm willing to tackle, not what I'm sure I can achieve. I'm a reader; if there are written directions out there, I assume I can follow them. (Often, I am dead wrong. ) But when I want to try something new, I always dig through my books first. However, if you are better seeing something in person, classes would be a good way to go - IF you can find someone who truly achieves better results than you can on your own. There are teachers...and then again, there are teachers. If you can't - or even if you can - find a good local teacher, look at some of the online classes here. The PR teachers are time-tested and very popular.

Don't overlook the idea of practicing on your own. You don't have to make pair of pants in order to practice a fly front. Just cut some pieces of fabric and try a few different sets of directions using an old zipper. Same thing for bound buttonholes and welt pockets. Make notes as you go and hang onto your samples, so that when you finally get around to wanting to use the techniques on real garments, you'll have some memory of what worked for you.

Good luck with it - and remember, acquiring new skills is a journey for everyone here. That's why we spend so much time discussing it.

------
"Never try to teach a pig to sing; it wastes your time and it annoys the pig." -Robert Heinlein and Ann's father. Thanks for the reminder, Ann.

Where are we going, and what am I doing in this handbasket?

Matthew 25:40 (New International Version)
The King will reply, 'I tell you the truth, whatever you did for one of the least of these brothers of mine, you did for me.'





Sew4Fun


Advanced
AUSTRALIA
Member since 6/23/04
Posts: 4874





In reply to CharityAK

2 members like this.



Date: 2/9/08 5:42 PM

I am pretty much entirely self taught. For me I learnt the most by reading up on a topic then "doing". I will set myself a goal, for example, I want to learn to do single welt pockets. I then do my research reading as much as I can on the subject, and throw myself in the deep end.

I practice first on muslin, trying various different methods I have read about, decide which method works for me, which is usually a combination, then practice on the good fabric. I then keep practicing by using the technique as often as I can. Once I have mastered a technique I move to my next goal. HTH

------
Belinda. Melbourne, Australia
http://sew-4-fun.blogspot.com/

MarilynB


Advanced
MA USA
Member since 7/31/02
Posts: 511





In reply to CharityAK

1 member likes this.



Date: 2/9/08 6:16 PM

Quote: CharityAK
What is the best way to do this? Books? Classes? Just jump in and tackle more difficult patterns teaching myself as I go? If you are an advanced or expert seamstress, what did your journey look like? How did you develop the skills that you have? What resources did you find most helpful?




I advise all of the above. I have been sewing all my life, but really got serious when I was fifteen. I was fearless then--which was good. I did not know what a wadder was and never had any. I wore everything I made. I wish I had those old garments today so I could see my work. Of course, I only weighed 100 lbs, so very little fitting was needed then. Forty years ago (OMG!) pattern instructions were much better than they are now. Especially Vogue, they were like private sewing lessons. Back then all I did was take a series of lessons at the local Singer store during the summer when I was fifteen. I did not take any lesson again until I was out of college. What did help was that my mother knew how to sew so I could consult her if I needed help. By the time I was 20 she had me putting in all of her zippers. I guess what I am trying to say here is don't be afraid of anything, just do it.

Tackling more advanced, complicated patterns is one way to learn. So is working with plaids and patterned fabric. Also, through experience, I have learned never to rush a project or you will regret it. Take your time--this should be fun. Be as precise as you can, and press, press, press as you go.

As for resources, I found Palmer Pletsch very helpful. Their old McCalls patterns in the 1980s had incredible instructions. Their bound buttonholes and welt pockets are time consuming, but precise and have worked very well for me. These instructions are in their older books. If you don't have a gridded ruler, get one--this is one of the most useful tools I own.

If you want to tackle tailoring, I have found the Mary Ellen Flury's Women's Tailoring book to be one of the best around and easy to understand. I should note that I have taken drafting and numerous sewing classes at all levels. I am always open to learning more. If you can find a tailoring course, please take it. You won't regret it.

I agree with what has been said so far, practice is a good teacher. Measure precisely, practice, press & don't rush. Be fearless, don't worry about failure, and the skills will come.
-- Edited on 2/9/08 6:17 PM --
-- Edited on 2/9/08 6:23 PM --

------
Sewing and chocolate feed my soul
www.sewingkeepsmesane.blogspot.com

MarthaMcKeon

Beginner
Member since 5/26/05
Posts: 235



Date: 2/9/08 7:31 PM

First, you need a desire - try to determine something a bit specific that you want to conquer- for me, the last thing I did, after I acquired a serger after 40 plus years of sewing was to tackle knit garments - I had a great desire to learn how to put together a dress; top, etc. and learn the necessary skills. I bought a whole BOX of knit fabrics from Fabric.com, and stuck with it until the box was empty. I think I only had one or two wadders. The whole experience was amazing, and I'm sure I spent less money than some of these sewing workshops offer.

KarmenG


Advanced
MA
Member since 1/3/03
Posts: 548



Date: 2/9/08 11:19 PM

I agree with what others have said, especially MarilynB. All good points.

I was in the same mindset as you about 15 years ago. I knew I had it "in me" to do more, like welt pockets, bound buttonholes etc. But like you I had not really concentrated on those things. So in order for me to gain a solid sewing foundation and build upon it, I began a Project Notebook. I still keep it to this day, for EVERY project I begin. It's a place where I make quick notes of what I tried, what works and what didn't. So I've been able to build a log and a set of skills which over time have accumulated to greater skills and better finished products.

My notebook is spiral bound, a Project Notebook I found at Staples. I begin a new page with every project. I write the pattern and garment type on the top of the page, plus the date begun and date completed.

As I go through the project I make notes. If I measure a RTW garment to compare to my pattern those measurements go into the notebook. As I do any calculations - write them down too. When I pick interfacing I write that down. Later, when I wear the garment if the interfacing was too light weight or too heavy I can go back and make a note. Then use that experience to readjust on the next project. All books used as reference during the project are recorded....book title and page number. At the end of the project I staple a fabric swatch. Last, after wearing the garment I go back add comments for "Next Time" such as lengthen a sleeve, change a particular component, make notes about what I would like better.

This project notebook has been a HUGE help to me. #1 helps me focus #2 helps me build upon my skills and I don't have to reinvent the wheel 6 months later when I want to repeat something #3 a cool record of what I've accomplished and makes me feel good and #4 documents things that don't work so I LEARN from them. For me that what a huge part of this. I wanted to learn more and the mistakes are valuable. I consider those the tuition of learning....I don't fret about the wadders - just move on and learn from them.

Good luck with your quest to learn. In my opinion, it is possible to self teach, along with classes from time to time. And of course lots of experience and assistance from this website and from sewing friends. We all inspire and add to the experience.
-- Edited on 2/9/08 11:24 PM --
-- Edited on 2/9/08 11:28 PM --

annsew65


Advanced
WV USA
Member since 4/9/02
Posts: 1056



Date: 2/10/08 3:35 AM

I'll have to say years of practice, mostly! And a determination to learn! I'm pretty much self-taught. I've had no access to classes, etc., in my area so through the years, it has been mostly magazines, books and VCR tapes on particular techniques. In the past 10 years, I discovered sewing expos and this type of learning. I started sewing for my daughters and myself back in the early 60s and fumbled along, learning a little more with each garment. I'd say the biggest "light bulb moments" came with my discovery of the Sew News magazine which back then was a newspaper type magazine and filled with tons of articles on technique. About that same time, Palmer and Pletsch started their series of tailored jacket patterns, etc., so I learned a lot during that time. I'll have to agree about the Mary Ellen Flury technique - if you could find one of her videos on making a tailored jacket/coat, it would be a great learning experience as well as the tailoring tapes by Judy Barlup / Unique Techniques. As stated earlier, you pick up a little from each - and usually find your own technique somewhere in between. Talking about working with plaids, I bought some unbalanced and uneven woven plaid to make my daughters pants suits back in the early 70's. It was beautiful fabric - but really taxed my brain in trying to match up the almost unmatchable. I ended up having to go back and buy more fabric, but I did master it - and learned so much in the process.

I'm pretty much a visual learner and at one time Nancy's Notions rented tapes by various skilled teachers and I would rent (then buy) the ones that helped me the most. I still take them out and watch them from time to time - Roberta Carr, Judy Barlup, Margaret Islander, some by Nancy herself, Mary Ellen Flury - I could go on but you get the drift. I think anyone can get to be an "advanced" seamstress - it just depends on your own determination and lots of practice -----and lots of pressing. I've come to the conclusion through the years that the pressing is almost more important that the sewing! Another skill you will need to master in your quest to be an advanced seamstress. Just get in there and do it, working on samples to begin with until you find your best way of doing things. Then get out the good stuff and jump in! That's the way most of us have done it!

------
Sewing in Wild, Wonderful West Virginia
Sewing Room Pics:
http://picasaweb.google.com/annsew65/MySewingRoom#

GorgeousFabrics


Expert/Couture
USA
Member since 8/12/02
Posts: 2934



Date: 2/10/08 8:41 AM

Have you ever heard that joke: A guy stops a pedestrian on a street in New York and says, "How do you get to Carnegie Hall?" To which the other person responds, "Practice, practice, practice!"

Yeah, that's how.

I've taken classes, private lessons, read tons of books, and I've been sewing for a very long time. The thing that has most advanced my skills is taking an idea and just running with it. The first time may look okay (then again maybe not), but the next time and subsequent times I do a technique, it gets better and better.

Take the ol' Nike approach and just do it.



Peggy L


Advanced
TN USA
Member since 4/8/02
Posts: 5086





In reply to CharityAK



Date: 2/10/08 8:42 AM

MarilynB and I must be cyber twins! I learned to sew in high school and my parents bought a used machine for me. (DM didn't sew). I was very fortunate and had wonderful teachers. Instructions were a lot better especially Vogue! Anyone remember the labels you would get with designer patterns? The more pieces the pattern had the better I liked it. I did bound buttonholes, welt pockets, etc when I was still in high school. I got away from all that when I had kids and was a SAHM for 20 years. Now I am trying to get back into doing all the fun stuff. My personal goal is not to upgrade my rating until I put bound buttonholes in a project.

One good online class is the Couture Techniques here at PR. I took it last year and really enjoyed it. For me, it was a wonderful refresher class on stitches and where to use them. (I used to know this stuff!). I think you need to know these hand stitches to be at the top of the game. There are some things that just need to be done by hand.

A tailoring class (or book) is a great suggestion. I've taken several over the years and learned lots. Nancy Erickson's jacket book and patterns are wonderful if you like the classic, tailored look. I love her newsletters, too. (her company is "Fashion Sewing Group") Cynthia Guffey is another instructor that teaches methods like I learned in high school. We call her the "sewing engineer". I think I'd start with the Couture online stitches class and use videos and books. My guess is it would be hard to find classes in Alaska but if you get a chance to come to any of the expos, focus on the classes for the more advanced.

Charity, great question -took me down memory lane!!!

------
www.thereisjoyadventures.blogspot.com

Sherril Miller


Advanced
CA USA
Member since 8/24/02
Posts: 7483

1 member likes this.




Date: 2/10/08 8:50 AM

I've taken a lot of classes, pattern making, courtour techniques, tailoring, pattern fitting, basic machine practices, textiles, and seminars in dozens of different subjects, etc. However, my best teachers have all been here on patternreview. Without that "instant" help diagnosing problems while I'm experiencing them, I don't think I would have improved quite so much. I really think it's in the practice of the techniques that will move your skills up a notch. While I can make beautiful gowns and tailored jackets, I don't. It's not in my lifestyle to wear such garments and I don't feel the need to spend my limited amount of sewing time on sewing these things for others.

I was in the same place, really wanting to be able to sew things that fit bettern than RTW and looked much better than I could afford, too. That's when I found SewingWorld, which helped give birth to Patternreview.

Just jump in and start sewing. Remember, it's only fabric. If you ruin one piece, there is always another one you'll like just as well, and maybe even more.

------
Visit my blog at http://sewingsaga.blogspot.com

If it's worth sewing, it's worth sewing well;
and if it's worth sewing well, it's worth FITTING FIRST! - TSL
Printable Version
* Advertising and soliciting is strictly prohibited on PatternReview.com. If you find a post which is not in agreement with our Terms and Conditions, please click on the Report Post button to report it.
Beginners Guide to Sewing Jackets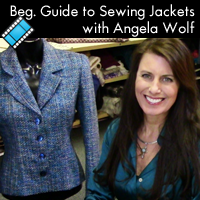 Sewing Basics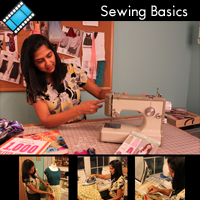 Vogue Patterns 1224

by: Westy85
Review
Sewing Workshop Icon Shirt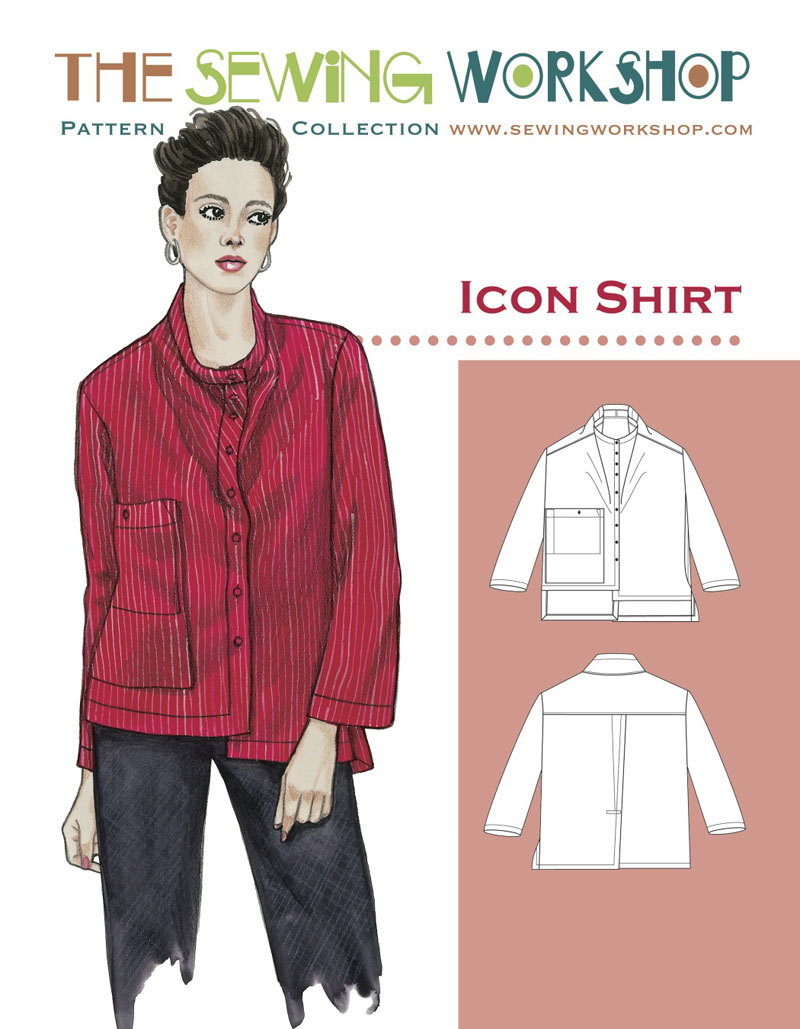 Buy Now
SewBaby Travel Nappers Pattern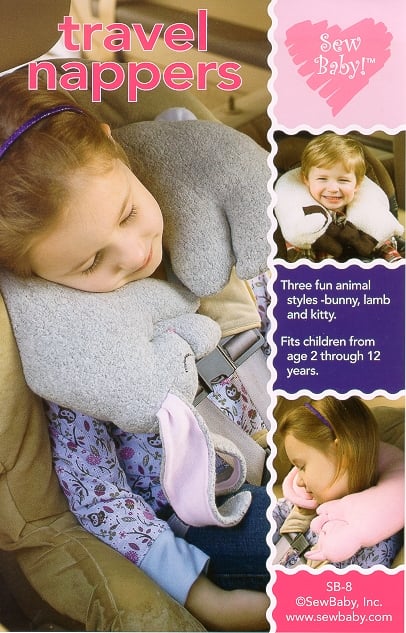 Buy Now
Other Especially for you

by: Saint Nolt...
Review