moss


Advanced Beginner
Member since 8/23/06
Posts: 227



Date: 3/19/08 11:51 AM

So good old gmail and their targeted ads.. Gmail linked me to this website:

Nursing covers and I am like COME ON!! it looks to me like a rectangle of fabric with maybe a buckle that connects two corners?

Does anyone have one of these, have experience with these, know what this really looks like? They won't show a full size picture on the site that I could find (probably because of people like me )

I know you all will have great ideas for me! And since I don't know the gender of the baby yet, this would be a cool thing to make in advance that doesn't have to be "pink" or "blue".

Thanks in advance to everyone!

Sewliz


Colorado USA
Member since 6/22/04
Posts: 4440





In reply to moss



Date: 3/19/08 1:00 PM

I think you can do better. These look like baby suffocators to me! I suppose it does a great job of hiding what can be socially inappropriate in some places but I don't think I would want that strap around my neck.



------
Liz

thefittinglife.blogspot.com

CM_Sews

Intermediate
California USA
Member since 9/18/04
Posts: 1811



Date: 3/19/08 1:53 PM

The only thing "tricky" about these is that they have some kind of boning or stiffener in the upper edge to hold the nursing cover open, so they won't be baby suffocators. See how the upper edge stands away from the mother's body in a semi-circle? It appears that the stiffener is inserted only between the ties.

So.... you have a big square of fabric, with a channel/tube in the top with something like Rigilene inserted into the channel, and either ties or an ajustable (?) neck band to keep it around your neck. It's possible the manufacturer of these devices has located a particular type of boning to use that isn't readily available, but I'd try Rigilene first. Rigilene isn't the only boning product available; you might find some different options at you local fabric store (JoAnn's, Handcocks, etc.) Even plastic needle point canvas, cut into a narrow strip, might work.

Yes, you could do this. At the very least, you can experiment for much less than $40! If it doesn't work out, you can always use the fabric for something else.

For example, here's someone who has sewn her own

CMC
ps: The reason you WANT something around your neck is to keep the baby from kicking or pulling the cover off Mom. When my daughter nursed, she wanted to LOOK ME IN THE EYE and was constantly removing the blanket I'd thow over my shoulder to give me some privacy.
ETA: Link to blog.
-- Edited on 3/19/08 2:01 PM --

-- Edited on 3/19/08 2:05 PM --

Michelle T


Intermediate
British Columbia CANADA
Member since 8/24/02
Posts: 4536





In reply to moss



Date: 3/19/08 2:33 PM

Not to be a party pooper, but a good old fashioned receiving blanket worked for me and my three kids.

I cannot imagine trying to fasten something around my neck, release my breast from my bra, arrange a pillow in my lap all while trying to get a hungry baby to latch properly. Plus after the first read a story to the older one to keep him occupied while feeding the baby.

A receiving blanket is also there to use as a burp cloth after the feeding is over.

------
Proud parent of a Dwight International School Honour Roll Student

Speech girl


Intermediate
Georgia USA
Member since 5/11/03
Posts: 2484



Date: 3/19/08 2:48 PM

I'm not sure if a nursing cover would really be a useful item. But if you want one, certainly make one--I can't see why you'd want to spend the money to buy it when it looks so simple to make.
Once you get the hang of it, nursing can be done very privately in a public place without a cover, and a regular receiving blanket works well for the early learning period. When the baby is a several months old he/she tends to start grabbing a blanket and pulling it off his /her face anyway--at least my three did!


------
Kim
formerly mikkim
http://girlwithatimemachine.wordpress.com/

EveS


Intermediate
Michigan USA
Member since 11/26/06
Posts: 2701





In reply to Michelle T



Date: 3/19/08 3:13 PM

Michelle, you took the words right out of my mouth!! As someone who nursed for a full year, I think I'd have the patience to wrestle with this thing thru exactly 1.0 nursings! And yes, it looks hot for both you and baby. You'll be surprised at how good you get at being discreet, and often times all it takes is some repositioning of your top and turning away slightly from the public. And I think some of these "tents" just draw more attention to you, too.

Maybe others who have used these and liked them and can offer additional advice, but for my money, they look a bit overengineered. I'll stick w/ the trusty receiving blanket, too. I would recommend at least trying on a similar setup (an apron, maybe?) and trying to go thru all of the steps Michelle mentioned before you go thru the trouble and expense of making them.

Just one mom's opinion :)
Eve

p.s. - boning or anything else rigid will make stuffing it in a diaper bag a bit more of a pain, too. Just something to consider.

------
People who say it cannot be done should not interrupt those who are doing it - Chinese proverb

CM_Sews

Intermediate
California USA
Member since 9/18/04
Posts: 1811



Date: 3/19/08 3:36 PM

I am probably the one lone nursing mother for whom the receiving blanket did not always work, only because the baby (bless her little heart) would enthusiatically REMOVE it. She did NOT like to be covered by anything while nursing, even if she could see my face. Not being able to see my face made her even fussier. At home, this was not a problem; it presented more problems in public. Most of the nursing mothers I knew at the time did not have these same issues; you probably won't either.

I found or sewed clothing that did not expose much while nursing. A roomy tunic worked rather well, but it wasn't always stylish. (I note the marketing for these nursing covers stresses how "stylish" you can be.) There are several variations on the nursing cover theme, some of which DO cover the child's face. My daughter would have hated that.

Google image search for Nursing Covers

I nursed for 3 years (yup, YEARS) and the experience was wonderful, and I never had a nursing cover. Note to mothers nursing infants: Nursing a toddler is MUCH different (easier) than nursing an infant. Once or twice a day, as opposed to every X hours.

The "baby" is now 24 years old. She is still rather insistent about her preferences.

CMC
-- Edited on 3/19/08 3:38 PM --
-- Edited on 3/19/08 4:13 PM --

AquariJenn


Intermediate
Mississippi USA
Member since 11/9/05
Posts: 202



Date: 3/19/08 4:54 PM

I personally could never get the hang of using a blanket or cover when nursing my two previous babies, but I know many mothers feel better using one.

I saw a woman at the park using one that someone had made for her. The person who made it had threaded a little girls hair band (the stiff kind) through a channel at the top of the rectangle. It also had straps to tie around mom's neck. She had a couple that were made from light-weight fabric and were really quite cute. I'm sure one could be made very quickly and easily. Let us know if you make it.

------
"It is ever so much easier to be good if your clothes are fashionable." Anne Shirley, Anne of Green Gables
~ Lucy Maud Montgomery

tourist


Intermediate
British Columbia CANADA
Member since 7/23/07
Posts: 6454



Date: 3/19/08 7:01 PM

Well, I LOVE the name Bebe au Lait and the fabrics are really nice, but my 2 didn't like covers much either. Luckily, most of my socializing in those days was with La Leche League moms. In public you just turn to the wall, get everything settled and then turn back to the conversation.

------
http://bgballroom.wordpress.com to follow the progress on my next ballgown.

Fictionfan


Advanced
Vermont USA
Member since 5/19/06
Posts: 1269



Date: 3/19/08 7:07 PM

That nursing cover thing is ugly. I suggest that you skip the blanket deal and look into nursing garments instead. I breastfed DS for over 2 years and never once used the blanket-over-the-baby technique. If there is anything that screams to the world, "breastfeeding mother!", it is the blanket over your shoulder and baby. The garments I used allowed me to hold my babies and nurse them, or not, without anyone knowing that I was bare-breasted. I could even burp them without having to adjust my clothing until I wanted to without forsaking modesty or distracting people around me, such as while I was in church.

http://www.elizabethlee.com/
is one source for patterns for garments that have openings to allow for discreet nursing. The ones I used were easy or very easy to make, with clear directions. I personally preferred the horizontal openings to the vertical openings, but I lived in these things for two years and both styles were fine. Having a DRESS that you can nurse in is wonderful!, especially if it means that you don't have to unclothe your upper half just to feed the baby.

The patterns usually indicate if they are designed for nursing twins or if they will work for maternity use, and all sizes are included. There was even a jumpsuit! I don't know if that is still available. There is a bathing suit with nursing openings, too. In general, the garments use about 1/2 yd more than a similar, non-nursing style tops or dresses, and first attempt should yield a wearable garment without a lot of effort. The sizing is standard compared to most other patterns I've used. For my clothing, I recall using a size 12-14 at the neck and shoulders, a size 14-18 in the body, and tapering to my normal hip size for the dresses if the pattern called for anything below the hip area. That was how I made the full bust adjustment, and they fit quite nicely. My normal big4 pattern size runs about a 14-18, depending on my weight, and usually I buy size 14 and adjust for the body of the moment, sometimes making a smaller size for the neck and shoulders. While nursing, my bust was a couple sizes larger than otherwise and the rest of me wasn't much different from my pre-pregnancy sizes, so the patterns have the appropriate ease incorporated. Each one I used had a warning to be sure that the amount around would be big enough for your nursing bust before cutting the fabric. Then if it did not fit elsewhere just right, you at least had something you could use right away. Who has time to waste fussing with muslins when you have a baby to care for? Also, there were not any difficult or time consuming closures, like collars or buttons or zippers.

DS was born in the winter, and it was nice to have my shoulders and belly covered while nursing, whereas the other, normal clothes that I used in those first couple weeks had the problem of one part or other needing to be uncovered in order to access my breast. After feeling really hot all during my pregnancy, it was quite a shock to be uncomfortably cold!

Actually, I started out with Motherwear garments when he was a couple weeks old, but they were expensive and did not fit me all that well, especially considering how well I was accustomed to my own clothing fitting. The knits got baggy and looked well-worn very quickly compared to the ones I made, and I had to send several back because they shrank too much to fit me (usually too short). The wovens faded very fast, too. The neck openings also were often big on me, uncomfortably so, if they fit around my nursing bust. That was several years ago, so I don't know what they are like now.

Butterick had a nursing to pattern a few years ago, but I could not find it in the current or OOP catalog on line. There are other companies, too, but I have no familiarity with them.

ElizabethLeeDesigns also has a great sling/fanny pack/water bottle holder/tote bag pattern, apparently their best seller. I make slings for $10-15 including the fabric (on sale), hardware (available on their website if you can't find strong enough hardware locally), and batting (1" thick stuff), not counting the pattern cost. Similar slings run about $40 near me (highway robbery!) and were not as nice, partly because they did not include the pocket, key hook, and ties for things like pacifiers. (DD loved hers. It was the only way to fly on airplanes with her. Otherwise she was a demon.) This sling has become my standard baby gift for people. Most people like them, but not everyone does. They are superior to those Baby Bjorn things, partlly because they work well beyond the newborn stage, until the baby is about 35 pounds if you need it that long. IMO, a larger sling is needed, bigger than the pattern recommends, for most moms, or it feel too tight while holding a larger baby, and the newborns will fit in the larger slings just fine. If you want a man to be able to use the sling, he will need a MUCH larger sling to get it around his shoulders and still be able to hold a baby.

------
Fictionfan
Printable Version
* Advertising and soliciting is strictly prohibited on PatternReview.com. If you find a post which is not in agreement with our Terms and Conditions, please click on the Report Post button to report it.
Serging Ahead with your 5 Thread Serger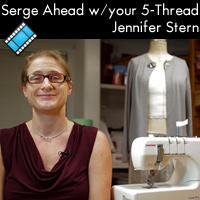 Beginners Guide to Sewing Jackets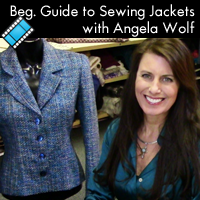 Vogue Patterns 8825

by: wizechyld
Review
SewBaby Totpacks Pattern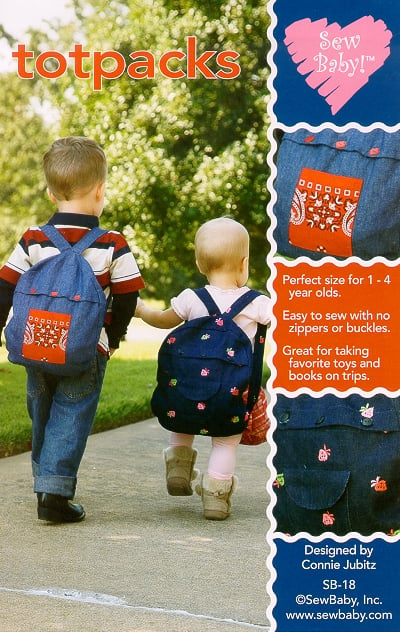 Buy Now
Islander Sewing Systems Irish Coat Pattern Pattern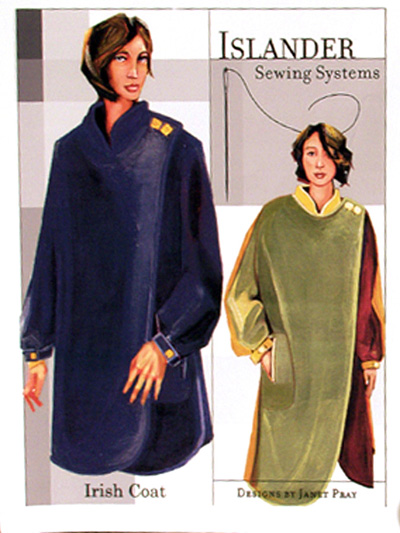 Buy Now
McCall's 6549

by: sunnysewin...
Review