julieanne

Intermediate
Indiana USA
Member since 3/14/06
Posts: 33



Date: 4/13/08 3:27 PM

Hi all,
I am a frequent lurker, not a frequent poster. I am always impressed with the wisdom of seamstresses on this website.
Here we go: I am copying a dress of a Monique Lhuillier design that my DD tried on. I wish I could give you more pictures on the original and the pattern. The pattern that I'm using is Vogue 8389. View B with the longer train of C.. I am actually extending it 12 inches (will bustle for reception). Some modifications: a few vertical gathers, center front bodice-gives the illusion of sweatheart neckline, where the bodice meets the lower skirt-seamline curves up in front and dips down at the back. There are a few more special details that the designer dress had that I plan to emulate, but for right now, I need reassurance on the layers, and how to treat them.

Bodice - I am talking about from the princess seamed top from the top edge to where the flared skirt attaches. The dress is ivory Alencon lace over latte colored silk charmuese, underlined with silk batiste. Lining - "Hang Loose, light boning in the top, just down to her waist - for support.

On this dress top, I feel that I should treat the lace, charmuese, and silk batiste as one piece. I have made a muslin. The fit is down pat. She will wear a bra.

My question on the skirt: Should the Alencon lace layer be separate from the underlined silk charmuese, to give it more flow? If I keep the layers separate, what would be a good seam finish for each layer?

The wedding is late in June. We live in rural Indiana and the ceremony will be outside under some big maple trees on our farm. Her look is "country elegance" and when she tried on that dress, there was no mistaking what I had to do.
I will post pictures as soon as possible. Oh yeah...after I get this underway, I am ready to do the bridesmaids and the flower girl. After all, she is my only girl!

Thanks in advance!


ConnieBJ


Advanced
Ontario Canada
Member since 12/31/03
Posts: 2356
Contest Committee



Date: 4/13/08 3:52 PM

Julieann- What a pretty pattern. I can so see that as "country elegance"! My first inclination would be to say treat the layers separate - definately better movement.
Make sure you get the bustling down pat well before the big day. My daughters only bridezilla'ish moment was when her bridesmaids were trying unsuccessfully to bustle her dress (that she designed and I made for her) and she just Wanted Her MOM to fix it.
I would love to see the inspiration dress. Our house loves Monique L'hillier

------
Connie Bontje

http://www.couturesmith.com
Twitter: Couturesmith
Facebook: Connie Bontje
Desperately trying to keep ahead of my pattern, fabric and dressform collection!

greco

Expert/Couture
Alabama USA
Member since 8/7/07
Posts: 371



Date: 4/13/08 3:55 PM

definately leave the lace and charmeuse separate. the beauty of the charmeuse will not be appreciated if it is attached as one to the lace. Let it flow and create the light and dark of itself as it moves. JF

julieanne

Intermediate
Indiana USA
Member since 3/14/06
Posts: 33



Date: 4/13/08 10:05 PM

Thanks so much, Greco and ConnieBJ,
I was hoping so much for your help! So, what would be the best manner of sewing and finishing the Alencon lace layer, if I sew it separately from the charmuese? After I baste and sew on the machine, I could serge it. What serger stitch would you suggest?

KatieN


Intermediate
Member since 3/16/05
Posts: 170





In reply to julieanne



Date: 4/14/08 7:39 AM

I've never sewn with alencon lace so I'm not sure if this idea will work for it, but you can try it on some scraps. When I was sewing the silk chiffon layers together for a wedding gown, I used the rolled hem stitch on the serger. This resulted in a finished edge that was even tinier than could be accomplished with a french seam. I just hand-basted the seams before serging.

If the lace doesn't cooperate with a rolled hem, try just a regular 3-thread stitch using the right needle for a narrower seam.

Looks like it will be a gorgeous dress - I'm looking forward to pictures!

Katie

greco

Expert/Couture
Alabama USA
Member since 8/7/07
Posts: 371



Date: 4/14/08 8:34 AM

Alecon lace comes in far too many patterns for me to give you a generic answer.
But I will tell you that all the dresses I have altered in all the years I've been sewing, every single one of them, whether OTR or designer, that had a lace overlay, left them raw and opened the seams flat. And for the hem, left it raw or added a complimentary lace border, or if the lace was close patterned enough and had a "repeat", they would cut around the pattern and use the pattern as the edge for the hem. The reason for this is that lace is built on tulle and is 3 dimensional and in the attempt to clean finish the seam or hem you will ultimately end up with some kind of lumping or bumping unless you take the time to remove the lace in the areas that will become seams or hemlines, which is what was done on the true couture dresses I have worked on or those I have made myself. But this is an extremely fastitdious process that can take as long as the whole of the construction of the garment.
But keeping the seams at a foot space will be sufficient and then press open. The hem doesn't look like it will be an issue for this pattern if you are going to follow the design and add lace at the hemline.
I have used a technigue on seams where I would use a tiny zigzag or tight stretch stitch and then trimmed very close to the sewline. But I only do that if I know the bride does not intend on a lot of physical activity and if the dress design is more on the ball gown style and less on the sheath or fitted style so I don't worry about stressing the seams. But be forewarned that this technigue is NOT a good choice if the Alecon lace is large patterned beaded or embellished, this will still result in a lumping and waving finish. I still recommend a raw open seam. If you ARE using an embellished lace, use needle nose pliers to crush the beads in the seam area before you sew. This will eliminate broken needles and the need to remove the beads in the area you are sewing. JF

Marji


Advanced
Missouri USA
Member since 9/19/06
Posts: 1866



Date: 4/14/08 8:37 AM

If you don't have Susan Khalje's book Bridal Sewing then you should get it.
She gives great information on how to treat lace and seam it.
Also, I'd go haunt the Sewing Diva's site and go back through archives on their formalwear.

Meanwhile, I agree with everyone here, make your lace layer separate from your underlayer, and you probably want to work with the motif to best determine your seaming technique for the lace.
I love watching the process as these dresses go together, so please continue to share.


------
Marji
http://fiberartsafloat.blogspot.com


julieanne

Intermediate
Indiana USA
Member since 3/14/06
Posts: 33



Date: 4/14/08 9:04 AM

Thank you to KatieN and Greco. This is exactly the advice I am looking for! The ivory Alencon lace is not embellished, as it wasn't in the designer dress, either. My daughter felt that a very "glitzy, beaded effect would not be in keeping with the outdoor, natural surroundings of the farm. The Monique L design uses the "little cat whiskers" repeatedly....the top edge of the dress, the ornamentation (also Alencon)(trust me, I'll show you when I get to it!), and at the hem. Greco, I purchace my lace in 36" width, and trimmed of the 2 scallopped edges and motifs to add back to the bottom edge as you described. The lace is suprisingly supple, as was the designer dress my daughter tried on. I have it cut now, I'm ready to start sewing. I am definitely keeping the circular lower skirt as two separate layers...as you advised! With the bodice rather form fitting, should I keep the Alencon "one layer" with the charmeuse and silk batiste underlining, basically to lend fabric suport to the lace? For the life of me, that is one detail that I can not recall from seeing the dress in the bridal store.....Also, because of the width of the pattern pieces, obviously, I had to cut each piece separately...I even need to piece the Alencon together to, so I need to do this somewhat invisibly. I did a pretty good job of matching my lace design. If i very slightly overlap it, it looks like one piece, still. So, would the most logical method be a tiny 1/8" seam, then pressed open? Maybe double stich, very close together? While I wait for wisdom, I will retreat to my table and try out a few seams. I love sewing with this fabric. I usually find "cutting out" a drag. But working with this lace and silk was an absolute joy..I just hope it continues! Thanks again for the benefit of your experience and wisdom!


julieanne

Intermediate
Indiana USA
Member since 3/14/06
Posts: 33



Date: 4/14/08 9:13 AM

Oh, Marji, I agree, with your post about, the bridalbook. I have read so many references to that book. I am sure that I could use it right now!

greco

Expert/Couture
Alabama USA
Member since 8/7/07
Posts: 371



Date: 4/14/08 10:16 AM

Anything form fitted, can be sewn as one fabric. It is only the flounce that should be treated as separates to allow the beautiful flow of the two textiles.
Another thing to consider is the properties of the the textiles involved. Alencon lace made from natural fiber versus synthetics behave differently especially after they are sewn. Natural textile laces tend to hold their structured shape better while poly or nylon laces tend to show some sag in the areas where the weight of the built up lace is created. It of course depends on the design and the weight it exudes. With that in mind, an occassional hand tack on each larger pattern of lace on the sheath part of the dress might be something to consider. The flounce skirt would not be an issue, only the areas where you would think curves would cause shape change. Remember that body heat can and does affect the properties of synthetics as delicate as lace so sitting areas,
:-), can sometimes have that bit of drag. I use a single thread, small, loose "X" tack in the center of the largest patterns. This is usually suffient. One day, I will finish the tutitorial on couture bridal/eveningwear and have it published. But at the moment I am trying to get the last bit of use out of my eyes creating. Hope this helps. JF
Printable Version
* Advertising and soliciting is strictly prohibited on PatternReview.com. If you find a post which is not in agreement with our Terms and Conditions, please click on the Report Post button to report it.
Online Class
Sewing with Slippery & Drapey Fabrics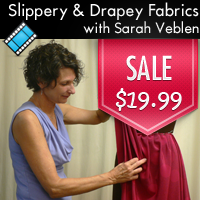 Online Class
Serging Ahead with your 5 Thread Serger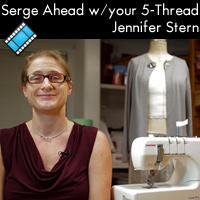 Vogue Patterns 8645

by: Natasha Jo...
Review
Oliver + S OS005SP

by: shannonsew...
Review
Islander Sewing Systems - MyStyle Greetings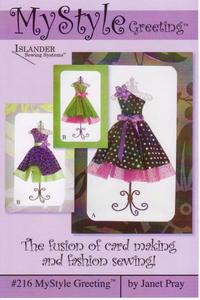 More Info
Jamie Christina Hooded Scarf Pattern (JC307HS)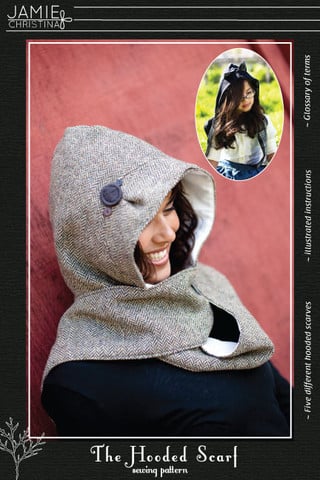 More Info