Jeanninem


Florida USA
Member since 5/2/06
Posts: 43
Skill: Intermediate



Date: 7/2/08 4:47 PM

I thinking about getting a new sewing machine. I am an intermediate sewer, and I do like the convenience of an electronic/computerized machine. I want automatic buttonholes, lots of feet, and don't need all those decorative stitches. Just the basics. I sew children's clothing.

I own alot of Janomes, so I could continue to use the feet I own if I buy another one. However I have always been impressed with Bernina, and their continueing efforts to better their machines. They have alot of feet and alot of classes. I also like the fact that I have never been in a Bernina shop where the owner is not nice, and it is not full of people. I have had no such luck with the Janome dealers, and I have been to more then 4 different dealers since I first got my machine. But hey, the machines are good, so that is all that counts.

I want to know which machines are the best from the two companies. What should I try. I am selling my big MC10000 and want a seperate embroidery machine, so I am only interested in the sewing machine. Price is of no issue at the moment.

Thanks

Jeannine

Sigrid.


Netherlands
Member since 11/14/06
Posts: 702
Skill: Advanced
Body Type:




Date: 7/2/08 4:52 PM

I have no experience with Janome sewing machines, but sew on a Bernina Aurora 430 since 2.5 years (previous to this one I had Pfaff sewing machines. This Bernina is a wonderful sewing machine. It has some decorative stitches, but I never use them and knew that when I bought the machine. The buttonholes are perfect!

------
http://sigridsewingprojects.blogspot.com/

Barbara3

USA
Member since 5/22/06
Posts: 1349
Skill: Intermediate



In reply to Jeanninem

Date: 7/2/08 6:26 PM

Jeanninem, I've sewed on a Bernina since buying my first 930 nearly 25 years ago, and I've never bought another brand of sewing machine since then. I still use that wonderful Bernina 930, and have never had one moment's problem with it. But I also now have a 630 and 240 (the 240 is for travel).

A great machine for garment sewing is the Bernina 630. Like you, I don't need or want all of the decorative stitches or the embroidery attachments. But I do appreciate all of the wonderful functional garment sewing features this machine has (including its well known CB hook system and perfect stitch). The large color screen is very user friendly, and the feet are great quality. This machine's features are too many to list here, but check out the website if you're interested...

http://www.berninausa.com/product_detail.jsp?PRODUCT%3C%3Eprd_id=845524441868431&FOLDER%3C%3Efolder_id=2534374302025051&ASSORTMENT%3C%3East_id=1408474395181831&bmUID=1215035622319

Let us know what you decide and how you like it. Good luck, Barbara

neither


USA
Member since 12/7/06
Posts: 653



In reply to Jeanninem

Date: 7/2/08 6:34 PM

I also would have to second the 430 Aurora recommendation. It is the least expensive full size computer driven sewing machine and it is geared toward clothing construction. It has the potential to add on other elements for quilting with the BSR foot and Embroidery, if your tastes run in that direction. The other higher priced machines in the Bernina will do more stuff of an increasingly fancy nature, so it just depends on what you are looking to accomplish and how much money you want to spend. The 430 is a good place to start, and see if that will do the things you want a sewing machine to do. If not then go up the scale until you find what you want. Good luck.

------



SheilaAnn


Maryland USA
Member since 3/28/08
Posts: 393
Skill: Intermediate



In reply to Jeanninem

Date: 7/2/08 6:56 PM

I have had Bernina's for about 10 years now. I have the 930 (not computerized, but a real gem), and the Aurora 440E, which is the one I now mostly use. I can't say enough about the quality of both these machines, and the wide array of feet and accesories. The 440 can be purchased with or without the embroidery module. Like most Bernina owners, I think they have the best straight stitch ever, and the buttonholes are wonderful. That said, I do agree that the dealer is a very important part of the whole story. You have to like them and they need to be willing to work with you, offer classes etc.

------
Sheila

God's love is infinite!

Jeanninem


Florida USA
Member since 5/2/06
Posts: 43
Skill: Intermediate



Date: 7/2/08 7:02 PM

I would like to stick under $1200. I actually like the Activa brands, and the Auroras. I will try to get to the Bernina dealer this weekend, and try them out.
Jeannine

Jeanninem


Florida USA
Member since 5/2/06
Posts: 43
Skill: Intermediate



In reply to SheilaAnn

Date: 7/2/08 7:38 PM

Quote: SheilaAnn
I have had Bernina's for about 10 years now. I have the 930 (not computerized, but a real gem), and the Aurora 440E, which is the one I now mostly use. I can't say enough about the quality of both these machines, and the wide array of feet and accesories. The 440 can be purchased with or without the embroidery module. Like most Bernina owners, I think they have the best straight stitch ever, and the buttonholes are wonderful. That said, I do agree that the dealer is a very important part of the whole story. You have to like them and they need to be willing to work with you, offer classes etc.

I agree with the dealer part, and I would love to find one dealer and stick to them. However, my husband is military and we move every 2-3 years. I have come to hate to walk into a new dealers store, because unless you buy the machine from them, you get treated pretty poorly. It is not always the case, but it takes a long time to warm up to a new dealer.

SheilaAnn


Maryland USA
Member since 3/28/08
Posts: 393
Skill: Intermediate



In reply to Jeanninem

Date: 7/2/08 9:10 PM

Well if you ever find yourself in the Northern Maryland, or S Penn area, I'll give you directions to my Bernina dealer near Lancaster, PA. Even though I travel almost 2 hours to get there, he makes it worth it. He is a Mennonite, and his shop is on his family farm. His family runs the sewing shop, farm, and household. They are truley the nicest people you will ever meet! And he sells the machines probably at the most reasonable prices on the east coast. They don't believe in overcharging, and they really don't have a lot of overhead. It is an experience in itself just to see this place and meet them.

------
Sheila

God's love is infinite!

neither


USA
Member since 12/7/06
Posts: 653



In reply to Jeanninem

Date: 7/2/08 9:33 PM

You will not likely get into a new Aurora for that price. The Activa line is doable, but is a smaller machine without a lot of the features of the Aurora. Such as pressure foot adjustment. It is also 3/4 sized, so if you are sewing any large home dec or quilts you will struggle pushing fabric through the harp. I can say from experience, that I had 2 computer motherboards go out on a new Activa, and if the dealer had not allowed me to trade up on the Aurora, I would have walked away from Bernina forever. The Activa is not 100% Swiss made, if that is what you are looking for. It is made with Swiss made parts, but assembled in Thailand. Not that that is a bad thing, in and of itself, but just understand what you are getting. If you are only sewing clothes, then the Activa might work, and a lot of quilters use one for taking to classes for piecing tops, because it is light weight. Just something to think about.

------



neither


USA
Member since 12/7/06
Posts: 653



In reply to SheilaAnn

Date: 7/2/08 9:40 PM

My Bernina dealer is on an Old Order Mennonite Farm, with a small shop on the farmstead. It is in North Central Ohio, and they are wonderful to deal with also. I have become friends with the man of the family who does all the machine repairs, and he is the most thorough and trustworthy person to deal with and very fair on pricing. It has made the whole buying of a Bernina possible for me, and I would heartily recommend doing business with them if you are within any reasonable distance. Blooming Grove Sewing Machines is the name of their operation. You can access it from the Bernina Website, or if you need any information, I can e-mail it to you.

------


Printable Version
* Advertising and soliciting is strictly prohibited on PatternReview.com. If you find a post which is not in agreement with our Terms and Conditions, please click on the Report Post button to report it.
Online Class
Sewing Basics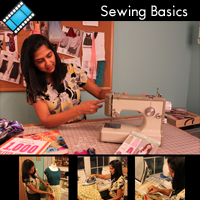 Online Class
Break your Serger Out of the Box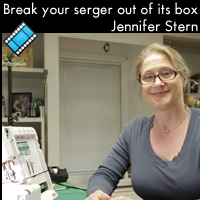 Other 41

by: petro
Review
StyleArc Alannah T-Shirt

by: clothingen...
Review
Paradiso Designs Kimono Jacket Formula Pattern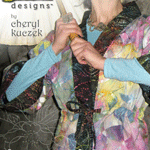 Pattern Details
Sew Chic Pendleton Dress Paper Pattern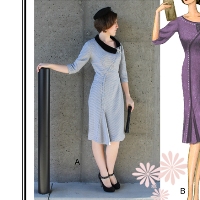 Pattern Details