Cynthia Saska


Member since 8/24/02
Posts: 7
Skill: Advanced



Date: 4/14/04 9:00 PM

Many of us, like me, had mothers who said, "If you can't say anything nice, don't say anything at all."  Maybe many of us disregard what our mothers said.  Maybe some of our mothers never believed that precept.  But I think my mother was right more often than not.  In my professional life this old wives' wisdom was validated by the esteemed professor and literary critic Helen Vendler who announced several years ago that she would only review poetry she could praise and validate.  She was setting herself a difficult task:  it's easy to criticize.  Genuine and specific praise is hard to construct.  Ask anyone who has received a bad grade on an essay--the paper is probably riddled and scribbled with comments.  The "A" essay probably received far fewer comments, although it certainly merited more attention. I am not saying that I am an "A" sewer, but I post here, like many, taking time out of a busy professional schedule, time I could spend sewing, because in good faith I want to share positive experiences and encourage other sewers.  Like writers, we sew in solitude.  I also like to support independent pattern designers who represent the values I share--independent creativity and enterprise.  People who post comments like "$16 for a pattern for elastic waist pants!?!?" to make me feel foolish are certainly a disincentive to continue to contribute.

GorgeousFabrics


Member since 8/12/02
Posts: 2934
Skill: Expert/Couture



Date: 4/14/04 9:44 PM

I'm sorry if those kind of comments have been tossed your way Hiacynth - ouch! I haven't seen too many negative comments on this site, which is one of the reason I like it so much. I'm with you about the "if you can't say something nice..." methodology. I am not at all hesitant to point out flaws in a pattern that I have sewn. I figure that is the point of the site - to forwarn anyone about possible problems with a pattern, and to send kudos to a pattern company when they put out a good product.

There were some pretty unfriendly posts a couple of years ago, but the posters seem to have disappeared. I think that we should do everything to encourage folks to sew not discourage them through demeaning comments. Keep up sewing, and hey, if a $16 pattern for elastic waist pants gives you the results that you want, then you sew it, girlfriend! Heck, I've paid more than that for patterns that didn't sew up that well!

-Ann

MaryBeth


USA
Member since 1/1/03
Posts: 2737



Date: 4/15/04 0:09 AM

You know, Hiyacinth, I think I saw that post as I quickly scanned a topic.  I didn't stop to think about it much, I just decided that I didn't want to spend much time reading the posts closely anymore, and I haven't.  This wasn't a really conscious thought but more a feeling.  I'm glad you've brought this to my conscious mind.  I hadn't really put my finger on maybe why I was feeling differently.

I'd like to applaud Ann for her reply.  This attitude is the one that had drawn me to the site over a year ago when I first started reading the posts here.  Thanks for being your gracious self, Ann.

------
http://www.thestitchery.wordpress.com
http://www.thesewingdivas.wordpress.com


NancyDaQ


New Mexico USA
Member since 1/12/02
Posts: 3838
Skill: Advanced



Date: 4/15/04 0:43 AM

Hiyacinth,

I agree with all that's been said. I have no problems with anybody spending what they want for a pattern--I've spent $$ at all price points. Heck, one of my favorite elastic waist patterns was $19.99 (Sewing Workshop) and it was worth every last penny.

I think sometimes it helps to keep in mind the difference between price and value when commenting on what someone has spent on an item. Sometimes you can have a great value at $16 and sometimes 99 cents is overpriced.

Please keep contributing.

------
Now blogging at http://sewwest.blogspot.com

Rhonda Noah


USA
Member since 4/8/02
Posts: 2363
Skill: Intermediate



Date: 4/15/04 2:54 AM

It's hard to know what kind of tone a written comment has, too. While the comment may have come across as insulting or demeaning, the poster may have been someone who was completely unfamiliar with independent patterns. I have to admit, when I first heard of them and saw their lofty prices (compared to the 99 cent and $1.99 specials) they seemed terribly overpriced. So, maybe this person is just learning about them.

Because after awhile, I took the plunge and now have a modest little collection of $20 patterns, too.

But, please don't let negative or negatively seeming comments put you off from future posting. My yard man used to tell me that you need a really healthy, thick stand of grass and it will crowd out the weeds, instead of vice versa.

------
I no longer measure fabric by the yard, I measure it by the bin.

Lou.


New Jersey USA
Member since 8/24/02
Posts: 1214
Skill: Intermediate



Date: 4/15/04 6:19 AM

I have to say I think $16 for a pattern is a lot, for any pattern, but that doesn't mean I don't own a few....it's upto you how much money you spend on a pattern.

The comment was maybe meant as a dig at the pattern company and not your personal spending habits. I wouldn't take it like that.

I always comment on my reviews if I think a pattern is worth the money or not if I paid a lot for it....and it's hard to decide what constitutes a good pattern. For example, I have 2 Loes Hinse patterns, one of which the fit is ok, the other I don't like. This is my body shape not the pattern, and someone who the pattern fits perfectly can easily justify the price. I will probably re sell the patterns, (I trace), and stick to what I know fits me.

If Kwik Sew put their prices up there is no doubt in my mind that I would still buy them, probably just not as often.

One of my pet hates in comments is advice when it's not asked for. It winds me up when people comment on personal style or fashion, afterall the review is for the Pattern not what the person looks like in the result!

We all get a buzz from comments on the review that are nice and I do think that if you can't say anything nice, then skip the review.....unless the person has asked for opinions.

I usually skip reviews that aren't my taste or that I already have, or have 20 comments already.

just my 2 cents

------
Lou

Deepika


Founder
Massachusetts USA
Member since 11/28/01
Posts: 13492
Body Type:




Date: 4/15/04 7:27 AM

Hiyacinth,

I agree with everything that has already been said on this subject. I too used to think that the independent patterns cost a lot but when I learnt that the designers have to pay a lot to get them printed then it all made sense. And then I decided that if an independent pattern gets rave reviews, I am going to buy it. Textile studio santa monica t-shirt pattern is the one I've used so many times and it has paid for itself.

I would suggest that don't take those comments to heart. Another thing also is that when things are written instead of said they have a whole different meaning. I am sorry that you felt hurt by someone's comments but hey I am sure the positive comments are outnumbered by the negative one's. Look on the brighter side We are all here to encourage each other. I for one know that if it wasnt for you all, I would have given up sewing long time ago. Hang in there!

------
- Deepika
Founder, PatternReview.com
Blog: http://www.deepikablogs.com

Lou.


New Jersey USA
Member since 8/24/02
Posts: 1214
Skill: Intermediate



Date: 4/15/04 7:36 AM

If it wasn't for the encouragement I have received I would never ever be sewing now.

I look back at my first reviews (that I was so proud of) and the clothes are terrible, the fabric is horrible and I was blind....but the encouragement I received was amasing despite this and now I have clothes that I am proud of because they are good, not because I made them.

------
Lou

Patti B


California USA
Member since 9/29/02
Posts: 2663
Skill: Intermediate



Date: 4/15/04 9:24 AM

Hopefully not beating this topic to death

but my thought when I saw that comment was a bit different. I think the reviewer saw the pants, loved them and was thinking about buying the pattern ... until she saw the price. I took the comment more as a "Yipes!" than as an "oh, you idiot!" remark. Loved the pants myself! I also thought that the independents were expensive but, like Deepika, learned more about the process and understood it better. I LOVE the fact that there are so many creative designers out there willing to take the risks involved in this wonderful passion/business of sewing. And, so, my collection grows ....

Patti

------
Patti

R-r-r-ripping my way to fitting success


stripey


California USA
Member since 3/25/03
Posts: 66



Date: 4/15/04 12:26 PM

I didn't see the review that this comment came from, but I have to say that in terms of positivity and encouragement and friendliness, this website is one of the best! (and I've been on many of them, and not just for sewing either).

And while there may be some negative comments here and there on PR, most times, I'm guessing, the people who wrote them didn't even realize that their comments were negative! Or, perhaps, they wrote them in a hurry and then went "Ack! What did I just say!" after they pressed the "send" button (this often happens to me, unfortunately, because I usually only have about 45 minutes to devote to this site -- barely enough time to read and reply to a single review, not to mention proof-reading, etc!).

Opinions are subjective, and from the unique point of view of the person who is giving them. So there will always be some misunderstanding about them -- if only because no two people can ever see things the exact same way. Even positive things!

It's also muddled up by the internet, because there's no visual clues (other than smilies!) to indicate our levels of seriousness, silliness, sarcasm, etc. So what one person perceives as sincerity, another might perceive as sarcasm!

------------

>One of my pet hates in comments is advice when it's not >asked for. It winds me up when people comment on >personal style or fashion, afterall the review is for the >Pattern not what the person looks like in the result!

I both agree and disagree with this. I think that it's important not to slam someone else's taste in a review (for instance, to tell them that their choice of fabric was ugly or that their sewing was sloppy, or that they look fat or emaciated or etc in the picture ...)

But at the same time, isn't the reason for posting these reviews primarily to get constructive criticism and tips and hints and comparisons? For me it is at least, though I haven't been able to post nearly as many reviews as I'd like to. Some of the best tips I've received have come from the comments sections of the reviews, so I hope that people will keep posting constructive criticism there! I've learned so much from everyone!

So I guess, in a nutshell, what I'm trying to say is that I think it's NOT appropriate for a person to say:

"I think you're too fat for this style of dress and that your fabric choice is really tacky"

-- but at the same time, I have no problem with someone saying on that same review :

"perhaps if you let the seams out on the side a little bit, and shortened the darts, you'd end up with the fit that you said you were trying to acheive. Also, this pattern seemed to turn out well for me when I made it up in a knit instead of a woven. If you're considering making it again, you might try using interlock instead of tweed ..."

(It's the "constructive" part of "constructive criticism" that has value ... When there's nothing "constructive" in it, it's just criticism).
Printable Version
* Advertising and soliciting is strictly prohibited on PatternReview.com. If you find a post which is not in agreement with our Terms and Conditions, please click on the Report Post button to report it.
Online Class
Serging Ahead with your 5 Thread Serger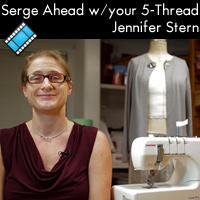 Online Class
Beyond the BoatNeck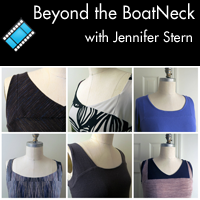 Colette Patterns Meringue

by: DonnaH
Review
Contest Sewing Bee Round 1

by: gezzyka
Review
Pamela's Patterns The Versatile Twin Set Pattern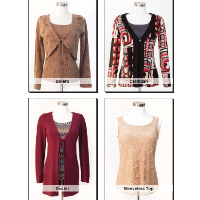 Pattern Details
Sewing Workshop Origami Skirt Pattern

Pattern Details