EveS


Michigan USA
Member since 11/26/06
Posts: 2701
Skill: Intermediate



Date: 8/20/08 9:21 AM

I'm going to do it. I'm going to bite the bullet and get a coverstitch machine. I've pretty much decided on the Janome CP1000.

I have yet to buy a machine from a dealer, so I'm new to the wheeling and dealing "fun" (which, by the way, I loathe). The reviews of the 1000 (a couple of years old) list prices from $500-600. I'm wondering if this is still a reasonable price now. I'm also entertaining any dealing advice from any of you "pros" out there...what kind of percentage off is a "good" deal? What other things - warranties, accessories, etc. I should be considering?

I only have one dealer within an hour of my house, so I'm hoping I can do business there, but I suppose I can make the trip further if a good deal elsewhere (or bad vibes at my nearest dealer) warrants it. I might add that I am in the market for a carpet cleaner, too, so I'm hoping this might get me a little more dealing power since this dealer is a sew-n-vac.

Any advice or insight will be greatly appreciated!
Eve

------
People who say it cannot be done should not interrupt those who are doing it - Chinese proverb

Vonnevo


Australia
Member since 10/25/04
Posts: 5927
Skill: Advanced





In reply to EveS



Date: 8/20/08 9:37 AM

Eve, I can't help you with prices too much as I am in Australia, but some of the girls over on the CP thread here on PR, have bought their machines for less than $500.

Sometimes the dealer will throw in some accessories too.
The must have accessory is the clear centre guide foot with the removable rudder, which is the same as the clear foot.
Other users have favourite accessories depending on what type of sewing they do.

You might like to post your message in the 270 page CP thread too
You will love having a coverstitch machine !
Vonne

------
Vonne šOš Brisbane Australia
---------------------------------
Laughter is timeless, imagination has no age and dreams are forever.
We don't stop playing because we grow old; we grow old because we stop playing.

EveS


Michigan USA
Member since 11/26/06
Posts: 2701
Skill: Intermediate





In reply to Vonnevo



Date: 8/20/08 9:43 AM

Vonne,
Thanks! I'll post on the CP thread, too. I have peeked at that a couple of times, but didn't really sift thru all 300 or so pages. I must say, however, that your initial post that includes links within the thread is EXTREMELY helpful. Thanks for your hard work! I know I will be visiting that thread much more often in the near future.

I really am looking forward to having a coverstitch machine. I'm quite addicted to knits and quite over twin needle stitching.

Eve

------
People who say it cannot be done should not interrupt those who are doing it - Chinese proverb

2ndHnd Rose


Ohio USA
Member since 12/25/04
Posts: 247
Skill: Intermediate





In reply to EveS



Date: 8/20/08 11:43 AM

I don't if this is any help or not but I bought my CP1000 in Cincinnati for $599. This included the extension table. This was about 2 years ago and the posted price was alot more. I stated what other PR members had been paying at that time and they matched it. HTH

JanyceR


Colorado USA
Member since 2/3/07
Posts: 1769
Skill: Advanced
Body Type:






In reply to EveS



Date: 8/20/08 12:10 PM

Eve, I think the prices can definitely vary by region. You might be in a part of the country where you can get the lower price, I am not. Here in my town and 70 miles away, closer to the MSRP (I think) of $999 is what the going price is. Period. I was able to get the price down $200 by telling what prices I had seen on PR. My deal included two elastic feet, the clear foot, and the clear foot with guide. All the accessories the dealer had. I know some have said you don't need both clear feet, but it was part of the negotiating process! So all in all, I think I still paid quite a bit more than others, but I bought locally. I suspect I could have driven 120 miles and got the machine only for close to the same price as PR members. But it would have cost me $50.00 in gas, plus wear and tear on my car for an almost 250 mile round trip. And I would not have had someone local. And I would not have had any accessories at all.

My dealer is like others, she really does not know that much about the coverstitch. But she will dig in with me, and she will learn everything she can to be of help. That is worth a lot to me. And the price was significantly less than the best deal possible on a Babylock BLCS locally.

I think the negotiating is really hard! And I personally don't feel comfortable pushing hard with comparisons to other parts of the country. Good luck, I do love this machine and it was worth it for me.

------
Bernina 880, Creative Sensation Pro, Bernina350SE,



marymary86

Georgia USA
Member since 7/20/08
Posts: 3531
Skill: Intermediate



Date: 8/20/08 11:07 PM

my husband always asks "what is your best price?" They have always come under what he thought would have been a fair deal ... he's done this with cars, our bicycles, etc. It's a phrase I'll use the next time I buy a machine.

------
Mary




Jeanninem


Florida USA
Member since 5/2/06
Posts: 43
Skill: Intermediate



Date: 8/20/08 11:33 PM

I bought mine last year for $399. You may have to pay more now because of the weakened dollar, but no more then $500. Otherwise, keep your eyes open on Ebay.

Mrs.Moos


USA
Member since 11/5/02
Posts: 2602
Skill: Advanced



Date: 8/21/08 0:05 AM

Hi Eve! I paid $519 out the door for mine in April of 2006. I could have driven 2 hours (one way!) and got one for $499. My local dealer wasn't going to budge until I mentioned I would be driving to Sacramento. Then the salesperson "called her manager" and lo and behold the price dropped magically to $519. I felt the $20 was worth it not having to make a 4 hour drive. You may want to call Kevin at Ken's Sewing Center and pick his brain. I am pretty sure he can sell them out of his store for less but he can't ship them. But if you have a friend or relative in the area (Alabama) you could have them buy if for you and ship it...There was a PR member that "had a line" on a store closing and had some for sale--I think her name was Fabienne? You may want to PM her.
Work any angle--that's the way i looked at it!

------
Janome 6500P, Babylock Eclipse SX, Janome Coverpro 1000, Babylock BLCS, Juki 654, Juki 735, Janome 1600PDB, Brother ULT 2002D, Babylock Spirit, Brother 770

nancy2001


Member since 12/3/05
Posts: 6441
Skill: Advanced



Date: 8/21/08 7:29 AM

Incidentally, you can buy the CP 900, which has only a 5mm coverstitch, but is otherwise identical to the CP 1000, from Ken's on ebay for $249, including free shipping, large extension table and two elastic feet.

------
No sewing project is ever a complete success nor a total failure.

EveS


Michigan USA
Member since 11/26/06
Posts: 2701
Skill: Intermediate



Date: 8/21/08 9:05 AM

Thanks, all, for your replies! It really helps to have a general pricing idea when I go in.

Mrs.Moos, unfortunately I don't have anyone even remotely near AL, so that option's out. Thanks for the tip, tho.

As for eBay, I've been stalking the site for about a month and not seen a single 1000 go up for sale (plenty of 900's, tho). I guess that's a good sign, right? Once people get them, they don't want to part w/ them. And apparently dealers can't sell them online (seems I did read that somewhere), as I've not found one for sale this way.

Also, I'm leaning towards the 1000 (as opposed to the 900) because of the stitch options. This is a rare occasion in which I have a little extra money to burn so I figure I'll go for the most features I can afford, especially considering how much I sew w/ knits...hopefully that'll save me from wishing for "more machine" later in life.

Eve

------
People who say it cannot be done should not interrupt those who are doing it - Chinese proverb
Printable Version
* Advertising and soliciting is strictly prohibited on PatternReview.com. If you find a post which is not in agreement with our Terms and Conditions, please click on the Report Post button to report it.
Online Class
Sewing with Slippery & Drapey Fabrics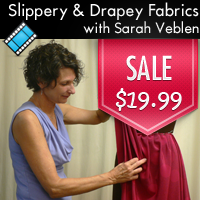 Online Class
Sewing Basics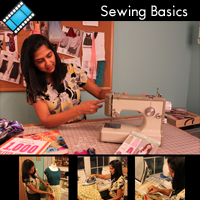 New Look 6205

by: Saint Nolt...
Review
Sewing Workshop Chicago Jacket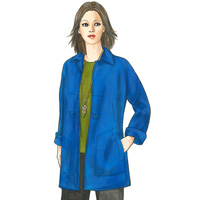 Pattern Details
Victoria Jones Collection Men's Classic Hawaiian Businessman's Aloha Shirt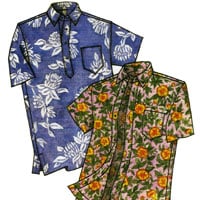 Pattern Details
Butterick 5030

by: j Renee De...
Review