sewonandsewforth

Texas USA
Member since 6/12/08
Posts: 296
Skill: Intermediate

1 member likes this.




Date: 9/27/08 11:06 AM

I made most of my own clothes for years and years. Then, about 10/12 years ago my figure changed pretty drastically. I still make pants and some blouses but haven't made dresses in a very long time. I'm definitely not going to do major alterations to patterns. I don't know how and I'm not going to learn. I would even buy some dresses if any were offered in RTW that a mature woman would wear. But, the other day I looked through the pattern books at Jo-Ann's and discovered that there really aren't any dress patterns for mature women either. It seems that the RTW clothing mfgs. and the pattern companies all seem to think that all women exist only in ages 20 to 35. Can anybody reading this relate to what I am saying? If so, do you have a source for dress patterns that are suitable for mature women? I will soon be 77 years old but I do not dress frumpy. I still like pretty, fashionable clothing. I would really enjoy hearing what other women ages 50 and above have to say.

Lady_Mame


Washington USA
Member since 3/11/07
Posts: 2074
Skill: Intermediate



Date: 9/27/08 11:22 AM

I'm not 50+, but I do certianly understand how hard it is to find find appropriate patterns. I have a really awkward body, and so a lot of those sweet young thing patterns look awful on me. Like you, I dont' want to look like I gave up, or hopped a ride on the frumpy train.

I looked at Vogue's new patterns, and I really liked this one for an all-ages classy look --

Vogue Pattern for Hooded Wrap

. It might not be your style. I also saw this

Vogue Jacket and Dress

. It seems to me if I were older (or dressing one of my older relatives), I might spend more time with the Vogue pattern site, and maybe less with the McCall, Butterick or Simplicity, whom I think have a younger feel.

I hope you can find some sleek looks. If you could talk a bit about what you like, maybe we can point you in the firection of some of our favorite patterns :).

------
Needle Needle Straight and Slim, Dust and Sweep the House for Him! --Grimm Fairy Tales

Rhoda K


Alabama USA
Member since 8/22/05
Posts: 2380
Skill: Intermediate
Body Type:




In reply to sewonandsewforth

Date: 9/27/08 11:36 AM

I agree with Lady-Mame. I'm catching up to you but I refuse to wear frumpy, too. I generally stick to Vogue when it comes to dresses. Although I don't wear dresses that often I still tend to stick with the classics in most of my clothes. I like Vogue for the reason that they always have something a little different in many of their designs and I like different, but not eye-popping, if you know what I mean. As for RTW, everytime I find a dress I like, it's always in the junior, petites, etc. - never in a misses size

. Good luck on your search.

CM_Sews

USA
Member since 9/18/04
Posts: 2026
Skill: Intermediate



Date: 9/27/08 11:54 AM

If you've only been looking at the Big 4 (Vogue, Simplicity, McCalls, Butterick), take a look at other brands, even small niche brands.

Kwik Sew

has some stylish selections, but also a good selection of basic styles that are only as dowdy as your fabric choice.

Petite Plus (see sizing chart here)

may or may not fit your needs. Note that the center back waist lengths are shorter than "standard" patterns; compare with

Vogue measurements

for example.

You can get an idea of how many different sewing pattern companies there are at

SewingPatterns.Com

. (Note that pattern publishers also have their own websites with detailed information, but that would require dozens of links in this post. If you see something you like, Google the publisher name.) Quite a range, compared to what you see at JoAnn's.

CMC

Clareew


Hampshire United Kingdom
Member since 5/10/06
Posts: 1354
Skill: Intermediate



Date: 9/27/08 11:55 AM

My problem is that I have to wear flat shoes with insoles, usually laced. Finding a dress which looks good with flat/frumpy shoes is not easy.

I am only 50 and find this really hard.

------
Clare

Machines: Juki F600, Juki 654 serger, Bernina 550 for art work,Babylock BCLS , handcrank Singer 201
A Singer Featherweight Centennial and an old Necci in the loft waiting for TLC

http://art-by-clare.blogspot.co.uk/

AnneM


Contest Committee
Member since 7/30/02
Posts: 7463
Skill: Intermediate



Date: 9/27/08 1:58 PM

Check out this thread:

Fashions for Over Fifty and Fab

------
With a great wardrobe that's still in the flat-fabric stage.

rivergum


Member since 12/17/06
Posts: 1901
Skill: Advanced



In reply to sewonandsewforth

1 member likes this.



Date: 9/27/08 4:03 PM

I'm 54 and I wish I had trouble finding patterns! As it is my wardrobes are overflowing with patterns I have liked enough to buy and make up.

Just because a dress is modelled by a 25-35 year old does not mean it is not suitable for an older person. Fabric choice and colour makes a big difference. Classic styles in classy fabrics look great on older women. Cheap and cheerful in garish colours and the latest fashion folly style often only looks good on the young and beautiful!

I find that as I have gotten older I can't wear high contrast prints in bright colours, especially cool/blue toned ones, somehow they don't do much for my skin any more. Warm tones are better, and also soft colours and muted contrasts or plains. But that is an individual thing, there are plenty of ladies here who look good in jewel tones and dramatic black/white prints.

My figure is not unlike yours, petite, fluffy but not plus. I wear a 12 on top and 14 on the bottom in Australian RTW, or 38 and 40-42 in European sizing. I don't really have to make a lot of changes to my patterns to make them fit.

One good thing about dress patterns is that if you find a good classic that you like and that fits you, you can make it over and over with variations. I have a sheath dress pattern I have made many times, in linen and cotton for day and silk etc for evening. Nobody who doesn't sew would ever notice that it is the same pattern.

Maybe start with buying some nice material and then look at the line drawings of the patterns instead of the models.

------
Taking in is happier than letting out.

Central Coast of NSW, Australia
theinsouciantstitcher.wordpress.com

sewonandsewforth

Texas USA
Member since 6/12/08
Posts: 296
Skill: Intermediate



Date: 9/27/08 5:20 PM

Franticfashion, I am not looking at the models/drawings but at the styles. I don't wear tight fitting, above the knees, necklines down to the cleavage, etc. styles. It is the styles that I am unhappy with not the models themselves.

I love shirt dresses but no longer wear belts because the major portion of my fluff is in my stomach and wearing a belted garment is just not the thing to do with a prominent tummy. All shirt dresses require belts.

I know what colors look good on me and I know which prints are good and which ones aren't. So, that's not the problem either. I don't wear knits for the same reason I don't wear belts. They are too clingy and look really bad on a person, like me, with the prominent tummy.

I think after reading the comments I will have to resign myself to continuing to wear only pants, tops worn over and not tucked in and jackets and sweaters. It's just that I would like to have a couple of dresses to wear on occasion.

Thanks for the replies, though. I do appreciate it.

Sherril Miller


Went to PR Weekend!

Member since 8/24/02
Posts: 7504
Skill: Expert/Couture
Body Type:




Date: 9/27/08 5:35 PM

I think you may be being too critical of your body. If knits aren't over fitted, they can look great on those who carry a bit extra around the middle. I agree that wovens sit away from the body more and may make you more comfortable, but that may also be adding visual inches as well. As long as a knit isn't skin tight, but rather draping on the body, then I think you should be able to wear it. I'm also short, 47 years old and I do wear plus sizes. Length of dresses are important when carrying some extra weight as well as a good drapey fabric. The length shouldn't be too long but short enough to still making you feel comfortable.

-- Edited on

9/27/08 5:44 PM

--

------
Visit my blog at http://sewingsaga.blogspot.com

If it's worth sewing, it's worth sewing well;
and if it's worth sewing well, it's worth FITTING FIRST! - TSL

Karla Kizer


Member since 4/8/02
Posts: 8261
Skill: Advanced



In reply to sewonandsewforth

Date: 9/27/08 5:55 PM

I share your dismay about knits. Once that waist becomes a waste, everything seems to cling to the wrong spots, no matter how much ease you're careful to include. It's really easy to look very, very bad. I've had to give up on anything that includes lycra, because no matter how oversized it is, the @#$% fabric clings to the flesh around my very ample middle. I look like a manatee dressed for the gym.

However, one of my mother's most flattering outfits is a Coldwater Creek skirt and top combination in a blue cotton velour. The skirt is straight, and as short as an 80-something with good legs can get away with; the top is long, with a banded bottom edge that hits her well below her tummy - close to upper thigh. The top is roomy through the midsection, with the lower band controlling the fullness so it skims over her abdomen. The drapey cowl neck draws attention away from the middle, and Mom looks very young and "with it". Great earrings and a martini complete the look.

Try on some RTW silhouettes that you haven't tried before. It's a lot of work, but it's really fun when you finally find something that works.

------
"Never try to teach a pig to sing; it wastes your time and it annoys the pig." -Robert Heinlein and Ann's father. Thanks for the reminder, Ann.

Where are we going, and what am I doing in this handbasket?

Matthew 25:40 (New International Version)
The King will reply, 'I tell you the truth, whatever you did for one of the least of these brothers of mine, you did for me.'




Printable Version
* Advertising and soliciting is strictly prohibited on PatternReview.com. If you find a post which is not in agreement with our Terms and Conditions, please click on the Report Post button to report it.
Online Class
Sewing with Slippery & Drapey Fabrics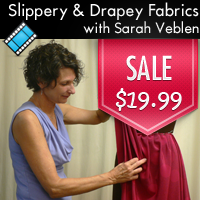 Online Class
Fun with Fitting - BODICE w Darts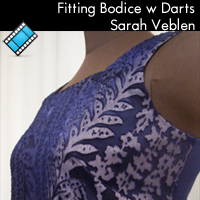 Vogue Patterns 1949

by: yummymummy...
Review
BurdaStyle Magazine 06-2014-105

by: arianamani...
Review
10 inch Professional Shears

Pattern Details
Jennifer Stern The Perfectly Fitted Shirt by the Cup-Full Pattern ( Size 6-14(Cup A-DD) )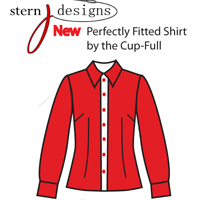 Pattern Details