This is the official thread for the Endless Combinations Wardrobe Contest. I am happy to be managing this one, although I have to say I am a little sad I won't get a chance to win those great prizes (check it out!). The contest runs for 2 months--November 1 to December 31, 2008. The goal is to create a flexible, creative wardrobe of items that go together--no orphans allowed. And this contest is definitely one where 'quantity' will make it work better.
Official Rules:
Endless Combinations 2008
Ground Rules
Time frame.
This contest runs November 1 to December 31, 2008. Submitted items must be started on or after November 1st, 2008 and completed and reviewed by 11:59 pm Eastern Time on December 31, 2008.
Contest Purpose: Build a flexible wardrobe of pieces that always have something they can be worn with!
Qualifying Items.
In this contest, qualifying items are sewn items of clothing.
Patterns may be new, well-aged in the stash but never sewn, sewn before, or tried-and-true. Items may be based on commercial, free public-use or self-drafted patterns.
A minimum of 4 items must be included to count as an endless combination. One sewn accessory may be substituted for a garment for every 4 items entered. Example: 4 garments plus a handbag, 8 garments plus a handbag and a pair of gloves...
Only one chain per 'target person'--more than one chain can be sewn, but each garment sewn for a single person must work together.
How Endless Combinations Works:
Begin with one garment of your choice. Example, Skirt A.
The second garment, of any type, must coordinate and be wearable with the first one. Example, Top A may be worn with Skirt A.
The third submitted garment, of any type, must coordinate and be wearable with either of the two previous garments. Example, Jacket A may be worn with Skirt A or with Top A, or both!
The fourth garment, of any type, must coordinate and be wearable with any one (or more) of the previous garments and so on.
The more you sew, the easier it will become to match your latest project to a previous one!
You may include multiple endless combinations in your contest entry, either for yourself or for others, but each line of coordination must be among items sewn for a single person. Each line of coordination must be complete (and continuous) for a single person.
That is, you may enter Skirt A1 that coordinates with Top A1 that coordinates with Jacket A1 that coordinates with Top A2 that coordinates with Pants A1, all intended for wear by you. In the same contest entry, you may start a new endless combination with Skirt B1 that coordinates with Top B1 that coordinates with Pants B1 that coordinates with Jacket B1, all intended for wear by your daughter.
Of course, endless combinations sewn for different people may coordinate with each other, but your entry may not be Skirt A1 for you that coordinates with Top B1 for your daughter that coordinates with Jacket C1 for your husband that coordinates with Sweater D1 for your dog (although that might make for a fabulous holiday postcard).
Items intended for sale, or for which you were paid to make, do not qualify for this contest, but items made for charity are welcome!
Qualifying Entrants. Open to all members (free or paying) who joined Pattern Review prior to August 3rd, 2008 (90 days prior to the start of the contest).
Submissions
To enter an item in the contest, write and submit a review, including a photo, for each item sewn. In the review, include a statement that says this is garment number @ for the endless combinations contest, and a reference to its coordinating garment.
You also need to write and submit a composite review showing all elements and indicating which items coordinate to make it a endless combination. This composite review will be used for voting during judging. Because each garment need not work with all the previous garments, you may decide to structure your composite review in such a way that each garment is placed in succession with the garment it's meant to be worn with.
Points, Winners and Prizes
Points. In your contest entry, give yourself one point for each item sewn.
Winners.
There will be two winners of this contest:
The first prize winner will be determined by highest number of PatternReview member votes. Voting begins January 2nd, 2009 and ends January 11th, 2009.
The second prize winner is determined by the highest number of points (equal to the number of items entered).
Voting guidelines - points to keep in mind when you vote.
In no particular order:
- How well do the items coordinate? Are the items truly endless combinations?
- Construction / skill of design and craftsmanship compared to the declared skill level of the entrant
- Designer creativity
- Presentation.
- Is the pattern/process reviewed well? Is the review thorough, informative, and helpful? Did it help you decide whether or not to pursue such a project yourself? See What do you look for in a review? Characteristics of good review and Tips for writing a good pattern review for a list of member-developed guideline for judging the quality of a review.
Prizes.
First Prize: $100 gift certificate from Fashionista Fabrics
Second Prize: $75 gift certificate from Fashionista Fabrics
Contest Report
How to write a composite Review
Hi all, I've created a special section for endless combinations. So when you go to write a new composite review for EC, here's what you need to do:
Option 1
From the
Add Review
page, choose
Contest
from the Pattern company drop down and enter
endless combinations
in the pattern number field. Then click on Find.
Option 2
From
The Contest Page
click on Write a review button. This way all the entries will be in one place.
Hope this helps
Update by Deepika 11/07/08
EC template loaded in review
When you go to write a review from one of the two options listed above and when you click the Click here to load a template to help you write a review, a template specifically designed for this contest will load in the review box. Once there you can copy and paste the Item # sections as many times as you need. Hope this makes sense.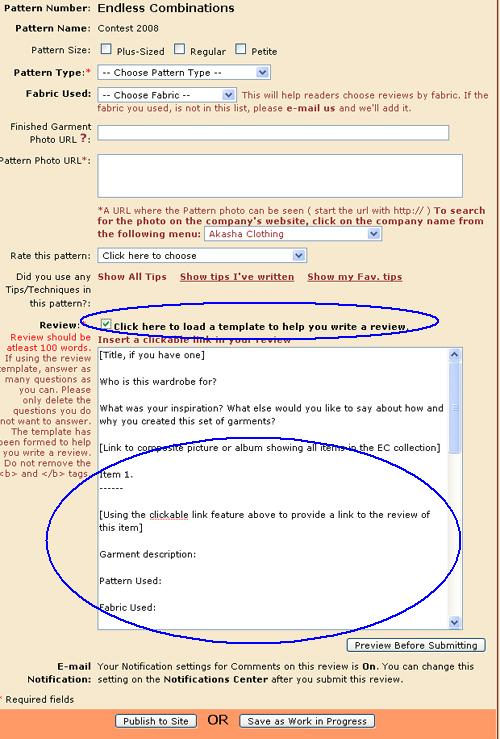 -- Edited on
11/7/08 3:48 PM
--
-- Edited on
11/8/08 8:23 AM
--
------
Sew on through all ups and downs. Remember--it is only fabric.

Sill working on Fabric stash reduction: Aiming to see the sewing room floor before 2009.