MapleCandy3


Member since 11/13/07
Posts: 279
Skill: Intermediate



Date: 12/25/08 5:09 PM

It's time to sew some of that stash up ladies and gentlemen!

This is the official thread, and the objective of this contest is for each contestant to reduce the size of his or her fabric stash.

RULES

1) Sew an item (useable or wearable) using fabric in your stash. It counts as stash if you had it in your possesion for at least 5 months (so prior to August 1, 2008). If you aren't certain when you got the fabric, your educated guess is fine; the concept is to exclude more recent purchases, not track exact dates.

2) Points will be awarded based on the total yards sewn up by each contestant during the contest. Each yard sewn earns the participant one point.

3) Any item entered must have been made entirely in the contest timeframe (no earlier than January 1st 2009, and finished and reviewed by the end of February 28, 2009 Eastern time). Item must be completely finished (ok if you have to press or wash it still) to count.

4) Definition of Age of Fabric: The age of stash yardage is determined from the date the fabric came into your possession.

5) Have fun! Even if you know you can't win the contest, enter your yardage to increase the contest total. We all love seeing how much fabric gets sewn up during the contest, and at the end we are all winners, whether we sewed one yard or one hundred yards!

The prizes have not yet been selected but there will be2 winners. One winner for most yardage used. One winner for oldest stash fabric used.

Questions and Answers

1) Can I do anything beforehand?
Patterns can be ones used before, or you can make muslins before hand. Fabric can be pre-washed before hand. Any other work with that fabric must wait until the start of the contest.

2) What if I don't have enough fabric to make my item?
You may purchase fabric to complete a project but only the yardage that was stash yardage may be counted. For example, if you need additional fabric to cut out sleeves, and buy another 2/3 yard, that 2/3 yard is not included.

3) What types of things can I make?
Clothes, home dec, costumes, doggy beds, Linus blankets, anything that can be sewn from fabric counts - as long as it is useable or wearable by the intended person or object. This mean muslins do not qualify (unless actually useable).

4) I bought this 1908 fabric last year; is it's age 100 years old?
No; it's stash age is only 12 months or so. Another example: If it was your grandma's and she had it for 20 years, then she gave it to you for the 4th of July last year, that fabric has only been in your stash 6 months - not 20 years plus 6 months.

5) Can I count these old pants that I want to make into a skirt?
No. Stash is fabric in it's natural state only (so to speak). Recycling garments, curtains, or other items does not fit with this contest.

6) I sewed 2.5 yards. Does that round to 3?
No, it counts as 2.5 yards, and two points. When you sew another 1/2 yard, you will reach 3 yards and 3 points.

7) But someone can make a big home dec project using oddles of yards and I'm making this compex...
Don't knock it 'til you've tried it. Home dec isn't as easy as you might think. And the goal here is to use up YOUR stash in the way YOU want. So if home dec is what you need, great! If a tailored jacket with welt pockets and hand-stitched lining is what you need, great! Everyone has the choice to make anything they want for the contest, as long as it uses stash fabric.

8)a) What counts as a yard of fabric?
Fabric is any material that is wider than 24 inches. Everything below this width is a trim.

8)b) Well what about fat quarters?
A fat quarter is a way of measuring and selling 45" wide fabric that is more advantageous to quilters.
Instead of cutting 9" of 45" wide fabric, they cut the width in half (making it 22.5" wide) and then cut 18". So the actual area of fabric is the same, it's just configured differently.
So a fat quarter is still 1/4 yd of fabric.
If someone uses 4 fat quarters then they've used one yard of fabric.
It's not trim, it is fabric.


-- Edited on 12/25/08 5:10 PM --
-- Edited on 1/3/09 7:59 PM --

MapleCandy3


Member since 11/13/07
Posts: 279
Skill: Intermediate



Date: 12/25/08 5:09 PM

To join the Stash contest Click Here and then click Join under Fabric Stash.

For a tutorial on adding reviews Click Here

Stash Contest additional Information:

EVERY SINGLE MEMBER of PR may participate!!
Only those typically eligible to participate will be eligible for the prize, which is to be announced, but everyone may participate in the stash contest in an effort to motivate everyone to dig into their precious fabric stash and get some of it sewn up.
That means that Deepika, the contest manager, we on the contest committee, and members who've joined within the last 90 days may enter the contest.

And, we're issuing a 2000 yard Challenge!

Last year approximately 1000 yards of fabric were used up during the stash contest. This year we challenge all the membership to dig into stash, make something and enter it... Because we're aiming for 2000 Yards of fabric stash to get sewn up. That's right. Double last years production.
So join up, and if you've got some holiday time coming maybe you can dig through stash and come up with some projects you'd like to enter.

Wishing everyone a happy holiday.
The contest committee and the management.


-- Edited on 12/25/08 5:12 PM --
-- Edited on 12/25/08 11:22 PM --
-- Edited on 12/27/08 6:36 PM --

MapleCandy3


Member since 11/13/07
Posts: 279
Skill: Intermediate



Date: 12/25/08 5:12 PM

Hello everyone!!

My name is Kris (aka Maplecandy3) and this is my first time managing a contest on Pattern Review. If you have any questions about the Stash Contest feel free to ask, and I'll do my best to anwser! Any questions that I do get asked along the way will go directly on either the first or second post for easy reference.

HAPPY SEWING!!!!!!!
-- Edited on 12/25/08 5:21 PM --

Ody


Missouri USA
Member since 12/6/03
Posts: 2549
Skill: Intermediate



Date: 12/25/08 6:32 PM

I won the contest in 2007 and we did over 2000 yards, and this amount is totally doable, particularly with some home dec sewing out there.
I did not participate last year; however, in 07 the thread was the best part of the fun. It turned into the funniest, most memorable thread I have ever had the pleasure of participating in of all time posting here at PR. I laughed so hard one day, I literally fell off my chair at the compute.

I expect some of my old friends to be here for all the fun in this contest. Just remember----you don't have enough stash unless you can at least if sewn all together---cover your house----even if it is a big house.
SEW LIKE THE WIND! Where are you Cindy Lou!!!

------
"Sewing should be fun; make it that way!" Margaret Islander
Flying through life by the seat of my pants and hoping I get my crotch curve right.
"No humiliation is too great for a well fitting pair of pants!" Heidi Cooper
J6500P,
J1600P
J3160DC
J350E
JCP1000
Pfaff C1100 Pro
Babylock Eclipse serger
My grandmother's Feather Weight

Larisa


Virginia USA
Member since 7/15/05
Posts: 5718
Skill: Intermediate



Date: 12/25/08 7:35 PM

OK Ody.....looks like I'll be in this one, though starting late given my outpatient procedure and trying to finish clearing things out. But I have a mess of stuff lined up and waiting, including a couple of stuffed doggies, some all-over bibs, and more clothing for ME.....not counting on catching you, but at least I'll give it a go!

Larisa

------
research associate in the field of child development, married to an engineer

I am woman, I am invincible, I...am...TIRED!!



jannw


Washington USA
Member since 9/3/06
Posts: 8552
Skill: Intermediate



In reply to Ody

Date: 12/25/08 8:44 PM

I'm in..even if I won't come close to your total or to last years total individual sewn yardage...Seems to me that since this contest starts January 1st, we should try to sew 2009 yds in honor of the new year!
jan

------
2009-113.25 yds
2010-115.5
2011-80.25+30+donated
2012 86.3 yds..
2013 21.0
Everyone who sews seriously has a stockpile of fabrics, because it is natural to purchase more than can be sewn in any one season" Singer, Timesaving Sewing, 1987



Big Dog


Michigan USA
Member since 1/22/06
Posts: 1183
Skill: Intermediate



Date: 12/26/08 11:47 AM

Hmm, this contests only runs for 2 months and I have enough stash to keep me busy for at least two years, but I'll try to make a dent in some of it

------
Formerly sew*itch

Marji


Missouri USA
Member since 9/19/06
Posts: 1866
Skill: Advanced



In reply to Big Dog

Date: 12/26/08 1:42 PM

Quote: Big Dog

Hmm, this contests only runs for 2 months and I have enough stash to keep me busy for at least two years, but I'll try to make a dent in some of it


Only 2 years?

But of course, the point is to make a dent. Would that I could make a dent that would make an impression ...


I too like the idea of 2009 yards.

Just a reminder to all - the stash used must be sewn up and finished into items. So Ody, if you're making a blanket to cover the house, you'll need to Stitch that blankie together. If you do, I for one will make a road trip, just to see it!


------
Marji
http://fiberartsafloat.blogspot.com


Vintage Joan


Ontario Canada
Member since 7/16/07
Posts: 12152
Skill: Intermediate



Date: 12/26/08 1:46 PM

This is great! Here I go entering yet another contest and hoping I get anything at all made up -- but it's worth a try!

------
my shield and my very great reward ~ Gen. 15:1
~ ~ ~ ~ ~ ~ ~ ~ ~ ~ ~ ~ ~ ~
"Some people are so poor, the only thing they have is money." ~ Seen on a t-shirt worn by a young missionary in India

goodworks1


Illinois USA
Member since 7/19/03
Posts: 3831
Skill: Advanced



In reply to Marji

Date: 12/26/08 3:18 PM

Quote: Marji

Just a reminder to all - the stash used must be sewn up and finished into items. So Ody, if you're making a blanket to cover the house, you'll need to Stitch that blankie together. If you do, I for one will make a road trip, just to see it!




And I'll drive to St Louis and pick you up so we can both make the trip across the state...



Elaine

------
blog: goodworks1.wordpress.com

Printable Version
* Advertising and soliciting is strictly prohibited on PatternReview.com. If you find a post which is not in agreement with our Terms and Conditions, please click on the Report Post button to report it.
Online Class
Beginners Guide to Sewing Jackets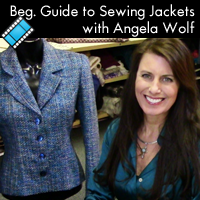 Online Class
Sewing Basics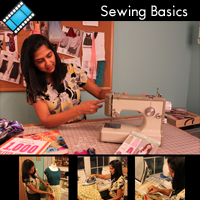 New Look 6779

by: Sheila457
Review
Stitch 'n' Flip Jacket Construction - A downloadable Book by Shannon Gifford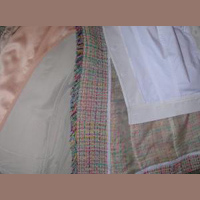 Pattern Details
You Sew Girl Beauty Case Pattern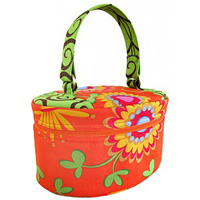 Pattern Details
Butterick 5545

by: MinaLMcGra...
Review