birdmcfarland


Pennsylvania USA
Member since 8/1/08
Posts: 961
Skill: Intermediate



Date: 1/4/09 12:38 PM

I can't remember where the previous thread was, but somehow we got on the topic of having other people ask for all kinds of sewing favors and how best to tell them no.
I recently found a wonderful strategy. I made Amy Butler Swing Bags for christmas gifts for a couple of family members and posted about it on my website. Since that time, I've had four requests for bags. I honestly don't mind making them, but I'll be damned if I'm going to spend the time and money choosing the fabric, ordering it, etc.
Instead, I emailed each of these people several fabric websites along with appropriate yardage amounts and told them to choose and order whatever they want. Have it sent to me and I'll make the bags. Not surprisingly, I haven't gotten anything from any of them!!

Nancy K


Member since 12/28/04
Posts: 8924
Skill: Advanced
Body Type:






In reply to birdmcfarland <<



Date: 1/4/09 12:51 PM

LOL. My time honored technique is no.

------
www.nancyksews.blogspot.com

Ody


Missouri USA
Member since 12/6/03
Posts: 2549
Skill: Intermediate





In reply to birdmcfarland <<



Date: 1/4/09 1:04 PM

Man! That is a huge problem for me as well. I make really nice bags and everyone wants one. The girl at the bank wants one just like mine, and I told her I would make one for her since she has done several favors for us, but she would have to pay for the fabric. She said she would so I am going to make her one, but thank goodness it is part of my stash so it counts for the cotest.

I tell others to wait in line, and my best friend waited a year! I made one for Sondra-OPGal for her birthday a year ago, and it was a pleasure bc she has been so kind to me. However, there is a hug difference between "get to for giving" and "have to!" I hate have to sewing for people! For one thing, my love lanuguage is giving gifts, and I adore the process of creating one of a kind bags for special people I love. When I am sewing on have to projects, I get so nervous that it has to be perfect. Then the whole process ceases to be fun for me---and you all can see from my tagline---I am serious about fun in sewing.

The challenge is partially in that others do not appreciate the time or the creative talent it takes to make these projects. On my bags, digitizing the designs and measuring out and figuring the size to go with the embroidery takes a lot of time. I never slop together a bag, and always use reinforcement everywhere in the bag I can so it will take wear and tear. (BTW, I use left over pieces of cut away embroidery stabilizer in between the layers on places like handles, etc.)

On that old thread someone (it might have been Lilly) said a guy wanted her to make him a shearing vest or jacket. She said she would do it for trade out if he would paint her garage doors. He declared---"That would take me TWO WHOLE DAYS OF WORK!!" Does anyone reading this not get the picture---DUH!!!

So, I tell my people who ask me about bags, that they can buy the fabric and then they will have to wait till I find that "roundtuit", bc at the moment I am sewing for myself and my kids, who seem to always waiting behind everyone else's projects. Then I just smile sweetly!

------
"Sewing should be fun; make it that way!" Margaret Islander
Flying through life by the seat of my pants and hoping I get my crotch curve right.
"No humiliation is too great for a well fitting pair of pants!" Heidi Cooper
J6500P,
J1600P
J3160DC
J350E
JCP1000
Pfaff C1100 Pro
Babylock Eclipse serger
My grandmother's Feather Weight

Steffie


Michigan USA
Member since 11/6/04
Posts: 903
Skill: Intermediate





Date: 1/4/09 1:23 PM

Nancy - that is my response, too! Simply, no.

DoggyGirl


Texas USA
Member since 10/15/06
Posts: 1248
Skill: Intermediate





Date: 1/4/09 1:34 PM

Quote: Ody
old thread someone (it might have been Lilly) said a guy wanted her to make him a shearing vest or jacket. She said she would do it for trade out if he would paint her garage doors. He declared---"That would take me TWO WHOLE DAYS OF WORK!!" Does anyone reading this not get the picture---DUH!!!





Oh, I would have LOVED to hear her response. I think mine would have been incendiary. That's the problem these days - nobody realizes how long it takes to make stuff by hand (or how difficult it can be). They are so used to just buying it, they don't have a clue.

I do lifeways demonstrations where I work (spinning, weaving, basketmaking, etc), and one of the things I stress is how long everything takes to make. The time involved always surprises people.

Beth
Nancy K


Member since 12/28/04
Posts: 8924
Skill: Advanced
Body Type:






1 member likes this.



Date: 1/4/09 2:57 PM

My suggestion is that next time you make a bag set a timer every time you work on it. Figure out your time, the fabric cost, cost of notions, and then triple the figure. When you tell people the cost, they won't ask you again. Since no one values a sewers time and skills, we have to. We only get taken advantage of if we let it happen.
That's another reason not to tell people you made it when they give you a compliment!

------
www.nancyksews.blogspot.com

Re Becca


Member since 9/12/05
Posts: 2217
Skill: Intermediate





Date: 1/4/09 3:23 PM

One of my co workers asked me to teach her to sew, I asked her why and she said that it must be cheaper than buy clothes in stores. I told her how much money and time went into the shirt and pants that I was wearing she changed her mind.
Then she asked me why I do it and I said because I love sewing for myself.
I just tell people that it would be cheaper to just buy it.
If they push, I just say that I am an accountant and I bill at $75 an hour no matter what I am doing.

But, being able to do it for people that you really like and want to do stuff for is priceless.

------
http://beccabeckstuff.blogspot.com/

Damn the muslin, full speed ahead!

Heidi Cooper


California USA
Member since 8/24/02
Posts: 453



Date: 1/4/09 3:49 PM

This is one of those things that rears it's ugly head on a regular basis, like copyrights, lol.

I ran into it again twice in the past few months. As some of you already know, a relative was getting married the first week of August and I was doing some CrazyMadInsaneSewing for it that not only involved a dress for myself, but also a custom drafted, silk chiffon shrug for the bride.

Now technically this was a simple piece, but it really wasn't, if you know what I mean. The shape was simple, in that it was based on the 2-seam concept in this Threads Article. However, it had baby satin piping in the seams, satin fold back cuffs with beaded lace overlay, satin collar and it HAD to cover certain 'fat parts' she didn't want seen

I started out doing couture techniques, teeny tiny french seams, stabilizing the satin w/ silk organza and invisible stitching, precisely matching the lace on the cuffs, etc.

All that was left to do was hand stitch the cuffs and collar as they both folded over to the back so that there was NO exposed stitching. It was going to be a lot of work and take a lot of time because I was aiming for perfection, and I already had 15-20 hours in this.

And then the bride and I had a phone conversation wherein she gave me "permission" to count the shrug I was making as my 'wedding gift' to them, but I could still get them a real gift as well, "if I really wanted to"

During another of our many wedding related conversations, I sweetly mentioned that should anyone at the wedding inquire and wish to have a similar shrug made, the cost would be in the neighborhood of $350-$400
To which she gasped and said "OMG! That is expensive!" And I replied: "Of course it is. What did you expect? I am not Walmart. I. Am. An. Artist. And this is custom made from the finest of fabrics."

I went on to point out the number of hours I had put in and reminded her how much a bridle shop charged for a run of the mill veil

She shut up and I, knowing how much my efforts were appreciated, used steam-a-seam to finish the collar and cuffs on the shrug. Scr*w it!

h

------
"Live as if you were to die tomorrow. Learn as if you were to live forever." -Mahatma Gandhi
" Freedom is not worth having if it does not include the freedom to make mistakes." -Mahatma Gandhi

Now Blogging at http://sewexotic.blogspot.com/

PixieCat


Ohio USA
Member since 5/5/04
Posts: 741
Skill: Intermediate



Date: 1/4/09 4:33 PM

I've had many requests but almost always say no. My reason is that I sew because it relaxes me and that sewing for someone else would be too stressful. If I get the presistent "but I just need my pants hemmed" person I point them to the nearest dry clearner who will happily do the job for a mere $25.00.

But my niece is an exception. Years ago I made her First Communion dress. I put many, many hours into that snow-white dress but her reaction was worth every minute. And I can still see her at the church spinning and proudly telling anyone who asked about it that her Aunt Lori made it. Her Mom mentioned the other day that my Niece saw a pattern she really liked and wondered if I would make her prom dress. I thinking yes.

------
Lori



Karla Kizer


Member since 4/8/02
Posts: 8025
Skill: Advanced



Date: 1/4/09 4:34 PM

I'm with all of you who state that "they don't have a clue". In a microwave society, they think an hour with a glue gun and Buttoneer just about covers all the effort involved.

RE: the "that would take me two whole days of work" comment, the correct answer would have been "And at that point, you'll have paid for half of it!"

I've been asked to do various projects for people, but I tell them that they'd be horrified at what I'd have to charge, and they'd be better off buying something RTW. They're usually shocked that I would consider charging...and that's when you begin to truly understand how undervalued our skills are.

------
"Never try to teach a pig to sing; it wastes your time and it annoys the pig." -Robert Heinlein and Ann's father. Thanks for the reminder, Ann.

Where are we going, and what am I doing in this handbasket?

Matthew 25:40 (New International Version)
The King will reply, 'I tell you the truth, whatever you did for one of the least of these brothers of mine, you did for me.'




Printable Version
* Advertising and soliciting is strictly prohibited on PatternReview.com. If you find a post which is not in agreement with our Terms and Conditions, please click on the Report Post button to report it.
Online Class
Blueprints to Blue Jeans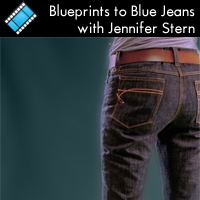 Online Class
Clone Your Favorite Garment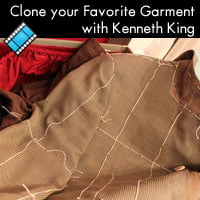 Vogue Patterns 1296

by: sewing gen...
Review
Self Drafted Pattern Luly Yang

by: arianamani...
Review
PerfectFuse Medium White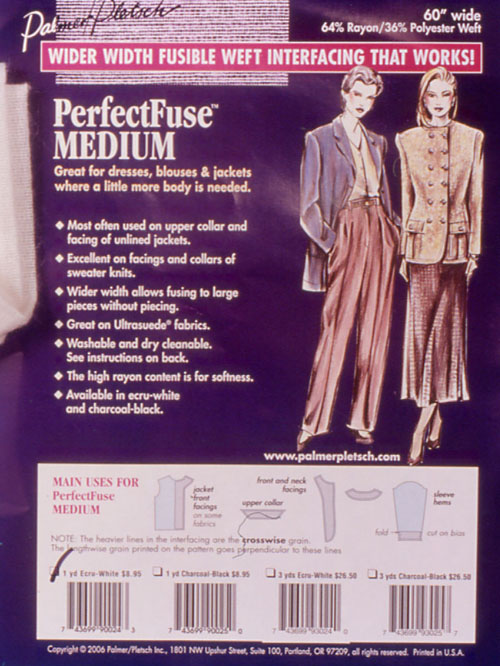 Pattern Details
Sewing Workshop Balboa Shirt & Topper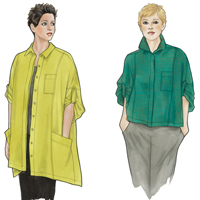 Pattern Details