JillyBean333


Intermediate
Minnesota USA
Member since 10/20/07
Posts: 943



Date: 5/29/09 2:41 PM

Hey Ladies (and gents)...

I'm just attempting to clear my house of clutter. I think it may be relatively infinite...but just looking for some advice.

I'm doing pretty well going through things...but why am I so attached to some of this *stuff*. I had a garage sale a few weeks ago and had I been wise I would have gone through the house better.

Anyway, I just need a bit of a pep talk..there's that whole "when in doubt throw it out thing" and my brain always tells me I may need it later and then it gets buried and I forget I have it.

Anyway, my house isn't anywhere *NEAR* those places on Clean House....but it is cluttery.Thanks.

------
JillyBean
http://craftysupreme.etsy.com

chicaem29


Advanced Beginner
New York USA
Member since 3/4/09
Posts: 1711





In reply to JillyBean333



Date: 5/29/09 2:51 PM

I wish I could help. But I'm a second generation pack rat. I have so much stuff. I won't even get rid of my (late) father's clutter. It's so old and cool! haha. And I tried the 'when it doubt, throw it out' with some stuff, and ended up needing it like 2 months later. This is all, of course, reinforced by watching Antiques Roadshow!

I am NOT a model for cleaning, but the only way I keep from literally getting buried is to try to do a little bit of decluttering at least every few days. Sort, sort, sort. At least if you're going to keep it, keep it neat. I wish I was as good about sorting and cleaning out my regular mail and files and I am about my email and computer files!

FirecrackerKTM


Intermediate
Colorado USA
Member since 3/28/08
Posts: 2333



Date: 5/29/09 3:06 PM

Rubbermaid tubs in the basement ...

Oh wait, you wanted to get rid of it, not store it.

Really, every now and then I get a wild hair and go through everything. If I haven't worn or used it in a year, or if I have multiples of something, I sort it: yard sale, Goodwill or eBay/Craigslist.

shanntarra


Expert/Couture
Texas USA
Member since 3/19/09
Posts: 735



Date: 5/29/09 3:24 PM

I have piles of : Keep, maybe, and go away.
Keep: Stuff that I have to hang onto for legal reason's.
maybe: Stuff that I "might need", but here is the kicker. I have to have a ligitmate tell the DH reason to keep it. 'just because' is not going to work.
Go Away: is good will or donation to theater.

After I have gone through it all I go through the maybe pile again. There are some stuff that is not worth keeping really. I keep my stuff where I can see it. If it isn't in a clear container where I can see it. It is not worth keeping. It is just going to stay there.
I always laugh . my shoes fit in one small box. My husbands fills 2 20x20 boxes, and he only where like 5 pair total. He has the other's" just in case"
I need to go through my sewing stuff again, and sort/organize.

------
"Costume Tech's are overworked, underpaid, and underappreciated except to those designers, actors, directors, playwrights, and other theater artists who depend on them." - The Costume Technicians Handbook

JenSews2


Advanced Beginner
California USA
Member since 2/21/04
Posts: 1315

1 member likes this.




Date: 5/29/09 3:29 PM

I've started enjoying "freecycle-ing" everything that I don't need, a little at a time. Look up freecycle.org and see if they have a group in your area. I've gotten rid of many things that other people have needed and have been able to get a few things that I needed all in my same area!

When I think of it as helping others rather than clearing my clutter (though it does both), then it is easier to get rid of things.

If they are of value, you can sell them on eBay, but I think that's too much trouble and only do that for the stuff that I can make some decent money off of (like some of the kids' more expensive, still popular toys).

You could go through your house again and have another garage sale and make a little extra $. In this economy, it helps others by getting them access to inexpensive stuff, and still helps you earn a little extra $.

Yes, occasionally you will find something that you need that you got rid of, BUT I more often than not am able to repurchase it from the money I earned with the sales of the other stuff WITH the added benefit of less clutter while the items were gone. By clearing out the clutter, I often find things that I had been missing and would have had to repurchase if I hadn't found them. I figure it all evens out! Also, I am much more careful about what I purchase now as to not ADD to my clutter. One thing in means 2-3 things must leave my house. This gets it out a few things at a time.

Change your mindset... think of it as helping others rather than clearing clutter!
-- Edited on 5/29/09 3:32 PM --

------
*Jen*
If I stitch fast enough, does it count as aerobic exercise?

Ody


Intermediate
Missouri USA
Member since 12/6/03
Posts: 2549





In reply to JillyBean333



Date: 5/29/09 3:37 PM

There are some great ideas on Messies Anonymous and Fly Lady----ask me how I know!!

OK, let's face it---junk tends to breed! Nature also abhors a vacuum. If you have a place---you will fill it---I do! I try not to get to the CHAOS stage at my house (Can't have anyone over syndrome), but since the fire, we will be that way until everything is fixed this summer.

The one thing I love I learned from those net places was a very efficient way to clean your refrigerator. It is called the, "BIG DOG" method. You get a 100 pound dog, open the refrigerator door and come back in a half an hour!!! Unfortunately, our big dog just died this spring so I don't know what I am going to do now---Ahhh, the chickens! They will eat anything!!!

------
"Sewing should be fun; make it that way!" Margaret Islander
Flying through life by the seat of my pants and hoping I get my crotch curve right.
"No humiliation is too great for a well fitting pair of pants!" Heidi Cooper
J6500P,
J1600P
J3160DC
J350E
JCP1000
Pfaff C1100 Pro
Babylock Eclipse serger
My grandmother's Feather Weight

Sellwood sewer

Intermediate
Oregon USA
Member since 2/13/06
Posts: 93



Date: 5/29/09 3:40 PM

I find the psychology of clutter/decluttering the most difficult aspect of keeping tidy.

So my favorite motivational idea is: New, good stuff can only come into my life if I make room for it by getting rid of the old stuff. So I picture happy blessings flowing to me while doing the decluttering. And conversely, I tell myself that I am blocking my blessings if I am hanging onto stuff that I don't need any more.

Pinkytoo


Advanced
Nevada USA
Member since 6/23/06
Posts: 2968





In reply to JillyBean333



Date: 5/29/09 3:41 PM

Move 3 times in one year...after you've packed something and moved it yourself 2 times you get real good at deciding what is essential to your life!

Or, if that's not practical (and I do NOT recommend it!), do the 3 piles thing, while pretending that you are moving and can only take 1-1/2 of the piles with you (all of the Keep and half of the Maybe).

------
Sewing is my therapy!

Vintage Joan


Intermediate
Ontario Canada
Member since 7/16/07
Posts: 10523





In reply to Pinkytoo



Date: 5/29/09 3:54 PM

Quote:
Move 3 times in one year...after you've packed something and moved it yourself 2 times you get real good at deciding what is essential to your life!


I tried that several years ago! I still have masses of clutter!

One thing I started doing a few months ago (haven't done it this past month, but it really helped) -- give or throw away a set number of items every day. Make sure you do it every day before you go to bed. I picked the arbitrary number 14 -- small enough to be manageable but large enough to make a difference over the course of, say, a year. I haven't reached my "can't bear to part with this" level of stuff yet, but when I do, I intend to divide it into categories and store it as neatly as possible in separate boxes/ containers/ suitcases, then revisit the containers every 6-12 months or so to see if anything has become "deletable." This way the stuff you do keep is neatly filed away and you've purged all the true clutter -- stuff that really doesn't mean anything to you anymore.

I, too, still have quite a lot of my parents' (and even grandparents') "stuff." A bit of it is junk, I guess (my mother's old kitchen stuff?), but I'm still keeping it for a while.

-- Edited on 5/29/09 4:01 PM --

------
my shield and my very great reward ~ Gen. 15:1



ccris

Intermediate
Member since 10/27/05
Posts: 5002





In reply to JillyBean333



Date: 5/29/09 3:57 PM

If you find a way to do it let me know. My mom was not a pack rat. Her house was small, so there really wasn't anywhere to keep it all, and it WAS her excuse for tossing whatever.

I've tried decluttering so many times, I've kind of given up. Each time, I was able to get rid of a few things, but not nearly enough. I keep thinking the same as you.........I might need it. Actually, just like someone else said, when I tossed something, I found that I did need it a few months later. Next time (and I did give this advice to someone else last year) I'm going to mark everything that's in the box(s) I'm holding on to that probably should be tossed, set them aside, and in one year if I haven't opened to retrieve something...................out they're going. Unfortunately, I have lots of storage space but every bit of it's been used up. I have so much decluttering to do (not in the living area, but in the basement and attic) that it's overwhelming. My mom had the best idea.

Edited here: Another thing I just thought about. Clutter also means you can't find something that you KNOW you have, even though the boxes (too many of them) are labeled with it's contents (organized clutter) so you have to go purchase a replacement anyway. It's happened to me..........twice. Grrrrr
-- Edited on 5/29/09 4:17 PM --
Printable Version
* Advertising and soliciting is strictly prohibited on PatternReview.com. If you find a post which is not in agreement with our Terms and Conditions, please click on the Report Post button to report it.
Leather 101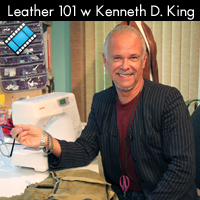 Understanding Interfacings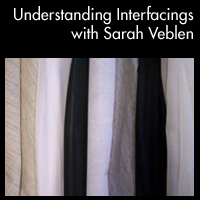 McCall's 6596

by: Saint Nolt...
Review
Chloe Handbag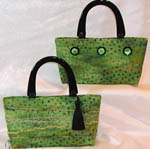 Buy Now
ZIPPERS - A downloadable Book by Shannon Gifford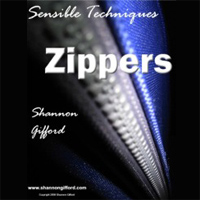 Buy Now
Simplicity SEW U By Wendy

by: House of P...
Review