SewRusty


Member since 10/8/08
Posts: 14
Skill: Intermediate
Body Type:




Date: 6/29/09 9:26 PM

I'm trying to sew McCall's 4768, and I have a problem....a rather large one actually. :cry: The back doesn't fit me. It was really difficult to try this on (which I did do several times during the process as best I could) because of the way it's put together, but I guess I wasn't careful/talented enough to get it right.The front fits perfect, but the back and underarms do NOT. Usually I have to make the armholes lower, but this time I didn't do that adjustment because I was scared of trying to tweak this pattern with all of the darts and foldover facing. Here's some pictures, hopefully you guys have some ideas on how to make it work--I REALLY can't let this be a wadder, I need it this week.

Weird underarms stick out.


Side view of weird bulges in back.


Back view of weird bulges in back.


------
I'm probably old enough to know better, but I'm still too young to care. ;-)

http://splintersnstitches.wordpress.com/

skae


Member since 4/23/07
Posts: 3566
Skill: Advanced



Date: 6/29/09 9:56 PM

From looking at the dress go to the under arms pinch in a little there. At the shoulders pull up a little. This could solve you arm hole gaping. Back of dress. Do you have enough seam allow in the bottom the dress around the hip line. It looks like it could be to tight there and not letting down enough of the fabric to flow nicely. If you do let out those seam as far as you can and see what happens. If not you might have to adjust the back of the dress with a seam at the waist to pull that excess out of that area. First let out some seams around the hip area. I just notice that you have princes seams Pinch there first that also could solve the gaping. Good luck
The zipper way up on top it gaps there a little adjust there so it lies down a little more. Hope this helps you. Good luck with the dress.
-- Edited on 6/29/09 9:58 PM --

------
Ecclesiastes 11:7,8 Nothing on earth is more beautiful than the morning sun. Even if you live to a ripe old age, you should try to enjoy each day, because darkness will come and will last a long time. (CEV)


Cisa


Indiana USA
Member since 1/27/09
Posts: 428
Skill: Advanced



Date: 6/30/09 9:18 AM

Short of recutting the back of the dress, I don't think there's anything you can do right now, but in the future it looks like you might want to try out a sway back adjustment. That and letting out as much as you can through the hips will probably take care of most of that bunching around the back.

------
http://www.sewfitting.com

lakaribane


Haiti
Member since 7/23/07
Posts: 2473
Skill: Advanced Beginner
Body Type:




Date: 6/30/09 11:11 AM

Back :

Maybe at the back neckline, either a) take out the zipper, take in the back seams at the top in a triangular shape since you need to take more at the top than lower along the seam or b) you could make too small darts at the neckline, like in vintage clothes?

I second the swayback and the hip tightness suggestions in the previous posts.

Front:

Well, good thing it has princess seams. You can take in at the middle armhole and make it lie against your breast more.

Good luck!

Oh, and it might be good to write down the alterations you made on a post-it if you plan to make this dress again. Maybe even with measurements?

------
Morphology: Petite at 1m53 (5'), Burda size altered 19 or altered 38, Big 4 size 10 or 12 depending on ease;
Alterations: Petite, Narrow Shoulders, Slim Arms, Narrow waist, Increase Back Crotch Depth. Considering: Forward Neck/Rounded Upper Back, Slight Swayback;
Style: Feminine, Colorful, Fitted, Clean lines;
Favorite Garment type: Dress;
Favorite Colors: Purple, Navy, Brown, Shocking Pink, Coral, Aqua;
Favorite Fibers, Weaves or Patterns: Cotton, Linen, Cotton Silk blend, Seersucker, Swiss Dot, Lawn, Denim, Stripes, Chevron, Window pane Plaid, Bias;
Blog : http://fashionmate.blogspot.com
Pinterest : http://pinterest.com/lakaribane/

KitnRose


Member since 6/18/03
Posts: 2104
Skill: Intermediate



Date: 6/30/09 11:48 AM

I hate it when that happens! Just want to second the previous posters' suggestions. Your garment looks almost exactly like mine do if I just make them up as given. Sigh. Big gap at the back neck and sway back bunching. Oh, and then the fabric trying to cover a very shapely rear. Yeah, very annoying.

My own personal alterations, if it helps:

- For knits and unfitted woven items: I just take out up to 2" in the back neck by simply finding the point 1" in from the back center neckline and then draw a line from that point to where the hemline meets the back center and then redraw the back neckline just a bit so it's not a mini v-neck. Yes, this throws off the grain line and doesn't do anything for the swayback so use only for garments where those side effects are ok. I also have the bustline/armcyc gaping and for knit and unfitted garments I take care of that by folding a wedge in the pattern just a bit right where the fabric would want to fold. I need to illustrate this, I guess, because I'm not finding the right words to describe it.

- For fitted garments the fix is a little more complex and, frankly, I'm still working on it so I'll leave others to advise. I will say that I've done the quick and dirty alteration mentioned above on more fitted things (the things you do when you need a garment tomorrow) and for the most part it's worked. Especially with garments that were less fitted through the waist (empire waist comes to mind) or had back waist darts to adjust for a better fit. Still not a perfect solution but might help if you need something quickly and are willing to sacrifice a few wrinkles for it. And yes, I know we sew in order to avoid those wrinkles and yes, a beautiful fit is the goal ... but sometimes you do what you gotta.

------
Kit
"Never underestimate the power of the right dress!" - drsue
"Hyu gots to know how to sveet tok de costumers, dollink" - Girl Genius, 11-24-08

SewRusty


Member since 10/8/08
Posts: 14
Skill: Intermediate
Body Type:




Date: 6/30/09 2:50 PM

Thanks for the responses! But I have to ask....do you suppose some of my fitting woes are because I took a size 16 pattern and did my best to make it a 14? I've never needed a swayback adjustment before, nor have I had quite that issue with the armholes either (usually I have to make them deeper, and don't have a lot of extra fabric like I did this time). *scratches head* I don't know. I doubt I'll save this dress, but I am definitely going to see if I can play around with it to see what I should change next time. In the meantime I have to get started on a replacement dress (probably RTW because of time constraints).

Also, this dress does appear to actually fit my hips like it's supposed to, as it widens out where it sits there (no give to this fabric)....but methinks I might need to learn how to do a "petite" adjustment. I don't really consider myself to be "petite", but I am 5'2" with a short torso, and I think that the petite adjustment does help some with that, doesn't it? I really don't think the zipper was supposed to go down past my....erm....buttcrack either, but it does sit about halfway down my rear. If anyone has some good tips on shortening the torso too (for future reference) I'd be grateful. I'm off to do some "googling" now. ;)
-- Edited on 6/30/09 2:59 PM --

------
I'm probably old enough to know better, but I'm still too young to care. ;-)

http://splintersnstitches.wordpress.com/

KathySews


Michigan USA
Member since 10/1/06
Posts: 4126
Skill: Intermediate
Body Type:




Date: 6/30/09 4:02 PM

I agree you probably need a petite adjustment to correct your back length. Unfortunately you have to measure and compare on every pattern - even if it is a size you have sewn from this maker before. Each pattern is just different enough to drive you crazy. The waist must hit at your waist and that is probably what is not happening.

To save the dress now, your only choice is to open seams if you have the fabric in the seams to do that. This will let the dress fall over your hips to get rid of that extra fabric.

JTink


Member since 4/20/08
Posts: 6472
Skill: Intermediate
Body Type:






In reply to KathySews



Date: 7/1/09 6:26 PM

I agree with Kathysews, I'm 5'2 and short in the torso. You have to tissue fit every pattern. The back is so hard to do by yourself. Can you get someone to help you out when you are fitting the backs? I have to petite just about everything and have started making sway back adjustments as well. It's kind of like a petite adjustment, but only in the middle of the back and tapering out to nothing on the sides. If you have Fit for Real People, they have a solution to the armhole gap. If you don't have this book, I strongly suggest you get it. I would be lost without mine.

Dotmoll

JAPAN
Member since 8/27/07
Posts: 589
Skill: Advanced Beginner



Date: 7/1/09 9:48 PM

How long is the dress/hem allowance?
Would it be worth cutting the dress into a top that just skims over the waistband and skirt?

Raise the skirt so that the fullness comes more where you need it, and instead of a waistband face it with petersham ribbon.
Use matching bias binding or a bias strip of silky lining fabric or gauzy/silky wide ribbon to face hem on top, and maybe skirt hem as well.
-- Edited on 7/1/09 9:51 PM --
Printable Version
* Advertising and soliciting is strictly prohibited on PatternReview.com. If you find a post which is not in agreement with our Terms and Conditions, please click on the Report Post button to report it.
Online Class
The Contemporary Couture Jacket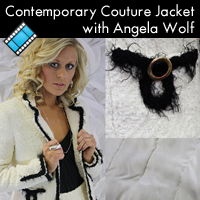 Online Class
Restyling with Exposed Zippers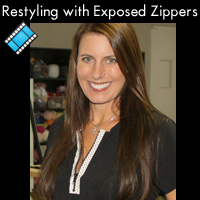 McCall's 6571

by: dmsmith05
Review
SewBaby Wearable baby blanket Pattern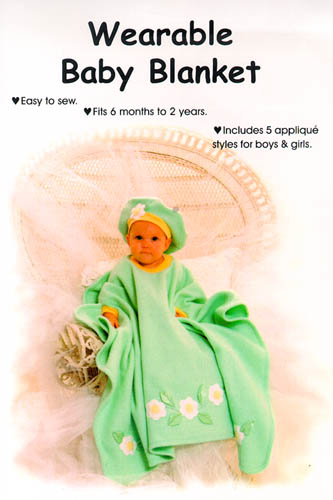 Pattern Details
Fit For Art Eureka! Pants that Fit Pattern
Pattern Details
Jalie 2796

by: girlschmoo...
Review