lakaribane


Haiti
Member since 7/23/07
Posts: 3196
Skill: Advanced Beginner
Body Type:




Date: 7/16/09 3:43 PM

So, after working last week-end on BWOF-2-2008-113, I can't hide from the Narrow Shoulders alteration anymore.

No more Poor Little Orphan look for me, no sir. (But it's annoying my mother was right all this time!)

I have Burda's La Couture Pratique (Fr edition of their sewing book) and Sandra Betzina's Fast Fit (2003). I'm going to test both this coming week-end but I was curious to know what other Petites were using.

Yes, I've searched the boards and read a bit.

FYI: my shoulder length is 10,5 cm (4.13" according to Google) so 1,5 cm (0.59") to take out of the standard length of 12 cm.

Also, if you use more than one, why? Does it work better with a type of garment rather than another?

And what about the sleeve?

------
Morphology: Petite at 1m53 (5'), Burda size altered 19 or altered 38, Big 4 size 10 or 12 depending on ease;
Alterations: Petite, Narrow Shoulders, Slim Arms, Narrow waist, Increase Back Crotch Depth. Considering: Forward Neck/Rounded Upper Back, Slight Swayback;
Style: Feminine, Colorful, Fitted, Clean lines;
Favorite Garment type: Dress;
Favorite Colors: Purple, Navy, Brown, Shocking Pink, Coral, Aqua;
Favorite Fibers, Weaves or Patterns: Cotton, Linen, Cotton Silk blend, Seersucker, Swiss Dot, Lawn, Denim, Stripes, Chevron, Window pane Plaid, Bias;
Blog : http://fashionmate.blogspot.com
Pinterest : http://pinterest.com/lakaribane/

Rosebeee


Oregon USA
Member since 10/16/07
Posts: 613
Skill: Advanced Beginner



In reply to lakaribane

Date: 7/16/09 4:41 PM

I've done the version where you just draw the top of the armscye in deeper.

But in future adjustments, I'm going to do the one that doesn't change the size/shape of the armscyle... though it does slightly raise the bottom of the armscye.

You cut on a horizontal line just below the armscye. Then at the shoulder, you cut down on a vertical line up to that point, leaving a bit for a swivel.

Swivel the L-shaped piece and overlap by the amount of narrowing needed.

NO adjustments needed for the sleeve! :)

I think for the other kind of adjustment you have to do something to the sleeve cap, but I'm not exactly sure what or how.

Some patterns I only need a tiny 1/4" or 1/2" adjustment, but I've also had patterns meant for broad shoulders and I've had to adjust those by 1.25"!!

------
Becca
My blog: rosebee.dreamwidth.org
So much fabric & patterns to fantasize about, so little time to sew!!

tlmck3


Illinois USA
Member since 7/11/05
Posts: 3783
Skill: Advanced Beginner



In reply to lakaribane

Date: 7/16/09 5:28 PM

I cut the L-shaped slashes and overlap so it doesn't mess with the armscyes. You have to do this on both the back and front, of course.

------
I am going for a level of perfection that is only mine... Most of the pleasure is in getting that last little piece perfect...Inspiration is for amateurs. The rest of us just keep showing up and doing the work.

Chuck Close, painter, printmaker, photographer

Hope has two lovely daughters: Anger and Courage

St. Augustine


Sew4Fun


Victoria Australia
Member since 6/23/04
Posts: 4892
Skill: Advanced
Body Type:




In reply to lakaribane

Date: 7/16/09 8:13 PM

I think different methods work for different people. That's why there is more than one way to do the same alteration.

Personally I use a third method. As I almost always use multi-size patterns I simply trace a smaller size for the neck and shoulders. At mid-armhole, just past the curved part of the armhole, I start graduating to the smaller size. That is I trace a size 14 with a size 12 neck and shoulders. This works really well for me as I am petite everywhere above the bust, not just my shoulders. My neck is as well. I am also 5' 4" tall so tracing the smaller size also shortens between bust and shoulder.

My suggestion is the try all methods for yourself and find the one that works for you. Personally while the other two methods do work I still need to make further alterations. By tracing a smaller size I conquer all my alterations in one go. HTH

------
Belinda. Melbourne, Australia
http://sew-4-fun.blogspot.com/

nancy2001


Member since 12/3/05
Posts: 6464
Skill: Advanced



Date: 7/16/09 8:18 PM

Like Belinda, I also trace a smaller for the neck and shoulders. For this reason, I try to select patterns that include size 6.

------
No sewing project is ever a complete success nor a total failure.

Nancy K


Member since 12/28/04
Posts: 9729
Skill: Advanced
Body Type:




In reply to lakaribane

Date: 7/16/09 8:26 PM

I have narrow shoulders, and I have tried several methods and I like Sanddra Betzina's the best. Her method doesn't change the size of the armscye, which is important when you do more than a small reduction or your sleeve cap will be too small. She tells you to cut out everything but the shoulder and armscye area and then rotate the pattern up. (more complicated than that) I do it in the pattern or I am liable to forget to do it.

------
www.nancyksews.blogspot.com

MaddyGranMa

New Jersey USA
Member since 5/8/09
Posts: 16
Skill: Advanced Beginner



Date: 7/16/09 11:02 PM

Just when I thought I had the concept of the narrow shoulders alteration down, I bought the HotPatterns "Weekender Sunshine Top" which has virtually no shoulder seam except a skant 2", and has a band that makes up the rest of the shoulder seam. While I am plus sized, I am only 5'2" and have no shoulders...well actually I read that someone said they had "Cocker Spaniel Shoulders" which seems to fit. I am going to make a muslin but when it comes to shoulder alteration, I would rather cut and move the pattern in. I just cannot figure out how to do that on this pattern, and am afraid that the band will be too long, especially in the front. According to their pattern sizing I would be a 12 in the shoulders and a 22 across the bust. That seems to be a huge difference if I'm just grading out the size through the lower part of the armseye.

I'm beginning to feel like the Travelodge Gnome!

lakaribane


Haiti
Member since 7/23/07
Posts: 3196
Skill: Advanced Beginner
Body Type:




In reply to tlmck3

Date: 7/17/09 1:04 PM

Ok, so that's the 3rd technique.*taking note*

Burda has you trace that inverted L just before the armscye curves (instead of encapsulating the whole armscye)

Betzina, of course, had you draw, tilt and redraw.

Good thing I have yards and yards of muslin washed and ready...

------
Morphology: Petite at 1m53 (5'), Burda size altered 19 or altered 38, Big 4 size 10 or 12 depending on ease;
Alterations: Petite, Narrow Shoulders, Slim Arms, Narrow waist, Increase Back Crotch Depth. Considering: Forward Neck/Rounded Upper Back, Slight Swayback;
Style: Feminine, Colorful, Fitted, Clean lines;
Favorite Garment type: Dress;
Favorite Colors: Purple, Navy, Brown, Shocking Pink, Coral, Aqua;
Favorite Fibers, Weaves or Patterns: Cotton, Linen, Cotton Silk blend, Seersucker, Swiss Dot, Lawn, Denim, Stripes, Chevron, Window pane Plaid, Bias;
Blog : http://fashionmate.blogspot.com
Pinterest : http://pinterest.com/lakaribane/

lakaribane


Haiti
Member since 7/23/07
Posts: 3196
Skill: Advanced Beginner
Body Type:




In reply to Sew4Fun

Date: 7/17/09 1:10 PM

I actually did that back in the day aka before Internet Epiphany of 2007 (also known as PR is Great and I love Blogs)

Will keep that in mind...

------
Morphology: Petite at 1m53 (5'), Burda size altered 19 or altered 38, Big 4 size 10 or 12 depending on ease;
Alterations: Petite, Narrow Shoulders, Slim Arms, Narrow waist, Increase Back Crotch Depth. Considering: Forward Neck/Rounded Upper Back, Slight Swayback;
Style: Feminine, Colorful, Fitted, Clean lines;
Favorite Garment type: Dress;
Favorite Colors: Purple, Navy, Brown, Shocking Pink, Coral, Aqua;
Favorite Fibers, Weaves or Patterns: Cotton, Linen, Cotton Silk blend, Seersucker, Swiss Dot, Lawn, Denim, Stripes, Chevron, Window pane Plaid, Bias;
Blog : http://fashionmate.blogspot.com
Pinterest : http://pinterest.com/lakaribane/

lakaribane


Haiti
Member since 7/23/07
Posts: 3196
Skill: Advanced Beginner
Body Type:




In reply to MaddyGranMa

Date: 7/17/09 1:44 PM

Maddy, you bring up just the question I was having the other night, trying to do the Burda tech on McCall's 5802 (I can't remember, the retro top MLoyet did).

I

think

you should probably redraw the neckline AND the neckband (wow, MORE work, LOL!) because it becomes laughable after the modification.

Same thing with bateau necklines like the Feb 09 BWOF and that Simplicity ? woven top. Both are on my To-Do list but Ay Caray!

Maybe Belinda and Nancy2001's tech? Tracing the smallest size that fits you in the shoulders? Though, in your case, that would be, what, 5 sizes!?!?

May the force be with you!

Edited for nonsensical cut+pasting!

-- Edited on

7/17/09 1:48 PM

--

------
Morphology: Petite at 1m53 (5'), Burda size altered 19 or altered 38, Big 4 size 10 or 12 depending on ease;
Alterations: Petite, Narrow Shoulders, Slim Arms, Narrow waist, Increase Back Crotch Depth. Considering: Forward Neck/Rounded Upper Back, Slight Swayback;
Style: Feminine, Colorful, Fitted, Clean lines;
Favorite Garment type: Dress;
Favorite Colors: Purple, Navy, Brown, Shocking Pink, Coral, Aqua;
Favorite Fibers, Weaves or Patterns: Cotton, Linen, Cotton Silk blend, Seersucker, Swiss Dot, Lawn, Denim, Stripes, Chevron, Window pane Plaid, Bias;
Blog : http://fashionmate.blogspot.com
Pinterest : http://pinterest.com/lakaribane/
Printable Version
* Advertising and soliciting is strictly prohibited on PatternReview.com. If you find a post which is not in agreement with our Terms and Conditions, please click on the Report Post button to report it.
Online Class
Fun with Fitting - BODICE w Darts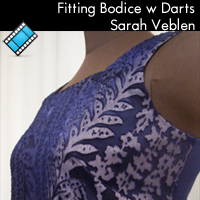 Online Class
Sewing with Slippery & Drapey Fabrics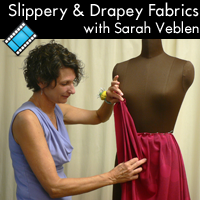 No Pattern Used 0001

by: BADBamaBun...
Review
Sew Chic MyrtleWood Dress Pattern (ln7401)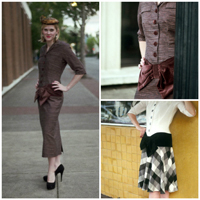 Pattern Details
Christine Jonson Swirl Skirt & Ruffle Top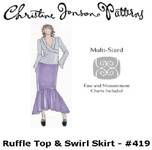 Pattern Details
Patterns of Time 1776

by: ZulmaFrenc...
Review