iSewQuiltArt


Australian Capital Territory Australia
Member since 4/4/08
Posts: 3688
Skill: Advanced



Date: 11/25/09 11:58 PM

I am very interested to hear what other people who have My Label think of the software. I am thinking I would like to buy it but don't want to shell out lots of money if it really isn't good.
How do you find the fit of the garments once you are measured?
How easy is the software to learn to use? Is it user friendly.
I had a look at the demo version but of course it has its functions inactive so I couldn't really see as much as I'd have liked.
How true to the pictures and images are the garments?
And how helpful is the construction guide part?
I would love to be able to enter my measurements, take it to the print shop or print at home, and then cut and sew a garment that actually fits well all over. I am within the measurements that the software is supposed to work within according to a booklet that was attached to a Bernina magazine I bought.
And finally- there are lots of questions here- does it make allowances for cup size of bra as well as high bust measurement? Or does it only take a traditional measurement around full bust?
I have been using Lutterloh abit (Mum and I went halves but I am moving away and she'll probably end up keeping it) and found it was very hit and miss: I had the usual alterations to do with every single pattern still though- and I am not good at that.
I have also been thinking about the cost of good RTW when you finally find that pair of tailored trousers to buy that actually fit, and a jacket or dress, the software would soon pay for itself- is it all it seems to be and more?

------
Quilting up a storm
Bernina Girl, in possession of a small herd.



Marilly

Oregon USA
Member since 7/9/06
Posts: 897
Skill: Advanced Beginner
Body Type:




Date: 11/26/09 1:15 AM

I'm wondering if your local Bernina dealer might be able to help? I know our local dealer/sewing center has at least one of their team that's worked with My Label and would probably be willing to share info and insights.
I admit I've never chased this down because MyLabel was totally out of my price range, but I had, that'd been my plan.

iSewQuiltArt


Australian Capital Territory Australia
Member since 4/4/08
Posts: 3688
Skill: Advanced



Date: 11/26/09 5:04 AM

Yes the price did put me off for a while but then I began to think about how much I spend on patterns, and Luterloh and fitting books but don't get great results.
And I think about the cost of really nice clothing.
I don't mind the idea of a core of garments that can be made and altered by the addition of trim or changing the look with different fabrics, or adding embellishment which in some ways seems easier than other software where a sloper must be produced, and then bits of garments put together into a shirt or a dress, and then whatever ease demanded added, and muslins sewn. I'd like something simple.
My dealership passed me the cd and said to have a look, but they haven't got anyone using it that I know of. They are not using it themselves. But, I may be moving interstate and if I do there may be a dealership there who know it well. I am not in any hurry as I probably won't have much time to sew clothes when moving. But I should once we are settled.
So any advice others have about the software is most welcome!

------
Quilting up a storm
Bernina Girl, in possession of a small herd.



lululu

Pennsylvania USA
Member since 5/3/05
Posts: 85
Skill: Advanced



Date: 11/26/09 7:40 AM

I love MyLabel. I bought the system about 9 months ago and prior to that had used Lutterloh for several years. I got really nice results with Lutterloh, great pants and shirts, but my garments with MyLabel are really perfect.

I used to do a sway back adjustment, to get rid of the bagging on my T shirts with Lutterloh, but with MyLabel this just isn't necessary. The Flared leg pant with My Label also hangs really nice and I'd say is almost a perfect pants pattern for me. I'd say the key to this system is taking good measurements. Once you do that you are all set. The program is easy to understand and if you have trouble there is an active yahoo group with lots of help available.

iSewQuiltArt


Australian Capital Territory Australia
Member since 4/4/08
Posts: 3688
Skill: Advanced



Date: 11/27/09 0:17 AM

Aaah Lulu, your information is exactly what I am after. I am so glad to hear the pants fit you well, I think that is proof of any system's quality- as there are so many curves and measurements that must fit right for a good fit.
I have not had good luck with Lutterloh pants at all yet, lots of alterations to do and patterns not turning out looking anything like the pattern. Often artists impressions that I thought should be at the normal waist turned out to be super hipster low but only at the back. Very odd. I would like to know that what I see is what I will get and that it will fit! But I have had better luck with skirts and tops with Lutterloh.
The more I think about it and the more I talk with hubby about it the more I am sure that in the New Year I will get into it.
Thanks for your help Lulu!


------
Quilting up a storm
Bernina Girl, in possession of a small herd.



Laurasews


Colorado USA
Member since 12/27/04
Posts: 109
Skill: Advanced
Body Type:




Date: 11/27/09 11:58 AM

Quilting Queen,
You might also want to check out My Pattern Designer (MPD) software MPD Link. They have just modified their pants algorithms and the results are FANTASTIC. You can see pictures on the website, showing results with many figure types. You can download a free trial by clicking on the "Free Stuff" menu option on the right hand side of the main screen. The demo even lets you print test fit patterns, so you can get an idea of what it takes to fit before you buy (and figure some of it out before the New Year!).

FWIW, I have no experience with My Label, but have been using MPD for some time now. I also have PatternMaster Boutique. I think that MPD and PMB both provide many, many options for garments, which makes them a better deal for me.

Have fun and good luck with whatever you do!

Laura

Meredith P


USA
Member since 3/26/03
Posts: 303
Skill: Intermediate





Date: 11/27/09 2:20 PM

When My Label first came out, I decided against it, since it had limited patterns and no editing capability. I'm sure they've added some more patterns, but is there any editing capability (something allowing you to edit pattern lines directly or design your own)? I did like the 3D feature a lot, but not enough, obviously...

------
Meredith
SM: Bernina 730E; Serger: Bernina 334DS; Coverstitch: Babylock BLCS,; Other equipment: Featherweight (circa 1946), Bernina Record 930, Bernina 1530, Deco 600 embroidery machine

iSewQuiltArt


Australian Capital Territory Australia
Member since 4/4/08
Posts: 3688
Skill: Advanced





Date: 11/27/09 5:13 PM

Hi Laura,
Wow that's good information.
I will think about it. Although being out here in Aus I do want to go with a software package that others use incase I need help with anything-even though my local dealership is not yet into it, if I move interstate they almost certainly would be- MUCH larger state and higher population. I haven't ever seen or heard of others out here using MPD but that doesn't mean to say they aren't - I just don't know of anyone talking about it.
But perhaps if I hung out in sewing guilds I might, lol!
I basically sew at home and am sick of struggling along with commercial patterns or hit and miss affairs with Lutterloh.
I think I actually need something really quite simple that I can then just make subtle changes to garments. And with My Label I believe they make available downloads of new patterns once they are ready which would be good- you do not end up with just the 20 included patterns this way.
I don't do a huge amount of sewing clothes because I get frustrated with poor fit or pattern design-and it is a waste of money when even after I tissue fit I'm still not often really thrilled with results. I'm hoping the software will fill some gaps I have in lack of skill in pattern alteration and fitting!
Cheers,
Quilting Queen

------
Quilting up a storm
Bernina Girl, in possession of a small herd.



annenet


Virginia USA
Member since 8/2/03
Posts: 3307
Skill: Advanced



Date: 12/8/09 8:44 AM

I'm a huge fan of my label. I've made just about everything and love the results. I find if you want some options you can easily draft some or even morph other pattern into it. I'm doing the coat right now and have changed to collar to one from another I did a few years ago. I think the look is just more contemporary. I find even with commercial patterns I go off the pattern anymore these days so I don't mind doing that at all.

------
So many projects, not enough time
At my house in VA:
Bernina Activa 220, B580, B790
Singer 201-2, 221, Bernina Serger 1300MDC, BL Enlighten, BL Sashiko, BL Cover Stitch, Consew 75T

At my Lake House in PA:
Bernina 1010, Artista 165E, Singer 503A. Bernina Serger 1100d

http://sewingtechie.blogspot.com/
Printable Version
* Advertising and soliciting is strictly prohibited on PatternReview.com. If you find a post which is not in agreement with our Terms and Conditions, please click on the Report Post button to report it.
Online Class
Beginners Guide to Sewing Jackets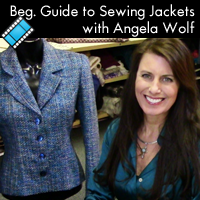 Online Class
Altering Jackets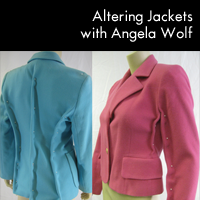 Simplicity 5540

by: Liavyn
Review
ADVANCED SLEEVE - A CD Book by Kenneth King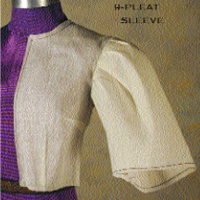 Pattern Details
PerfectFuse Medium Black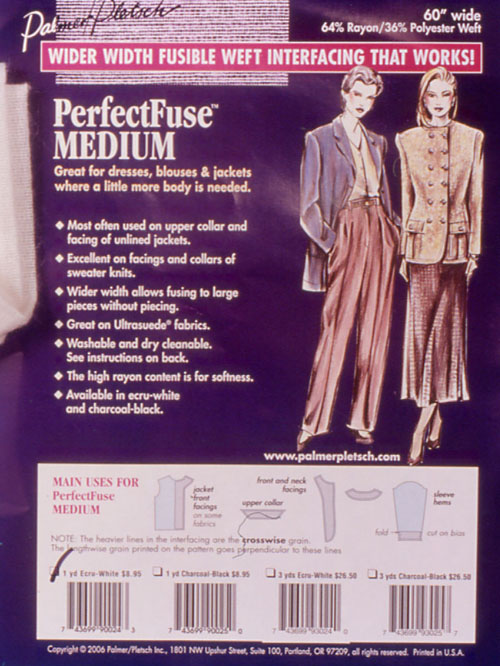 Pattern Details
Straight Grain Tinny

by: MayenDesig...
Review