ThatDozen

California USA
Member since 12/26/09
Posts: 5
Skill: Advanced Beginner



Date: 2/2/10 8:44 PM

Hi All,

I'm and "experienced" newbie. I took a sewing class in 2007 where I completed a pair of pants, after that, I made a bed set. I have not sewn since winter 2007 and am looking to get back into sewing, focusing on clothes. Is this a "riding a bike" thing (once you learn you'll always know how) or should I go take another introductory class? Are there books or resources to help me learn how to sew from patterns and what not on my own?

Also, how important is it to buy a sewing machine from a dealer vs. a sears or walmart, etc? I used to sew on my mom's machine which is at least 30-40 years old, we never had to service it, so I don't know how important having this "insurance" would be. I'd be perfectly fine with spending $180 for a machine that lasts 2-3 years and replacing it when I have a more concrete idea of what I need. Any thoughts on the three machines below?

http://www.sears.com/shc/s/p_10153_12605_02016231000P?vName=&cName=&sName=&mv=cmp

http://www.sears.com/shc/s/p_10153_12605_02016231000P?vName=&cName=&sName=&mv=cmp

http://www.sears.com/shc/s/p_10153_12605_02016231000P?vName=&cName=&sName=&mv=cmp

Thanks for your help



Member since 12/31/69



Date: 2/2/10 8:54 PM

For the past 6 years i have been TRYING to teach myself how to sew. i bought one crappy sewing machine after another. Well last week I bought myself a Bernina. My dealer has Master classes where they teach you incredible techniques - they have sit and sew where u can bring your projects and get help and heaps of other classes. I was there today for 6 hours and they didnt blink and eye!! I finished a project, I learned how to use a button hole foot, a gathering foot and a bunch of other things. This would have taken me weeks to learn on my own!

i will never ever go back to any other sewing machine other than a bernina. At least untill we move, haha.. my dealer is wonderful..

Find a Dealer that will sit with you, has great classes and has Great knowledgeable staff!


-- Edited on 2/2/10 9:19 PM --

tourist


British Columbia CANADA
Member since 7/23/07
Posts: 6732
Skill: Intermediate



In reply to ThatDozen

Date: 2/2/10 9:54 PM

I would suggest a good mechanical Kenmore, a couple of good books, some basic, simple patterns (pj's are a good starter) and a bunch of fabric. Make up a pair of pj pants and see if you come up with any questions. Then come back here and search the boards and/or ask questions here. Have fun!

------
http://bgballroom.wordpress.com to follow the progress on my next ballgown.

EveS


Michigan USA
Member since 11/26/06
Posts: 2701
Skill: Intermediate



In reply to

Date: 2/2/10 9:54 PM

Proof positive that this is a very individual question.

I cannot stand the idea of sitting thru sewing classes. I am completely self-taught and wouldn't have it any other way. Every project is STILL a learning experience for me (at what I consider an intermediate level) and I learn things on an as-I-need-to-know-them basis. It's what YOU'RE comfortable with. Do you comprehend instructions from text and photos well? Then you'd be fine on your own. The nice think is that you can progress at your own pace, not the pace of other classmates. Definitely get a comprehensive sewing book or check one out of your local library. Singer has a good one, as does Vogue, and there are others, too. Browse the books and see what appeals to your learning senses. And stay tuned here! The PR community is more valuable than an entire library of sewing books, IMO. Seriously. I doubt you'd have a question that you couldn't get an answer to here, and there is no such thing as a question that is too newbie-ish, either (I know that can be intimidating sometimes).

And as for sewing machines, the Kenmores are GREAT!!! They are priced so reasonably, are truly dependable workhorses, and are made my Janome...which have a very good reputation. IMO, they are a great machine for the beginner to intermediate (and beyond) sewer. I still love my 19110.

Good luck and keep us posted!

Eve

------
People who say it cannot be done should not interrupt those who are doing it - Chinese proverb

jimnlynn

Maine USA
Member since 2/17/06
Posts: 45
Skill: Beginner



In reply to EveS

Date: 2/2/10 10:05 PM

I agree 100% with EveS. It completely depends on what you are most comfortable with.

I taught myself how to knit and then how to sew completely from books and great online resources like this one. The idea of sitting through a class, or even one-on-one instruction, would have me breaking out in hives. I don't like the feeling of someone looking over my shoulder.

However, I know many people who take classes who love it. They like the interaction and how you can learn from other's mistakes and not just your own.

So to answer the question "can it be done?" Absolutely! Whether or not it is the right choice for you depends on what you like.

racehorse


Texas USA
Member since 7/12/09
Posts: 1040



Date: 2/2/10 11:00 PM

I haven't taken any sewing classes at all. Though I would not rule it out, I just don't have time for it right now.

My mom taught me to sew a little back in the day (I made a couple of jumpers) but I have been self-taught since I started again last summer.

I recommend an old Singer or Kenmore. You can find them on Craigs list for pretty cheap. I killed the computerized Brother I got last summer. It's been serviced twice but it still doesn't sew right anymore. I do most of my sewing on an old Singer 201.

------
Erin in Dallas
http://amateursewist.blogspot.com/



Member since 12/31/69



Date: 2/2/10 11:03 PM

i like to chit chat and meet people. so its a fun time for me.

Natalie D.


USA
Member since 8/31/05
Posts: 773
Skill: Advanced



In reply to ThatDozen

Date: 2/3/10 0:41 AM

I almost didn't take the classes when I bought my first really decent machine because I already had some (not all) advanced skills. But I was so glad that I put my ego aside and took the lessons because I learned a great many new techniques and how to do them easily on my particular machine. Having someone show you and then watch as you do it to make sure you can do it correctly all on your own, is both time-saving and invaluable. The sewing DVDs are nice too but truly interactive help is much better.

Better than anything else, hands-on lessons can show how to get the best from your machine model. If the lessons consist of someone just demonstrating, then the value is quite dubious. I had that happen when I bought my first Babylock serger at JoAnn's (a long time ago). The sales person said the lessons were very detailed and hands on. But when I came for what I thought was my first lesson, she breezed through everything so fast, never allowing me to even touch the machine, I couldn't even thread the darn thing. That was my one and only "lesson". Boy was I torqued.

Some of the things I learned on that (purely mechanical) machine (not the serger) included all the basics like threading, needles, cleaning, etc. In addition, I learned how to use about 15 different feet and various techniques for each including faggoting, felled seams, rolled hems, blind-stitched hems, hemstitching, corded buttonholes, applying various trims like piping, precise topstitching, use of decorative threads in the bobbin, and so much more. Now, the machines are much more complicated with computerization. That makes it even more important to learn how to get the most out of both the machine and your investment. If the lessons are given in a class (like mine were), it's even better because you get to learn from other peoples questions and mistakes. Further, it's better if the lessons are weekly so you get to practice in between lessons and gradually build your skills with the machine. Almost anyone can sit down at most of the machines and do the basics using just the manual. But the point is to master the machine so you can make some really classy clothes and other stuff. Good luck :)

------
"The louder he talked of his honor, the faster we counted the spoons" Ralph Waldo Emerson

Tenshi


GERMANY
Member since 1/28/10
Posts: 114
Skill: Intermediate



Date: 2/3/10 2:19 AM

I'm with those who say: Do what you're comfortable with.
I've never taken sewing classes. My mom (also a hobby seamstress) taught me a lot (most of it via telephone) and I' ve learned a lot from online resources and also from trial-and-error.
I don't like having a schedule for my hobby. I do it because I want to relax, because I want to have fun - not to have the stress of having to go somewhere at a fixed time.
My first sewing machine which I still use is a simple AEG machine, somethign you'd get at the supermarket but not at a sewing store. It has served me well enough these past two years - which is longer than I had initially thought it would last - and it still works just fine. Of course it can't do a lot of fancy stuff and the buttonholes are far from perfect, but there's nothing that I can't do with Magdalena (my sewing machine) that I could do with a more expensive machine. I've made a lined jacked, pants, skirts, blouses, shirts, dresses, I sew knits and wovens, I've even used synthetic leather. For a beginner, it is not too bad to have a simple mechanical machine that doesn't cost a lot. You don't know in advance whether sewing really is the right hobby for you or not.

Maggiedoll


Maryland USA
Member since 1/8/10
Posts: 1481
Skill: Advanced Beginner



Date: 2/3/10 8:57 AM

I'll echo the "do what you're comfortable with" and add that you should try to use things that will make you comfortable with more. Get discounted fabric so that you're less afraid to ruin it, and a simple, old, used sewing machine that you're not afraid to mess around with. If it's a machine that you got it for free, or for $25 on craigslist, then if you have a problem, you've got nothing to lose by getting out a screwdriver and trying to figure it out yourself! And it feels oh-so-good to fix a problem yourself, too! (Well, it does to me..)

------
My (overly complicated) blog: http://maggiedoll.com/
Printable Version
* Advertising and soliciting is strictly prohibited on PatternReview.com. If you find a post which is not in agreement with our Terms and Conditions, please click on the Report Post button to report it.
Online Class
Sewing with Slippery & Drapey Fabrics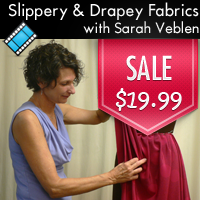 Online Class
Expert Sewing Techniques for Jackets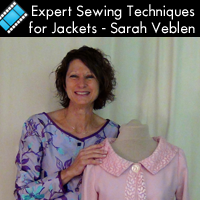 Simplicity 3878

by: AuntieGeek
Review
McCall's 5974

by: pinkcatflo...
Review
NECKLINES AND DRAPING - A CD Book by Kenneth King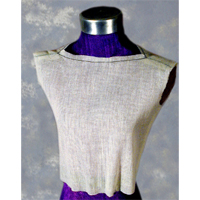 Pattern Details
Islander Sewing Systems Three Pattern Collection Pattern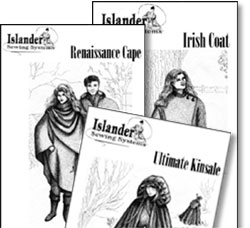 Pattern Details