Hello everyone,
I will be managing this contest, so here are the rules for those who need to plan ahead.
The idea behind this contest is to keep things simple. 4 outfits, to create a 4 piece wardrobe, plain and simple, no twists etc.
The rules:
"Mini Wardrobe Contest"
March 16 to April 15, 2010
This is a contest to create a 4-piece wardrobe in 4 weeks. You will determine what clothing pieces you use in your wardrobe.
The 4 garments must combine (without adding additional garments) to create at least 4 distinct outfits.
Choice of garment types and styles is entirely up to you!
Optional Storyboard: You may include a storyboard, or plan, showing the planned garments and the minimum quantity of outfits.
Entrants must do an individual review for each pattern used (can update previous reviews). The actual contest entry review is a the "composite review" for the mini-wardrobe itself. The composite review must have links to the individual reviews. (If all items are from one wardrobe pattern, one review will suffice.)
Pictures are required for voting. Final garments may be pictured on a dress form or worn by the garment's intended owner. Please consult with the contest moderator if neither of these is feasible for you, and options will be discussed.
This wardrobe/ensemble may be created for men, women, or children. Doll clothing is not admissible. Accessories do not count as one of the 4 items, but may be made and showcased with the mini-wardrobe.
Prizes!
Sponsored by
First Prize: $100 GC, Random Drawing Prize $50 GC.
1st place winner determined by popular vote.
There will also be a Random Drawing prize winner.
Voting guidelines - points to keep in mind when you vote - are, in no particular order: wardrobe versatility (is it wearable and do pieces complement each other well?), garment construction/ skill of design and craftsmanship, designer creativity, and presentation.
*Rules that apply to all contests:
1. All reviews must be entered for submission by 11:59 PM Eastern Time on the last day of the contest. Contest dates will be listed for each contest.
2. Unless otherwise stated in the rules, patterns may be drafted, tweaked, and muslined before the contest date, but fabric for the pieces entered may not be laid out or cut till the start date of the contest. Fabric may be pretreated before the contest date.
3. Items intended for sale, or for which you were or will be paid to make, do not qualify for any contest, but items made for charity are welcome!
4. Unless otherwise stated in the rules, all reviews written for a contest entry must include a picture of the entry.
Contest Eligibility
1. Any member of Pattern Review, either paying (FoPR) or non-paying, who's been a registered member on the site for 90 days prior to the start of a contest is eligible to enter.
2. Any member of Pattern Review, either paying (FoPR) or non-paying, who's been a registered member on the site for 90 days prior to the end of a contest is eligible to vote in a contest.
3. Any member who's won 1st place in a contest on Pattern Review that ended in the previous 4 months is ineligible to win 1st place for that 4 month period.
Good luck, and looking forward to seeing what you guys come up with!
I tend to be the silent type, but will be checking the topic at least daily, so feel free to contact me on the board, or by PM as needed.
Added by Deepika on April 2nd
When you are ready to write a review for your contest entry, choose Contest from the pattern drop down menu and type Mini wardrobe 2010 in the pattern number or name box. Hit Find and choose the entry which comes up. This is so all the contest entries will be linked with each other. Here's a screenshot to help you.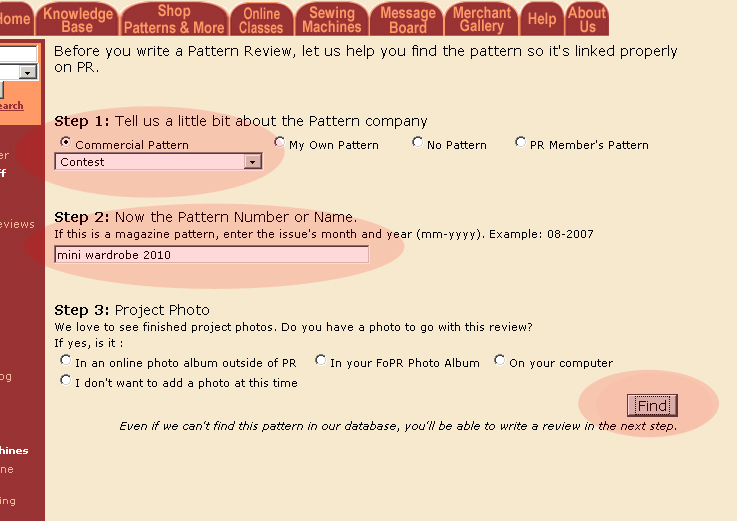 -- Edited on
4/2/10 12:58 PM
--
------
Imaan in Sydney, NSW.

The only people who achieve much are those who want knowledge so badly that they seek it while the conditions are still unfavourable. Favourable conditions never come.