asilversun

Member since 3/6/10
Posts: 4



Date: 3/27/10 6:36 PM

I feel like I'm going back and forth and around in circles... I'm upgrading from a Bernina 930E, so everything is new and shiny and beautiful, which in some ways makes it easy and in other ways makes it hard.

I've got it narrowed down to the Janome 6600P, the Baby Lock Espire, or the new Janome Horizon. The Baby Lock has one feature (the Pivot feature) that the others don't -- I could never get used to the knee lift on my Bernina, so that's very appealing. If I could get used to the knee lift, I'd love the 6600, but it has no free arm, and I'd miss it; the Horizon has the free arm, but it will undoubtedly be the most expensive of the three and in many ways it's a "new" machine and I'd like something with a track record.

For some reason, even though the Baby Lock has everything I could want and more, I'm still drawn to the Janomes. It could be the very vibrant online Janome community that I like, or it could be the overall feel of the machine (feels a bit more mechanical, like my 930 that I love). At this point, though, I'm so confused I just thought I'd throw this out there. I'm not really looking for pros and cons of the individual machines -- believe me, I have read through every review and discussion on each of them (multiple times) already! And I know the dealer can be a big factor, but I'm equal distances from several dealers I like, so I can't use that.

I'm really just looking to hear how you all may have broken yourselves out of the endless cycle of "let me just read a few more reviews" or the relentless second guessing.

In other words... if you've ever found yourself torn between multiple machines (whatever they may have been), how did you ultimately decide it?

Thanks!

-Karen

Seams2Sew


USA
Member since 8/15/08
Posts: 559





In reply to asilversun



Date: 3/27/10 9:20 PM

I recently traded my Janome 6600P for the Espire. At first, I loved the 6600, but the more I used it the more I disliked it. I absolutely love the Espire. However, I think one the reasons I didn't like the 6600 is because it has more of a mechanical machine feel to it and I really prefer computerized machines.

If you are drawn to the Janomes, then that is the way you should go. The 6600 is a great machine. It just wasn't the machine for me. With the release of the Horizon (which also looks like a great machine), you should be able to get a great deal on the 6600.

If I was in your position, I would wait for the Horizon and then test drive all three and then buy the one that "calls" your name. Hopefully, only one will be calling .

Best wishes and let us know what you decide.

Warbler


Advanced
Vermont USA
Member since 4/15/07
Posts: 3572





In reply to asilversun



Date: 3/27/10 10:19 PM

Every person has their preferences for the machine that suits them best. I thought that I was going to be a Bernina club member but I decided before I took the leap I would stop at one more dealership and that happened to be Janome. I have never looked back but only briefly I toyed with getting a Activa. I am a member of the Janome 6500/6600 Yahoo group and I think your description nails it right on the head! I love my 6600 and I love they way the machine sews. The manual tension adjustment does give it a mechanical feel and I love that feature because it puts me in control of the stitch quality. I also love the Acufeed which again is not favored by some but I find it versatile and powerful. I recently sewed a gazillion yards of ruffles for a home decor project and I was so happy at how well and with such ease the machine handled everything, including sewing through 8 layers of drapery weight fabric along with some batting.

I recommend going back to the Janome dealer and sewing with the 6600 and then maybe compare it to another machine. I bet the 6600 will win!

------
Janome MC6600 Bernina 240 Juki MO735 Singer 201-2 Singer 221-1

LynnRowe


Advanced
British Columbia CANADA
Member since 3/9/09
Posts: 9292





In reply to asilversun



Date: 3/27/10 10:57 PM

Dealer.

I was a Pfaffie through & through for years. The local Pfaff dealer then diss'ed Babylock. So I went to see what she was so afraid of that she had to trash another dealer.

I saw, I fell in love with Babylock...and my Babylock dealer & staff make me feel like a valued family member.

SOLD.

I still have my 2 Pfaff sewing machines and Einstein, my Pfaff 4874 serger. Gotta have back-ups. But my go-to machines that I love love love are my BL Enlighten, BL Coverstitch-2, BL blind hemmer, and BL Espire.

I'm a Babylocker now, and sew very happy!

------
I heart Panzy, Pfaff Creative Performance, the sewing machine love of my life!
And Baby (Enlighten serger), Victor (BLCS), Rupert (Pfaff 2023-knits expert) Ash (B350SE-Artwork), Kee (B750QEE-Panzy's BFF), Georgie (B560-Kee's baby sister) and the Feather-Flock!

Most of all, I heart Woo (HimmyCat). Until we meet again, my beautiful little boy. I love you.

karen149


Intermediate
California USA
Member since 3/4/05
Posts: 3163





Date: 3/27/10 11:13 PM

I had a Pfaff for years but now have the Brother QC-1000, which is bascially the twin to the BabyLock Espire. It's so easy to use! Every time I sit down to it after being away for awhile I tell myself I should be sewing more. I was at a sewing Expo today looking at all the new machines, including Berninas and there wasn't anything that I'd want to give up my Brother for! I do like the Bernina feet, though...

sewfrequent


Intermediate
Texas USA
Member since 6/27/03
Posts: 3218





In reply to asilversun



Date: 3/28/10 2:26 AM

No matter which you choose, there is always going to be the "one that got away" with so many excellent and enticing choices out there! I had mine narrowed to the same 2 machines and the Espire DOES have 2 significant perks over the Janome (auto presser lift and free-arm) as well as some other less significant niceties such as maxi-stitches and directional sewing. Espire to me had a lovely fluid feel to it but the Janome seemed more stout/sturdy somehow. The extra stitches on the Espire would have been over-kill for me. Also the difference in price was huge--about $700 more at the time I bought my Janome (Elna label). So I guess for me these were practical reasons to go w/ the Elna and it is the Espire that "got away". The new 7700 has me more than a little intrigued but there will alway ALWAYS be a new-something that pops my garter more than the one I presently own!

glenj


AUSTRALIA
Member since 1/6/08
Posts: 802





In reply to asilversun



Date: 3/28/10 6:51 AM

I ended up with the 6600 because it felt more mechanical,with a lot of comp features.the brother qc 1000 was an amazing machine with far more fabulous features than the janome,with those extra wide sideways stitching quilting patterns,and pivot sensor and heaps more.But for me it was a trust issue,my previous machine was a brother with lots of features ,but i never bonded with it and had a couple of components replaced on a not much used machine.my previous machine was a janome mechanical that never had an issue,and I replaced it with the brother that I hated.Talk about be careful what you wish for.

Im happy with the 6600,my best advice would be to wait and try them all out with the fabrics you sew with,and by the one that feels like your best friend

Ripple Dandelion


Intermediate
North Carolina USA
Member since 9/23/06
Posts: 323



Date: 3/28/10 7:06 AM

Will you be keeping your Bernina 930? Depending on the kind of sewing you do, if you keep the Bernina, then having a free arm on your main machine may not be such a critical feature. I am not familiar with those models, but the free arm on my Juki F600 is so "fat" that I have now switched to doing some things the flat bed way rather than fighting to get the item around the free arm. If you keep the old machine as a backup, you will have the free arm capacity if you really need it.

Regarding the knee bar, I never got used to the one on my Bernina 160 and almost never had it on the machine. The way it was positioned wasn't comfortable for me, and if I bumped it, it would fall off. The knee bar on my Juki is a totally different story and I now use it all the time. I miss having it on my vintage machines! Don't know if you would have a similar experience.


------
Virginia
http://asewinglife.blogspot.com

Everyday Sewist


Advanced Beginner
USA
Member since 9/14/02
Posts: 2707



Date: 3/28/10 10:59 AM

Before I bought my main (modern) machine, I made a list of things I missed having on other machines, and also a list of things that bugged me and I wanted to avoid. It was hard to find a machine that fit all the criteria, but I was lucky to find one.

I do think it's worth it to go with a brand that you're drawn to. I've always been drawn to Janome/Kenmores and have never been disappointed. But I've never bonded with my Brother machine, despite the fact that it's a really nice machine. I think different brands tend to have a certain feel and sound to them which may or may not appeal to to different people.

And sometimes the look of a machine makes me happy-- for instance, in my vintage machines, I'm very picky about color. Color makes absolutely no difference in stitch quality, but it matters a lot to me! (For the record, I have two pink and a light blue with chrome.)
-- Edited on 3/28/10 11:06 AM --

Karen31


Advanced
USA
Member since 1/25/09
Posts: 1266



Date: 3/28/10 12:09 PM

I was in this same dilemma buying a bike couple years ago. Really, they are same price ranges as sm's (hundred or so to thousands), read read read, rode rode rode. Finally decided I knew the dealers I was looking at were good w/service/support, one in particular, brands all had great reputations for different reasons (so much like sm's!). I kept trying to employ logic and get down to finite details. One day I just said w/in my budget I'm getting the one that just FEELS best to ride.
I used to work for the sm dealer (which was next to a bike store - my two favorite hobbies!) and would tell people the same. Bottom line you can do a huge pros/cons list but if it doesn't feel good to drive it you're not going to love it. My main go to machine right now is missing a couple key features I wish it had but it feels and sews so well I'm ok with that. Take all kinds of things you like to sew, the most annoying, irritating fabric to sew with, blue jeans to hem (not just two flat pieces at the store!), anything you haven't been happy sewing on your 930 and see what the various machines feel like. I bet eventually one will call "take me! take me!"

------
Karen
Printable Version
* Advertising and soliciting is strictly prohibited on PatternReview.com. If you find a post which is not in agreement with our Terms and Conditions, please click on the Report Post button to report it.
Serging Ahead with your 5 Thread Serger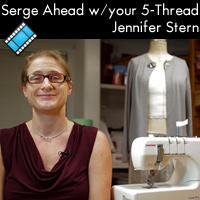 Altering Pants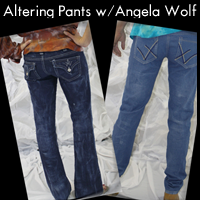 McCall's 6382

by: Eme
Review
Victory Anouk Paper Pattern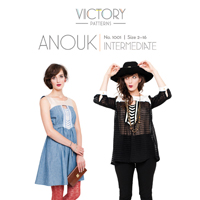 Buy Now
A-Door-Ables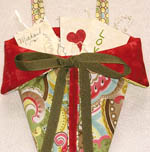 Buy Now
Style 1054

by: LotusMonke...
Review