MsBee

Massachusetts USA
Member since 11/13/08
Posts: 58
Skill: Intermediate



Date: 5/13/10 1:29 PM

For the past few years I've had lots of pain in my hips and legs and stopped taking my long walks for exercise. So over the last few years I have gained a lot of weight. But I plan to start doing some in home walking and hope to lose some weight.

At the same time I am also re-introducing myself to sewing. The thought of spending money on patterns and fabric to have something not fit in a few months makes me think twice about sewing. But I really want to begin. What are some good patterns that can take me through multiple sizes? I've also questioned whether I should do a fitting muslin or not. Oh and how do most patterns run big, small, right for the measurements. I'm really perplexed as to how to approach this.

Thanks for all of your help.

JTink


Member since 4/20/08
Posts: 6600
Skill: Intermediate
Body Type:




In reply to MsBee

Date: 5/13/10 2:27 PM

In my opinion, I think something like McCalls 5847 would be nice. As you loose weight(or it shifts around like mine did)you can add a belt.

RLL

USA
Member since 2/23/05
Posts: 115
Skill: Intermediate
Body Type:




Date: 5/13/10 2:57 PM

I agree with M5847. I made two short sleeve summer tops (shortened of course) from it last year and have lost 25 lbs now since the end of Jan. The tops are pretty big on me now, but I intend to take them in at the princess seams - front and back. I have already pinned them and see that it will be pretty easy. In the future (and what you may want to do), I will sew the center front to center back at shoulder and the side front to side back at shoulder, then sew the front/back to the side/side (does that make sense?) so that I will sew the side back to the center back from bottom to shoulder and continue around to the front side and front center....one long seam. Then that seam is easily adjustable.

For bottoms, I intend (since all my capri's from last year are baggy now)to make princess seam skirts in the same fashion, so they are also easily adjustable. For the waist, I intend to face with elastic....side or back zip.....but it will look fitted for a while until I lose more weight. Pants, capris and shorts just really arn't adjustable. Since I am losing so slowly and I have a long way to go, I think this will work for the whole summer. I will have to reevaluate in the fall for winter clothing. I have not tried the skirt thing yet, but feel it should work like the top. Good luck with losing weight.....it is hard but it is worth it! I already feel a lot better with just 25 lbs. Hope you figure out what works for you with clothes.

Teadye

Florida USA
Member since 7/21/06
Posts: 111
Skill: Advanced



Date: 5/13/10 6:22 PM

I'm sticking with things that are quick to make, for the most part. And knits (for tops.) That way I don't invest a lot of time and effort into something that will only fit me for a short period of time. I have several pairs of shorts and cargo pants that have elastic waists with a draw sting. They have outlasted all of the other pants styles in terms of weight-loss wearability because you can just tighten the string and they won't look as much like they are falling off. My knit tank tops and tees don't show the size change as much either, and they can be cut a little on the small side to start with, and not strain at the seams and closures. Camp shirts are pretty good too because people tend to wear them oversized to begin with (like a summer jacket.)

------
"LIFE! DO YOU HEAR ME? GIVE MY CREATION... LIFE!" Dr. Frederick Frankenstein

o3b

Member since 5/25/07
Posts: 393



Date: 5/14/10 2:52 AM

For adjusting the princess seams through the shoulder area, you will have to taper to nothing at that seam. The angle of the shoulder seam won't let you simply sew the princess seam 1/4" smaller from one hem, up, and back down to the other hem. For me, that would work fine since my shoulder seam length will stay virtually the same.

As I lose weight, my rise gets much smaller. Some of that crotch length measurement can be taken up by sewing the inseam smaller (again with limitations due to angles not being 90 degrees). So I am doing two things: First, adjusting the sewing order. I sew the front and back crotch seams, then sewing the the inseams (like mentioned in the shoulder princess seams above). I normally like to sew the inseams first and then do the crotch curve, but changing the order here will help with the adjustment later. The second thing I am doing is sewing things that can be adjusted at the waistband height. I will skip pockets for now. I will just cut off the existing waistband (which will also allow me to take in the side seams) and sew on a new waistband. Cutting on the existing sewing line and taking a new seam will shorten the crotch length unless I make the waistband taller to compensate. So I will make sure to save enough fabric to add a new waistband later.


DesignsByDenise


Colorado USA
Member since 4/14/09
Posts: 9
Skill: Advanced



Date: 6/5/10 4:19 PM

You might want to try Simplicity 3697. It has two different tops, one sized for knits and one for wovens, with three sleeve lengths each. They all have ties, which would help with the size differences that you will be experiencing. Since multiple sizes come in each pattern, you can trace your current size on wax paper (a cheap, easy way to keep the originals intact), and if you need to really size down, just retrace new patterns. I use Sharpie pens, and the tracing goes really quickly. Just be careful to let the pattern dry before touching it or putting it on fabric, as I've had the ink transfer to my fingers.

As for pants, if you're making the kind with waistbands you might want to try a technique that's been popular in menswear for ages: put the back seam in the waistband too (add a little extra to that seam), and sew the back seam last. That makes alterations a breeze later on, whether you're taking in or letting out.

------
I love sewing and have plenty of material witnesses.

Kayseri


NEW ZEALAND
Member since 4/21/09
Posts: 269
Skill: Intermediate



In reply to MsBee

Date: 6/9/10 0:21 AM

For nice tops I would think about wrap fronts, as you can easily wrap it tighter as you go. I've seen a couple of few princess seamed wrap blouses that you could then adjust permanently when your weight has stabilised where you want it.

Another idea I've used is using double breasted style, but only buttoning it single breasted initially. It needs to have a high-ish neckline for this to work.

I couldn't find any reviews for the patterns I have in my stash but here's a picture of one of them so you can see what I mean- Butterick 3342

Very flowing tops with an elastic or drawstring empire line seem to be in style this year - I think New Look have one, and Burda Magazine has several in the last few issues.

For bottoms, you can't go past elastic waistbands. I've been using elastic inside wide contoured waistbands, which give a smooth look and a variable waist.
Here's something I made for last winter, they were a smidge tight at the time but fit perfectly now: Burda 11-2007-122

Unfortunately any style will have extra fabric through the hip and thighs as you slim down. Think about finishing your seams in such a way that they are easy to take in later:
* If you have a serger serge the edges of the adjustable seams (eg side seams) before you construct, then press these seams open.
* Someone has already suggested the CB seam on pants waistbands
* If using elastic in casings (eg waistbands) only light tack the last couple of inches of the opening closed. Then its easy to open and adjust the elastic length.
* You might find hems of skirts and dresses go uneven as your shape changes and may need to re-hem a bit shorter to get things even again. Probably one to wait until you've reached your goal

Good luck with finding things to suit you.
Printable Version
* Advertising and soliciting is strictly prohibited on PatternReview.com. If you find a post which is not in agreement with our Terms and Conditions, please click on the Report Post button to report it.
Online Class
Put it on the Bias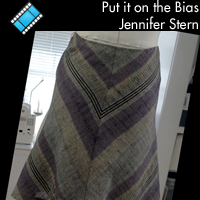 Online Class
Pattern Work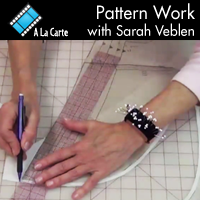 Simplicity 2002

by: Passion4Se...
Review
BurdaStyle Magazine 08-2012-113

by: mollymolly
Review
The City Bag Paper Pattern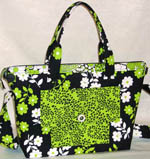 Pattern Details
Sew Liberated Woodlands Shirt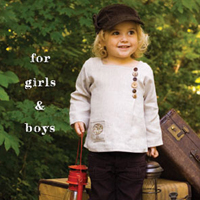 Pattern Details