lareine


NEW ZEALAND
Member since 11/10/06
Posts: 1071
Skill: Intermediate



Date: 5/18/10 6:08 AM

I am finding this so frustrating! I have the book smarts -- I know in theory how to sew, how to do the fancy techniques, even how to alter patterns for my figure. I have the theory. But I don't have the skills in practice yet.

My favourite fabric shop is having a closing-down sale (prolonged over months because they have so much stock to rid themselves of) and I'm in there about twice a week. I'm building up such a stash of fabric! But at prices like US$5/metre for top quality pure New Zealand wool, I don't want to miss out. And I know I have patterns for some gorgeous outfits. Oh yes, I have patterns galore.

I've decided that I cannot buy any more patterns until I master the ones that I already have -- the basic shapes, I mean. Shift dress, fitted dress, wrap dress, pencil skirt, trousers, etc. I have to put away the beautiful navy wool and the lilac satin lining for my winter coat until I am able to make a well-fitting sleeveless top. I can't start on the suit jacket until I figure out how to get a plain shirt right. I can't cut any more dresses until I master the FBA. But it's so frustrating!

I know that most other beginners are feeling this too. What are your tips for slowing yourself down? Did you try too much, too soon? What happened?

Please share your pain so I don't feel like I'm in this alone!

dfr2010


Florida USA
Member since 3/27/10
Posts: 1780
Skill: Advanced Beginner



In reply to lareine

Date: 5/18/10 6:22 AM

After only 2 months of sewing, I decided to tackle this coat last october:

Took me a little over a month to complete ... 52 pieces including the lining, had to buy more pins because the lining is satin, and thought I was gonna kill my poor little $80 Brother sewing the 6 layer cuff-sleeve seam ...

You know how you work. If you enjoy the challenge of jumping in with both feet ... and have the patience to stick to it until you get it figured out ... then my (inexperienced) vote is to go for it with cheap fabric you have a lot of! I bought the material for this coat for only $2/yard, and have enough to make another one this summer.

Others will probably tell you the opposite.

------
I don't really make mistakes ... I create "learning opportunities"! Murphy says: The better you match the thread to the fabric, the more likely you will need to rip some stitches out! I spend more quality time with my seamripper than I like ...
Yes, I DO love fabric!!
Happy owner of a band of Brothers: LX-3125, CS-770, CE5500 PRW, a PE-770 emb ... and now Kenmore 158.18032 and 148.12190
Blogging my "learning opportunites" at http://sewingmissadventure.blogspot.com/

Sewinglady1947

Member since 4/28/08
Posts: 1034
Skill: Advanced



In reply to lareine

Date: 5/18/10 6:47 AM

Your skills will improve as you do more sewing. As for your stash go ahead and buy while you can get it. In my area it is hard to get fabric which has slowed my sewing down. I have been sewing 30 years and have made some very unsatisfactory garments but always had a learning experience. Just the other day I was cutting out a knit top and realize I cut ou two tops with no extra fabric to recut but I have learned not to stress over it. It is a thrill finishing a garment to have such a beautiful outfit that you did yourself and a better fit. So go ahead and try and enjoy your sewing time.

------
sewing grammy

RoseFromThule


FRANCE
Member since 3/3/10
Posts: 454
Skill: Advanced Beginner



Date: 5/18/10 7:42 AM

In my area, nice fabric is hard to come by. So I buy everytime I find one I like and can afford (I ask myself first whether I'll have an opportunity to sew or wear it - for instance, I don't sew jackets or coats or jeans or pants yet, so heavy fabrics are out, as well as denim, twill and yellow/green/brown fabrics, prints, etc).

I buy BurdaWOF each month, and list patterns I'll like to do. Idem for patterns/books I buy (not much, BWOF being already quite a handful and patterns never being on sale here). Then I look for fabrics for each chosen pattern in my stash.

When I found a perfect pattern/fabric match (or matches), I write it/them on a little piece of paper, with the current date. I put them in boxes. I have two categories : "easy (no muslin needed, I've already done it, or the fabric can be wasted without too many regrets)" and "challenging (need muslin/fitting and/or practicing new techniques)". I also keep track of the matches in my fabric Excel list, in order to know which ones are in demand (usually white, flowy high-quality cotton and nice wool-blends

) to know what to look for in the future and what to avoid.

If I don't have fabric to match, I add it to the list of wanabe projects and wait for the perfect fabric to appear in a store !

Then, when I want to begin a new project, I draw a piece of paper from one of the box, depending whether I want a quick no-brainer project or a more complex one, whith new techniques and some challenge. If the choosen project still appeals to me, and is season appropriate, I make it. If it appeals to me and isn't season appropriate, I put it back in the box for later. If it doesn't appeal to me anymore, I throw it away and free the fabric for something else.

I flip through my older magazine regularly, for the fun of it and to see whether new patterns catch my eye.

My tastes are towards timeless items, so it's not a problem to wait some time before doing a pattern.

Hum ... Can you tell I'm a software engineer ?

People may find it too restrictive, but this works for me, except I tend to have too many projects in the same time and I should do no more than 2. I'm easily overwhelmed and don't have much free time, so I need to be extra-organized for my everyday life.

I'm still a beginner, and make a lot of wadders, so I don't do things for other people, or for short deadlines, in order to avoid external pressure. I also try to avoid being lazy and doing too much easy projects on a row, or I'll never progress ! Sooooo ... Keep calm and carry on :).

-- Edited on

5/18/10 7:46 AM

--

------
Meet me at : prettycrocodile.blogspot.com

EveS


Michigan USA
Member since 11/26/06
Posts: 2701
Skill: Intermediate



Date: 5/18/10 8:09 AM

I don't think you need to slow down. Plunging in head-long works for some people - myself included. Just be prepared for some failures. It will happen. Even after years of sewing and some good mastery of general techniques, it will happen.

What I would suggest is to gain just a tad bit of focus. If you need an FBA, then a lot of garments will depend on this. Commit to learning that technique NOW. You will be much happier once you've gained an understanding of it. And prioritize with other techniques the same way. What do you need to learn the most? IOW, what skills will get you the most bang for your buck in terms of usefulness?

In the meantime, I think you'll be surprised at how much you learn with each new project and how long the learning will continue. I think as long as you sew you will encounter new challenges. That, for me, is one of the true joys of the art. So be prepared to feel like you are in over your head for a long, LONG time!

And to answer your original question...I've never figured out how to slow down, nor do I want to!

Eve

------
People who say it cannot be done should not interrupt those who are doing it - Chinese proverb

mizvi

Michigan USA
Member since 5/15/05
Posts: 6
Skill: Beginner



Date: 5/18/10 8:39 AM

I'm right here with you< Lareine and so glad you posted this concern as it has been nagging at me too. I love cottons and linens and just cannot pass up a fine quality fabric that is a good buy. I've been finding more than I can do up (patterns too) I agree its time to focus. I'm starting the handsewing class on PR and will continue to take classes so I feel more competent and gain skill.

------
MIZVI

kkkkaty


Utah USA
Member since 12/7/05
Posts: 2843
Skill: Intermediate



In reply to mizvi

Date: 5/18/10 9:57 AM

I was working on a shirt for a child (McCalls 4164) and it struck me that it would be good practice for anyone who wants to master more challenging adult projects. Has a nice collar, cuff plackets, button holes, facings, etc. Lots of good challenges, but in a smaller size, smaller pieces, less and cheaper fabric, less time, less horrible consequences (using your good stash!) if something goes wrong. I like sewing for children, because if there is a mistake, well, who cares? they'll grow out of it so fast anyway..... once you've mastered that, on to the adult stuff!

------
Viking Lily 545
Viking Ruby
Bernina Activa 210
Brother 1034d


marec


Arizona USA
Member since 5/11/08
Posts: 5589
Skill: Intermediate
Body Type:




In reply to lareine

Date: 5/18/10 10:26 AM

Quote:
I have the theory. But I don't have the skills in practice yet.

Yes, I understand this frustration very well. What we want is always a little beyond our skill set. Of course, this is why we are internally motivated to sew as a hobby. It's the challenge that we desire, as well as the clothes!

Quote:
I've decided that I cannot buy any more patterns until I master the ones that I already have -- the basic shapes, I mean.

I am right there with you...well, except for the 5 I just bought from Lynelle through the classifieds, and the few I'll pick up this weekend. I think you are being smart to focus on basic sillhouettes and styles. Embellishment can be done later.

Quote:
I have to put away the beautiful navy wool and the lilac satin lining for my winter coat until I am able to make a well-fitting sleeveless top.

I agree with your decision here. All of the things you learn from making a well fitting sleeveless (and with sleeves) top will transfer over to a jacket or coat. But with the jacket and coat, you have additional techniques and skill sets which are needed.

I work very methodically now. I have jumped into projects and floundered, while other times I have taken such a safe route that I became bored. Now, I work with a plan which is probably a month long, and I try to add in enough challenge for fizz

I divide my own learning into categories:

basic sewing techniques like seams, hems etc

sewing techniques like collars, pintucks etc

fitting expertise

finishing techniques

using notions and equipment

choosing and working with different fabrics

choosing a pattern for my body type

creative alterations or embellishments

If I don't sew with some kind of learning plan, all that above gets jumbled in my mind, and I become unfocused. I try to slow down and think about a few of those goals as I sew.

We are all so different so YMMV (your mileage may vary).

------
my blog: http://kf-biblioblog.blogspot.com/
Stylish 60- http://www.pinterest.com/maresea/style-evolution/

ryansmumAria


California USA
Member since 7/29/05
Posts: 717
Skill: Advanced



In reply to lareine

Date: 5/18/10 10:47 AM

I would do two things.

I would practice techniqes like making a 50 buttonholes or welt pockets ( that's actually what I did when I was in design school).

at the same time, I would make a very simple anything. I would make it over and over again. I would use a ready-to-wear as my sample (maybe from a thrift shop if you don't have one already and don't want to buy one). Look at how it's made and try to replicate it.

Good luck

------
"I am still learning" ~ Michelangelo
~~~~~~~~~~~~~~~~~~~~~~~~~~~~~~~~~~~
I finally have a blog!
You can visit it at
www.zigzagthesewingrag.blogspot.com



RoseFromThule


FRANCE
Member since 3/3/10
Posts: 454
Skill: Advanced Beginner



In reply to ryansmumAria

Date: 5/18/10 10:57 AM

Quote: ryansmum
I would do two things.

I would practice techniqes like making a 50 buttonholes or welt pockets ( that's actually what I did when I was in design school).



at the same time, I would make a very simple anything. I would make it over and over again. I would use a ready-to-wear as my sample (maybe from a thrift shop if you don't have one already and don't want to buy one). Look at how it's made and try to replicate it.



Good luck

I do this, too, when I feel too tired or too absent-minded to work successfully on a project.

I grab scraps or muslin and practice for minutes or hours. Shirring, topstitching, edgestitching, buttonholes, zippers, invisible zippers, rolled hem, bias, finishing ... You can actually watch them improve, it's very rewarding

And no need to unpick or feel bad if it's less than stellar !

Or I grab bits of stash fabrics and play with different needles size, tension, etc ... and jot down the results. So I'll already know what to use when I finally sew them.

Pockets, now that's a good idea !

------
Meet me at : prettycrocodile.blogspot.com
Printable Version
* Advertising and soliciting is strictly prohibited on PatternReview.com. If you find a post which is not in agreement with our Terms and Conditions, please click on the Report Post button to report it.
Online Class
All About Buttons and Buttonholes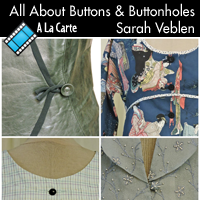 Online Class
The Contemporary Couture Jacket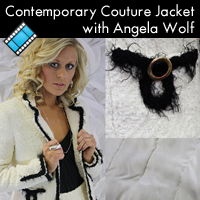 New Look 6569

by: Sheila457
Review
Petite Plus 204 Pattern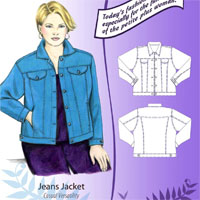 Pattern Details
Paradiso Designs Xine Basket Bag Pattern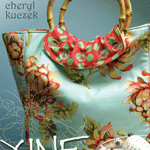 Pattern Details
McCall's 6752

by: princesslu...
Review