JillyBe


Intermediate
California USA
Member since 1/20/10
Posts: 3195



Date: 5/30/10 5:56 AM

I'm making a kimono-coat that keeps shifting and changing as I progress with it. At this point, I've French-seamed the side & shoulder seams, & there is a band of fabric at the bottom that is finished inside & out. If it's helpful, here is a pic of the pattern:

I'm using a contrasting fabric on the bottom band, sleeve cuff, and collar, as shown on the pic, and a different contrasting fabric on the inner band at the bottom, and on the inner sleeve cuff. It occurred to me that it would make the jacket more versatile if I could make it reversible. I could easily flat fell the seams down to make them more finished on the 'inside', but I'm stymied at the sleeves.

If I line the sleeves with the same fabric that I'm using for the body of the kimono, (a substantial cotton/silk blend) the armhole seams will be quite bulky, and the sleeves will be thicker than I would like. The contrasting fabrics would not work design-wise, so that leaves me with finishing the armhole sleeve in a way that would look finished when turned 'inside-out'. The main fabric in the body of the kimono is reversible.

I'm thinking it might be possible to cut a bias binding for the armhole seam, either out of the main fabric, or one of the contrasting fabrics, and cover the seam with that, and then tack it down? Any other ideas, or advice on how to do this? I know it must be possible.....I think?

Thanks!
-- Edited on 5/30/10 6:00 AM --

------
http://jillybejoyful.blogspot.com/
a blog about creativity, sewing, vintage sewing machines, and...... life :)

JillyBe


Intermediate
California USA
Member since 1/20/10
Posts: 3195



Date: 5/30/10 3:58 PM

Bumping this up because I still haven't found any inspiration or hints........

------
http://jillybejoyful.blogspot.com/
a blog about creativity, sewing, vintage sewing machines, and...... life :)

LauraTS


Advanced Beginner
California USA
Member since 7/10/06
Posts: 2188





In reply to JillyBe



Date: 5/31/10 2:18 AM

Quote: JillyBe
I'm thinking it might be possible to cut a bias binding for the armhole seam, either out of the main fabric, or one of the contrasting fabrics, and cover the seam with that, and then tack it down? Any other ideas, or advice on how to do this? I know it must be possible.....I think?


I was thinking about suggesting a binding - double-fold bias tape, opened out and topstitched down or the fashion fabric cut on the bias in a similar manner. If you trimmed the seam allowances and pressed them open, then stitched down the binding on top, it should stay fairly flat and look OK.

------
I've moved! Visit my new sewing blog at http://chiralcraft.wordpress.com

Do you sew from KnipMode? Join us at http://groups.yahoo.com/group/knipmode_english/


JillyBe


Intermediate
California USA
Member since 1/20/10
Posts: 3195





In reply to LauraTS



Date: 5/31/10 5:26 AM

Thank you Laura I'm thinking at this point that I'm going to be doing several embellishments on the exterior of the coat, so making it reversible might not be such a good idea, but I like the thought of pressing the seam open, & maybe hand stitching binding in place. I may do that even if it isn't reversible, just because I would like all of the inside seams to be nicely finished on this piece.

------
http://jillybejoyful.blogspot.com/
a blog about creativity, sewing, vintage sewing machines, and...... life :)

beth5646


Intermediate
Oklahoma USA
Member since 2/8/05
Posts: 102



Date: 5/31/10 8:06 AM

JillyBe---That is a cute coat pattern. What is the pattern company?--pattern number? I may want to have a try at that pattern myself.........Thanks.......Beth in OK

slvrsage


Intermediate
California USA
Member since 5/11/04
Posts: 250





In reply to beth5646



Date: 6/1/10 4:30 AM

It's a Decades of Style pattern.... I've been eyeing it for a while but haven't indulged yet!

JillyBe, Is the body of the kimono also going to be single-layered from a reversible fabric? Or would you be lining the body? I did a kimono-type jacket where I lined the body but not the sleeve. The sleeve was of a reversible fabric, so I sandwiched the sleeve between the lining and the outer fabric. That is, I stitched the sleeve to the body as usual, then when I applied the lining I turned under the edge and hand-stitched it on top, encasing the seam allowance for the sleeve.

Otherwise I think that binding the seam allowance should work just fine. Even if you embellish the outside, you can probably find a way to have it reversible if you want.

------
Lynnette
Aka slvrsage

JillyBe


Intermediate
California USA
Member since 1/20/10
Posts: 3195



Date: 6/1/10 5:11 AM

beth, slvrsage answered your question - it's the Decades of Style Tulip Kimono #2001, and I will definitely recommend it - I'm really loving making this!

slversage (love your name!), the body is a reversible fabric, and unlined. But I do love your suggestion for lining the body & enclosing the sleeve between the lining & outer fabric with a reversible sleeve fabric - I'll remember that one, thanks :).

This kimono seems to have a life of its own, & keeps showing me different ways to work with it, so I'll just keep an open mind as to where it's going from here

------
http://jillybejoyful.blogspot.com/
a blog about creativity, sewing, vintage sewing machines, and...... life :)

jaeng


Intermediate
New Jersey USA
Member since 3/8/06
Posts: 488



Date: 6/1/10 11:03 AM

I just read the article on Threads magazine that wrote by Susan Khalje,
She said the set in sleeve is not a good option for the revesible topper. She recommends :
1: Cut -on sleeve with sleeves drafted as an extension of the bodice
2: Raglan sleeves
3: drooped shoulder seams
4: sleeves joined to a yoke
Other than that, make the seamline (sideseam, I think) slightly off grain otherwise it will be pucker.
Then cut the sleeves and their underlinings on the bias, it will get the pretty fold on the edge unlike the straight grain.

Source: Threads , March 2009 no. 141 page 31.



JillyBe


Intermediate
California USA
Member since 1/20/10
Posts: 3195





In reply to jaeng



Date: 6/1/10 2:23 PM

jaeng that's more great info, thanks!

------
http://jillybejoyful.blogspot.com/
a blog about creativity, sewing, vintage sewing machines, and...... life :)
Printable Version
* Advertising and soliciting is strictly prohibited on PatternReview.com. If you find a post which is not in agreement with our Terms and Conditions, please click on the Report Post button to report it.
Online Class
Altering Pants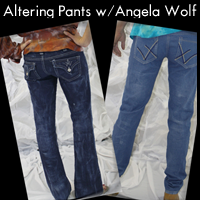 Online Class
Expert Sewing Techniques for Jackets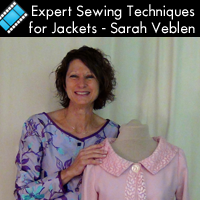 Butterick B4958

by: material e...
Review
Christine Jonson Easy Coat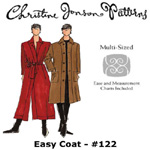 More Info
You Sew Girl 90mm Purse Frame Purse Pattern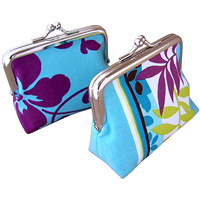 More Info
Decades of Style 5006

by: JetSetSewi...
Review