SewVeryCreative


Florida USA
Member since 8/23/07
Posts: 2605
Skill: Advanced



Date: 6/7/10 9:11 PM

Okay, first of all, please no "are you crazy?!" If you read this and think "Of COURSE she'd want one ~ I always thought she was crazy" I understand, but please don't post it!!

I'm 40 years old and I have ALWAYS wanted a nose piercing. I talked to DH and he said that he thinks it's "become so normal and commonplace that it's no big deal" but that I'm "getting in on the fad as it's on it's way out."

It had never occurred to me that he'd be cool with it or not embarrassed. He's in a high position with the DoD, so that's always been a concern (embarrassing him, I mean). I only broached the subject since we were talking about something related.

So ... I'm wondering how much it hurts. How easy it is to take care of. Does it swell your nose for a while? And lastly, how easy it is to cover up if I happen to have to have dinner with any of DH's uptight friends?

I'm REALLY wondering how much it will hurt. I'm not a coward and I do have a high threshold for pain, but I mean ... it's my NOSE for pete's sake!!

Again, please don't think I'm weird or creepy (I can be insecure, so I almost always assume that anything I want is creepy or weird). And please, no flames.

Thanks much in advance!!

------
~*~*~*~*~*~*~*~*~*~*~*~*~*~*~*~*~*~*~*~
Connie in Panama City Beach, Florida :)

"And these children that you spit on, as they try to change their worlds, are immune to your consultations. They're quite aware of what they're going through" ~ David Bowie, "Changes"

http://www.imsewverycreative.blogspot.com

Nursebennett

Alabama USA
Member since 1/7/10
Posts: 149
Skill: Advanced Beginner



Date: 6/7/10 9:18 PM

You don't mention anything about your work but where I work doesn't allow facial piercings and only one pair of earrings may be worn. Don't have any idea how this plays into your plans at all, just something to consider. I have coworkers that complain about the trouble of removing their piercings (eyebrow, tongue, nose) so frequently that it's not worth the trouble. I only mention this because of your concern about removing for social events you might attend with your husband.

ClaireEmily


Washington USA
Member since 9/28/08
Posts: 419
Skill: Intermediate
Body Type:




Date: 6/7/10 9:27 PM

I don't think you're crazy! I have a nose stud.

I have to tell you that it DID hurt. I find it very easy to maintain as long as I never take it out. Taking it out is awful and painful and I just wouldn't do it. Nose piercings grow over very quickly. I used to take the stud out for Lacrosse games, but after a while I just suffered the indignity of having to have a piece of tape covering it. Can't say my Lacrosse career was stellar.

I am allergic to many metals and can only wear a surgical steel stud, and also earrings. I had a lot of problems until I figured this out.

I would highly recommend going to a quality piercing place that uses needles, not a gun, and having a surgical steel jewellery.

Personally I think a small stud is modest and not that out there. I bet a lot of people on PR never even noticed it! some photos of me I think a ring makes more of a statement.

If you don't like it I think the scar would be very insignificant so it's not really that permanent. If you want one, I say go for it. =)

------
Claire - Australian in Seattle

ClaireEmily


Washington USA
Member since 9/28/08
Posts: 419
Skill: Intermediate
Body Type:






In reply to Nursebennett <<



Date: 6/7/10 9:29 PM

Quote: Nursebennett
You don't mention anything about your work but where I work doesn't allow facial piercings and only one pair of earrings may be worn.


Interesting. I think this is cultural. I had to take my stud out when I was looking for work in London, as there was a big cultural bias against it.

I had it put back in when I came back to Melbourne, Australia, and never had any trouble getting office temping jobs!

------
Claire - Australian in Seattle

EleanorSews


Board Moderator
Member since 7/26/07
Posts: 5194
Skill: Advanced
Body Type:






Date: 6/7/10 9:54 PM

Hey, if it floats your boat, why not?

DD ~ age 32 ~ teaches 5th grade in an urban public school. She has a belly button ring. She has to be sure she wears a blouse/top long enough to cover it even when reaching up since body piercing is not permitted for students or teachers in her school.

Quite a few of my younger friends (40s & 50s) have tattoos. I say, if it works for you, enjoy.

------
"We don't see things as they are, we see them as we are." Anais Nin

"Attitude is the difference between an adventure and an ordeal." unknown

mastdenman


California USA
Member since 1/12/04
Posts: 6225
Skill: Intermediate





In reply to EleanorSews <<



Date: 6/7/10 10:43 PM

Interesting that your DD's school doesn't allow body piercing. I can't imagine how they would determine who did and didn't and get by with it.

------
Marilyn

January 2009 to January 2010 81 yards out and 71yards in January 2010 to the present 106.7 yards out and 146.5 yards in. January 2011 to the present: 47 yards out and 69 yards in.


Rybe


Oregon USA
Member since 2/18/09
Posts: 336
Skill: Intermediate



Date: 6/7/10 10:46 PM

I think nose piercings can be pretty cute, but I would like to chime in and remind you to be sure to consider the risks! Obviously everyone knows about infection etc and I trust you're smart enough to take care of it! But there are other things, like the notorious bump you can get even if you take good care of it (stuff just kinda happens!) I also had a belly button ring grow OUT once, my body just treated it like a splinter and shoved it to the surface despite my best efforts, and now I have ugly scar tissue...but I'm pretty sure that isn't possible with a nose piercing!

But I'd say go for it! Just always do your research first, both on the piercing and the place you're getting it done. And pain wise... I don't know, but I know my belly button hurt like something I shouldn't say on a polite forum, hehe! In the words of my friends who witnessed it "that looked brutal"

Heidi Cooper


California USA
Member since 8/24/02
Posts: 453





In reply to ClaireEmily <<



Date: 6/7/10 10:59 PM

Quote: ClaireEmily
I would highly recommend going to a quality piercing place that uses needles, not a gun


I second this advice VERY strongly! Don't just go to a mall shop or your hairdressers, they will most likely use a gun.

When I had my upper ear cartilage pierced they used a gun They are fine for the lower lobe ONLY, as the gauge of the studs they use are far too large for either cartilage or noses. In addition to the size issue, the space between the stud and the locking back are to close together to allow for swelling.
For over a year mine was constantly painful and wouldn't heal until I took out the stud and put in a much smaller one that had a larger space for swelling and air flow.

As for the original question, I say go for it!!! I do understand about the DoD stuff, DH was an officer in the AF and I waited until he retired in '04 to get my tats, I was 38 at the time, lol.

I have also thought about a nose ring, but decided against it as it just seemed like too much work. I am, however, getting my BB pierced right after I get my tummy-tuck!

------
"Live as if you were to die tomorrow. Learn as if you were to live forever." -Mahatma Gandhi
" Freedom is not worth having if it does not include the freedom to make mistakes." -Mahatma Gandhi

Now Blogging at http://sewexotic.blogspot.com/

Franksdottir


Member since 4/25/08
Posts: 3292
Skill: Advanced Beginner





In reply to SewVeryCreative <<



Date: 6/7/10 11:01 PM

Well, what are you thinking of? Do you want a big hoop or small diamond? If the former, it might upset the more conservative among your acquaintance. A small diamond or something of the type can look very pretty.

DD has friends who have various piercings, and I have asked a couple of other people about nose piercings, and the answers seem to be that it hurts some people and not others. I suspect it is like getting your ears pierced - some of the piercers are just better at the job. Even the ones who say it hurts say it is fairly minor.

My guess is that it will swell a bit, and like getting ears pierced you will have to take good care of it. Apparently, once it heals over you can put in whatever you are using just as with earrings.

Tongue piercing is an extremely bad idea, according to dentists, but I think getting your nose pierced is just something people do. That said, I wouldn't do it on a bet, but that is just me. I do have pierced ears, though.

------
Barb

SewVeryCreative


Florida USA
Member since 8/23/07
Posts: 2605
Skill: Advanced



Date: 6/7/10 11:41 PM

Thanks you guys ... I really appreciate the advice and warnings!!

@Nursebennet: I'm a stay-at-home-mom, semi-retired graphic artist, so looking "strange" is actually a plus. A lot of times, clients have thought that since I look "normal," it implied that I wasn't a "real" artist. :/

As to having dinner with DH's ultra-conservative friends, it happens so rarely (one of DH's successful colleagues has a tongue-piercing!). However, we *do* often have to have dinner with his British clients (Royal Navy officers). But, I'd figure for them, I could maybe take it out for the night?? Or would it close that quickly?!

As for the type of piercing, I just wanted a small stud ~ no bigger than a VERY small gemstone. Like the size of earring studs? I can't describe it any better than that. I'm not a gemstone kinda gal ~ but for this, I'd want a small blue gemstone (my fave color's blue), but I'd also want to swap it out for a plain "diamond" colored stone. Since I kinda think that might not be as noticeable?

Do they make "covers" for them so instead of taking it out, it just hides it? I really wish I knew!!!

As for the place, OMGosh, I found this one place that was cleaner than the average doctor's office. SO clean. And the woman that worked there (and does the actual piercings ~ whether with a needle or gun, I don't know ... I forgot to ask) was so knowledgeable. She was just one of those people that you can tell believes in taking care of the customer ~ with regards to "bedside" manner, cleanliness, and care.

Really, I was SO impressed. Like I said, her place was cleaner than the average doctor's office!!

The other piercings (belly button, tongue, etc) just really freak me out. Not because I think they look weird or anything, it's just that idea ... the assumption of the pain involved just blows my mind. I'm not a wimp, pain-wise, but it just *seems* that those kind of piercings would be the "I went literally out of my mind, floated around the room for a while, barfed, and then slammed back into my body, in utter agony" kinda piercings.

I guess I should be honest and say that the idea of the pain involved in a nose piercing doesn't freak me out as much as ... I guess, what it would look like while it's being done. Stitches freak me out (I pass out ~ one of the reasons I dropped out of Pre-Med), but it's not the pain of *getting* the stitches as much as it is the ... concept, idea, etc.

I, too, allergic to many metals ~ gold being the biggest. I'm hoping for surgical steel, since I heard that stainless steel can leave a "stain" in the piercing area if it tarnishes.

ClaireEmily, wow. I never would have noticed it without your pointing it out. May I ask how small the stud is? It really looks great on you!!! And your little girl's absolutely ADORABLE!!!

May I ask what you mean by "taking it out is awful and painful?" Do you mean that it's hurts to take it out even *after* it's healed up? Does it hurt as much taking it out as it did getting it pierced?

And this may sound stupid, but I tried to "practice" the pain I might feel by taking my fingers and pinching the area REALLY hard (I have longish fingernails). It seemed to be more numb than anything. Is my test too misleading? I thought that by pinching the area REALLY hard with long fingernails might mimic the reality. Am I really far off?

Again, you guys ~ I really appreciate the encouragement and advice. DH isn't here (he's in Scotland for the next two weeks on bidness) ... and he's usually my rock when it comes to stuff like this. I kinda figured that I'd get it done before he comes home, so if I turn out to be a total whiny baby, he won't have to see it ~ and maybe tease me about it later!

------
~*~*~*~*~*~*~*~*~*~*~*~*~*~*~*~*~*~*~*~
Connie in Panama City Beach, Florida :)

"And these children that you spit on, as they try to change their worlds, are immune to your consultations. They're quite aware of what they're going through" ~ David Bowie, "Changes"

http://www.imsewverycreative.blogspot.com
Printable Version
* Advertising and soliciting is strictly prohibited on PatternReview.com. If you find a post which is not in agreement with our Terms and Conditions, please click on the Report Post button to report it.
Online Class
Create a Jacket Muslin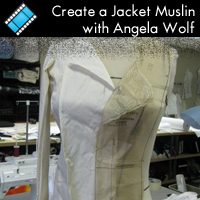 Online Class
The Contemporary Couture Jacket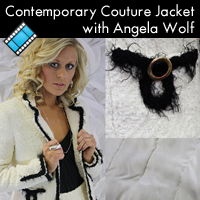 Simplicity 1539

by: monicawood...
Review
Favorite Things The Wrap Dress Pattern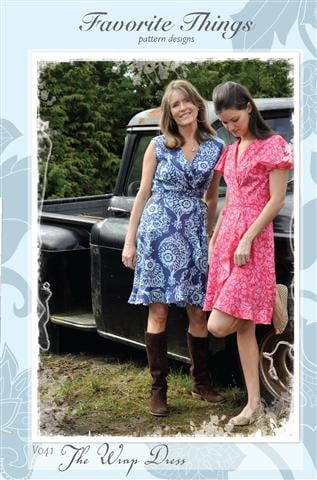 Pattern Details
You Sew Girl Draped T-Dress Pattern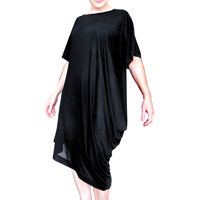 Pattern Details
Kitschy Coo Lady Skater Dress

by: aslipperys...
Review