ryansmumAria


Advanced
CA USA
Member since 7/29/05
Posts: 717



Date: 6/19/10 3:49 PM

I am a california credentialed sewing instructor ( a rarity these days) who has worked for a couple of unified school districts. I have heard and read about poor sewing instructors and am curious about what made them bad experiences.

I'm always trying to improve my teaching skills and would like to know what happened and how you have preferred to have been taught.

I provide step by step examples and have lots of handouts mostly because when I went to design school I found them lacking.
Everyone likes to be able to hold and look through a real sample of the technique you are learning.

Thanks for any info...

------
"I am still learning" ~ Michelangelo
~~~~~~~~~~~~~~~~~~~~~~~~~~~~~~~~~~~
I finally have a blog!
You can visit it at
www.zigzagthesewingrag.blogspot.com



Maripat

Advanced
OH USA
Member since 10/11/08
Posts: 643



Date: 6/19/10 4:34 PM

I took one years ago, after having my alterations business up and running. We all started from the beginning, sewing an "M" on paper, with no thread, to get our accuracy down, etc. That was annoying. However, after we made all of our samples, we we able to pick anything to work on. I made a suit for DH so I could learn the inside details.

Most recently, I took the bustier class from Kenneth King. Shamefully, I never reviewed it here, partially because I know he is supremely talented and I didn't want to insult him. I never felt "on the same page" with him, which could have been my fault. He had assumptions in the beginning, about terminology and procedures that I was not familiar with. He did not go step by step in an orderly fashion, and I learn best that way. I felt like that car in bumper cars that is stuck spinning in the corner while everyone else is driving around! I didn't know how to ask about what I didn't know.
I'm not sure if you can translate these feelings into actions. But I know at the end of class, only a few had actually made the garment we were learning about.
On the other hand, the other two PR classes I took were wonderful. They had an orderly lesson plan, available before class, step by very small step instructions etc.
Basically, he is quite right brained and Veblen and Khalji seem left brained. I click better with the latter.

Ohh, sounds like rambling. No wonder I didn't write a review.
-- Edited on 6/19/10 4:35 PM --

------
"You are in charge of your own ride!"

LearningAlterations.com

Tailypo


CA USA
Member since 8/6/03
Posts: 1320



Date: 6/19/10 4:41 PM

A class I took at City College SF was terrible. I think the big problem where everyone was allowed to choose his/her own pattern. The instructor completely lost control of the class from the get-go. She would end up explaining some detail of person #1's pattern while person #2 was laying her pattern out completely off-grain... I spent most of my class serving as her unofficial teaching assistant -- once or twice, then I never went back.

------
messymethodsewing.wordpress.com


PattyU


Intermediate
OH USA
Member since 3/26/03
Posts: 1316



Date: 6/19/10 5:13 PM

I've only have a couple sewing class experiences. I took sewing as Home ec. in high school. I already had a little sewing experience because my Mom sews. Our teacher was a horrible teacher. I went to a small Catholic H.S. that I'm sure paid a pittance....and got the teacher they paid for. She was also our Spanish teacher. She couldn't really speak Spanish, and could sew even less. I was a 16 year old girl, who at that point had mostly just played with my Mom's machine a bit and knew how to lay out and cut patterns. I helped the other students. I really thought my sewing teacher didn;t sew, but I can't remember all the details of the class.

ABout 11 years ago, I took a 6 week tailoring course. It was considered an advanced class. I don't consider myself advanced; however, when I spoke to them, it seems I met their criteria for "advanced". The class was good in some ways. I learned some techniques like putting in welt pockets and about various interfacings. The only problem was that from the very beginning, the instructor told us she would not complete all the steps to complete the blazer in 6 weeks. She planned to add classes and not charge us extra. She made a big deal about the extra classes she was giving us. That would have been nice, but I absolutely could not come to the "extra classes". I think they were on a different week day or something. So I wasn't able to come to the classes to learn some of the techniques I was promised in the class description. I would have rather gone a bit faster and covered all the material in the scheduled classes. It seemed like there was a lot of down time as some people sewed really slowly. I think they allowed in a couple of beginners that slowed the class down. They were "design" students from a college, so talked their way into the class, I guess.

I never did finish the blazer. I should get it out and complete it. It was really nice fabric.
-- Edited on 6/19/10 6:26 PM --

------
Patty

PegL


Advanced
MO USA
Member since 2/18/04
Posts: 1343





In reply to ryansmumAria



Date: 6/19/10 5:34 PM

I've been sewing for well over 50 years and have in that time taken many classes from numerous instructors of varying levels of competence. By far the most irritating classes were the ones I took with Cynthia Guffey. She's incredibly talented and produces beautiful clothing but she does not allow any note taking in her classes while she lectures. My memory is not what it used to be and I found it quite frustrating to not be able to remember certain steps in some of her worthwhile procedures, simply because she did not allow us to write it down. She gets very vocal and cranky if you even try. I don't know if she really needs the undivided attention or if she's afraid of someone using her techniques to teach their own class but whatever, it was maddening. As a consequence, I quit taking her classes, even when the subject matter would have been very interesting. Hope this helps! I don't mean to malign CG in any way, I just don't appreciate her teaching style.

edited to add: Perhaps she's trying to sell her books but I have those and my notes would be infinitely better as her instructions are severely lacking in her books.

-- Edited on 6/19/10 5:36 PM --

------
"I hate housework! You make the beds, you do the dishes--and six months later you have to start all over again!"

Pfaff 2170, Pfaff 7570, Pfaff 4852, Babylock Coverstitch, Bernina 1090, Bernina 1020, Gammill Quilting machine

Elaine Dougan


Advanced Beginner
BC CANADA
Member since 1/24/07
Posts: 503



Date: 6/19/10 5:38 PM

I think it is helpful if everyone taking the class has a certain base level of skills necessary for the techniques being taught. I took a quilting class many years ago and one of the women had never used a sewing machine. That meant the instructor not only had to teach the quilting skills that she had planned, but she had to waste a lot of the class time teaching that one woman how to use her machine. Another requirement should be that any machines being used should be in good condition. It is very frustrating to have class time wasted trying to get poor machines to work. One other thing is be prepared for the person who wants to "take over" the class and "share" her methods.

------
Elaine

3HoursPast


Advanced
AUSTRALIA
Member since 12/7/08
Posts: 658



Date: 6/19/10 5:56 PM

I never took a sewing class, but I teach basic, intermediate and some advanced.

With basic, I think it is necessary to approach it with good humor, a soft tone of voice, and address any issues before they can come up. For example- when I started teaching I assumed people would know how to use their machines and they could measure. The number of people I have had to teach to measure astonishes me. Now I just include it as a matter of course. The same with pressing. I think it is also really important to keep beginners all on the same project and to build good sewing habits from the start. I explain and demonstrate everything in great detail, then walk around making sure they're doing it right. Beginners expect instant gratification, you have to convince them it is worth putting in a little effort to see a result.

With intermediate, the trick is to be sure they're working on projects suitable to their abilities. Some people can go right out of basic and apply those skills to making a fitted LBD. Some people need to make six or seven pairs of pyjamas until they believe they can do it. I think it is important to add one or two new skills with every project. Example: pleated skirt with a zip and blind hem is a good second project for most of my ladies. Some of them blaze right through it, some take their time.

With advanced... I winced when I read about the blazer class above. It reminds me of my LBD class. Sigh. I taught basic pattern alteration, piping, zips, darts and blind hems. The rest of it was quite easy. I found that I spent most of my time convincing people they were indeed capable of sewing a dress. It was very stressful and sometimes I had to add on extra classes. Part of it came from me expecting other sewists to be like me- adventurous, over-confident, willing to jump in the deep end. That's just not the case. Many, many sewists are rather cautious which is not a bad thing. Another part of it came from people who were not at that skill level trying to take the class... Talking their way in as it were... Some crops of girls would do great dresses in the required time. A few made several of the same dress in the six weeks.

Ach I better stop or I just might as well post my class notes...

------
http://3hourspast.com- Vintage Style, Sewing, and Ethical Fashion

goodworks1


Advanced
IL USA
Member since 7/19/03
Posts: 3709



Date: 6/19/10 5:57 PM

My memories of high school home ec class are dismal. I only took it one year...I really liked the subject (witness 2 university degrees in it.) I had been in 4-H for several years and had won the county competition to be able to take an outfit to the state fair (skirt, blouse, vest.)

The teacher insisted that I buy a pattern a size too small in the shoulders; I was not allowed to add width to the hips where I knew I needed it; of course it was my fault that all the seams had to be let out to the max to fit the hips, etc.... We had only about 20 minutes to sew in each class period and then everything had to be put away. The machines were just plain awful....I was sewing on a well-maintained Singer 201-2 at home. The whole thing was a disaster.

Since then I've taken a few classes, but almost none of them had actual machine time in them. I generally don't like sewing when there are other people around; I guess I'm too easily distracted. I make too many mistakes and misjudgments.

I have done okay in classes where we did samples of things, like a class where we learned lots of ways to use specialty feet, or one where we learned various methods of applying decorative threads, etc.

When I was a new mom and totally overwhelmed with life, I enjoyed a weekly class at the local high school where the instructor sort of had a support group for people who liked to sew. You could bring in stuff you were working on; you could ask for help choosing a flattering pattern; she always had her TOL Bernina there (which was an 830, back in the 1970s) and we could use it if we wished. I always felt encouraged after those evenings. And I've loved my mechanical Berninas ever since. lol.



------
blog: goodworks1.wordpress.com


Annie- oh


Intermediate
CO USA
Member since 2/7/04
Posts: 1363



Date: 6/19/10 6:16 PM

I've taught and taken classes, and the biggest problem I've seen is the participant who tries to take up more than her fair share of the teacher's time and the teacher who lets her.

I attended a 2-day presentation by Sandra Betzina one time and she beautifully handled an audience participant who wanted to co-host. Sandra appreciated the fact that we all traveled, paid, and took this time for HER. No need to give in to a would-be costar!

And if I'm a participant and someone else is taking over, I speak up if the teacher/presenter needs to do something about it.

'course, one time it was the sewing teacher's SIL and 2 others in the class were also related to them and I was clearly on the outside for the rest of the weekend.

------
I try all things. I achieve what I can. "Moby Dick"

We stand here confronted by insurmountable opportinities. Pogo

JEF


Intermediate
VA USA
Member since 7/27/05
Posts: 2595
Board Moderator



Date: 6/19/10 7:31 PM

My first sewing class was a fairly poor one. I was in graduate school and interested in sewing so I went to a local county class I think. Anyway, we were able to pick our own patterns, our own fabric etc. Unfortunately, there were just too many students at that level for one teacher. She'd tell us how to lay out the pattern on the fabric. I'd do it in 10 minutes and then wait 30-40 minutes for her to get around to check what I'd done. I read a lot during that class. I was making a simple skirt. Never got the waistband on.
JEF

------
"The trouble with quotes on the Internet is that you can never know if they are genuine." --Abraham Lincoln
Printable Version
* Advertising and soliciting is strictly prohibited on PatternReview.com. If you find a post which is not in agreement with our Terms and Conditions, please click on the Report Post button to report it.
Break your Serger Out of the Box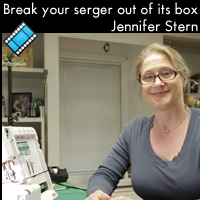 Fit the Tee to a T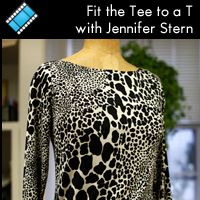 Patrones Magazine 303-23

by: Mikgirl
Review
Self Drafted Pattern 286481-1008

by: MariannaSe...
Review
Sewing Workshop Chicago Jacket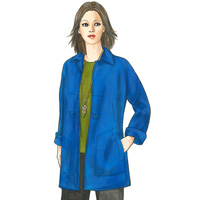 Buy Now
You Sew Girl Small Tote Pattern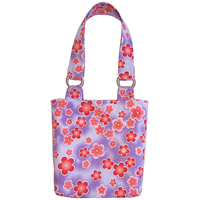 Buy Now