RoseFromThule


FRANCE
Member since 3/3/10
Posts: 454
Skill: Advanced Beginner



Date: 7/27/10 7:51 AM

Hello :)

I read PR carefully and what puzzle me the most is sentences likes "I did it in one evening".

Because ... well, even for the simplest project (2 pieces, one front, one back), I need at least an evening just to trace and cut !

Yesterday I used my current project as a test, a basic shell with a front and a back, and

- it took me 1 hour to lay the fabric approximately on grain (we talk about a yard of basic white cotton here). Usually it take me longer, as I try to follow a thread to check the straight of grain, but here the weave was to tight and the thread kept broking

- then, another hour to trace the two pattern pieces, then add seams allowances (I have a double tracer, but I'm still unable to trace consistent 5/8" SA ...).

I had to go away then, but I'll need another hour tonight to tailor tack the darts and the seam allowances on the other side of the fabric (the last time I used tracing paper, I couldn't wash away the markings).

So, yes, 3 hours juste to have two fabric pieces ready.

And yet, the SA are not quite right, etc ...

I'm going to take sewing lessons next month, but the teacher told me we won't use patterns, but trace our owns. So I won't learn how to trace BWOF with her :)

I'm not in a hurry, but it's a bit frustrating to spend that much time and still have a so-so result. I tried to be quicker, it was catastrophic. I also tried to take more time, without any improvement (can you tell how angry I was to have spend 3 whole evening tracing a pattern and still have completely non-matching seam lines at the end ?).

Anyway, I'm crying for help

My ways are obviously wrong.

Are there any secret to place fabric and trace patterns precisely (and reasonably quickly) ?

Thank you :)

Signed : some desperate Rose ...

------
Meet me at : prettycrocodile.blogspot.com

Teagarden

Member since 1/26/10
Posts: 150
Skill: Beginner



In reply to RoseFromThule

Date: 7/27/10 8:04 AM

I'm only a beginner myself, and know almost nothing, but do you have a nice big cutting board and rotary cutter? If not, those could be part of the answer if you're having trouble with cutting - they're lifesavers.
-- Edited on 7/27/10 8:06 AM --

marymary86


Georgia USA
Member since 7/20/08
Posts: 3946
Skill: Intermediate



Date: 7/27/10 8:04 AM

This may not be what you want to hear but it takes me that long to trace a Burda. I've been tracing patterns for years but just started using Burdas. They take a bit longer!

It's worth the time to me to get all the details right on the pattern. They are drafted so well - my first Burda pants pattern was a tried and true. I'd be on my 3rd pair except that I lost enough weight to go down a size.

You will keep getting better especially if you perfect a simple garment and make it several times. By then you may get faster too!

I don't worry about the speed; I just enjoy the process. I guess that's easy to say now that I'm not trying to get something done for a special occasion!

------
Mary




ryan's mom


Member since 11/30/04
Posts: 5404
Skill: Advanced



In reply to RoseFromThule

Date: 7/27/10 8:16 AM

Rose,

You are being WAY too hard on yourself! It is okay to be so slow as a beginner. I learned how to sew in a 3-month Home Ec class in 8th grade, then was on my own that summer. The summer of 1980 was filled with nothing but wadders. I made a slew of mistakes, had nothing to wear, but learned "SEW" much. By the next year I was making wearable garments.

Is it easy to get frustrated? Yes! Even seasoned sewers like myself have days where we get frustrated. All I can say is learn to enjoy the process. Each aspect of it. I used to loathe laying and cutting out my fabric, interfacing, and fusing. Now I just accept it, set an entire day aside for it, then plan on sewing the next day.

As for seams, how far off are they? You have notches and markings? Match them. Are you seams off by just a little? Maybe a 1/4" at the bottom or top? I would be inclined to snip that little difference off. It's likely a cutting difference between pieces. I don't get too concerned unless it's more than a 1/2" difference.

Can you get regular Burda patterns and start with a few of them first before tracing off BWOF patterns? It's okay to start with BWOF, but I think it's just plain easier to start with a pattern envelope. There's so much to learn from them.

Please, don't try to be a speed demon, especially with laying/cutting out. Sewing is a process and shouldn't be a hurried experience most of the time. I've been sewing for 31 years and am a slow sewer. Although I'm very impressed with speed demon sewing, it's just not me. I did crank out a wrap dress last month in record time, about 2+ hours, but that is the rare exception for me and not the norm.

Your way is not "obviously wrong". You are simply new to sewing, and these things take time.

------
Big 4 Pattern size 12, RTW bottom: 6, RTW jacket 8, RTW top (no size fits me well!)
Measurements: 34 HB/36 FB (34C bra)/27.5/36 (and working hard to keep it that way.)
Machines: Sewing: Elna 760, vintage Kenmore Model 33 (1967), Janome Gem Gold 3, Singer Model 99, Singer 221/Featherweight, Bernina 1630. Sergers: Babylock Imagine and Babylock Ovation. Embroidery Only: Janome 300E. Embroidery/Sewing Combo: Brother Dream machine. Coverstitch: Babylock BLCS. Straight Stitch: Janome 1600P.

My blog: www.phatchickdesigns.blogspot.com

Sharon1952


Board Moderator
Member since 7/1/08
Posts: 3673
Skill: Advanced
Body Type:




Date: 7/27/10 8:18 AM

Sewing is about the process and then the product! You'll speed up with time. I don't trace patterns because I don't tend to use Burda (they don't fit an older body very well). Cutting and laying out will also become faster with experience.

Who cares if it takes one person 3 hours and another 3 days to produce the same garment? So long as they are both wearable you both win!
Hang in there, Rose.

------
Sewing: A creative mess is better than tidy idleness. ~Author Unknown


sew2006


Ontario CANADA
Member since 6/24/06
Posts: 2383
Skill: Advanced



Date: 7/27/10 8:24 AM

When learning to sew it's important to learn the proper steps and aim for a quality finish. I've sewn for 18 years now plus own a serger to make sewing faster. Speed will come with experiance. I think a lot of us sew because we want our clothes to fit better and last longer than the "speedy RTW". Some of my faster sewn garments are the second version of the same garment where the fit and sewing process is already figured out.

------
Janome10001, Babylock ESG3, Brother ULT 2001, White 634D serger, Pfaff 1472, Singer featherweight, Singer 14T957Dc, Bernina FunLock 009DCC coverlock, Brother PQ1500S, Janome CP900.

JTink


Member since 4/20/08
Posts: 6740
Skill: Intermediate
Body Type:




In reply to RoseFromThule

Date: 7/27/10 8:28 AM

I am not quite the perfectionist that you are

I have given up on pulling the thread(mine break too). I just line up my salvege edges, lay the pattern pieces, pin and cut. After I cut, I mark my dots and darts. As I'm cutting and come across a "notch", I cut out around it, making a little hill. This is opposite of what the directions will tell you to do. My Mama taught me to make the little hill. It's easy to see and you don't risk cutting to deep in to the material. I don't mark my seam lines. I have never understood doing that. If you cut your pattern on the cutting line, the seam allowance is already "allowed" for. Line up the cut side of your material, to the correct marking on your sewing machine.

When marking the dots and such on my material(before removing the pattern pieces), I don't do tailor tacks. I use the colored pencils that you can get in the fabric stores. I carefully lift the portion of the pattern piece, near the area to be marked and place the pencil on the spot, then press and rotate. Some of these newer pencils are not very good for showing up. I have learned that if you put a little sponge in a plastic container and wet it, then lightly dab the pencil to it, the color will show up much better on the material. I only do the "wet" pencil thing on rare occasions, because it has a tendency to not wash out very well (dry pencil washes very well). If you are marking the underside of the material, say the dart, I put my finger tip on the dot to be marked, slip my other hand, holding the pencil, under the material and kind of grind it into my finger tip. It's not an exact science, but none of this has failed me in the 35 years I've been sewing. Also good for marking darker colors, a piece of soap. I always have some of those little "motel" soaps laying around. The biggie here, practice. Once you get more self confidence in working with all the stuff, speed will follow. I hope I haven't rambled on so that you are now totally confused

Just wanted to add: I've never used Burda patterns. I use the Big 4.

-- Edited on

7/27/10 8:30 AM

--

Doris W. in TN


Tennessee USA
Member since 2/9/04
Posts: 9665
Skill: Intermediate



In reply to RoseFromThule

Date: 7/27/10 9:01 AM

Quote: RoseFromThule

I read PR carefully and what puzzle me the most is sentences likes "I did it in one evening".

Rose, the best way to be unhappy with your sewing (or anything else in life) is to compare yourself to other people.

I am very slow with my sewing, also. It can take me a week to make a simple skirt, and that is okay with me. I have seen some garments made by other people that were "done in one evening" as well as quilts that were done in a week, and I am usually not impressed. I am a bit of a perfectionist, and it is a hardship.

With time and practice, your sewing will go faster until you reach a comfortable speed. If I sew faster, I make mistakes. I make enough already, so taking my time and thinking through each step reduces my mistakes.

As for comparing my sewing to that of others, I took at the beautiful garments and "aspire" to improve my skills . . . at my usual slow pace.

-- Edited on

7/27/10 9:02 AM

--

------
iPad's auto-correct is my enema.

RoseFromThule


FRANCE
Member since 3/3/10
Posts: 454
Skill: Advanced Beginner



Date: 7/27/10 9:27 AM

Thank you all for your answers !

Yes, I know that I have to take all the time I need, but even though I take plenty of time and force myself to be precise and patient (and that's two qualities I'm definitely not born with !), the result is still messy. So I thought I did something wrong, because obviously I'm not taking shortcuts.

My seams lines are usually off by a few millimeters (let's say 1/8").

I must add that I almost only sew with Burda or Japanese pattern books (both without seams allowances and with as few markings as they can get away with!), BWOF being cheap and easily available, but the only time I used a Big 4 pattern, it was a dream. With all these notches I finally had something clean !

I guess I'll have to add SA to patterns and then transfer everything on fabric. But it feels like cheating :)

(As for the layering, matching selveadge give me headaches everytime : even with a thoroughly washed and pressed fabric, if I match selveadges, the other sides are off).

I don't have a rotary cutter because I've never found mats big enough (my table is approx. 80" x 40") and I don't trust myself to move a smaller mat under the fabric without disturbing the layout.

Nevertheless, it's reassuring to read that it's all normal. I feel such an hopelessly bad seamstress when reading reviews and boards :)

------
Meet me at : prettycrocodile.blogspot.com

ryansmumAria


California USA
Member since 7/29/05
Posts: 717
Skill: Advanced



In reply to RoseFromThule

Date: 7/27/10 9:33 AM

Rose

your timeline seems just right.

Sewing is a time consuming process. I, too, am amazed when I hear someone has put together an outfit in an evening. I assume that they have close to perfect figures and a trash bag would look fabulous on them or maybe it's not the highest quality product. Maybe there was no fitting nor fine finishing details and was a 1 hour type garment.

It can take me weeks to make something and I don't trace patterns because I don't have that kind of patience or time. I've been sewing for 40 years and I am a sewing instructor and former pattern maker.

There is no such thing as quick in my experience. you must make peace with that. You do get faster with experience but not a whole lot faster. Sewing is a labor of love. You are right that if you rush things you create more of a mess. Sewing must not be rushed or you end up with junk...

Enjoy the process.

Also, the first garment is always a test out and throw away. Do not expect it to turn out properly. You may have to do several test outs to get to the one that fits properly.

aria

------
"I am still learning" ~ Michelangelo
~~~~~~~~~~~~~~~~~~~~~~~~~~~~~~~~~~~
I finally have a blog!
You can visit it at
www.zigzagthesewingrag.blogspot.com


Printable Version
* Advertising and soliciting is strictly prohibited on PatternReview.com. If you find a post which is not in agreement with our Terms and Conditions, please click on the Report Post button to report it.
Online Class
Sew a Designer Unlined Jacket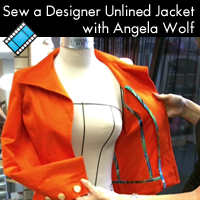 Online Class
Fun with Fitting - BODICE w Darts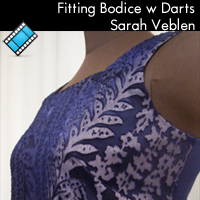 Past Patterns 038

by: StephiLuna
Review
You Sew Girl Beach Bag Pattern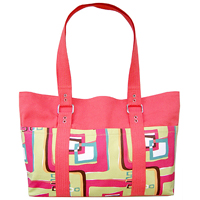 Pattern Details
Sew Chic Clara Bow Apron Pattern (ln102)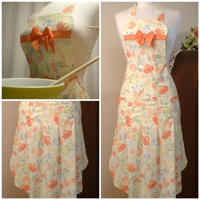 Pattern Details
Burda 7058

by: Pattycraft...
Review