ClaireEmily


Intermediate
Washington USA
Member since 9/28/08
Posts: 413



Date: 9/21/10 0:05 AM

Hi everyone,

Here it is the PR Pattern Stash Contest for 2010! The rules are below, please ask if you need clarification. This is a two month contest, giving us lots of time to try those patterns that have been sitting around for ages.

This is my first time as a contest manager, so speak up if there is anything I can do to help you participate. Also note that I'm in Australia so may be checking this thread at different times than you, but I will check in every day.

Pattern Stash Contest
October 1, 2010 - November 30, 2010

This contest is your chance to use all those patterns you've been collecting but haven't had the opportunity to use yet.

1. Enter only those items which have been sewn from patterns which are in your stash AND you haven't used these patterns before. The idea is to encourage each other to use those patterns we bought but never used.

2. You can enter apparel or craft items as long as you SEW them.

3. Pattern Stash is defined as the patterns you have in your possession approximately 6 months or more (in other words, in your stash prior to April 2010). Your guess is good enough; the idea is that you have had it a while and have not gotten around to sewing it. Downloaded patterns may be used providing they were downloaded around 6 or more months ago. Self drafted patterns are not allowed for this contest.

4. Patterns from magazines or BWOF, Patrones, KnipMode, Ottobre, etc may be used providing the issue of the magazine is April '10 or earlier. However, you may only enter 4 garments, of distinct types, from any one issue, and they must be patterns you haven't made before. The goal here is to open and use as many issues as you have.

5. You may only enter one item from each pattern (regardless if it is a wardrobe pattern or not). Patterns from magazines or books can be used. Because there are so many patterns included in most of these, you may enter up to 4 garments, but each of distinct types (top, pant, etc), from any one issue. They must be patterns & styles you haven't made before from that issue. The goal here is to open and use as many patterns or issues as you have.

6. Since this is a pattern stash contest, patterns should be new, unused, prior to the start of the contest. Fabric may be prepped, preshrunk, however patterns should be untouched. (No muslins in advance of the pattern start date.)

For each unused pattern which you make in item from, give yourself one point. Winner will be the person who uses the most number of patterns. (This is not a voted contest.) There will also be a random drawing winner, so even the less prodigious sewers have a chance at a prize.

Clarification:
-Vintage patterns that you've purchased but not used will count. The fact that some previous owner may have used the pattern already is irrelevant to this contest.

*Rules that apply to all contests:

1. All reviews must be entered for submission by 11:59 PM Eastern Time on the last day of the contest. Contest dates will be listed for each contest.

2. Note: for this specific contest, it is stated in the rules that patterns may not be drafted, tweaked, and muslined before the contest date. Fabric may be pretreated before the contest date.

3. Items intended for sale, or for which you were or will be paid to make, do not qualify for any contest, but items made for charity are welcome!

4. Unless otherwise stated in the rules, all reviews written for a contest entry must include a picture of the entry.

Contest Eligibility

1. Any member of Pattern Review, either paying (FoPR) or non-paying, who's been a registered member on the site for 90 days prior to the start of a contest is eligible to enter.

2. Any member of Pattern Review, either paying (FoPR) or non-paying, who's been a registered member on the site for 90 days prior to the end of a contest is eligible to vote in a contest.

3. Any member who's won 1st place in a contest on Pattern Review ended in the previous 4 months is ineligible to win another contest (for that 4 month period).


I'll be sewing along with you. Let's dust those patterns off!
Cheers
Claire

Prizes
Sponsored by:


First Prize: $100 Gift Certificate
Random Entry Prize: $50 Gift Certificate
-- Edited on 10/5/10 8:45 AM --

------
Claire - Australian in Seattle

Imaan


Advanced Beginner
New South Wales Australia
Member since 6/3/08
Posts: 1190



Date: 9/21/10 0:45 AM

Hey Claire Emily,

I have a ton of sewing to do, and may well join you! If nothing else, it will be an opp to do some sewing; I've been siderailed by illness etc the last few months.

Do I understand correctly also that since patterns are to be untouched pre- contest, there will be no tracing them off either? For the magazines as well as paper patterns (since I trace all my patterns, and it does take time!)?

Imaan

------
Imaan in Sydney, NSW.

The only people who achieve much are those who want knowledge so badly that they seek it while the conditions are still unfavourable. Favourable conditions never come.

ClaireEmily


Intermediate
Washington USA
Member since 9/28/08
Posts: 413





In reply to Imaan



Date: 9/21/10 2:40 AM

Hi Imaan,

I hope that you are feeling better now. I trace all my patterns too!

Since it does not explicitly state whether you can pre-trace or not, I'll ask the contest committee and get back to you. They say no drafting or tweaking (which I would read as alterations, like making FBA etc). Watch this space!

=)
Claire

------
Claire - Australian in Seattle

Lucy in Virginia


Advanced Beginner
Virginia USA
Member since 12/20/07
Posts: 275



Date: 9/21/10 3:04 PM

Thank you Claire for volunteering to host this contest! I am really looking forward to it, since I rarely ever sew from the same pattern twice! (Not that I'm Speedy Gonzalez or anything...) I will keep my eyes peeled on the Contest Entry page for this one.

Is there a goal for the total number of new patterns sewn from by all contestants for this year?

------
Total Stash at end of 2013 -- about 750 yards.
2014 Total Items Sewn -- 1
2014 Total Stash Used -- 2.5
2014 Total Items Embroidered -- 2
2014 Goal: Sew 1 garment per month. Less stash at end of 2014 than at end of 2013.

Machines: Babylock Ellisimo; Viking Platinum 770; Brother 900D
Serger: Baby Lock Evolve

Rosie who use to be Rose


Intermediate
Ohio USA
Member since 10/10/02
Posts: 702





In reply to ClaireEmily



Date: 9/21/10 3:41 PM

Hi Claire,
Thanks for being the manager. I'm looking forward to this contest.
Right now I'm going to try to start and finish some patterns that my dd and I bought after the six months cut off, so maybe I'll achieve a lot before and during the contest.
Rosie

dfr2010


Advanced Beginner
Florida USA
Member since 3/27/10
Posts: 1780



Date: 9/21/10 4:03 PM

I have so many patterns I just haven't gotten to yet ... several are costumes as well! What is the procedure for entering both this and another contest?

------
I don't really make mistakes ... I create "learning opportunities"! Murphy says: The better you match the thread to the fabric, the more likely you will need to rip some stitches out! I spend more quality time with my seamripper than I like ...
Yes, I DO love fabric!!
Happy owner of a band of Brothers: LX-3125, CS-770, CE5500 PRW, a PE-770 emb ... and now Kenmore 158.18032 and 148.12190
Blogging my "learning opportunites" at http://sewingmissadventure.blogspot.com/

MamaSewing


Advanced Beginner
Member since 12/21/05
Posts: 564





In reply to ClaireEmily



Date: 9/21/10 4:44 PM

Ooh, I am wondering about the tracing as well. I am slow at both tracing and sewing and if I had to do both within a set time I just might not get anything done!!!


marec


Intermediate
Member since 5/11/08
Posts: 4513



Date: 9/21/10 4:53 PM

This will be fun. I'm definitely going to throw my hat in the ring...though I am pretty sure I won't win. I remember people sewing an enormous amount of clothing last year.

I have some Christmas/thank you/ friendship gifts to make so those will be included. I also need to replace some cotton tees so those are in the plan. I'd like to make a few pillows for our NEW trailer It hasn't even been built yet and we have no idea of the colors for this year...so I'm glad the contest extends through Nov.

I just went through my knit top patterns and I have only 3 which are untouched. I have been stockpiling hat patterns though.

Off to plan some more.

------
my blog: http://kf-biblioblog.blogspot.com/
The more I learn, the less I know.

ClaireEmily


Intermediate
Washington USA
Member since 9/28/08
Posts: 413





In reply to dfr2010



Date: 9/21/10 5:13 PM

Quote: dfr2010
What is the procedure for entering both this and another contest?


You can enter both this and the costume contest at the same time. So if your costume pattern meets the stash requirements, and you start it after the 1st October, you can count it as part of your stash total and enter it in the costume contest as well.

I have clarification regarding tracing. Tracing is allowed. It's considered pattern prep, not actual sewing.

I'm so glad that you are all excited about this contest! I see it as encouragement to crack out those patterns that have fallen by the wayside in our sewing plans, which can so easily happen.

------
Claire - Australian in Seattle

Vintage Joan


Intermediate
Ontario Canada
Member since 7/16/07
Posts: 10778





In reply to ClaireEmily



Date: 9/21/10 5:38 PM

Quote:
Tracing is allowed. It's considered pattern prep, not actual sewing.


I'm VERY glad to hear that, but maybe rule 6 should be rephrased, then? ("Fabric may be prepped, preshrunk, however patterns should be untouched.")

------
my shield and my very great reward ~ Gen. 15:1

Image: me, about four decades ago
Printable Version
* Advertising and soliciting is strictly prohibited on PatternReview.com. If you find a post which is not in agreement with our Terms and Conditions, please click on the Report Post button to report it.
Fun with Fitting - BODICE w Darts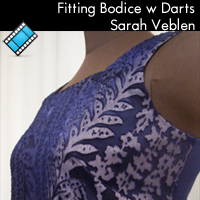 Serging Ahead with your 5 Thread Serger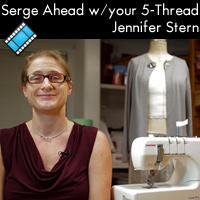 StyleArc Tiffany Blouse

by: clothingen...
Review
Christine Jonson Bell Sleeve Wrap & A-Line Skirt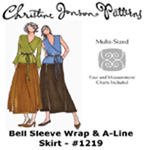 Buy Now
Favorite Things Little Sleep Well Pattern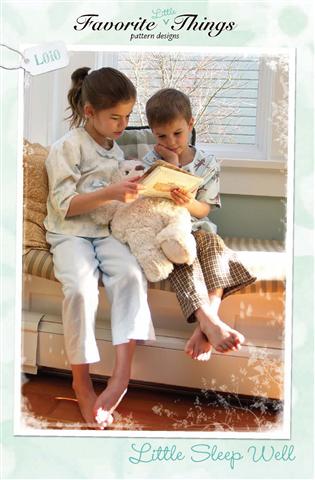 Buy Now
Deer&Doe Dress Belladone

by: poppykettl...
Review