Silk Challis


Advanced
International UNITED KINGDOM
Member since 10/15/08
Posts: 136



Date: 11/13/10 6:12 PM

I am working with boiled wool to make a jacket and before cutting out the pattern pieces I am asking myself a lot of questions.

I read the article on Threads 147 where they say that:

1. boiled wool should be dry cleaned only.
Would you pre-shrink this fabric? And how (steam/washing machine)? Have you got any experience on washing garments made with boiled wool?

2. straight grain in boiled wool is blurred and you can cut the pattern pieces in any direction to save fabric (however you have to be consistent with right side and back side).
Would you really cut the pieces in any direction without any consideration for the straight grain? Wouldn't it be safer to go parallel to the selvedge?

3. boiled wool does not ravel and so you can leave edges unfinished.
Really? And what if I make a belt: shouldn't I finish the borders to avoid distortion during the use?

Please help! And if you have any other suggestion I will appreciate them.

Thanks!!!

Nancy K


Advanced
New York USA
Member since 12/28/04
Posts: 8279





In reply to Silk Challis



Date: 11/13/10 6:38 PM

It's already been shrunk. If you are drycleaning it I wouldn't b bother to do anything to it.
Yes you don't need to finish the seams. You can use lap technique to sew it together which avoids a too bulky seam. I think that a single layer on a belt would just look unfinished. I think I'd make some samples to see what I liked best for the belt.

------
www.nancyksews.blogspot.com

CathyWeeks


Intermediate
Minnesota USA
Member since 9/5/08
Posts: 702





In reply to Silk Challis



Date: 11/13/10 9:09 PM

If you have enough of the fabric, I would do a test to see what it does in the washer, and then the dryer. Maybe a carefully measured and cut 6" square? Measure it after it comes out of the washing machine, then again after it comes out of the dryer. You should get a good feel what those will do to the fabric.

If it's been boiled and fully shrunk, then washing it isn't going to hurt it in the least. Felt is a very durable fabric (I have slippers that are made of boiled wool, even the sole, and they are wearing beautifully after several years). The main problem, once shrinkage is done, is that it it can lose it's smooth look (think of what linen looks like before and after washing and drying, or prior to ironing).

When I've made my own felted wool, the main problem with washing it after the felting process is complete, is that it gets a bit rumply and out of shape. But, steaming it and smoothing it down would take care of that. If it were mine, I would use the handwash cycle on the washer, then reshape it and lay flat to dry, or perhaps put it flat on the drying rack in the dryer and circulate air with no heat around it.

And yes, you do not need to finish the edges of felt. It's an interlocked mat of fibers. It's not a woven, so unraveling isn't something to worry about. I like the suggestion of butting the edges together to avoid bulky seams. A stitch in the ditch foot (AKA edge-joining foot) works nicely for this. You use a zig-zag stitch, and the foot keeps everything nice and flat and together (practice first on some fleece). If you do this, be sure to eliminate the appropriate seam allowances.

If you are always going to dryclean it, then having it drycleaned prior to sewing with it is adequate pre-treating. If you want to wash it yourself, then treating it the same way you would AFTER it's made is what you should do first, at the very least.

Me? I wash and dry the hell out of it, shrink it as much as it's going to go, then sew it. But after that I wash it in cold, gentle or handwash cycle, and lay flat to dry. In other words, I mistreat it first for insurance purposes, then try and treat it gently after that. But you know how it is - husband doesn't pay attention as closely as I do when doing laundry.

As always test, test, test.


-- Edited on 11/13/10 9:14 PM --

------
My (mostly) green sewing blog: http://NapkinLady.blogspot.com/

Elona


Advanced
Member since 8/24/02
Posts: 8460





In reply to Silk Challis



Date: 11/13/10 10:56 PM

Take a look at the boiled wool jacket my SIL bought in France a year or two ago. Every edge is raw, though in some places there is line of edge-stitching about a quarter of an inch from the cut. There is no facing and no interfacing anywhere, not even on the back belt, and I can tell you that nothing has frayed or warped out of shape on this jacket.

Personally, if I were working with this fabric, I would attempt to lay out the pattern pieces with attention to a grainline. After all, the fabric was knitted, and knits have a grain. Myself, I wouldn't trust the idea that we're dealing with a totally felted fabric and that grain doesn't matter.

Probably I would have the finished garment drycleaned, but if the design is very casual and I were determined to risk washing it, I would treat it like the finest cashmere sweater, being careful not to stretch or agitate it too much in washing, and laying it flat and blocking it to dry.

diane s


Intermediate
Oregon USA
Member since 8/24/02
Posts: 4808



Date: 11/13/10 11:58 PM

I have 2 boiled wool jackets that are rtw, that have more crosswise stretch than lengthwise stretch. I would check the fabric's stretch before laying the pieces any which way.

------
My grandmother taught me to sew when I was 10, and I've been sewing ever since.

Margasweet


Advanced Beginner
Member since 2/15/05
Posts: 813



Date: 11/14/10 0:08 AM

If you plan to wash it later, definitely wash the yardage before cutting & sewing. DD has a RTW boiled wool jacket, ticket said dry clean only but I really, really hate dry cleaning and it's not only smelly & bad for the environment but also quite expensive... so I carefully handwashed in lukewarm water, spun out in the washing machine and laid flat to dry. The jacket shrunk significantly and came out rather rumpled. I now plan to gently press it back into shape, but can't do anything about the shrinkage. So don't trust "boiled wool" not to shrink.

------
2007 fabric in: 7 1/2 yards; sewn: 7 yds +1/2 yd
2008 fabric in, 23 yards; sewn 20 yds; given away 6 yds -3 yd = -2 1/2 yd
2009 fabric in 41 1/4 yds, sewn 29 yds, given away 22 1/2 yds -10 1/4 = -12 3/4 yd
2010 fabric in 91 1/2 yds, sewn 27 yds, given away 1 1/2 yds; +63 yd = +50 1/4 yd
2011 fabric in: 55 yd.; sewn: 21 yd; given away: 20 yd +14 yd = +64 1/4 yd
2012 fabric in: 60 1/4 yd., sewn 25 1/4 yds, given away 16 yds, thrown away 3 yds scraps; UFOs completed: 7 +26 yd = +90 1/4 yd
2013 fabric in: 28 yds; sewn 25.7 yds.; given away 5 1/2 yd.s; projects 8, UFOs 4 -3 1/4 yd = +87 yd

2014 fabric in: 40.5 yd
2014 fabric sewn: 19 yd
2014 fabric given away: 8 1/2 yd
2014 projects completed: striped maxi skirt, bl/wh maxi dress, brown/turquoise sweater-knit tunic, rose print rayon dress S1587
2014 projects started: turquoise tank dress, tank dress,
2014 UFOs completed: 9 (5 small gift bags, pieced & quilted table runner, blue/wh maxi dress, silk infinity scarf, blue squares sm. quilt)
so far this year: +13 yd. = must do more sewing!

Silk Challis


Advanced
International UNITED KINGDOM
Member since 10/15/08
Posts: 136



Date: 11/17/10 12:21 PM

Thank you very much to everyone!

You are all confirming my thoughts about this fabric.

I do not like to have garments dry cleaned, so I avoid it as far as possible. However, the fabric is 100% wool and I am afraid of future distortion that can be caused by washing the jacket.

I had already planned to test a sample with the wool cycle of the washing machine, but I had no time for experiments, unfortunately.

I barely had time to play with the pattern, actually.

Thank you very much again to everyone and, please, keep posting here if you have other suggestions about this fabric. I will keep looking here in case there are other answers. I will appreciate your help.

And I will publish a review when the jacket is done, of course.



-- Edited on 11/17/10 12:23 PM --

ChristinePDX


Advanced Beginner
Oregon USA
Member since 10/4/08
Posts: 546





In reply to Silk Challis



Date: 11/17/10 12:43 PM

Quote: Challis

I am working with boiled wool to make a jacket and before cutting out the pattern pieces I am asking myself a lot of questions.

I read the article on

Threads 147

where they say that:

1. boiled wool should be dry cleaned only.

Would you pre-shrink this fabric? And how (steam/washing machine)? Have you got any experience on washing garments made with boiled wool?

2. straight grain in boiled wool is blurred and you can cut the pattern pieces in any direction to save fabric (however you have to be consistent with right side and back side).

Would you really cut the pieces in any direction without any consideration for the straight grain? Wouldn't it be safer to go parallel to the selvedge?

3. boiled wool does not ravel and so you can leave edges unfinished.

Really? And what if I make a belt: shouldn't I finish the borders to avoid distortion during the use?

Please help! And if you have any other suggestion I will appreciate them.

Thanks!!!


I made my own boiled wool last year by washing hot and drying several times some wool knit. From that fabric, I made a sweater coat.

If I were buying boiled wool I would pre-wash cold gentle cycle and lay out to dry.
When I cut out the pieces for my coat, I didn't pay attention to the grain, as the grain was pretty much gone in theory, the fabric is now really more of a matted piece of material. But, why not go with the selvedge edge just in case?

Edges can be left raw, they will not fray. Cut carefully. You might like to check out the pattern company schnittquelle, they have a lot of boiled wool (called loden) styles and you will see how they might treat a belt. Jacke Bratislawa pattern looks like a good example.

I love boiled wool. So easy to work with.





yummymummy38


Intermediate
AUSTRALIA
Member since 5/15/06
Posts: 117



Date: 11/19/10 6:53 AM

I had 1.67m of 121cm boiled wool, the shop said to either dry clean or cut a small sample and wash. Well I washed it in the front loader on 40 deg celcius (warm) on the handwash cycle. It has strunk to about 1.58 of 108cm now (it's still drying flat so it is not completely accurate).
Hence my checking the posts here to see if I can cut the pieces on the cross grain if possible. I will do that if necessary. I am making Simplicity 4428 shrug and hope to hand wash it in the machine, but perhaps on a cooler setting...

What do people mean by the lap technique (how they finish the seams without bulk)?

I made a grey boiled wool coat this year, but with that I did fuse interfacing to everything and lined it too. I will dry clean that piece.
Thanks
-- Edited on 11/19/10 6:55 AM --
-- Edited on 11/19/10 6:56 AM --

EleanorSews


Advanced
Michigan USA
Member since 7/26/07
Posts: 4505
Board Moderator



Date: 11/19/10 7:26 AM

Just a thought along the lines of drycleaning should you decide to go that way.

There have been magazine articles recently that speak to overwashing & over cleaning of clothing. A boiled wool jacket is not necessarily going to get "dirty". My DH had a closet full of tweed sport coats and after each wearing & before he would hang them in his closet, they were aired out. If they were drycleaned twice during a season, that was a lot. They were clean and fresh smelling with maybe one trip to the dry cleaner per season in most cases. The procedure was that at the end of the season they were cleaned, then spent a day hanging out on the screen porch to air out and then stored for the next season. Back in the late 80s & 90s I had a collection of unlined boiled wool jackets which got the same treatment. The difference was that when I changed after work, the jacket would hang outside my closet, the next morning I would turn my unlined jacket inside out and let it air during the day; it went into the closet that evening.

While this may seem a bit anal, my closet has never taken on a stuffy odor of clothes that have been returned for another wearing.

------
"We don't see things as they are, we see them as we are." Anais Nin

"Attitude is the difference between an adventure and an ordeal." unknown
Printable Version
* Advertising and soliciting is strictly prohibited on PatternReview.com. If you find a post which is not in agreement with our Terms and Conditions, please click on the Report Post button to report it.
Altering Pants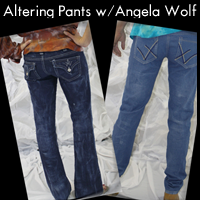 Fun with Fitting - PANTS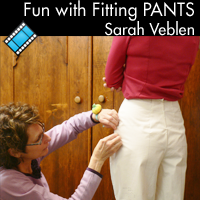 BurdaStyle Magazine 01-2010-120

by: style insp...
Review
Sewing Workshop Equinox Jacket Pattern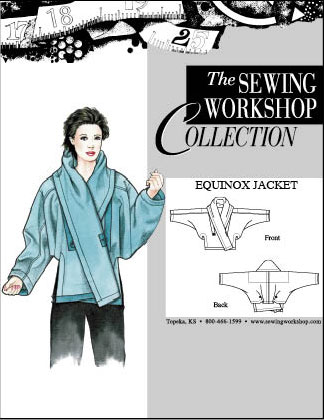 Buy Now
Sewing Workshop West End Top & Pants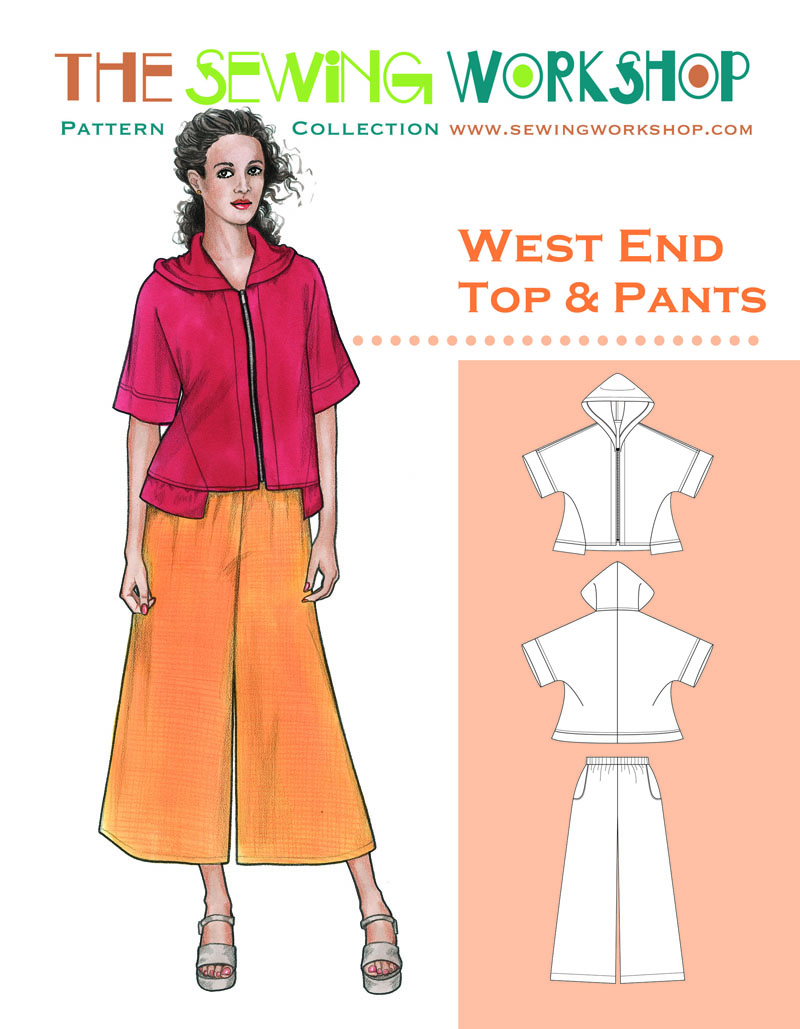 Buy Now
Simplicity 2444

by: LizzieInBr...
Review