Talitha


Member since 8/15/04
Posts: 322

7 members like this.




Date: 1/15/05 1:15 PM

Ok, this is going to be a kind of long post, but it seems like this is one of the first things beginner ask.

1. Try your best to NOT buy your first machine. If you do buy it, check garage sales, etc, first. Some people would disagree with this advice, saying that taking lessons on your machine can help a lot, and you make get a real lemon if you just pick up a free or almost free machine. However, there are a lot of good reasons to NOT to buy your first machine as well. Edited to add: for those of you who chose to to get a free or nearly free machine: many of these machines do not come with manuals. Try looking here to purchase your manual: Sewusa.

If you decide you don't like sewing (or don't have the time), you haven't lost any money.

After using a machine for a while, you learn what features you like or don't like, or wish you had. Sewing machines are very personal things; you can't pick out one machine that's best for everyone, because everyone is different. Here's some examples: If, after you've done some sewing, you find out that all you really use it for is straight seams, and you ignore all the special stitches, you learn that you don't need to shell out another $300 on more stitches. As cool as they look, and as much as the dealers like to flaunt them, you'd probably never use them---and that would be $300 down the drain. Or how about a needle threader? A lot of people really like these, and again, the dealers like to show them off. But I find them annoying, and I wouldn't pay a penny more for one of them (in fact, I'd be glad for one that didn't have them!). Your "free" machine is a good machine to find out what you like so your dealer doesn't talk you into buying a much bigger machine than you could ever want or use (good for the dealer, bad for you). This way, you're an educated shopper--you will know what you want, and you won't get talked into more.

If your free one is a lemon, just go find another free one. It's nice to be able to put a machine through it's paces without worrying about breaking your brand new investment.

Old machines are often more reliable than new ones. Yes, there are lemons, but some of the most beloved machines of the sewing community are old machines that will never be made again. You may find out that your first (and free) machine is all you need--it could be love at first site, capapble of doing what you want and freindly to you. (I swear, sewing machines do have personalities!)

Where should you look? Schools getting ride of home ec machines. Garage sales. Relatives closets'. Church sales. Ask other people to keep their eyes out for you. See if a sewing friend is getting ready to upgrade her (or his) machine and would like to get rid of their lesser model. Look and you shall find--I've already been handed down two machines, and that was without asking. Neighbor's of mine have a huge sewing machine collection, because everyone knows they sew, so every time they hear of a machine no one needs, they give it to my neighbors. They have more machines than they can use.

2. Know Your Features and Know What You Want To Do As I've said, sewing machines are very personal. The LAST thing you want to do is to walk into a dealership and let them sell to you. They will simply sell you the most expensive machine they can get you to buy, regardless of wether or not it's really what would be best for you.

What do you want to do? Sew clothes? Hem jeans? Make a swimsuit? Heirloom clothing? Quilting? Stuffed animals? Costumes? Home Dec sewing? Loads of embroidery? What you want to do is very important to what kind of sewing machine you want. It doesn't matter how well a machine can embroider if you want to quilt. If a machine always skips stitiches on stretchy fabric and you want to sew swimsuits, it's a bad machine. This might seem obvious, but when you are going out to look at machines, you should be able to see if the machine will do what you want it to do. (Again, this is why you should have a "free" machine before you go out and buy, so you can find out what sorts of things you'd really like to use the machine for.) Personally, I am a short person from a family of short people. I am CONSTANTLY hemming things up. If the machine chokes at hemming jeans, I'm not really that interested. The jeans need to be hemmed: I need a machine to hem jeans. If the machine won't do it, I don't want it.

Know your features. If you go click over to "Compare Sewing Machines" in the sidebar, you can see what a lot of these features are. Again, the dealers with rip you off if you don't know what you want, and the only way to know is from previous practice, which is why I suggested the "free" machine first.


Okay. . .I will continue posting on this subject later, but duty calls. I will go over the different features more, and talk more about buying machines. If anyone wants to comment, ask questions, tell me I've got everything backwards, or add to what I've said, go right ahead. I thought it would be nice, though, keep this thread as clear as possible so that beginners could have consolidated advice without having to sort through too much irrelevant (i.e. off the topic of looking for a machine) material. Hopefully I will be able to post more tomorrow or Monday.
-- Edited on 9/21/05 8:13 AM --

Talitha


Member since 8/15/04
Posts: 322

5 members like this.




Date: 1/17/05 12:05 PM

There are three basic types of sewing machines: basic, computerized, and embroidery. Again, your choice here depends a LOT on your personality and what you want to do with your machine.

Basic machines are just that--basic. Stitch selections are made by knobs or levers. They generally have less decorative stitches. They're pretty easy to figure out by just looking at, most of the times. Any "old" machine is a basic machine. (A lot of machines, old ones included, have threading diagrams right on the machine, either by raised arrows pointing you in the right direction, or by a diagram printed somewhere on the machine. Take a look and see if your machine has it.)

Computerized machines are more expensive. Their stitch quality is often better, sometimes much better, depending on what you're comparing it to. (All is relative.) They have many more kinds of decorative stitches. Stitch selection is made by buttons. You can program the needle to always end up down, or always end up. With some models, you can sew with nothing but buttons, and not use a foot pedal at all. LCDs (Liquid Crystal Displays) show all of your stitch information. You can set your stitch speed, so no matter how hard you stomp on the foot pedal you will only go a certain speed.

Personally, I don't like the computerization--it clashes with my personality. I like the connection I have between my feet setting the speed and my hands guiding the fabric, going faster on straights and slower on curves. I can usually wind up with my needle right where I want it without any annoying computer interferance. I have also felt like, on the computerized models I tried, that they seemed less rugged, and easier to break. On one model, the "smart" feature to always stop with the needle down caused my needle to shatter into 5 pieces. I had wanted to see if I could hem jeans, and the owner of the shop said to go ahead and try, but just go slow. Well, I went slow, but the machine couldn't handle it, so I took my foot of the pedal--the machine tried to stop with the needle down, and forced it anyway, and then the needle broke.

Others, however really like the computerized features, so don't take my word for it. Sit down at a machine and try it.

Embroidery machines are a step up from computerized machines. Not only do they do even MORE decorative stitches (and, incidentally, cost even more!), but you have the options to have the machine embroider for you--scenes, figures, words, desgins, and even create your own. This machine will talk to your computer, you can download designes or create your own. Again, wether or not you want a machine that can do this has a lot to do with what you want to sew. Unless you want to spend a large amount of time embroidering, this probably isn't the greatest choice for you. Chances are, you will shell out a lot more money for a feature you will rarely (or never) use. One of my neighbor's bought a machine that could do all of this. After trying it out, she found that she didn't like the way it embroidered--stiff, and hard, like what you would find on a baseball cap, not at all like the soft stuff that's done by hand. Now, she never uses it at all. It's still a good machine, and she does a lot of other stuff on it, but never the embroidery. One neat solution I've seen to wanting to embroider sometimes, but not as a main focus, was what one of my aunts did. She, her mother, and her sister all chipped in on an embroidery machine--and they all share it. No one and to pay the full price, but they can all use the machine whenever they like.

Within these catagories, there are many, many different features. Generally, the more you pay, the more you get. But there's no point in paying for features you will never want. Some features are brand related. The best way to find out what features mean the most to you is to have tried them out, or have already done enough sewing to know what you want. Here is a list (not exhausitive, but hopefully helpful) of some features.

One-step buttonhole This is becoming more and more common. However, all "old" machines do not have this feature, which is one thing that may make you consider buying a "new" one. The feature has made people who thought they could never do buttonhole do them without even thinking. On old machines, you did it all yourself--a bar tack, a row of very closely spaced zig-zag, another bar tack, turn your work, another row of zig-zag. That certainly makes servicable buttonholes, but they're harder to get right, and usually wind up looking wobbly and un-neat. (I ought to know, I put in over a dozen buttonholes on the first dress I'd ever sewn! :0 ) The one-step buttonhole works like this: you put your button into your buttonhole presser foot (which is, of course, put onto the machine instead of the regular presser foot). You set the stitch selector to the one-step buttonhole option. You push the one step buttonhole lever down and out, and start sewing. The machine automatically sews the buttonhole to the exact size of the button, perfectly straight, without you having to turn the work or change stitches. Very, very nice! They look better to me than most of the buttonholes on RTW (ready-to-wear).

Modern buttonholes, even when they aren't one-step, are still easier on new machines than on old machines. The buttonhole presser foot helps immensely, and usually the buttonhole set up is such that there is no turning of the fabric. (Which was always confusing on the old machines!)

Needle Threader This is another feature which is basically non-existant on old machines, and more and more common on new machines. It does exactly what it says, although slightly differently from machine to machine. The basic idea is that, by pusing a lever down, there is a hook in front of the eye of the needle. You catch your thread on that hook and let go of the lever (or continue pushing it down on some models) and the hook pulls the thread through the eye. It takes a few tries to get the hang of it, but it does work. If you hate threading the needle, this is good news for you. For me, though, I thread the needle without even thinking about it, and I found another gadget anywhere near the needle just annoyed me, and got in the way of a clear veiw of what I was seeing.

Drop-in Bobbin Thank goodness this is coming back in vogue!! Right now, of the "new" models, mostly only the very bottom models have the vertical bobbins. In my opinion, they should stay there. However, the bobin posistion seems to go in waves. There are some machines that are a good 40 years old that have the drop-in bobbin, and there are some very high end machines from 10 years ago that have vertical bobbins. All I can think is that it must be more expensive to make the drop-in bobbins work right, because I can't think of a single down-side to the drop-in bobbins, and I can make a list a mile long of what drives me crazy about the vertical bobbins.

A drop-in bobbin is a bobbin casing where you put the bobbin in horizontally. The opening for the bobbin is on top of the machine, usually just to the front of the feed-dogs. The opening may slide open, or, on newer models, pop a peice of plastic off the top. You simply open it up, drop the bobbin in, slide the thread through the guide, and close it.

The vertical bobbin is a pain, and I'm afraid I'm not even going to try and be unbiased about it. It is right beneath the needle, and difficult to get to. You have to either remove your extending table, or work around it. Both are annoying. The vertical bobbin has a case you have to remove and thread with your bobbin. Then you have to replace it, while holding a lever on the case to keep the bobbin from popping out. If you didn't take your extender table off, you either can't see what your doing or you're in an awkward position, or both. If you did take it off, you will now have to put it back on. Even once you get it threaded, it's still a pain. I jams much, much more easily. Make sure you hold the ends of your thread when you start a seam, or it will jam. Make sure you end your seams with the needle in the highest position possible, or it will jam.

However (I changed my mind, here's my attempt at being unbiased), the machine still works with a vertical bobbin, and it doesn't bother some people as much as it bothers me. Many people would consider it a tiny detail, which would be better if you could get perfect, but not really important. But, personally, it makes my sewing a nightmare, and I would NEVER pay for a machine that made my sewing un-enjoyable. If it doesn't have a drop-in bobbin, I don't want it. Try it out for yourself and see what you think, because that's what counts.

Adjustable Presser-Foot Pressure This is another feature that can be found on old and new machines alike. It means that you can adjust how tightly the fabric is held when your sewing. For intance, you there is too much pressure when sewing knits, it will stretch while you sew. Lesseing the pressure can fix this problem. Anyone who is going to be sewing a wide variety of fabrics would do well to have this feature, but it isn't a complete necessity. Some people who have it may not even be aware they do, or how to use it.

Free Arm This means that part of the machine bed is removable, and you are left with a "free arm" which is considerable smaller. This is supposed to make it easier for you to hem plants or work on cuffs and sleeves, because these things can fit easier around the free arm. I have used both free-arm and flat bed machines. While I wouldn'd say it is worse to have a free arm, I've never noticed it making any difference. When I most wished I could have my tight places going down around the machine (as opposed to up in the air, as I do with a flat bed), the free arm was still to big to make any difference. (I'm thinking specfically of when I was sewing the hems on the sleeves of a dress for my 1 year old sister. I wound up doing it on a flat bed, but I couldn't have gotten a free-arm inside the sleeve anyway.) Still, this is personal, so see what you like best. But again, I wouldn't call it a neccesity.

Adjustable stitch length, width, and Adjustable Needle Positions Again, this is personal. If I could take the liberty of a broad gerneralization, I would say that the more adjustable of a machine you could get, the better. It allows you a lot more freedom. It usually comes in hand when you're doing finicky things already, and it makes it easier. To do another over-broad generalization, anytime you are using a zig-zag, you will want this kind of adjustment. If you will never, ever even think of using a zig-zag, go get a Singer Featherweight 221, the Holy Grail of straight stitch machines, old but unbeatable. But, this kind of adjustablitity is still a feature, not a necessity, so don't give yourself gray hairs trying to find it. Unless, of course, you've already gotten yourself into a situation where you wished you had it. That's the whole point about starting out with a "free" machine.

Okay. . .maybe next time I can get into a few brand-related features. Just keep in mind that just because it's there, doesn't mean you need it. Your needs could be very, very basic, or they could more specefic. But more is not always better.

Lufah


Advanced Beginner
OH USA
Member since 1/4/05
Posts: 37

4 members like this.




Date: 1/17/05 12:26 PM

Two quick things - never, never, never pay the MSRP for a sewing machine. Normally dealers sell them for hundreds, or, looking at the high end machines, up to a thousand dollars off the MSRP. Also, floor models of machines can go for even cheaper and normally have the same warranty as a brand new machine.

Also, just to be fair, here's some pro-vertical bobbin propaganda- if you're interested in quilting, or sewing very large things together, a vertical bobbin might be a bit more user friendly, for the simple reason that if you run out of thread in the middle of a giant quilt, for instance, you don't have to move the whole darn thing just to get your bobbin out and wind a new one. You can just keep it in place, reach under the table, and pop the bobbin out. There's a little bit of a learning curve with the vertical bobbins, but I can handle mine simply by touch, Honestly, bobbin placement wouldn't sway me one was or another in regards to buying a new machine, but if it's important to you, make sure you get what you're comfortable with.

Always, always, always try out a machine before you buy it (especially something that costs more than $500). Also, check out if there's a trade in policy - for example, if you buy a machine, and then decide 8 months later if you'd like to trade up to a better model. Some dealers will let you just pay the difference between the two models. Others won't. But it's worth finding out about if it's something you think you might do.

Also, find out about where repairs take place. Some dealers have someone on site to do cleanings and repairs, and others have to ship the sewing machines somewhere else. That costs more money, plus there's the risk that something happens during shipping. I only take my machine somewhere where there's a repair tech on site. I figure it's safer.

Okay, I guess four longer things instead of two quick things. :)
-- Edited on 1/17/05 1:27 PM --

Gigi Louis


Advanced
Member since 4/4/02
Posts: 7876



Date: 1/17/05 7:52 PM

I'm definitely a fan of the vertical vs. drop-in bobbin. I also vote for a separate bobbin case so that you can make slight adjustments and/or have separate bobbin cases for different types of threads. For instance, I keep a separate case loosened a bit for Woolly Nylon so that I don't have to reinvent the wheel every time.

Tina C


Intermediate
AZ USA
Member since 1/3/03
Posts: 224

1 member likes this.




Date: 1/17/05 8:12 PM

I have to vote with Gigi on the vertical bobbin - I keep an extra case that I've dotted with red nail polish to designate that its OK to mess with the tension on it.
Also, maybe I'm naive - or just blessed with a great dealer, but I do believe that if you are absolutely honest with the dealer about your budget, a good dealer will bend over backwards to help you get what you want. Many dealers have more reasonably priced used machines that they will service as well.
My (Bernina) dealer rents machines for classes for $5 per class. I think that's a fabulous way to test drive a machine while working on a usable project. And you really get to try out the not so basic features.
A good machine is a really major investment. Testing your love of sewing on a free machine could be good, if you get a decent free machine. But a bad free machine could turn you off sewing forever...
BTW, I hate the self threading thing too and surely wouldn't pay extra for it... Also, Talitha is dead-on regarding adjustable pressure foot pressure. I think that is my favorite feature on my machine (after the "needle-down" feature).
Oh yeah - I LOVE my dealer... did I say that already?

-- Edited on 1/17/05 9:15 PM --

------
Tina
Phoenix, AZ



Gilraen Surion


Intermediate
NETHERLANDS
Member since 6/6/04
Posts: 1030

1 member likes this.




Date: 1/18/05 2:42 AM

Agreed with Lufah, Gina and Gigi on the vertical bobbin. I am regrettably one of the few people (from what I hear) who can compeletly mess up a drop in bobbin but has no issues with the vertical one. Vertical to me is click and Play
and the self threading thing. More trouble than it is worth in my opinion.

One optional feature that I do not have but my dream Pfaff 7570 does is a walking foot and I have found that an excellent feature to give more control.

One feature that I think needs to be highlighted is the actual light in the machine. I have seem some that just do not seem to do the job for me. I am not sure why Possibly wavelength or how I hold my hand but I think it is an underrated feature that needs to be right. I agree it is strange as at first glance they all look similar Or maybe it is just me being strange.

Also do you prefer your guiding plate metric or in inches? Could be a source of confusion.

Gilraen
-- Edited on 1/18/05 2:38 PM --

------
Our greatest glory is not in never falling, but in getting up every time we do.
Confucius (551 BC - 479 BC)

mamafitz


WI USA
Member since 8/24/02
Posts: 1134

2 members like this.




Date: 1/18/05 12:18 PM

for me, i love my drop in bobbin. i couldn't care less about a free arm, i think they are pointless. love my needle up/down and the needle threader.

fwiw -- my dealer would not try and oversell you a machine. when i bought my machine, i told them i wanted a good straight stitch and a good buttonhole. we tested a few machines, and the salesperson sold me the cheapest one because, in her own words "you aren't going to use those extra stitches, why spend the extra $$$?".

also, when you test sew a machine, bring your own fabric with you, so that you can test a variety: knits, chiffon, denim, etc. ususally the dealer just has plain cotton.

linda

------
Linda

Girls do not dress for boys. They dress for themselves, and of course, each other. If girls dressed for boys, they'd just walk around naked at all times.
-- Betsey Johnson


http://mamafitz.blogspot.com

Talitha


Member since 8/15/04
Posts: 322

3 members like this.




Date: 1/18/05 1:52 PM

I found it really interesting to read peoples opinions on bobbin placement. I can still honestly say that was the first time I've heard anyone say anything good about them, but I stand corrected--some people do like them better!

Re: dealers. I don't know, maybe I am just cynical or have nothing but rotten dealers all around me (which you wouldn't have to work to hard to convince me of, I haven't had many good experiences while machine shopping). Still, no one has refused to show me I ask for; it's just that afterwards they show me ones with even more features. This is a good learning experience--and it looks really, really cool! My main point was that if you don't know what you want/need, a dealer can convince you that you want/need more than you do. You can bring the machine home and never use most of the features you paid for. But you can't really begrudge them this, it is their job---you just don't want to spend more money than you really need to.

Tina, thanks for bringing up a bit more the pros and cons of a free first machine. I had more to say on it myself, but I always feel as if I'm blathering on forever. I like your dealer's classes as a good way to test drive; I don't know how common that is. (Never heard of them before, myself; only lessons AFTER you buy the machine.) But like you said, a good machine is a really major investment, so I don't think it's a good idea to try to make a really major investment without know what you really want or need. And if you're not going to start off with a really major investment, you'd probably wind up with better luck with an old machine than a $99 off the rack one. Sewing under someone else's instruction, be it a class at a dealer or a friend or relative, is probably the best option of all. (Though, in my experience, it's easier to get the free machine than the instruction.)

I really, really, REALLY agree with Linda about bringing your own fabric. I've had dealers that say, "Watch, this machine can sew through 6 layers of denim!!" And then they pull out the lightest weight denim you've ever seen in your life, and what do you know, the machine can take it. Here's something to keep in mind--when you turn under the edge of the fabric for hemming jeans, the fabric is thickest where the flat-felled seam is folded over--this is TWELVE layers of denim. When I went out shopping, I cut of the 4 inches of unneeded length (yep, I'm that short) on a pair of jeans and brought it with me. At every dealer, I asked if I could hem jeans. They would usually say yes, and then try to hem. Very quickly the story would change to "No machine can hem THAT!!", and show me some other way to hem the jeans. (Which, by the way, is totally untrue. There are machines that can hem that--two that I've found are a Euro-Pro, and a Viking.) Another dealer assured me that if I back-stitched very fine muslin on any machine, it would gather-up as it was doing on her machines. Ha-ha. I'd already done it on several other machines without problems. I brought swimsuit lining material, cheap muslin (just JoAnn muslin, but as one dealer disdainfully told me, it was very low quality), and my jean bottoms.

Gilraen, the built-in walking feature that has is called Integrated Dual Feed (IDT), and only Pfaff has it. However, on almost every (if not every) other brand of machine, you can buy a seperate walking foot. ("Walking" refers to having the fabric being fed from top as well as the bottom. Usually, your feed dogs are the only thing pulling the fabric along. With the Pfaff IDT, there is a treaded finger behind the presser foot that also moves the fabric along. With seperate walking feet, it's a rather cumbersome foot that has another set of feed dogs on the bottom of the foot.)

Lights can make a rather huge difference, but there's no way to tell you what to look for, or how a "good" light will be listed. That's something you really need to sit down in front of the machine yourself and try out.

Wether you like your face plate in metric or inches probably depends on where you live (or where you grew up). Just about anyone in the US probably wants a plate that measures in inches. Just about anyone anywhere else probably wants a metric. However, I think most companies (can't swear to this one, I may be full of it) offer two different face plates so you can choose whichever one you like.

If you want to look up different brands/types of machines, there are several ways to get started. The "Compare Sewing Machines" and "Sewing Machine & Serger Reviews" is one way. Another way is to go to sewing machine websites.

Pfaff Sewing Machines Pfaff's major claim to fame, as we were just talking about, is it's IDT. (Although I don't understand why they call it IDT instead of IDF??) I have to say that their machine selector doesn't work for me, but one thing that does work is their dealer search. You can also check out the several of their models, but you will need Adobe Acrobat to see more about their features and stitches.

BabyLock Machines BabyLocks machine selector works! From what I have heard (not owned), BabyLocks are good machines, but not top of the line.

Bernina Machines US pageBernina international (sort of) Bernina needs to work on it's web design, but it does have a lot information. The Bernette's are affilated with Bernina (the whole sewing machine company tangle is too thick for me to figure out exactly), but are of inferior quality.
Real Berninas are supposed to be very high class.

Brother Sewing Machines Brother sells a lot besides sewing machines, and unfortunately they all share the same site (at least at the international home page; this is the US Brother Sewing Machine site.) Brother's are supposed to be solid machines, but again, not the most high end.

Elna Sewing Machines InternationalElna US I haven't heard much about Elna's, either good or bad.

Euro-Pro still doesn't have a website. There's a lot of dispute over wether they sell good machines or not, which probably won't be resolved for a few years and Euro-Pro is found out for what it is (whatever that is, good or bad!). They are less expensive, and more common in Canada and overseas than they are in the US.

Janome Machines Lately I've been hearing a LOT of good things about Janome, but I've never even seen one myself.

Almost anyone I have ever heard has tried to steer people away from Simplicity machines or the NEW Singers. Old Singer's are wonderful (maybe 30 old or older? Older, definetly, but I'm not sure when they took the turn downward). Old Kenmore's are also supposed to be good, so those too brands would be good bets in garage sales, etc. Try to look for machine in good condition; some people bought or were given machines that the rarely ever used and are now being dug out of closets.

White Sewing Machines I don't know much about White, either, but I think it's fairly low on the totem pole.

Viking Sewing Machines Vikings are also high end, good quality machines. (Although I've been told that the HuskyLocks are pieces of junk.) I am currently thinking very strongly of buying their Prelude 360.

Lufah


Advanced Beginner
OH USA
Member since 1/4/05
Posts: 37

1 member likes this.




Date: 1/18/05 7:22 PM

I work at a quilt shop where we sell Berninas and Brothers, and I have to second Talitha by saying it's best if you know what you're looking for in a machine before you buy it. People have different priorities, and there are different machines for different jobs. I don't know how many people, for instance, were either given a sewing machine as a gift, or bought an expensive machine and then never use it. That happens a lot with embroidery machines, by the way - that's something people get intimidated by.

I have a Bernina 200, and it's a machine I never would have bought if I hadn't've gotten the deal of the century on it. It has great embroidery features, but what I really wanted was all the decorative stitches it came with. I haven't touched the embroidery unit in months, and if I hadn't gotten a great deal on it, I wouldn't have bought a machine that does embroidery.

By the way, where I work, we allow people to use our sewing machines in classes for no cost, as long as they reserve one in advance. A chunk of our sales are done because people use the machine in class, fall in love with it, and then wind up buying it. Personally, I hate selling machines, and normally run and get my boss when a sewing machine customer comes in (I like dealing with the fabric people). But we don't try and scam anyone into buying more machine than they need. But if you come in with no clue what you want, well, yeah, we're probably going to start with a high end machine and work our way down. I'd really recommend doing your own research in advance of looking at a machine in person. because it gives you a bit of an edge when asking questions.



quinnsmom

Beginner
GA USA
Member since 1/10/05
Posts: 21



Date: 1/20/05 6:39 PM

Wow - Thanks so much to everyone that has posted their opinions in this thread. I have been researching sewing machines for weeks. I am brand new to sewing - and have always wanted to learn. I just purchased my first machine (I know someone said to try and get a hand me down or at a garage sale - but I got it on Ebay - so thats not too bad.)

All of the information compiled in this thread is invaluable!!! I can't tell you how many times I asked myself - "what's the deal with the bobbins (vertical vs drop in).

I got myself so confused about all of the terms, bells and whistles - I had convinced myself that I needed a fancy $300 machine!

It is very helpful, as a novice, to get advice and opinions (even though it varies) from the poeple who are experienced. I appreciate the long posts and the time it took to give your two cents!

------
:)Michelle
Printable Version
* Advertising and soliciting is strictly prohibited on PatternReview.com. If you find a post which is not in agreement with our Terms and Conditions, please click on the Report Post button to report it.
Fun with Fitting - BODICE w Darts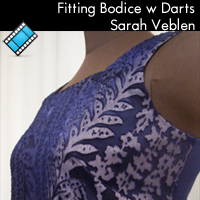 Altering Jackets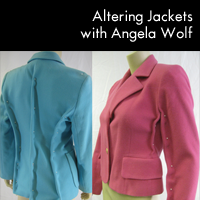 McCall's 2401

by: Alice Wang
Review
Sewing Workshop Now & Zen Shirts Pattern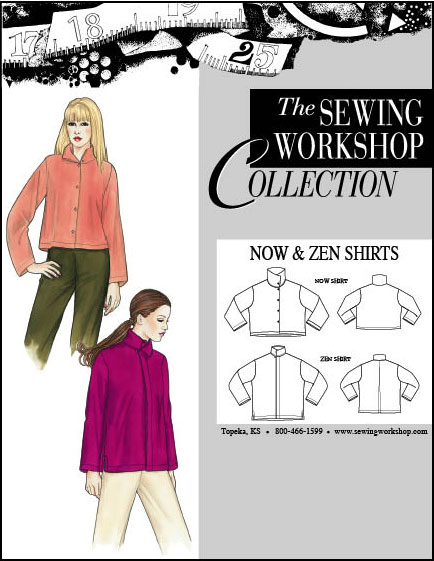 Buy Now
Islander Sewing Systems - MyStyle Greetings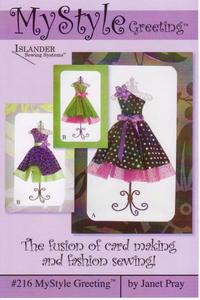 Buy Now
Vogue Patterns 8833

by: GoodbyeVal...
Review