Vintage Joan


Intermediate
Ontario Canada
Member since 7/16/07
Posts: 10528



Date: 1/20/11 5:06 PM

Hi -- it just occurred to me to do a little survey to find out who the visual artists are on here. I don't mean sewing artists (there are a lot of people here who certainly qualify as that even if they don't use this title), I mean people who draw, paint, sculpt, weave, make pottery, and so on and so on. What sort of artwork do you do? How long have you been doing this work, or have you perhaps been away from it for a while and find it starting to call to you again?

Jumping in here bravely, I'll start this off. I did my BFA in drawing and painting back in the late 70's, and have done very little formally (or even informally) in the interim. I did resume some life drawing a decade or two ago, but it wasn't until last summer that my work really started calling to me again. I've been doing a sort of cross between drawing and watercolor, but am still looking for just the right medium/media for the sort of work I like to do (a composition made up of small semi-abstract designs, inspired to a large degree by textiles, but also by Mideastern and Oriental design, and by Italian and Portuguese pottery, etc.). I used to use chalk pastels a lot, but they don't lend themselves well to small, intricate designs, so I'm thinking perhaps I may look for something in pencil form that has the same sort of color intensity and flexibility as chalk pastels. I'm also very fond of using touches of metallic paint and pen in my drawings.

Around Christmas-time I began working on two series of drawings (spiritual themes), and am hoping in the next year or two to have a show with a Mennonite artist friend of mine.

Well anyway, that's about it for me... Would anyone like to go next? I'd like to finally meet you, fellow artists, whoever you are. Maybe I know some of you already but didn't know you were artists.

Bravely hitting the "post topic" button...

-- Edited on 1/20/11 5:10 PM --

------
my shield and my very great reward ~ Gen. 15:1



blue mooney


Intermediate
Member since 12/21/02
Posts: 1868





In reply to Vintage Joan



Date: 1/20/11 6:43 PM

Joan, glad that you were brave and posted! I enjoyed hearing about your new work. Maybe gouache would be a good medium for you? I think it combines well with ink and metal leaf, and the colors can be quite intense. Are you going to share some pictures of your work?

Like you, I did my BFA back in the 70's, and even though I wanted to illustrate, I got into advertising and art direction for the regular paycheck. Later on I went back for additional degrees, thinking I'd like to teach. Got the sheepskin but decided against teaching! Now I illustrate on the side, mostly for children's literature. You can see some of my work on my Storybooky blog (in my sig line). I like working with all kinds of materials, but use mostly pastel, oils, or some kind of mixed media.

Lately I've started exploring the botanical genre and am still working to discover how I want those pieces to look.

I positively adore figure drawing and really wish I had a group locally that could split costs for a model. Nothing fully occupies my mind the way figure studies do. I love being competely engaged that way, when time stands still!

------
--Robyn
sewing blog: http://bluemooney.wordpress.com/
other artwork blogged here: http://robynjorde.com/blog/

Vintage Joan


Intermediate
Ontario Canada
Member since 7/16/07
Posts: 10528





In reply to blue mooney



Date: 1/20/11 8:56 PM

Hi, blue mooney! Thanks for replying.

I like your suggestion about gouache -- I think I'll try it on some items, but what I'm hoping to find is a medium that can be used for very fine dots and lines. Whatever the pencil equivalent of chalk pastels would be, but minus some of the smudginess of chalk, for lack of a better description. ...If that makes any sense!

I just had a look at your blog -- what a wonderful illustrator you are! Really lovely work.

The life drawing open session here in town in our little gallery is run by someone who I believe is quite a well-known illustrator. I haven't been to the open session for some time (haven't had the spare $ -- it's gone up to $10 per person... still a good deal, so I'll get back to it some day).

No, I probably won't be showing pictures of my work here on PR, but if you're interested, I'm sure I could find a way to show it to you (I could contact you on your blog or whatever). I haven't quite figured out how to photograph my work, either. I took photos of a drawing I made for my son's birthday, and the photo just kind of flattened the colors, especially the metallics... hmm.

It's great that you have a teaching degree, even if you don't use it -- it could come in useful one day, I suppose?

Yes, I know what you mean about life drawing. The first time I went to the open life drawing session was 15-17 years after I finished university, and as far as I can remember I hadn't drawn anything during that time (i.e. during my unfortunate marriage). So, I was a bit worried that I wouldn't be able to draw anymore, but I remembered something that a former art prof had said -- that even when you're not drawing over a period of time, you're evolviing as a person, and this will come out in your art... the skills themselves will come back to you quickly. This is exactly what happened. After maybe 10-15 of stiffness, it all began to come back to me, and soon I got lost in it and time sort of stood still. It's a bit like going into a sweet trance.

Well, speaking of getting back to things, I have to finish writing a grad-school application by tomorrow morning (I keep restarting my life after long periods away -- it seems to be what I do, lol).

Talk to you later -- and I hope more artist friends will come out of the woodwork and join the conversation.

------
my shield and my very great reward ~ Gen. 15:1



SansSouci572


Advanced
California USA
Member since 4/8/02
Posts: 3623



Date: 1/20/11 9:24 PM

I am an artist--my AA degree was in design, and a B.A. in Studio Art, painting emphasis. I always wished I had done the BFA instead.
Or a MFA.
I tried to do ballet, but was not very good at it. I kept running into people.
I also used to do ceramics, had a wheel, etc but have not done that in 30 years. I was a gallery chairman for a few years at the local art center.

I have not painted in a few years. I am just taking it up again too--in fact, I have a credit at Michael's and was going to get some new brushes, my old ones I found in the garage need to be replaced. I stretch my own canvas. Sometimes I use an airbrush, but mostly I use acrylics and pastels/pencils mixed media. I have oils, but don't use them or watercolors that much--

I used to work for a local paper artist--I helped make it but she was the actual artist/creator--I was just the assistant. She uses shredded fabric from the weavers in town, there are lots of weavers here. I used to have an AVL loom too, but sold it.

I always wanted to do 3-D, sculpture, but never could decide on a medium. I did some work, using models, with clay, did some busts.
They turned out pretty good, I was surprised! You could tell who it was at least!

-- Edited on 1/20/11 11:11 PM --

------
"What you WANT is irrelevant, what you've CHOSEN is at hand." --Mr. Spock

birdmcfarland


Intermediate
Pennsylvania USA
Member since 8/1/08
Posts: 960



Date: 1/20/11 9:45 PM

does photography count?

Margasweet


Advanced Beginner
Member since 2/15/05
Posts: 809



Date: 1/20/11 10:18 PM

I don't call myself an "artist", but do have to immerse myself in some kind of expression in order to feel whole. Studied Soil & Crop Science in college, minored in Environmental Studies, but always took a music or ceramics class (or both) in order to cope with the sciences. I've been doing some collage pieces lately, and always have some spinning with me... want to learn to draw.

All this to say that I admire the artistic items that you create, and work in my own small way.

------
2007 fabric in: 7 1/2 yards; sewn: 7 yds
2008 fabric in, 23 yards; sewn 20 yds; given away 6 yds
2009 fabric in 41 1/4 yds, sewn 29 yds, given away 22 1/2 yds
2010 fabric in 91 1/2 yds, sewn 27 yds, given away 1 1/2 yds;
2011 fabric in: 55 yd.; sewn: 21 yd; given away: 20 yd
2012 fabric in: 60 1/4 yd., sewn 25 1/4 yds, given away 16 yds, thrown away 3 yds scraps; UFOs completed: 7
2013 fabric in: 28 yds; sewn: 25.7 yds.; given away: 5 1/2 yd.s; projects 8, UFOs 4

2014 fabric in: 34.5 yd
2014 fabric sewn: 8 1/2 yd
2014 fabric given away: 8 1/2 yd
2014 projects completed: striped maxi skirt
2014 projects started:
2014 UFOs completed: 8 (5 small gift bags, pieced & quilted table runner, maxi dress, silk infinity scarf)


poorpigling


Advanced
Texas USA
Member since 12/28/07
Posts: 11066



Date: 1/21/11 6:54 AM



I would say photography counts.. Its not an easy art for me..photography.. but I still enjoy taking pics of my gardens.. just for my own enjoyment. My hat is off to those who can do photography well..

I guess I am a jack of all trades and master of none when it comes to art. I do paint, as well as sew, both my machine and by hand.. I have also dabbled in most areas of the arts. Being a military wife.. I think there was a ceramic room at every base we were at..

To me though.. being an artist is not just the execution of art.. but being the designer of what you do.. whatever that might be..

loti


Advanced
Florida USA
Member since 5/27/04
Posts: 3634



Date: 1/21/11 7:35 AM

I wanted to be a Fine Artist but my father informed me that when I graduated, I would need to find work, I have an AA in Fashion design, and a BS in Production Management (Apparel). I do occasionally sit and sketch, but mostly dresses, and they are quick. I bought a large sheet of watercolor paper a few years back to start a painting and I'm sorry to say, my mind went blank. I have always been interested in photography so I bought photoshop to explore the effects, and have been easing into that.... For those of you who have come back after being out of it for a bit, how do you get it back, do you have any recommendations?

Oh and I have done some quick sketches of my cat, but they are not masterpieces lol I excelled at drawing and watercolor.

------
"A girl should be two things: classy and fabulous."
Coco Chanel

Stash Sewn in 2011 148.5 Yds
Stash Sewn in 2012.... counting...

http://adonising.blogspot.com

sharkycharming


Beginner
Maryland USA
Member since 11/10/10
Posts: 345



Date: 1/21/11 8:42 AM

I am a book artist, self-taught. I am currently in a graduate program for creative writing and publishing arts -- the publishing arts part of the degree does deal with book arts a bit, although I haven't actually taken those courses yet.

I haven't settled on one signature style of artists' books yet; I have a very playful and experimental attitude towards it right now, and I will try anything. I have been into distressing & dyeing my materials with watercolor, ink, and tea before binding. I like to use household supplies to do the binding. I made a binding out of bamboo skewers and kitchen twine that was pretty cool -- the book had 10 dumpling recipes in it.

------
Heather in Baltimore

dfr2010


Advanced Beginner
Florida USA
Member since 3/27/10
Posts: 1780





In reply to Vintage Joan



Date: 1/21/11 9:02 AM

Quote:
Whatever the pencil equivalent of chalk pastels would be, but minus some of the smudginess of chalk, for lack of a better description. ...


Have you tried Conte Crayons or pastel pencils? The pastel pencils will still smudge like chalk pastels although without as much dust, but the Conte Crayons are a little more difficult to smudge and great for sketch work. I loved using the Crayons in conjunction with charcoal pencils.

------
I don't really make mistakes ... I create "learning opportunities"! Murphy says: The better you match the thread to the fabric, the more likely you will need to rip some stitches out! I spend more quality time with my seamripper than I like ...
Yes, I DO love fabric!!
Happy owner of a band of Brothers: LX-3125, CS-770, CE5500 PRW, a PE-770 emb ... and now Kenmore 158.18032 and 148.12190
Blogging my "learning opportunites" at http://sewingmissadventure.blogspot.com/
Printable Version
* Advertising and soliciting is strictly prohibited on PatternReview.com. If you find a post which is not in agreement with our Terms and Conditions, please click on the Report Post button to report it.
Sewing Basics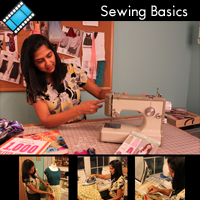 10 Clever Techniques To Help You Sew Like a Pro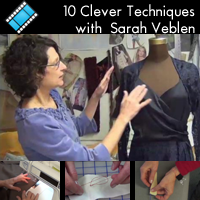 Jalie 2682

by: Barbara V
Review
Self Drafted Pattern 222944-1000

by: vanessamak...
Review
Petite Plus 603 Pattern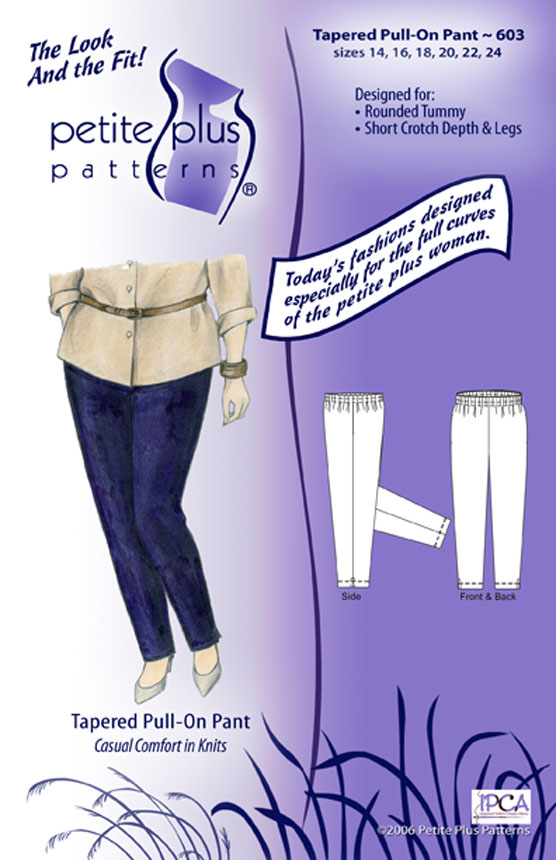 Buy Now
Victoria Jones Collection Misses' Traditional Muumuu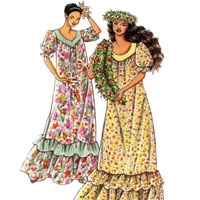 Buy Now