Learn To Sew


Member since 4/12/05
Posts: 12934
Skill: Advanced Beginner



Date: 1/23/11 6:19 PM

Last week my Chiropractor tested me for allergies as part of the evaluation for my first adjustment. I said something about having acid reflux and having had diverticulous last spring. She asked what I like to do. Sewing, taking care of 2 small dogs. Am I active? No. I seldom want to do anything anmore. No ambition or interest to do anything at all.

Hmmm, she said. Then she ran her hand held laser device over my body with one hand and had her hand on the drum instrument. I was standing at that time. If I had an "out of balance" reaction in my body when she ran her hand over the drum, it made a sqeezing sound. Sometimes LOTS of squeeking sounds. Then she tested me by having me hold little bottles of wheat capsules and again she ran her hand over the small drum. I really reacted to the wheat ones. Not much with the others she tried. She must have tried about 15 different grains and foods. It really squeeked when I had the wheat capsules bottle in my hand. (think fingernails on the blackboard at a distance...)

At first, I thought she was nuts. Just really crazy. I am 55 and I have not had problems with eating wheat before. I was never sick when eating it. She put me on a wheat free diet. Lovely, just lovely. No bread (except glueten free--Rudi's makes a white one that is pretty good...), no pasta unless GF, no more wheat cereal which I love. I can have oats, and rice cereals. Anything gluten free. Lots of fruits and green veggies too.

I have been on it for a week now. Do I feel better. Yes. My tummy is not bothering me as much. I feel a "lightness" within myself I do not understand. I want to do things a bit more now. Too cold to walk the dogs, so I took them for a ride.

I originally went to see her for a Chiropractic adjustment for a pinched nerve in my R shoulder, arm and hand. She preforms the non-forced type of Chiro and it is so easy and I feel so much better now. It was hard to know before the 1st treatment if it was my tummy or all the inflamation in my body that was causing such pain. Yes, I had a pinced nerve and that is nearly all healed up now. Typing does hurt me still. I had a LOT of inflamation in my body. Wheat seems to feed on it and spread it around the body. Anyway I do feel better.

Has anyone else been told they have an allergy to wheat or are having to eat gluten free?

LTS

------
Bernina 630, Bernina embroidery module, Pfaff 2036, Bernina 1200DA serger, Unique Sewing Cabinet 450L

Sharon1952


Board Moderator
Massachusetts USA
Member since 7/1/08
Posts: 3312
Skill: Advanced





In reply to Learn To Sew <<



Date: 1/23/11 6:54 PM

Check with relatives as it's highly genetic. Never heard of a squeaking test - but a blood test can reveal a true allergy from digestive upset. The usual symptoms are distended abdomen, gassy, dry feet and hair in addition to the gut reactions.

------
Sewing: A creative mess is better than tidy idleness. ~Author Unknown


Michelle T


British Columbia CANADA
Member since 8/24/02
Posts: 4618
Skill: Intermediate





In reply to Learn To Sew <<



Date: 1/23/11 7:30 PM

I went Gluten free last summer. I have suffered from IBS for over a decade. I already knew I was lactose and Casine intolerant.

Last year I was having some medical troubles that were finally determined to be due to a low lever of B12. I had been tested for Celiac in the past and always got a negative result. I still test negative for it, but with b12 supplements and no Gluten I no longer have IBS symptoms.

It is tough and wheat (Rye and Barley too) can be found in unexpected places. I have a few cook books and have found a bread recipe I like. I find the store bought bread it like eating gritty cardboard.

There are some great recipes at Gluten Free Goddess. If you can have cheese the cheese crust pizza is really good.

I have lost about 15 pounds without trying. Before going Gluten free I was always hungry, not I feel full and am not looking for snacks a couple hours after eating a meal.

Good Luck, it is not easy, but worth it.

Many restaurants have Celiac menus if you ask for them. I email ahead of time so I have an idea of what I can order before I get there.

------
Proud parent of a Dwight International School Honour Roll Student

Learn To Sew


Member since 4/12/05
Posts: 12934
Skill: Advanced Beginner





In reply to Michelle T <<



Date: 1/23/11 8:59 PM

I am still reading the site on the Gluten Free Goddess. This is an really great site with so much good info. I have so much to learn, but I do not have to do it all in one day. This is a change of life type of thing, so I have the rest of my life to enjoy and feel better.
Thanks for the link. I had not seen this site before.

Congrats on losing those 15 pounds.

------
Bernina 630, Bernina embroidery module, Pfaff 2036, Bernina 1200DA serger, Unique Sewing Cabinet 450L

karen149


California USA
Member since 3/4/05
Posts: 3487
Skill: Intermediate

1 member likes this.




Date: 1/23/11 10:49 PM

I have Celiac Disease and have been gluten free/dairy free for 6 years. My daughter was diagnosed when she was 3 and when I started researching I found the answer to all the problems I had been having for years...stomach problems, depression, fatigue, fog-head, flu every winter and increasing neurological issues. I was told I had IBS, fibromyalgia and chronic fatigue, all lazy answers from doctors who really don't know.
Celiac is the most common inherited autoimmune condition and covers a broad spectrum of health issues. It has been referred to as The Hidden Epidemic. Some people may only have migraines, others have a psoriasis type condition on their skin, older(and young!) people get diagnosed with osteoporosis. I first thought I had stomach problems due to eating meat and changed to a vegetarian diet. I found myself wanting to sleep for hours after eating a bowl of wheat based cereal. I was sick of tired of being sick and tired and changing my diet was nothing short of an epiphany.
There are people who are considered "gluten sensitive" which can cause just as many problems, just like corn, soy and dairy.
Many doctors are not up on information about Celiac. I've had people whose doctors have told them they were "cured" after a test came back clean being gluten free, not knowing they need to stay gluten free the rest of their lives! They may assume that the person should be thin and wasting away when it has been found the up to 40% of people diagnosed were overweight but still not absorbing nutrients. Here's a great site with a lot of info on gluten sensitivity:
The Gluten File
There are a lot of hidden sources of gluten, which includes wheat, rye, barley, spelt, kamut, semolina and more. We have to be very diligent...had to change our toaster(possible crumbs) and things like wooden spoons(porous).
I'm glad to hear your doctor even saw the possibility that this may be the answer to any problems you've been having and that you are seeing positive results. The wrong foods, over time, can have quite a negative impact on our bodies, even by triggering new symptoms.
I love the Gluten Free Goddess site. Karina has published cookbooks in the past before her Celiac diagnosis and her recipes are outstanding!

The current trend of celebrities saying they are gluten free to maintain/lose weight should be ignored. In fact, eating a lot of gluten free bread products can actually lead to weight gain as most offerings are low in fiber, high in carbs. I have a support group and the first thing I tell people is that it is very easy to be unhealthy on a gluten free diet. There are so many cookies, crackers, breads and cake mixes. Moderation is key with those items. Sticking to natural grains, like quinoa and brown rice, fruits, vegetables and fresh meats, fish, etc. is best.

Just to clarify...an allergy means an instant reaction, like wheezing, swelling, itching and such. An intolerance is a delayed reaction, like headache, behavior changes, sleep problems or stomach problems, among other symptoms.


-- Edited on 1/25/11 0:37 AM --

tourist


British Columbia CANADA
Member since 7/23/07
Posts: 6562
Skill: Intermediate





Date: 1/23/11 11:07 PM

DD is a holistic nutritionist and when her dad asked what she thought might help his asthma (without wanting to do a full history etc) she said "well, wheat and dairy are pretty common problems. Try going off those." The dairy didn't change a thing, but he does find staying off wheat makes enough difference so that he doesn't have to take his steroid meds anymore. He is actually finding it pretty easy to follow, especially as he has cut his carbs in general way down lately.

Restaurants do have more options now, but even simple changes can help. Instead of getting a sandwich, he sometimes just asks for the sandwich with no bread. The whole Atkins thing has helped, as well. They are getting accustomed to those sorts of requests. Luckily his favourite lunch place is the restaurant where DD works and they can customize for him.

I will add that he is lucky to not have a full blown condition or allergy. If he decides to eat a little wheat, he is not going to have to do much more than take an extra puff or two,, so we don't hunt it down and eliminate it 100%. And he still could choose to have stuffing with his turkey at Christmas dinner!

------
http://bgballroom.wordpress.com to follow the progress on my next ballgown.

SansSouci572


California USA
Member since 4/8/02
Posts: 3623
Skill: Advanced



Date: 1/23/11 11:23 PM

My daughter has celiac.

I was thinking I should go gluten free too, because I have a bunch of "annoyances" that were not there before, like being stiff--and having to go to the chiropractor, being puffy, and sorta apathetic with the exercise.
My daughter said the difference has been amazing. At first she kept getting what she calls glutened--when she accidently ate some.
She is getting much better at avoiding it now. She lives in a bigger city than I do and its easier to find places to eat and so forth.
She has a little device on her phone that lets her look up everything so she doesn't make a mistake.
It knocks her out for a couple days if she does.


------
"What you WANT is irrelevant, what you've CHOSEN is at hand." --Mr. Spock

tg33


IRELAND
Member since 11/11/08
Posts: 1025
Skill: Beginner



Date: 1/24/11 4:35 AM

I am not celiac, but I do seem to have some intolerence to wheat. Wheat breakfast cereals are sometimes OK and sometimes give me indigestion, they never feel 'right' and when I was pregnant, the one thing that reliably gave me heartburn was bread. So now I avoid wheat. I do eat it from time to time, and I eat other gluten containing foods such as oatmeal, but I'm avoiding wheat.

------
Reading from Europe

Vonnevo


Australia
Member since 10/25/04
Posts: 5949
Skill: Advanced



Date: 1/24/11 6:10 AM

I also had/have problems with wheat and other gluten containing foods.
Eating these foods results in severe abdominal pain and humungous abdominal bloating, lethargy, fluid retention, skin eruptions, itchiness and generally feeling yuck.

My everyday food includes white rice, brown rice, fresh fruit, vegetables (mostly raw as salads), fresh lean meat, fish (also the flavoured tuna) and low fat dairy....and I read labels very carefully.
My body does not tolerate fatty foods very well either.

I don't miss bread or wheat pasta, eat Rice cakes instead of bread, mostly the Original plain type, with an assortment of savoury and sweet toppings.

Rice Cakes, Varieties and Recipes

It wasn't until recently I heard there was a whole new craze about gluten free foods. Years ago, there were very few available to me and I substituted other wheat/gluten free foods.

Oddly enough, my father still reminds me to eat porridge/oatmeal (mandatory for breakfast each day as a child) because it's good for me

------
Vonne šOš Brisbane Australia
---------------------------------
Laughter is timeless, imagination has no age and dreams are forever.
We don't stop playing because we grow old; we grow old because we stop playing.

ryan's mom


Member since 11/30/04
Posts: 5178
Skill: Advanced





Date: 1/24/11 6:16 AM

Quote: karen149


Just to clarify...an allergy means an instant reaction, like wheezing, swelling, itching and such. An intolerance is a delayed reaction, like headache, behavior changes, sleep problems or stomach problems, among other symptoms.






Thank you for noting this. I will further add that a true allergy can be deadly within minutes. An intolerance can cause discomfort. And certain food issues can have long-term consequences like you mentioned being osteoporosis, certains types of cancers, etc.

I have to make the distinction between a true food allergy and an intolerance/sensitivity. Having a son that came very close to death's door from a food allergy within 2 minutes makes me, uh, sensitive. Although I think the jury is still out on "false" food allergy positives (positive blood test with no history of typical reactions). Whether they are truly false or perhaps there are atypical food allergy symptoms causing long-term inflammation in the body causing other things (as in autoimmune diseases), I don't think anyone is sure. I just have a conversation with someone about that two days ago.

I'm speaking from the viewpoint of having a son with a life-threatening food allergy, a sister with confirmed gluten intolerance with verifiable intestinal damage via endoscopy, and a sister with MS who very recently tested positive to having a food allergy to eggs and gluten. The MS sister is now avoiding those allergens to see if it can reduce inflammation in her body thereby reducing her MS symptoms. No typical FA symptoms, but perhaps atypical. It did appear to help a friend of hers who symptoms drastically improved. Who knows. We'll see over the next year.

------
Big 4 Pattern size 12, RTW bottom: 6, RTW jacket 8, RTW top (no size fits me well!)
Measurements: 34 HB/36 FB (34C bra)/27.5/36 (and working hard to keep it that way.)
Machines: Sewing: Elna 760, vintage Kenmore Model 33 (1967), Janome Gem Gold 3, Singer Model 99, Singer 221/Featherweight. Sergers: Babylock Imagine and Babylock Enlighten. Embroidery Only: Janome 300E. Embroidery/Sewing Combo: Brother Dream machine. Coverstitch: Babylock BLCS. Straight Stitch: Janome 1600P.

If you think your sewing is better than everyone else's around here, get out of my way b****. I hate sewing snobs.

My blog: www.phatchickdesigns.blogspot.com
Printable Version
* Advertising and soliciting is strictly prohibited on PatternReview.com. If you find a post which is not in agreement with our Terms and Conditions, please click on the Report Post button to report it.
Online Class
Altering Jackets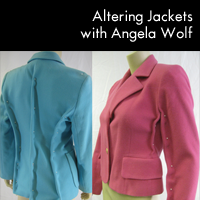 Online Class
Perfectly Fitted Shirt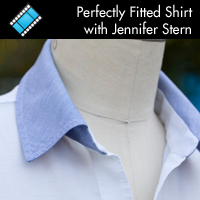 Self Drafted Pattern 3392-1007

by: cln
Review
New Look 6301

by: PrettyTall...
Review
J Stern Designs Women's Tee Pattern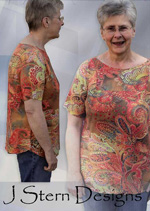 Pattern Details
SewBaby Hug-Me Bibs Pattern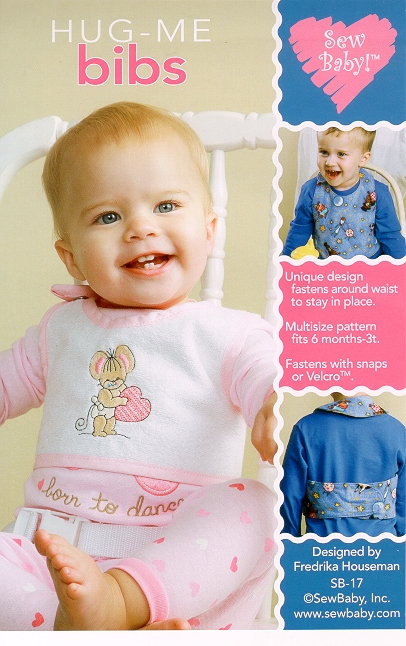 Pattern Details