Here is the top: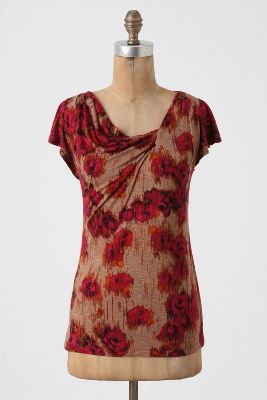 This
link
may or may not work.
It looks like half the front is cut as a cowl tee, and the other half as a plain tee. The cowl part is longer than the plain part, and it is pleated and sewn into the other side in a little dart. Not explaining very well and I can't draw, but perhaps that helps a little, if you can look at the shape of a cowl tee versus a regular. I am partial to
Simplicity 2696
as a cut on cowl top, now OOP but widely available for cheap, but there are tons of patterns in this vein.
------
http://theslapdashsewist.blogspot.com
=================
2007: purchased 115+, sewed 105+
So close to parity, yet so far

Trying again in 2008
Yards purchased: 133
Yards sewn: Somewhere around 95

2009? I give up