Megan Strohschein

Ontario CANADA
Member since 11/19/02
Posts: 3
Skill: Intermediate



Date: 4/9/11 10:41 PM

Help! I have hundreds of patterns and I can't always put my hands on what I want without wading through them all. For years I put the pattern envelope contents into a brown 5X7 envelope, numbered it and files it numerically. I slit open the side and bottom of the pattern envelope and kept it in a series of binders -- jackets, tops vests in one, pants, skirts etc. in another. But a few years ago I got behind and now have another hundred or so patterns in boxes.
I want to sort make my searching easier by putting them all in a computer data base... has anyone done this? Any suggestions? I know it will make searching by terms easier, but can I include a pic of the pattern front and back?
Any thoughts? (Aside from weed my collection down... I do that already from time to time!)

Miss Fairchild


USA
Member since 8/24/02
Posts: 7936
Skill: Advanced





In reply to Megan Strohschein



Date: 4/10/11 8:13 AM

I don't like to keep my patterns and their envelopes in two places. So I use file folders to hold all the pattern pieces, with the pattern inside. I use the outside of the folders for notes I've taken and to staple pieces of fabric from items I have sewn. These folders I keep in a box near my sewing machine. I don't let the box get fuller and I cull patterns from time to time; I'm in one of those "modes" now... This keeps me from buying or tracing off duplicates and from not using the ones I already have.

I keep my patterns listed in a spreadsheet. They are labeled by pattern number first, then by company (although I don't have many Big 4 patterns--I use mostly Lutterloh and Surefit, which are basically self-drawn) And then I'll add any notes such as how easy to work with, what things to watch for, and anything else.

------
"Play the cards you are dealt, but choose who is sitting at the table"..AARP magazine

SEE MY ETSY SHOP HERE: http://www.etsy.com/shop/AuntMaymesAttic
My blog: http://auntmaymesattic.wordpress.com/

MNBarb


Minnesota USA
Member since 4/3/10
Posts: 1540
Skill: Intermediate



Date: 4/10/11 8:14 AM

It can be difficult to search the messages but since you aren't getting a response (I can't help you, I don't have many patterns) you could look at some previous threads. Here's one
Pattern Organization

------
Barb
"I have not failed. I've just found 10,000 ways that won't work." Thomas Edison
"I not only use all the brains I have, but all I can borrow." Woodrow Wilson

Lynnelle


Board Moderator
Member since 4/8/07
Posts: 2563
Skill: Intermediate



Subject: Topic moved Date: 4/10/11 8:26 AM

This topic has been moved from Sewing Techniques and Tips to Patterns and Notions

------
How is that still a thing?

Michelle L


Missouri USA
Member since 1/20/08
Posts: 1301
Skill: Intermediate





In reply to Megan Strohschein



Date: 4/10/11 8:39 AM

I have a large filing cabinet that I keep all of mine in. The filing cabinet is large enough that if I use manilla envelopes to store patterns, they fit fine. It also holds large patterns, like Hot Patterns.

I organize by type of pattern (one drawer holds only dresses, one drawer only pants and skirts, etc.), and then numerically inside each drawer.

I also have a second cabinet just for vintage patterns.

The filing cabinets do not take a lot of room, I keep them in a hall closet that we never use (mainly because the last owners of our house put ductwork through that closet when the installed central heat, so there is a huge duct running up the middle)

------
Michelle

http://cheapandpicky.blogspot.com/

LisainWV

West Virginia USA
Member since 12/25/10
Posts: 108
Skill: Advanced Beginner



Date: 4/10/11 9:33 AM

I keep most of my patterns in baskets. Most of the ones I have are either children's patterns or doll patterns, though. All the doll patterns are in one basket. They're arranged by pattern company and then by pattern number. The children's patterns are in separate baskets according to pattern company. I have one for Simplicity, one for McCall's, and one for Butterick and Kwik Sew. The few patterns I have for myself are in a plastic storage container, arranged by pattern company and pattern number. I wouldn't know where to begin with a computerized database. Hopefully someone who is more computer savvy than I will be able to help you.

marec


Arizona USA
Member since 5/11/08
Posts: 4836
Skill: Intermediate
Body Type:






In reply to Megan Strohschein



Date: 4/10/11 9:52 AM

Hi Megan, Half the fun for me is the organizing, and flipping through, all the patterns. I love dreaming about what to make next.

My pattern collection is divided into pants, knit tops, woven tops, dresses etc. I separate the tissue/instructions from the envelope. The tissue goes into a small plastic ziplock with the pattern number written on top. This is stored in a decorative photo file box (I think I have 12 filled up). The envelope goes into a plastic sleeve along with a 3x5 card and then filed in a binder. Each binder corresponds to the proper photo file box (ie woven blouses with woven blouses).

As I make something, I write a short note on the card along with the date etc and glue a swatch to the card. Some cards have 3 swatches and lots of edits on the notes. I can see immediately which patterns are TNT.

The binders and the boxes are stored in a built in cabinet. I live in a 1940s home with limited space and find this is the best way to keep clutter at a minimum.

In a larger sense, organizing and storing my patterns allows me to 1)be creative 2)focus on a plan for sewing 3)use patterns more than once and cull those which don't work for me.

------
my blog: http://kf-biblioblog.blogspot.com/
Stylish 60- http://www.pinterest.com/maresea/style-evolution/

Elona


Member since 8/24/02
Posts: 8807
Skill: Advanced
Body Type:






In reply to Megan Strohschein



Date: 4/10/11 12:13 PM

I also have hundreds of patterns, and finally scored two pattern filing cabinets when a local fabric store went out of business. Hah! This has made the storage problem a lot more manageable.

As to organization, I am completely visually oriented and my memory for images is strong, so I long ago decided to keep the patterns in their original envelopes. I file the patterns on my computer and in the cabinets (and boxes) by type rather than by number and/or brand, because that is how they are filed in my memory. So I have separate mental and physical compartments for, let's say, elastic-waisted pants, jeans, and classic trousers. Same for classic shirts vs camp shirts vs strange shirts, and so on.

For me, filing them numerically would never work, since I have no memory at all for numbers. It would be different if I were a librarian keeping an official record for a business, but that's not why I buy patterns.

Cat MacGregor


California USA
Member since 6/1/06
Posts: 884
Skill: Beginner



Date: 4/10/11 4:32 PM

I have a little place - no room for filing cabinets.

I'm guessing I have about 500 patterns. I keep them with the envelopes. Vintage ones are sleeved and bagged. Mine are kept in 5 large boxes from Ikea. (Also keep these thingies to keep the silverfish away) I scan mine (just the front), sort them in my photo program, and post them online for me to see.

Sorted in boxes:
- Vintage (50's and older)
- Modern (90's - forward); Costume; Modern-Vintage-Reprints (i.e. Big 4)
- Mail Order; Ballgowns; Reproduction Vintage (Independent sellers); Large Size envelopes (Jalie, etc)
- Vintage (60's - 80's); Accessories (hats, gloves, slippers); Stuffed Animals;
- Babies Clothes; Men's

Online they are sorted by: vintage, modern, reproduction, hats, ballgowns, lingerie, stuffed animals, baby/mens, and bust (i.e. any pattern that I wouldn't have to size up to fit my boobs )

My sorting both in boxes and online are based on how I think. I.e. I think everyone else thinks it makes no sense but totally works for me.

The thing I like most about scanning the patterns is I can sort one pattern front into multiple albums. So for example: 1 pattern can be in vintage, bust, and lingerie. Additionally, I can upload the photos into my Ipod, so when shopping a sale - I'm not buying duplicates. I can just check real quick.

Oh an purge regularly.

HTH :hug:

Cat
-- Edited on 4/10/11 4:35 PM --

------
www.pinkededges.com

Karla Kizer


Member since 4/8/02
Posts: 7919
Skill: Advanced





Date: 4/10/11 6:47 PM

I can almost always remember exactly what the pattern envelope looks like and and as a result, I know which pattern brand I'm looking for. I just file by brand, with some consideration given to envelope size (large Vogue is filed separately from small Vogue.) Not exactly scientific, but it gives me the best shot at locating something. I tried being more scientific, but I drove myself crazy, and when I finally found a pattern, I'd wonder WTH I'd been thinking when I filed it.

Exception: when a pattern has proven its worth, has been fit-perfected, and is awarded TNT status, I store it and any traced versions of it in one of these clear plastic folders. Envelopes If we ever have to evacuate the house, I'll probably forget insurance policies and photographs, but I'll grab these.

-- Edited on 4/10/11 6:57 PM --

------
"Never try to teach a pig to sing; it wastes your time and it annoys the pig." -Robert Heinlein and Ann's father. Thanks for the reminder, Ann.

Where are we going, and what am I doing in this handbasket?

Matthew 25:40 (New International Version)
The King will reply, 'I tell you the truth, whatever you did for one of the least of these brothers of mine, you did for me.'




Printable Version
* Advertising and soliciting is strictly prohibited on PatternReview.com. If you find a post which is not in agreement with our Terms and Conditions, please click on the Report Post button to report it.
Online Class
Bust Adjustments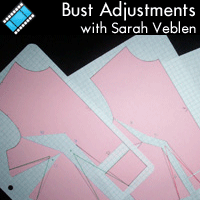 Online Class
Restyling with Exposed Zippers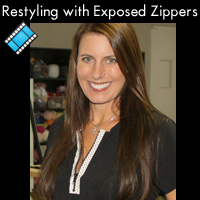 BurdaStyle Magazine 04-1996-417

by: motorharp
Review
Fit For Art Trouser Details for Eureka Pants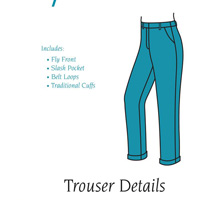 Pattern Details
Sewing Workshop West End Top & Pants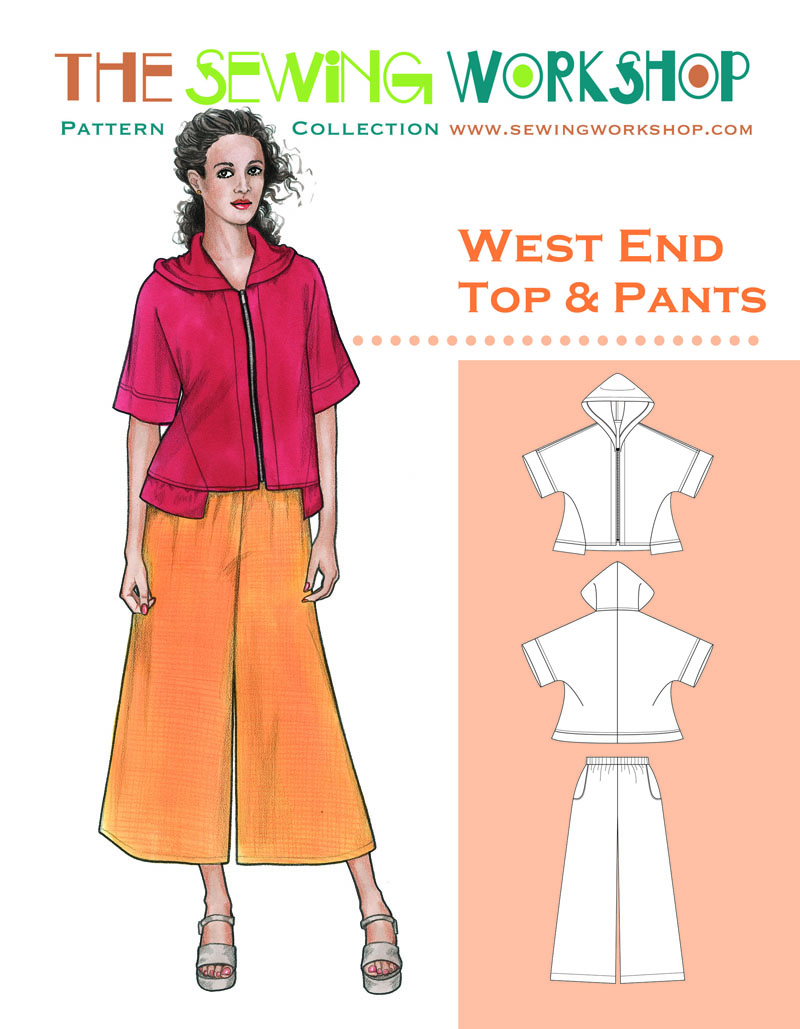 Pattern Details
Jalie 3244

by: SpitfireGa...
Review