elizajo


Louisiana USA
Member since 4/15/05
Posts: 1267
Skill: Intermediate



Date: 4/23/11 1:08 PM

How do you organize your absolute essential tools at your machine?

I have the original sewing table for my vintage Bernina 830, a great sturdy table with a folding extension insert to make the free arm a flat bed. The drawback-- no drawers, and the angled legs don't leave room for much storage underneath. After losing track of my ruler and knocking my edge-stitch foot off of the table, I looked at my piles of stuff and either put them away or corralled them in different containers on my table which is working well during my 4 day sewing marathon.

Everyone who sews has their own preferred set of sewing tools to keep within easy reach while you are at the sewing machine. Mine are: Current colorways in thread and bobbins, thread snips, seam ripper, small scissors, shears, presser feet for current project, pins in container or cushion, ruler, chalk, fray check, threaded needles for basting, tweezers, brush for cleaning, an extra sewing machine needle.

The limited free space on the sewing table is: five inches in front and to the right side of my machine, and some space behind the motor. In the space to the right of the SM: four mini-tart tins to hold a small supply of pins nearest to my right hand, two for project presser feet, and one for 4 bobbins/chalk/SM needle pack. My shears lay to the right of the tins.

I hang my snips from the bobbin winder (don't have thread cutter on machine), and the small scissors are stuck to a adhesive magnetic strip stuck on the right side of the machine.

In front of my machine, I lay the long flat items: ruler, art brush, seam ripper, bamboo skewer. When I fold up the extension, they stay in place. In the spot behind my machine I have a small wicker basket with extra thread, fray check, threaded needles, and beeswax. I'll throw buttons or other small notions for the current project in there. The basket has a handle so it's easy to grab.

I can hang my tweezers on the goose neck lamp stand.

The other objects I had on my table were put away in their proper storage container away from my machine.

------
Elizabeth

Michelle T


British Columbia CANADA
Member since 8/24/02
Posts: 4862
Skill: Intermediate



Date: 4/23/11 1:22 PM

I have an Ikea Antonius table, shelves and peg board for my sewing space. The peg board has small bins and clips. I can keep quite a bit on the peg board.

My machine has a pad under it that is very similar to a piece of industrial carpet. It is easy to stick pins in it as I pull them out of a project.

I made a simpler version of

This

for pins and scraps.

I have a little plastic box with two drawers and a flip top. Scissors, needles and extra snips live in it.

My best find as 2 sets of wooden drawers at Value Village. The top three drawers are shallow and a great place to store small items. They roll out of the way when not needed.

------
Proud parent of a Dwight International School Honour Roll Student

cindy-lou


Board Moderator
North Carolina USA
Member since 7/21/06
Posts: 3642
Skill: Intermediate



In reply to Michelle T

Date: 4/24/11 8:09 AM

that is so cute!

------
Cindy Lou, no more than 2
"Sew, Esmerelda! Sew like the Wind!" -Martin Short, The Three Amigos
"When inspiration calls, you don't send it to voicemail." --Will I Am.


kwpanthermom


Member since 11/9/05
Posts: 418
Skill: Advanced



Date: 4/24/11 8:24 AM

I have a small plastic tray, about 7" by 10", that I have for my snips, seam ripper, 6" rulers, chalk marker, pins, and small scissors. I also have a clear plastic shoebox, one for each sewing machine, in which I keep its manual, bobbins, needles, extra feet, and stitch samples. I keep the shoebox toward the back of the sewing table and the plastic tray to the right of the machine.

------
kwpanthermom

Doctor Sister


Minnesota USA
Member since 11/5/06
Posts: 471
Skill: Advanced Beginner
Body Type:




Date: 4/24/11 10:05 AM

My machine is on fairly large table so no problem with space. But a similar problem in that I have a cat that plays with anything left on the surface, even if I leave for a few minute bathroom break. I have a plastic multi-drawer little cart on wheels. It just sits next to me and I keep the top drawer open and put everything I'm using in there. Then if I need to leave for a couple of minutes I can just close the drawer to keep 'miss snoopy' out. I have weighted pin cushion with a pouch for loose threads to keep those away from her also. So far she hasn't shown any interest in digging around in the pouch.
Sis

Speech girl


Member since 5/11/03
Posts: 2950
Skill: Intermediate
Body Type:




Date: 4/24/11 8:40 PM

I have a peg board behind my machine for most tools, I keep needles, bobbins, thread, seam ripper, and my other most used notions and tools in the top two drawers of my sewing desk. My desk is an old lab table and it has a ledge in the back where I can keep the patterns I am working on. Tools I use with the iron are on the wall above my ironing board.

------
Kim
formerly mikkim
http://girlwithatimemachine.wordpress.com/

GBK


GERMANY
Member since 12/24/07
Posts: 900
Skill: Intermediate



Date: 4/25/11 2:48 AM

Since a year or so, I have a small styrofoam tray on my sewing table next to my machine -- the type of trays that comes with pre-packed fruit or vegetables from the supermarket.

The tray holds all the small pieces I need often like small scissors, seam ripper, screw driver + brush for the serger, etc but are too small for the organizer which holds pens, ruler etc.

In addition, it is a perfect 'parking lot' for my 'ususal' needle when I switch for a certain quick project to another type (like a twin needle or so) or the regular foot when I use for some minutes a zipper foot.

When I saw this tip from a Threads reader, I didn't think I'd ever use it and I'd find that helpful -- but I changed my mind completely! Nothing moves, shifts, slides, falls off the table; a trusty little helper.

------
Happy Sewing!

KatieA


UNITED KINGDOM
Member since 5/30/05
Posts: 385
Skill: Advanced Beginner



Date: 4/25/11 4:49 AM

I have the Ikea Trofast system and it's a stepped set of storage containers - the table top rests on two containers and then there is a one-container height that is around my knees. I have one of those plastic shoe boxes with fairly-often-used items and on top of it are my scissors, tape measure, bobbin box and sewing machine manual, so they don't get knocked off but are handy.

You get the idea here, mine's the other way round!

sewinfrance


International FRANCE, METROPOLITAN
Member since 4/5/08
Posts: 23
Skill: Intermediate



Date: 4/25/11 5:13 AM

I think that your sewing table is so small that keeping anything more than you already have on it is not really practical. There are the "absolute" essentials which you listed, but there are many other things which should be within arm's reach to sew efficiently and maximise your sewing time. You need to find ways to increase your worksurface & storage space. Here are a couple of ideas:
1) A 3- or 4-drawer unit on wheels (eg. GALANT by Ikea). It has many advantages in a reduced sewing space; it can be completely closed and wheeled away when not in use; when I sew, I pull it out and I get an extra 17" x 26" worktop to keep pattern instructions, pattern pieces, reference book, and my portable sewing "basket"; I've equipped it with a small plastic multi-compartment tray in the top drawer (intended for pencils), very handy for frequently-needed tools (this drawer stays open when I sew). In the other drawers I keep sewing machine manuals and notions.
2) A portable sewing "basket": eg. SAMLA insert box by Ikea (a clear plastic box with handles). Since I have to go elsewhere in the house to prepare patterns and cut fabric, I keep all cutting & marking tools inside (scissors, chalk, markers, scotch tape, rulers, set square, pins, transfer paper & wheel, pattern instructions, note paper, pens, pencil...). When I'm sewing this box stays next to me on my wheely drawer.
3) If possible, install open shelving on the wall in front of your SM. Use clear plastic boxes (like Ikea SAMLA 8" x11") to keep different notions (buttons, zippers, ribbons, patches, elastics...) organised. These items are not heavy so they are well adapted for wall-bracket shelving.
4) Use a bookcase for pattern boxes & books.
Ikea is a great place to find well-priced & useful sewing storage solutions:
- For thread spool & bobbins: GLIS multi-compartment boxes (not sure if available in USA) and sorted by colour.
- For sewing needles, presser feet, machine needles, etc the smaller GLIS boxes are useful & the different coulours make identifying the contents easier.
- For serger thread cone storage the SAMLA boxes 5.5" high 11" x 17.5" are a perfect size.
- these boxes are all transparent & have lids.
- For pattern storage: KASSETT boxes 13.5"x10"x7" sturdy cardboard boxes with lids.
In THREADS #149 (July 2010) there is an article "Quick to make - Little black sewing bag" which is a neat idea for the "absolutely" essential sewing tools, inspired by French fashion-house sewers.

I have a fairsized (5' long) sewing table for my SM & serger but a tiny sewing space, and after spending a bit of time thinking about how I sew and how to be more ergonomic & organised, I have really improved how I sew and spend less time looking for things and more time sewing. Good luck!

mssewcrazy


Mississippi USA
Member since 3/4/03
Posts: 2615
Skill: Advanced



Date: 4/25/11 8:34 AM

In our ongoing remodel I am experimenting with sewing storage for notions. Having a lot of machines in several rooms I have so far tried several. So far I have purchased four different ones. My first is a sterilite cheapie rolling cart. Stuff was getting lost in the sterlites deep drawers so I recycled some chubby peach cans (saved up for painting trim work) and cut off a couple of parmesan plastic cheese containers,short plastic drink glasses,etc to make some upright storage in one of those drawers sort of wedging them together so opening the drawer they remain upright. In these go seam rippers, machine oil, cotton swabs and little brushes for machine cleaning, marking pens,pencils, little slider ruler,etc. I lined all drawers in all units with rubber shelf liner which keeps things from sliding about. Having the little storage containers that keep things upright in the sterilite helps me see what I have and keeps things orderly. I really like having these items organized and upright.
I also bought a 10 drawer iris cart(Staples.com I think), lined the shallow drawers and have them dedicated to magetic pin holders, tape measures cloth and metal, scissor collection, machine accessories and feet for machines in that area,sewing machine needles, hand sewing needles, etc and am using a brother labeler to label the drawers.
A while back I purchased a wooden unit from Hancock's on sale that has multiple drawers and the drawers are on glides. someone said it was a knock off of a more expensive (Hinterberg I think) cabinet. It is a work in progress in what is a small room that is all sewing stuff. I have another collection of scissors in one drawer and have to keep the pins,etc and things out of the way of the darn cat. Since the children are grown I have sort of spread my stuff all over this house and with a remodel I am getting it organized along the way.
A fourth cubby came as a gift from target that scrap bookers used. I wasn't fond of it as you have to remove the drawers and open the top of each. I have since taken it over for costume jewelry organization that will reside in the master when it is finished with redo as I didn't like having to open the drawers and remove them to get at for sewing items.
I realize this seems excessive and is but I am older, have lots of sewing and embroidery machines and stuff in several areas in the house during the years as empty nesters with a fairly large house. One thing I really like about the units is that they are drawers which really help organize and they roll around. With tile going in everywhere that is a big plus for me. Those rolling sterilite drawers are really inexpensive if cost is a major factor and I think work really well if you subdivide them somehow so no digging or hunting is involved. I think sewing is going to be lots more fun when this awful remodel is finished. Regardless of how much/little space you have it is really good to have something even if a little plastic carry all or tray to hold the stuff you need so you don't have to hunt or dig every time you use something. I think even a recycled rectangular cake pan with some containers wedged in would be great and could disappear when not used. Hunting for things is a real time waster and very frustrating (don't ask how I know). HTHs
Printable Version
* Advertising and soliciting is strictly prohibited on PatternReview.com. If you find a post which is not in agreement with our Terms and Conditions, please click on the Report Post button to report it.
Online Class
Serging Ahead with your 5 Thread Serger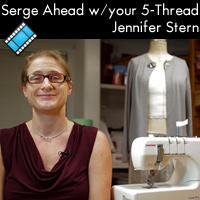 Online Class
Expert Sewing Techniques for Jackets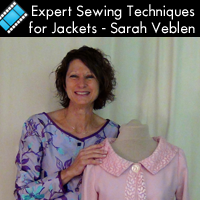 New Look 6688

by: Grammi C
Review
New Look 6121

by: WinterQuee...
Review
Sewing Workshop Hudson Top & Pants Pattern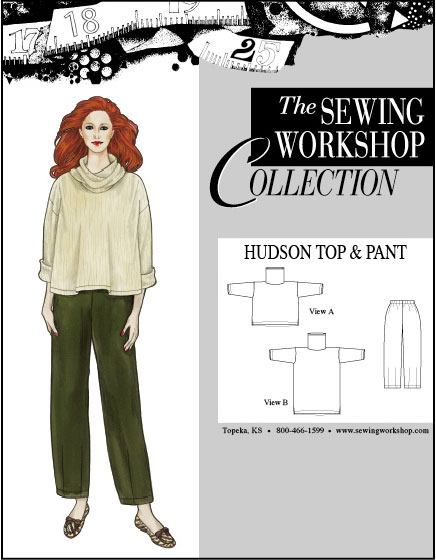 Pattern Details
SewBaby Travel Nappers Pattern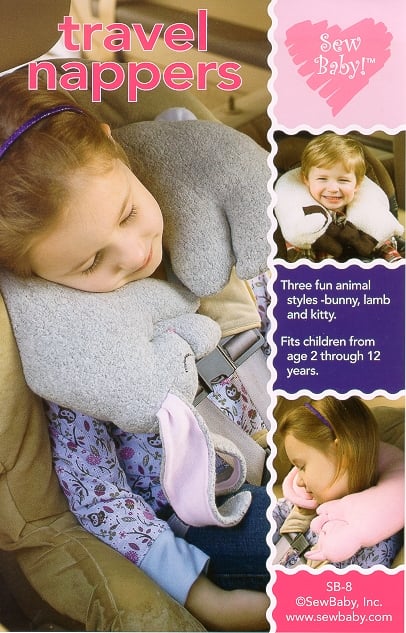 Pattern Details