PittyPat


New Mexico USA
Member since 2/25/04
Posts: 1144
Skill: Expert/Couture

1 member likes this.




Date: 5/15/11 2:03 PM

As requested, I am starting a different type of sew-along for lingerie. I have taken classes in sewing lingerie and learned lots of Factory-sewing short-cuts for sewing lingerie and I will serve as a moderator/instructor for the goup. Our plans are to start with a no-pattern half slip then move along to a nightgown.

We will try to keep the group moving at about the same pace as we go along so everyone can ask questions about the steps we are taking, discuss problems/solutions, etc. To facilitate that, we will be working from Kwik-Sew's Beautiful Lingerie book. It has master patterns included [x-small to x-large] in addition to many illustrations about sewing with lace. This is a wonderful reference book for any seamstresses library.

To being with we will have a period of gathering people who are interested in doing the 2 projects we have selected. The first one will be a no-pattern half-slip and the next will be a nightgown [page 51 of BL].

Then we will have discussions about where to find the supplies that are needed for projects. All are welcome to suggest places they have found.

We will determine a start date for the projects - giving people time to obtain their supplies first. Based on how quickly things move along, we also determine a finish date for each of the projects before we move on to the next.

I would prefer that we all work with the same type of fabric to simplify giving instructions that will work with that type of fabric. To that end, here is a list of things we will be using in the class. Please note: there maybe more added to the list as we move along, but these are the things you will need to begin the SAL.

Kwik Sew's ''Beautiful Lingerie''

Tricot

- 30 to 40 denier

Do NOT prewash tricot

2'' - 2 1/2'' wide lace or a 5'' splitable lace [will be described later]

1/2'' lingerie elastic or picot elastic [for half-slip]

Serger or sewing machine with zig-zag stitches

So, if you are interested, please post here and we will be off and running!

ETA: here is the link to my review of the book:

Kwik Sew's Beautiful Lingerie

ETA: There is no requirement that you sign up for this sew-along. There is no fee involved - it is a 'freebie'. It would just help to know if you have your supplies when needed. Everyone is welcome to sew-along or just pop in to check out what we are doing as go along.

ETA: Please be sure to read the

expanded SUPPLY LIST on page 2 of this thread.

ETA:

Instructions for Half Slip is found on page 19 - Please copy and print for your records

ETA:

Instructions for Kwik Sew Gowns is found on page 32 - Please copy and print for your records

ETA:

Panty instructions/SAL begin on page 48.

-- Edited on

5/22/11 8:43 PM

--

-- Edited on

5/23/11 1:24 PM

--

-- Edited on

5/31/11 10:57 AM

--

-- Edited on

6/13/11 12:33 PM

--

-- Edited on

7/6/11 9:58 AM

--

renren


Member since 7/20/05
Posts: 4000
Skill: Intermediate



Date: 5/15/11 2:03 PM

I'm in. Ground floor!

------
ren

2016/2015 (by month)
ydg out: 2016 (10.125, 2.5, 9.75,1.5,9.75,0,0,0,0,0,0,0)ytd 33.625; 2015(11.125, 13.5, 0, 13.125, 12.625, 5.625, 11.5, 12.125, 11.875, 9.375, 2.5, 13.875) ytd 117.25
ydg in: 2016 (0,0,0,0,0,0,0,0,0,0,0,0) ytd 0; 2015 (9, 0, 0, 1, 0, 17, 6/13/38.75, 12, 0, 0, 0, 0) ytd 84.75; sd/lin/gd/jaf.com/sb/fm/sw
projects: 2016 (4,1,16,1,8,0,0,0,0,0,0,0) ytd 30; 2015(6, 10, 0, 12, 11, 3, 6, 7, 7, 9, 3, 9) ytd 83
UFOs out: 2016 (2,0,4,0,0,0,0,0,0,0,0,0) ytd 6; 2015 (1, 3, 0, 1, 4, 0, 0, 0, 2, 5, 0, 1) ytd 17
UFOs in: 2016 (0,0,0,0,0,0,0,0,0,0,0,0)ytd 0; 2015(2, 0, 0, 0, 0, 0, 0, 0, 0, 0, 0, 0) ytd 2
cuts of fabric used up: 2016 (3,2,3,0,4,0,0,0,0,0,0,0) ytd 12; 2015 (0, 2, 0, 3, 5, 0, 3, 4, 1, 2, 1, 2) ytd 23


PittyPat


New Mexico USA
Member since 2/25/04
Posts: 1144
Skill: Expert/Couture



In reply to renren

Date: 5/15/11 2:06 PM

Quote: Renren
I'm in. Ground floor!

Ren, I knew you would be chomping at the bit for me to get this one started.

Welcome aboard!

Will be checking back to this thread tomorrow and will have some suggestions of where to look for supplies then.

-- Edited on

5/15/11 2:18 PM

--

marec


Arizona USA
Member since 5/11/08
Posts: 5589
Skill: Intermediate
Body Type:




Date: 5/15/11 2:51 PM

This is a wonderful opportunity and I hope I can manage to join in. I am committed to the summer SAL, have lots of home projects in the works, and have a weekly study group which is important to me. Oh, and family, friends, dogs, horse, fitness...:-)

PityPat, I have the 1970 (!) version and some other books on lingerie. The gown on pg 50 is a scoop neck, knee length gown with a lace border down the front and a lace border on the hem. Is that pretty close to what is on pg 51 of the current edition?

Hope I can at least read along with you all.

------
my blog: http://kf-biblioblog.blogspot.com/
Stylish 60- http://www.pinterest.com/maresea/style-evolution/

PittyPat


New Mexico USA
Member since 2/25/04
Posts: 1144
Skill: Expert/Couture



In reply to marec

Date: 5/15/11 3:21 PM

Marec, think my version is a bit later than your. The one I am planning on using has a V-cross over yoke in front [13] with straight yoke in back [14]. Didn't see the one you described so now am not sure which one you are looking at. The main thing is that the book should have some of the same illustrations of how to handle the lace... in addition to the gown patterns. We can work it out - even if you don't have the same version that I do...

Print date on mine is 1990.... MCMXC

-- Edited on

5/15/11 4:00 PM

--

PittyPat


New Mexico USA
Member since 2/25/04
Posts: 1144
Skill: Expert/Couture



Date: 5/15/11 3:37 PM

Okay, here is a couple of pictures so you can get an idea of what we will be working on.

The half slip - front:

Half slip - back:

Gown front:

Gown Back:

The gown shown in these picture is very similar to the one we will be making - it is my knock-off of a Vanity Fair gown that I love.

Participants will have their own choice of color of fabrics and lace - so what you make may look different than these. The lenght of the slip and gown will be up to the individual.

ETA: The review for both of these has now been done and posted.

-- Edited on

5/15/11 5:23 PM

--

cerulean


Illinois USA
Member since 1/6/06
Posts: 3609
Skill: Advanced Beginner
Body Type:






Date: 5/15/11 7:59 PM

Ok, I'm in! I've wanted to try this for a while now!

Barb S.

Nancywin


Went to PR Weekend!

California USA
Member since 7/25/06
Posts: 1006
Body Type:




Date: 5/15/11 11:41 PM

Oh, I'd love to join in, but I'm over committed right now. end of the school year, trip to Uganda, then surgery

I'll be following along though! I took a lingerie class at the local JC many years ago and loved it. Thanks Pittypat for doing this!

------
blog: encue.blogspot.com

I can do all things through Him who strengthens me. (Phil 4:13)

Margaret


British Columbia Canada
Member since 11/4/02
Posts: 776
Skill: Intermediate



Date: 5/16/11 8:38 AM

Thanks for starting this sew along! I do have the book already, but might or might not have enough time to sew along in real time. I had been looking for (bra part) suppliers in the EU earlier, so as not to have to deal with customs, and so far know of the following:

Danglez ELingeriA

(they have the Kwik Sew book)

Kantje Boord

(only in Dutch, and does not have a cart, but has some very ornate lace)

I haven't actually tried ordering from any of these yet as I was trying to focus on stash reduction.

As far as I can tell, only Danglez has anything that is (almost) for sure tricot (which, if I am not wrong, is called Simplex here). So, they are possibly better for bra supplies than what will be focused on in this sew along, but maybe will help/interest someone anyway.

------
http://stoffandnonsense.blogspot.com

chicagochef


California USA
Member since 2/24/09
Posts: 134
Skill: Intermediate



Date: 5/16/11 9:40 AM

Hi Pittypat,

I should have checked the boards before writing to you - I found it. Count me in.

Colette

------
chicagochef
Printable Version
* Advertising and soliciting is strictly prohibited on PatternReview.com. If you find a post which is not in agreement with our Terms and Conditions, please click on the Report Post button to report it.
Online Class
Beginners Guide to Dyeing Fabrics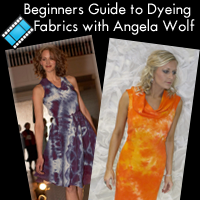 Online Class
Sewing with Slippery & Drapey Fabrics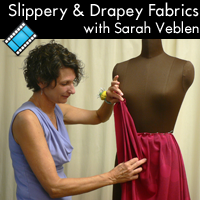 Butterick 5601

by: Mahogany S...
Review
Tilly and the Buttons Mimi Blouse

by: erinalter
Review
Sew Chic Starter Skirt Pattern (ln1000)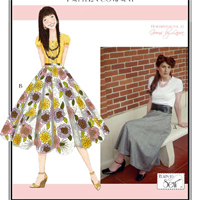 Pattern Details
Pamela's Patterns Unmentionables Worth Mention Pattern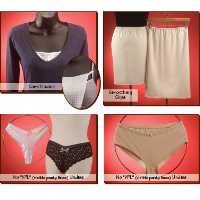 Pattern Details