mochimo


Advanced Beginner
ITALY
Member since 7/28/08
Posts: 137



Date: 6/8/11 4:35 PM

I own a basic sewing machine. I have been thinking about buying a serger, but I am not sure the investment will be worth the money.

This is what makes me doubt:
1) I only sew 10-15 garments a year
2) I am not sure what exactly I would use the serger for (only to finish seam allowances?)
3) I often read about people not using their sergers because they have problems with threading it / adjusting the tension
4) I could buy the serger online but what if I need assistance on how to use it? (no dealers in my area)

(btw, I am thinking about Brother 3034D - it costs about 550-600 Euros and I am not willing to spend more).

I need your advice!
Should I spend my money on a serger or should I better use it to buy fabric and patterns ?

------
Monica

rebelina


Advanced Beginner
Member since 6/1/10
Posts: 156



Date: 6/8/11 7:19 PM

I think that if you can afford the brother serger, you should go for it. I have a 1034D and love it and if I could buy a better serger I would, however -- it works great, finishes seams so easily on quick jobs and sews knits with a breeze using a 3 thread narrow stitch or 3 thread wide stitch and I just think that's great!

I think a serger would enable you to sew more items in less time, and it would turn out to be a value for you if you can afford one and not regret spending the money.

------
Bernina Aurora 430
Bernina Activa 125
Singer 403A
Singer 66 Lotus Treadle
Brother 1034D
Janome Coverpro 1000cp

Miss Fairchild


Advanced
USA
Member since 8/24/02
Posts: 7936





In reply to mochimo



Date: 6/8/11 7:21 PM

After fighting over whether or not I should buy a serger, I finally caved in and bought one. I too make a few garments a year, and felt I didn't need one. My SIL asked what one was, and my reply was "It's an expensive machine that you can finish your seam allowances with. Why spend the money when you can use a foot that costs about $15 US?" I'm embarrassed to say I used the same response with others here on PR.

I bought a book called Sewing with an Overlock, by Singer. I wanted to see what I was getting myself into if I decided to buy a serger. The book would sit on my coffee table for weeks; and sometimes I'd open it up and review the same things I reviewed before. But what made me tip over the edge was looking at the amount of knits and sheers I have in my stash and wanting to sew them up with a nice seam allowance and hem finish. I knew that my sewing machine could do the job, but the idea of sewing a seam, then trimming it, then using my "$15 foot" to overedge it, took a lot of time to do. So I bought the serger; the very machine I was against! Since then, I've used it quite a bit, even though I've had it only for about a month.

It is a four thread, mostly because I didn't want something overly fancy. What I like most is how my seams are finished off. I'm always showing off my seam finishes to anyone who sews... And the machine has a very nice thread cutter that raises up from the bed. It uses regular sewing machine needles, too. I don't change the tension much, and the threading is a breeze; it didn't take me long to do. I've even threaded the loopers without the tweezers many times; I much prefer that technique over tying off the threads. My only problem is I can't find a place to keep it up permanently. I'm very happy I bought it!

------
"Play the cards you are dealt, but choose who is sitting at the table"..AARP magazine

SEE MY ETSY SHOP HERE: http://www.etsy.com/shop/AuntMaymesAttic
My blog: http://auntmaymesattic.wordpress.com/

kkkkaty


Intermediate
Utah USA
Member since 12/7/05
Posts: 2680



Date: 6/8/11 7:37 PM

I was also a pre-serger purchase skeptic. I found the Brother 1034d at a good price, bought it a bit impulsively, was afraid to touch it for quite a while, and now it's an important part of my sewing. For most things with straight-ish seams I'll do construction with the serger. That includes a nice, shawl collar robe for DH which I can make in no time flat with the serger. I love how much more quickly I can complete a seam, my sewing is much faster. I also finish the edge of fabric before I wash it, no more raveling. I also have much nicer rags now, since I can finish the edges on those. For US $200, well worth it. I am not sure I'll ever upgrade to a better machine, tho (and I'll probably eat those words someday, as well!)

To sum up, the Brother is a good way to ease into having a serger. Don't be too put off by threading, it's a challenge initially, but it gets easier

------
Viking Lily 545
Viking Ruby
Bernina Activa 210
Brother 1034d


Chris Kelly


Intermediate
Washington USA
Member since 10/2/05
Posts: 377



Date: 6/8/11 10:04 PM

OMGosh yes!!! It's the best investment I've made into all my machines. I own a Simplicity 370 and its an older model (almost10) and even though I don't use it everytime I make a garment I'm still happy that I bought it years ago. I do more than just garment sewing with it, I use it to decorate items around the house, towels, baby blankets, there are so many uses for a serger! I just couldn't live without it! I know this is your choice, but you won't be sorry you bought one. As for learning about using them, there are so many on line classes and most are free, or as I did I went to the library and got every book on sergers and learned that way. Good luck and happy serging!!!!
-- Edited on 6/8/11 10:06 PM --

------
You may all remember me as PT ( pittwaitress)


blog: http://christine-cornyscorner.blogspot.com

lareine


Intermediate
NEW ZEALAND
Member since 11/10/06
Posts: 1070



Date: 6/8/11 11:51 PM

You don't need one at all, but they're really nice to have. I just got one a few weeks ago (old hand-me-down from a friend) and it certainly does make sewing knits and finishing edges very quick and easy, but there was nothing I wanted to do before that I couldn't accomplish somehow with my old straight-stitch Singer.

If you want one and have the money then go for it. If you don't use it you can always sell it on.

BrightFeather


Intermediate
Georgia USA
Member since 3/7/08
Posts: 204



Date: 6/8/11 11:58 PM

I've wanted a serger for years and finally bought one. I've owned a Husqvarna Viking H-200S for a grand total of two weeks and made and finished five garments. I must say that it's sooo much faster and easier than my old sewing machine. No longer do I have to encase seams in bias tape, french seams, or try and make the fussy overlock stitch on my machine work. I've managed to rethread it twice already, and after I finish the must-do-now projects, I'm going to figure out how to switch it over to rolled hem and make some receiving blankets for an upcoming baby shower. Despite the expense, I'm glad I finally bought it. It makes projects so much faster and easier and still gives the nice finish I like on the inside of my garments.

It's a four-threader, uses regular sewing machine needles, and so far is user-friendly. The entire front opens up for ease of threading. Don't get me wrong.. it was expensive, even with buying it on sale and taking the floor model, (saved $230) but I think that if I can make it last 20 years or so, it will have been worth every penny of the $610 it cost me!
-- Edited on 6/9/11 0:01 AM --

GBK


Intermediate
GERMANY
Member since 12/24/07
Posts: 900



Date: 6/8/11 11:59 PM

For neat SA finishes, a serger is certainly a plus but most convincing for me was the outlook of professional seams for knits and the rolled hem, i.e. for breezier fabrics. Is this something you'd use a serger for? If so, you most likely would not want to go back to the times without a serger.

------
Happy Sewing!

iSewQuiltArt


Advanced
AUSTRALIA
Member since 4/4/08
Posts: 3644



Date: 6/9/11 3:49 AM

You can use a serger for so many things, not only for finishing the raw edges of fabric.
You can construct whole garments or depending on the techniques, much of garments with one. And with knits there is not a sm stitch that offers the same stretch, strength and bulk free finish as a 4 thread safety stitch. This is really nice if you would rather spend your available sewing time sewing other projects, not continually repairing garments that are falling apart.

Your sm doesn't handle knits in thesame way as an serger has because it doesn't have differential feed as many of the modern sergers do. Often sm incorporate too much pressure into sewing the seams and stretch then ripple the seams, especially hems on the cross wise or bias edges. You can adjust the d.f. so your wovens don't shift during serging either, really handy when sewing long seams and working with stripes.

Overlockers can also gather beautifully and with additional feet you can do things like apply strings of pearls or beads, and piping... I've never got into that but know of people who have.

You can do absolutely beautiful rolled hemming on napery, on hems of clothes, and other items with specialty thread. Like what you might see in RTW and wonder how they got that effect. You don't get the same look at all by using the zz feature on a sm. Its not the same stitch.

And there are fun things like flat locking with decorative threads...a sewing machine doesn't create the same effects.

The speed of sewing increasing is something you can look forward to with a serger, and the results are really beautiful when the machine settings and thread are appropriate for the technique and fabric being sewn.

Sergers are so much more than just tidying up a raw edge instead of zig zagging!! Go and test drive a friend's serger if they like it, and see if you like to serge or not. My feeling is that one you get over the initial fear that lots of people have about sergers the more you'll realise how much easier and fun they can make sewing.
Just be sure to buy one that is a good model with good review and isn't difficult to thread since it sounds like you don't have a dealership nearby. Might be worth travelling to your nearest one for a weekend and having a good look, and get them to really show you how to look after it and thread it, so that when you get one home you are not completely unsupported. Pick a dealership who are happy to give you phone or other support if you get stuck and need help.

------
Quilting up a storm
Bernina Girl, in possession of a small herd...

nicegirl


Intermediate
District of Columbia USA
Member since 5/10/06
Posts: 1727



Date: 6/9/11 9:16 AM

I am a serger True Believer, after resisting getting one for many, many years. I don't do anything fancy with mine, all I've done is edge finishing, constructing knits, and rolled hem edges and I would not give it up for anything!

There is simply no comparison between a serger finished edge and a zigzag finished edge. Admittedly, the difference is mostly cosmetic, but the extra oomph of that nicely finished inside gives you so much more pride in your work. My pre-serger clothes with their zigzagged edges look so homemade-y and scraggly on the inside. And the serger is so FAST!!!! It really will save you time.

------
http://theslapdashsewist.blogspot.com
=================
2007: purchased 115+, sewed 105+
So close to parity, yet so far

Trying again in 2008
Yards purchased: 133
Yards sewn: Somewhere around 95

2009? I give up
Printable Version
* Advertising and soliciting is strictly prohibited on PatternReview.com. If you find a post which is not in agreement with our Terms and Conditions, please click on the Report Post button to report it.
Online Class
Clone Your Favorite Garment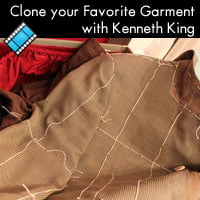 Online Class
Fun with Fitting - PANTS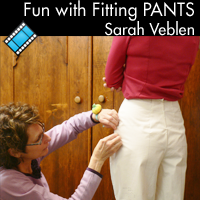 New Look 6575

by: ryan's mom
Review
Ottobre Design Magazine 06-2009-4

by: Elizabeth ...
Review
Sewing Workshop Balboa Shirt & Topper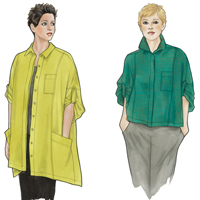 Pattern Details
Lolita Patterns Sugar Plum Pattern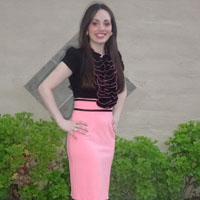 Pattern Details