nightowlgal


Advanced Beginner
Idaho USA
Member since 10/12/09
Posts: 33



Date: 8/5/11 2:11 AM

I bought a Viking Huskylock 936 about 18 months ago when I decided to start sewing. I chose this particular machine partially because I liked that the settings were automated (or at least told me what to do for my fabric and stitch choice) since I was totally clueless. The other reason I chose this machine is because it could do a coverstitch.

It works very well as a serger, and I'm pretty comfortable with it. However, using it to coverstitch isn't going so well...

I'm sure most of the problems are just due to my not knowing what I'm doing, but I'm completely frustrated! I usually avoid switching it to coverstitch, but I made a dress from a thin knit that wouldn't hem well on my sewing machine, so had to give it a go last night. Converting to coverstitch was a hassle, but not too difficult. I couldn't seem to get the threading right though -- watched the online video several times and stared at the manual. Then I had problems with skipped stitches, fabric jamming, etc. Finally got that all worked out (several hours later) but had problems getting hem to look straight and even.

After watching my frustrations, hubby generously offered to buy me a separate coverstitch machine! It looks like I could get a Brother 2340CV with the extra feet for $499 and I'm close to ordering, but having a few second thoughts since my serger can do a coverstitch (at least with someone else operating it).

Is it worth it? Certainly it would be more convenient to have a separate machine and not have to spend time converting. How will the stitches on the Brother 2340CV compare with what my Huskylock can do? Is it easier to thread and use, or will I just end up cursing at a different machine? Does it have capabilities that the Huskylock 936 doesn't?

I'd appreciate any feedback, particularly from those of you familiar with these machines.

------
Beth

Sew4Fun


Advanced
AUSTRALIA
Member since 6/23/04
Posts: 4885





In reply to nightowlgal



Date: 8/5/11 2:49 AM

I'm an advanced sewer and have been sewing on sergers on all life (30+ years) and yet I could never get the coverstitch on my 936 to sew to my satisfaction. It's the fussiest coverstitch machine I've ever used!! As you say, serging is good but coverstitching... ugh! Makes you want to scream. The machine is not designed to coverstitch thin knits. So all this is to say it's not you. Many of us 936 owners have had the same issues with this machine.

I ended up buying the Brother 2340CV machine and have never looked back. This was seven years ago and it was the best decision I ever made. Worth ever cent! The Brother is not the least bit fussy, feeds straight, feeds easily over seams and the only time I've had it skip stitches it was my fault. (Wrong needle size). It also sews on all weights of fabric from the thinnest viscose/lycra to the thickest polar fleece with no fuss.

After using my Brother so successfully I went back and tried my 936 thinking maybe it was still user error, no. It's the machine!

------
Belinda. Melbourne, Australia
http://sew-4-fun.blogspot.com/

Sew4Fun


Advanced
AUSTRALIA
Member since 6/23/04
Posts: 4885





In reply to nightowlgal



Date: 8/5/11 2:55 AM

Quote:
Is it easier to thread and use, or will I just end up cursing at a different machine? Does it have capabilities that the Huskylock 936 doesn't?


Sorry I forgot to address some of your questions.

1. The Brother is a hundred times easier to thread. No make that a thousand times easier.
2. The capabilities (in theory) are the same. Both do the same exactly things but the Brother actually works.
3. The Brother is very easy to use but you do need to be aware of one major thing. The Brother doesn't have automatic tension release. What this means is when you raise the presser foot the thread tensions don't release. You must push a button on each tension disc manually to release the tension.

When I bought my machine I thought this would drive me crazy but it doesn't. You learn how to work around this. There are tricks and methods to release the tension and your fabric easily which are mentioned in the manual.

------
Belinda. Melbourne, Australia
http://sew-4-fun.blogspot.com/

iSewQuiltArt


Advanced
AUSTRALIA
Member since 4/4/08
Posts: 3644



Date: 8/5/11 4:03 AM

Yep Sew4Fun is right on when she says the 936 will make you scream. And then go quietly insane if you try to persist in trying to cover stitch.

Sew4Fun really helped me figure out when I was where you are now with coverstitching nearly a year ago, that it wasn't me but was a problem with the machine. I am eternally grateful to her!! Whilst you may be able to hem some heavier weight fabrics, it is unable to handle fine knits and says so in the manual (but its not made obvious when you buy it). The stitch quality is also no where near as nice as a dedicated machine that was engineered from the beginning to do only two things- cover and chain stitch. And to do it faster and more naturally than any combo overlocker does- especially the 936!

Your experience of wobbly seams happens I think because of the bulge in the badly designed stitch plate that covers the upper looper part of the machine that is necessary for the machine to also do overlocking. That's the drawback of combo machines, they generally do one but not both sorts of functions well, and are far, far harder to thread. The 936 is particularly horrid for threading coverstitch- hard to reach the looper.
I was so frustrated with mine that I ended up selling it for an overlcoker with simpler threading, as it was getting longer in the tooth anyway, and went to a good 3/4 overlocker and the Janome Coverpro 1000CPX. I have never regretted that decision. I got great results out of the box, its like you say, very efficient to not have to switch and reconfigure your machine, but the thing is, like Sew4 Fun's machine, the coverpro actually works and produces a good coverstitch. I have only had skipped stitches in the past on bulkier areas if I forgot to flatten the seams and steam/ clap them, or if I was skimping on glue basting if I didn't have fusible tape to help stop the layers from shifing over the seam allowance at seam intersections- both are user errors when it was relatively new to me.

But the best bit was that I could and did, as my first project, successfully hem ITY poly fine knit- stretchy fine fabric that my 936 had chewed up and spat out crookedly multiple times! Teh coverpro made totally perfect seams. The difference was like night and day. For the last few garments its all gone really, really well with fantastic and fast hemming of knits and learning to adjust for different fabrics and thread is easy, mostly just fine tuning not radical adjustments for tension. Its chaining function is excellent for sewing toiles and is so fast to remove! I love having the option for binders as well and am beginning to play with those.

I think if you go into a coverstitch machine, that is dedicated- any of them really- you won't have ANY of the frustrations that you get with the 936.
Because even when you do thread correctly, you will always find on hems that are wider than about 3/8 of an ich that the bulge on the stitch plate will push your fabric edge sideways as it banks up against the bump and that is what I am sure is causing uneven lines of stitching if you are steering the fabric straight otherwise. The fabric simply twists up against the bulge and moves sideways no matter what you do! And you will not be able to sew fine knits ever with success.

So truly , don't despair, its not you. Ditch the coverstitch thoughts on the 936 and grab which ever dedicated coverstitch machine you like the feel and function of most, then have no guilt and don't look back!!
I think you'll find if you test drive the coverstitch machines you'll be astonished at how fast, easy and reliable they are on a big range of fabric. Any thing that you can fit under the foot essentially, you can coverstitch!

------
Quilting up a storm
Bernina Girl, in possession of a small herd...

GlobalMom


Intermediate
Illinois USA
Member since 3/11/09
Posts: 215



Date: 8/5/11 8:23 AM

I have the Bernina 1300MDC which also is a serger which converts to coverstitch. Converting it works fine, but I sew a lot of knit garments, and switching it back and forth during sewing became a nuisance. I too saw Belinda's comments on the Brother coverstitch machine, and found a sale where I got the machine for $299 through Amazon.com (2 years ago). I have never looked back! It increased my garment sewing speed in a huge way, and it may be an inexpensive machine but it's a workhorse. Adding it to my machine collection really bumped up my finished garment quality because it stitches so reliably. Were I to do it over again, I would have bought just a stand along serger and separate coverstitch machine... would have saved some money!

Happy stitching!

------
Debora, of Chicago and Frankfurt
www.deboraland.com

Miss Fairchild


Advanced
USA
Member since 8/24/02
Posts: 7936





In reply to nightowlgal



Date: 8/5/11 8:52 AM

My thought is for you to go with a separate coverstitch machine. For one thing, you already have the serger and you can keep that up and ready for serging. You already have a price you are willing to live with and that price seems to be the cost of a coverstitch. If I decided to use coverstitching, I would have to get another machine anyway because I have a four thread serger. And the responses here have told me which kind to buy. So to answer your question in a round about way--YES.

------
"Play the cards you are dealt, but choose who is sitting at the table"..AARP magazine

SEE MY ETSY SHOP HERE: http://www.etsy.com/shop/AuntMaymesAttic
My blog: http://auntmaymesattic.wordpress.com/

clotheshorse


Intermediate
British Columbia CANADA
Member since 3/24/10
Posts: 784



Date: 8/5/11 10:18 AM

I have the Viking 910 serger and the Janome 1000cpx coverstitch. As others have stated, separate machines are they way to go. I don't use my coverstitch machine often but when I do I can count on great results. Yesterday I sewed over some fairly heavy seams with it and the stitches were perfect and even. It couldn't be easier to use. The Janome was inexpensive but seems to be good quality. I have heard good things about the Brother as well. You won't regret have the two machines if you do a lot of sewing.

------
Viking D1, 1+, Pfaff 7570, Singer 503 Rocketeer, 66, 15-91, 301, Featherweight 6 Flock, Babylock Enlighten & CS and Pfaff Creative Performance

Debbie Cook


USA
Member since 4/11/02
Posts: 9760





In reply to Sew4Fun



Date: 8/5/11 11:23 AM

Quote: Sew4Fun
Many of us 936 owners have had the same issues with this machine.


Yep! Another happy 936 serger-er, but only happy with coverstitching when I bought a separate machine. If Belinda (Sew4Fun) bought hers about 7 years ago, that means I did too (wow! time flies!).

------
--
"I base my fashion sense on what doesn't itch." — Gilda Radner
http://stitchesandseams.blogspot.com

sewsally


Intermediate
Washington USA
Member since 8/18/02
Posts: 1352



Date: 8/5/11 10:10 PM

I have the Viking 1002lsc combo serger coverstitch.

The changeover was never easy -- too many places for thread to get caught, mistakes to be made. Much swearing involved. I avoided using the coverstitch function.

So I got a separate coverstitch machine. Mine is a Babylock but the Janome was good too.

I don't like the Brother at all. We have one at a college where I take sewing lab so I got to try it. I just couldn't get the knack of pressing all the tension buttons to release the tension. I like the other machines because the tensions are released when you lift the pressure foot.

nightowlgal


Advanced Beginner
Idaho USA
Member since 10/12/09
Posts: 33



Date: 8/5/11 10:25 PM

Thank you all so much for your answers -- I'm feeling so "enabled" now! Seriously, although I generally jump at a chance to get a new toy I was feeling a little foolish thinking I just needed to spend a little more time getting used to the coverstitch capabilities of my 936. I had no idea other people had the same problems with it!

In addition to the threading frustrations, I definitely experienced the wobbly, crooked seam. Had to rip the whole thing out...

I think I can live without the automatic tension release. There are buttons you push to release it? That still is a step ahead of the 936. I had huge troubles getting that to release.

The one thing I'm a little bit unsure of with the Brother machine is lack of a free arm. although I noticed most of the coverstitch machines don't have one. How would I sew the hem on a sleeve that's already seamed? That definitely did not work on my 936! There's probably some easy answer, but I have no idea.

Thanks again for all your expert advice -- I really appreciate it!

------
Beth
Printable Version
* Advertising and soliciting is strictly prohibited on PatternReview.com. If you find a post which is not in agreement with our Terms and Conditions, please click on the Report Post button to report it.
Online Class
Fun with Fitting - PANTS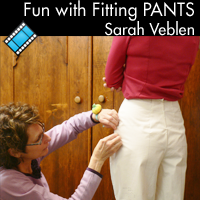 Online Class
Altering Jackets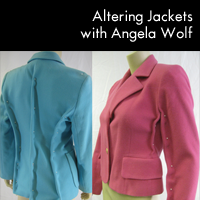 New Look 6097

by: QuiltSewSe...
Review
You Sew Girl Adult Hats Pattern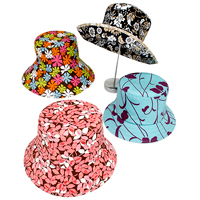 Pattern Details
10 inch Professional Shears

Pattern Details
McCall's 6700

by: GoodbyeVal...
Review