michellep74


Washington USA
Member since 7/19/07
Posts: 3425
Skill: Intermediate
Body Type:




Date: 8/11/11 8:31 PM

My in-laws were transferred to Decatur, AL last winter, and my husband and I will be flying out there for a week in October to visit. Any suggestions on what to do while we're there? We'll have a rental car.

From what I can tell, it looks like Graceland is about a 3.5-hour drive away. I'd like to visit as a day trip, if others think it's doable. (I've never been there and have no idea how long you'd need to spend to see most of it.) According to TripAdvisor, there's also a Civil War museum in Huntsville that sounds potentially interesting. Any thoughts on these?

Any restaurant recommendations? His parents have made it to a few BBQ places they've liked, but I don't think they've tried too many different restaurants yet. My husband is really into craft beer, so if there are any craft breweries or brewpubs in the area, I'd like to add those to our list.

------
--Michelle

***
Blog: http://happilycaffeinated.blogspot.com/


MBMc

Florida USA
Member since 7/29/08
Posts: 129
Skill: Intermediate



Date: 8/11/11 10:35 PM

In October, especially the last couple of weeks in October, the leaves change color in the mountains. Almost any route you take through northern Alabama and into Tennessee will take you into areas that should be very beautiful that time of year, but especially around Chattanooga the colors can be spectacular. I haven't been to Graceland so I can't help with that.

Doris W. in TN


Tennessee USA
Member since 2/9/04
Posts: 9568
Skill: Intermediate



In reply to michellep74

Date: 8/11/11 10:59 PM

NASA has a space center in Huntsville and they have some public tours in one area. I don't know if they still do that, but a quick Google will have the right info.

Graceland is worthwhile, but maybe not worth a 7-hour round trip on no interstate. Depends on how much of an Elvis fan you are.

Nashville is 2-hours north and would make a good day trip: Country Music Hall of Fame, the Hermitage, etc. Birmingham is 1 1/2 hours south of Decatur.

Martha Pullen used to be based out of Huntsville, AL there is an annual sewing school/event once or twice a year. I think there used to be a shop as well. She's the queen of childrens' heirloom sewing.

If you like Tennessee Walking Horses, there is usually a small but nice horse show in Priceville, AL (almost a suburb of Decatur) the last weekend in October.

-- Edited on

8/11/11 11:01 PM

--

------
iPad's auto-correct is my enema.

Lisa Laree


Alabama USA
Member since 8/24/02
Posts: 1885
Skill: Advanced



Date: 8/12/11 3:19 AM

The Space and Rocket Center is a must see, unless you hate museums. Lots of cool space flight history there. Definitely the number one tourist attraction of the area.

There is a place on Bob Wallace avenue in Huntsville that advertises 'over 300 beers'...and no smoking. It's called 'The Nook'. We're teetotalers, so I can't speak for it, but it sounds like the sort of place you might be interested in. I don' t know if those are micro-brewery beverages or imports. The Jack Daniels distillery is just barely into Tennessee and gives tours.

Fabric shopping is pretty uninspiring; we have Hancock's and JoAnn's and that's about it. There's a shop in Fayetteville, TN that gets overstocks and buy outs and odds n ends...Sirs Fabrics. Sometimes you can get wonderful stuff...sometimes it's just a nice drive. The best quality fabric is at Textile Fabrics in Nashville, if you get up that way. It's nice to pet $125/yard super fine woolens...;-)

We have most of the regular chain restaurants around, but if you're more into locally owned places there are a few good spots, too. If you like Mexican food, Rosie's is a good local place, as is Phil Sandoval's. If you're in Huntsville around lunchtime, Shea's Express is a good choice (they're not open for dinner); they're just down the street from the Depot. Ol' Heidelburg reflects the German influences in the area from the 50's and 60's and has tortes that are to die for.

I'm not as familiar with the Decatur area, but it's just 20 minutes from Huntsville.

I'm drawing a blank on a Civil War museum...perhaps that's the Depot? It has some Civil War history...

We are such stick in the muds that I'm coming short of recommendation! For us, a day off with instructions to have fun would probably mean a trip to one of the local State Parks, if you're here towards the end of the moth they'll all be lovely with the fall color.

Fall color usually peaks right about Hallowe'en here, but with the crazy weather we've had who knows what this year will be like!

Hope that helps a little!

------
Lisa -- so much fabric, so little time!
http://sewrandom.blogspot.com/

lisalu


Member since 10/5/08
Posts: 2758
Skill: Advanced Beginner



Date: 8/12/11 7:34 AM

Very good question! My brother and SIL live in Cullman, AL which is very close to Decatur. Big YAWN whenever we visit them. Until just recently you couldn't even go out for drinks in the evening (it was a dry county!)

MY SIL is born and bred in the area and never has suggestions for "things to do" other than her favorite activity of yard sales and auctions. Hope you find more entertainment than that. :)

I have been in the Mentone (sp?) area north of there in the mountains and it is very beautiful with little shops and restaurants and some nature trails and scenic areas. Nothing that will blow your mind, but it is quaint and lovely and in the Fall I'm sure it is even better. Although Birmingham is only an hour or so away, don't even bother - nothing to worthwhile to see/do there IMO.

Hope you enjoy your visit! If you're there long enough, come on over Atlanta (about a three hour drive) and we'll show you a good time!

PS...You'll probably see remants of the tornado damage in the area. Were your in-laws there when it happened? My brother and SIL saw the tornado as it tore through downtown Cullman!

-- Edited on

8/12/11 7:50 AM

--

a7yrstitch


Texas USA
Member since 4/1/08
Posts: 7314
Skill: Intermediate



In reply to michellep74

Date: 8/12/11 12:32 PM

Hi michellep74,

We live in the suburbs of a big city. We love going to places like, yawn, Decatur for our vacations. It is absolutely beautiful The weather has been so warm this year that I wonder if you might still be able to swim when you get there? Or water ski? You may enjoy just being outdoors, going on picnics, renting some bicycles for your stay, and perhaps renting a boat for a day. Hope you enjoy yourselves, we'll be up that way soon. Oh, you may want to check the Chamber of Commerce for events and festivals. Sometimes churches in small communities have their own mini quilt display at the festivals and they usually serve good food. It may also be nice to rent a luxury car for a day and plan a drive, northern Alabama is beautiful. I'm not big on historical sights but am a sucker for footbridges over creeks and rivers and waterfalls. There are lots of sites like this for information:

http://www.localhikes.com/MSA/MSA_3440.asp

http://www.800alabama.com/yooa/scenic/waterfalls.cfm

Don't know how old the in-laws are, but there have been some times when we've needed a little help. Our guys help flip king size mattresses, switch out cathedral ceiling light bulbs, and ask if we need help with anything else when they come to town.

Hope you enjoy your trip. Glad you asked the question. We're trying to decide between northern Alabama and the Florida panhandle for an upcoming vacation.

------
I have no idea what Apple thought I was saying so be a Peach and credit anything bizarre to auto correct.

michellep74


Washington USA
Member since 7/19/07
Posts: 3425
Skill: Intermediate
Body Type:




Date: 8/12/11 1:01 PM

Thanks for all of the suggestions--keep them coming if you think of anything else!

I hadn't even thought about the fall colors/leaves. I've lived in northern or southern California for most of my life, and other than for about a week when I lived near Palo Alto, I don't think I've seen "real" fall leaves since I was a really little kid. My husband has never seen them, and I don't think his mother has, either. MIL and I are both easily entertained by pretty drives.

The Space Center sounds like a great suggestion for DH. We didn't know how much you could actually visit there. When he was a kid, he's told me that he wanted to go on Double Dare and win the trip to the Space Camp there, so I think that will be fun.

FIL will be working most of the days when we're there, so we're hoping to take my MIL around a bit. I like Elvis, but she really likes Elvis, so I think we'll still keep Graceland in mind.

Too bad about the lack of fabric stores. I had been secretly hoping that there might be something within a reasonable driving distance to make a stop at.

------
--Michelle

***
Blog: http://happilycaffeinated.blogspot.com/


michellep74


Washington USA
Member since 7/19/07
Posts: 3425
Skill: Intermediate
Body Type:




In reply to lisalu

Date: 8/12/11 1:04 PM

lisalu, yes, unfortunately, my in-laws were there when the tornadoes hit. Neither of them had experienced tornadoes before--we got a few phone calls from MIL while she was hiding in the bathtub with the dog asking us if we could check online to see if they'd given an "all clear" to the area yet. Scary stuff.

We're actually flying into Birmingham (it was several hundred dollars cheaper for us than flying into Huntsville), and driving up from there.

------
--Michelle

***
Blog: http://happilycaffeinated.blogspot.com/


Sewandwrite


Maryland USA
Member since 5/16/08
Posts: 970
Skill: Advanced Beginner



Date: 8/12/11 4:53 PM

Lisa Laree


Alabama USA
Member since 8/24/02
Posts: 1885
Skill: Advanced



Date: 8/12/11 7:31 PM

The Space and Rocket center is actually a museum, not the actual NASA site. But there's a lot of cool stuff there. Back in the day, there used to be bus tours on the army base/ NASA site to see some of the test stands and such but I think that all went away after 9/11.

But you do see the mock ups they use for Space Camp. ;-)

If you like Botanical Gardens, there's a nice one in H'ville just down the road from the Space Museum. Not huge but very quiet and contemplative. There used to be a little restaurant in the gift shop that did yummy box lunches; not sure if they're still there. Oh, and I drove by The Nook today and found that it has 'Over 250 Beers'...either I misremembered or they've reduced their stock...LOL..

If you've got time to drive to the Fort Payne/ Mentone area (which would be a couple of hours east of Decatur), there's a National Recreation Area called 'Little River Canyon' that is really pretty. It's a gorge on Lookout Mountain.

And it's cheaper to fly into about anywhere in the US than Huntsville! LOL!

------
Lisa -- so much fabric, so little time!
http://sewrandom.blogspot.com/
Printable Version
* Advertising and soliciting is strictly prohibited on PatternReview.com. If you find a post which is not in agreement with our Terms and Conditions, please click on the Report Post button to report it.
Online Class
Bust Adjustments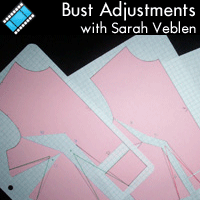 Online Class
Sewing with Slippery & Drapey Fabrics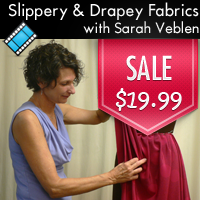 BurdaStyle Magazine 05-2006-123

by: yummymummy...
Review
Kwik Sew 3843

by: acmena
Review
SewBaby Easy Pieces Pants Pattern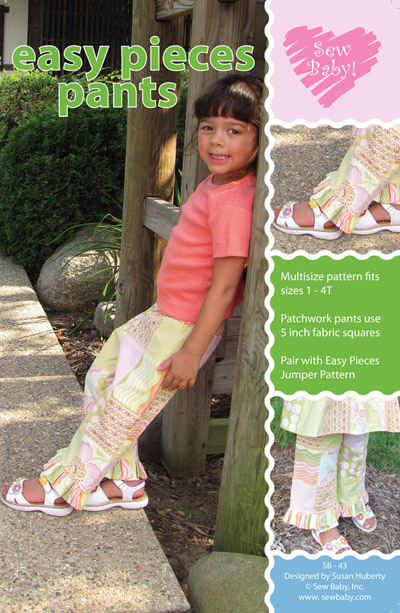 Pattern Details
Sew Chic Fantasia Dress Pattern (ln9005)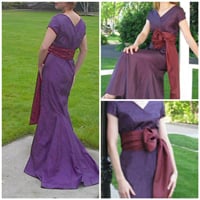 Pattern Details