Artsewer

New York USA
Member since 3/2/11
Posts: 2574
Skill: Advanced Beginner



Date: 8/23/11 12:11 PM

I have an Expression 2.0 it does not meet my needs. I can trade it in for a EXQE 4 and that does meet my needs. There are so many bad reviews, but then more recently good ones. I want auto pivot lift most of all. The thread cutter seems to be the worst culprit. I am asking for opinions. I know Baby lock makes the Symphony, but honestly don't like the look of the machine. Though I may take a second look at it. Not interested in Janome. Thanks so much.

------
Bernina 790, 635E, Juki 2010
Babylock Evolve Babylock Sashiko2

knit techie

Member since 8/7/09
Posts: 119
Skill: Advanced



Date: 8/23/11 12:26 PM

I don't have an answer, but I have the same concerns as you. I don't like the looks of the Babylock Symphony. I'm hesitant about the Pfaff because of poor reviews here. I'm now looking at the Viking Sapphire 8-something, which has athe pivot and scissors, but the dual feed is essentially a souped-up walking foot. I loved IDT on my old Pfaff, which I should have kept and not traded in for a Bernina. I would love to hear that there are no more problems with Pfaff, and then I would buy the 4.

------
All things are difficult until they are easy.
--Fortune Cookie

knit techie

Member since 8/7/09
Posts: 119
Skill: Advanced



Date: 8/23/11 12:29 PM

I don't have an answer, but I have the same concerns as you. I don't like the looks of the Babylock Symphony. I'm hesitant about the Pfaff because of poor reviews here. I'm now looking at the Viking Sapphire 8-something, which has the pivot and scissors, but the dual feed is essentially a souped-up walking foot. I loved IDT on my old Pfaff, which I should have kept and not traded in for a Bernina. I would love to hear that there are no more problems with Pfaff, and then I would buy the 4.

------
All things are difficult until they are easy.
--Fortune Cookie

Artsewer

New York USA
Member since 3/2/11
Posts: 2574
Skill: Advanced Beginner



In reply to knit techie

Date: 8/23/11 12:33 PM

( I loved IDT on my old Pfaff, which I should have kept and not traded in for a Bernina. I would love to hear that there are no more problems with Pfaff, and then I would buy the 4.[QUOTE]

I know it is soooo madding. How could they let their great reputation go to the pits?

------
Bernina 790, 635E, Juki 2010
Babylock Evolve Babylock Sashiko2

LindaBee58

ITALY
Member since 7/10/09
Posts: 446



In reply to Artsewer

Date: 8/23/11 12:53 PM

Sorry to say, it's a risk!
I had one, it didn't like thick fabrics the "motor overload" on the screen was several times a day. Sewing with the needle all to the left or all to the right and using the auto cutter the machine would sew a stupid stitch to the center before cutting. Mine had tension problems and ugly straight stitch. Impossible to do free motion. Sent it to the Tech came back worse, so I got rid of it and bought the Juki F600 a lovely machine and does free motion beautifully.
I personally don't like the Pfaff QE4 for doing quilts but perhaps for normal simple sewing it would be ok.
If you can try one for a few days and test it and change it if it's not what you like you could give it a try but I know people are still complaining about this machine


sewfrequent


Texas USA
Member since 6/27/03
Posts: 3553
Skill: Intermediate



Date: 8/23/11 1:00 PM

I too would much prefer the 4 over what i currently own and would bail if i could be certain the problems have been resolved. Even then, I'd probably want something in writing that I could return it for refund within 30 days if not satisfied just based on the bad reviews...and there are many. I do hear of some who are happy and yes, they tend to be the ones who have bought recently but how can you know if you're buying newest release or just new in old stock. I heard via a dealer that pfaff is aware of the problems with their TOL's (emb combos) and trying to put out a good product to save the brand. The Ambition line was supposed to be a first step in that direction (rumor but reliable source). I love everything about the 4.0. it's been out now for several years--you'd think they would have it tweaked to perfection by now and if not, then they never will. Maybe the next incarnation will be trouble-free bc it will take some good products to redeem this brand with dealers and customers alike.

JJane


Canada
Member since 10/30/10
Posts: 3547
Skill: Advanced Beginner



Date: 8/23/11 1:29 PM

Okay..

Here is an update on my QE4. I found out that the reason why it was so loud and vibrating is because the sewing cabinet I have it in is not strong enough to support the weight!! Once I took it out of the cabinet and put the accessory box back on it hardly vibrates at all and it is way, way quieter. It is still a louder machine but no where near where it was.

I believe the cutter is the same on the Saphires. Really, it bothred me a great deal but in the grand scheme of things it should not be a deal breaker. (Especially when you consider that the Bernina 440 doesn't even have a cutter.) For most things, if I have my needle moved over I can just run my stitch into the opening and then cut - no problem- if I want to avoid the half stitch. The tech at my dealer said this will not hurt the machine.

Thread feeding - I think I almost have that issue solved too. This machine is picky about how the tlhread gets fed in and if it is not happy it will create some tension issues. As long as you understand the difference between how a spool can be wound stacked or cross hatched and how to deal with that - you won't have any problems. I never knew the difference so I was really, really, REALLY frustrated. It doesn't help that the manual is very basic.

The deco stitches - I don't think anything - including the Bernina 440 series - stitch out as nice. (Except maybe the Saphires.)

My QE4 has no problem going over lumps, joined seams or even several layers of fabric. Not entirely certain but I think it did even a bit better than the 440/450 Bernina - as good for certain.

The stitch is as good as the Bernina's once you got the thread feeding in right. Even not - stitch is still great and the only way you will know there is a problem is because the cutter stops working and you get this clear bobbin area message. Weird... The Bernina might have slightly better tracking than the QE4 but the QE4 is still not bad. It does veer a bit to the left on longer seam runs but it is very easy to control/correct. Actually the autofoot lift helps with this because if it lifts just a ittle bit then you can move your fabric as needed.

The autofoot lift takes some getting used to but if you do a lot of pivoting / applique work I think you will love it. Having just tested the Bernina 440/450 and Janome 6600/7700 and solving some of the problems I had with this machine - I am starting to really appreciate this machine a whole lot more.

I can't help with the FMQ but everyone here I spoke with about says that user error are now the only problems.

All in all - I think this machine is probably better suited to a sewer who has a lot of experience and knows how to troubleshoot a machine than someone like me who hadn't sewed for a long time and then only ever sewed on machines that behaved themselves. It didn't help that I knew nothing about needles or how thread is wound. If you are quite an experienced sewer I think this machine is worth a try for sure.







Jannerie


Ohio USA
Member since 7/10/09
Posts: 155
Skill: Advanced



Date: 8/23/11 4:35 PM

Jane I am glad you are starting to understand your machine. I think you are onto something when you said that the Pfaff is more complex perhaps than the babylock. It is harder to learn but once you do the machines are great. I have had my Pfaff Embroidery combo for 2 years and I am very pleased.

I would not hestitate to buy a Pfaff.

------
Pfaff creative Sensation,
Singer 15-91,237,221,328K,301,301a,401,403,404,500,503
Bernina 630, 125jubilae
Viking 6020

madcreations

Member since 12/3/07
Posts: 33



Date: 8/23/11 9:46 PM

The 4.0 was in the running when I recently was looking at a machine to buy. I didn't buy it though, went with the ambition 1.5. The reviews (especially the older dated ones) on the 4 scared me greatly, but I think a big part of it was the cost when all is said and done. I just wasn't willing to spend the extra money on it. My search was different than yours though in the fact I was looking to upgrade from a 55 year old mechanical machine to something with a little brains of it's own.

I liked the 4.0 though and the first day I sat down to play with my machine at home it did turn over and over in my head about 'giving up' that auto lift pivot feature on the 4.0. That really is a neat thing. Time and a learning curve to get used to that is for certain.

The free motion the lady showed me at the shop on the 4.0 was really nice, she taught those classes though so that may be a big factor that her stitches were really nice, mine weren't that bad, choppy and irregular, but even with my skill, not too bad.

At the shop here in town, they do repairs to the machines without sending them off. That was an ease of mind when I was looking, just the whole shipping, possible damage, extra time being in the shop, those things were being factored into my thought process.

For you moving up from the 2.0 the overall learning curve may not be as great of stretch for you, since both machines do have some of the same features.

One thing I did not like about the 4.0 was that the speed control button only decreased the speed in half, in order to fine tune it you had to go into the menu and bump it up or down slightly.

I don't know what other machine you would go with if you did not pick the 4.0, but do look at the lighting on the newer machines, they are LED, with a bright white light, cool to the touch. The 4.0 has a yellow undertone to it and the bulb does produce heat, not much, but some, my geeky computer hubby pointed out that computers don't like heat... the light itself wasn't as nice though as I saw on others even if you don't consider the heat.



JanJanB


British Columbia CANADA
Member since 1/22/09
Posts: 72



Date: 8/24/11 6:38 PM

I have had my QE 4 for 7 months. The thing I love about my machine is my dealer, they sell and service many different machines and have been in business for over 20 years. I was hesitant because of the price and the negative reviews. My dealer told me that if there were any issues they would fix it, that is why they are there. And they have been, which is great because the manual is not the greatest with troubleshooting etc. The first time I sewed I got the Mother Board overload. An anxiety attack or 2 later I called, and I was told I hadn't threaded it properly, she was right. I have had the bobbin thread thing come up, cleaned the bobbin case and it works fine. I have had a few other things come up and I've called and she diagnosis it over the phone with me. She gave a 2 hr lesson on the machine that I purchased to see if there were any quirks right away.

It seems to get along with everything I have thrown at it from a bathing suit to jeans (love the programmable bar tacks). I love the dual lighting, I love the knee lift so you can keep both hands on your project. The 9 buttonholes, the basic one you can change the stitch width and the density, automatic tension adjuster; the beautiful stitches, the programmable tie off; I have found very little tunneling with the twin needle when you select the twin needle option. The consistent speed (something my 10+ yr janome sadly lacked).

I had originally wanted another brand and my sister really pushed me to get a machine with a local dealership. I am so happy I did. I know I would be very frustrated if I didn't have the support or had to pack it up and drive 2 hrs away to have it looked at.

-- Edited on 8/24/11 6:57 PM --
Printable Version
* Advertising and soliciting is strictly prohibited on PatternReview.com. If you find a post which is not in agreement with our Terms and Conditions, please click on the Report Post button to report it.
Online Class
Break your Serger Out of the Box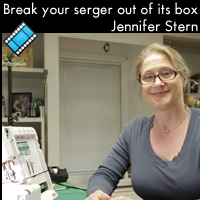 Online Class
All About Buttons and Buttonholes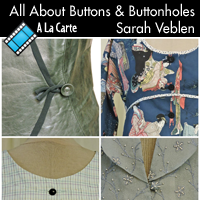 Vogue Patterns 8184

by: SewWil
Review
Jennifer Stern The Perfectly Fitted Shirt by the Cup-Full Pattern ( Size 6-14(Cup A-DD) )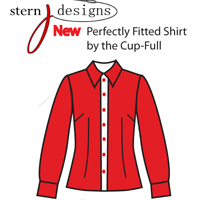 Pattern Details
Victoria Jones Collection Pattern 104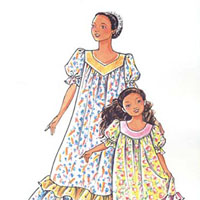 Pattern Details
Simplicity 1369

by: thatssewmo...
Review