hazelnut


USA
Member since 1/7/09
Posts: 2310
Skill: Beginner



Date: 9/14/11 2:34 PM

I'm experimenting with rotating the large side bust dart that was created from an FBA up to the shoulder and then splitting that huge dart into two, rotating half on the bottom. I pinned the 2 darts to the apex point and this created a princess-like seam.

I was initially planning to sew them as two separate darts ending before the apex, but after looking at it, think a fully connected princess seam is the way to go. From what I've read I will have to cut the front piece into two, and add seam allowances, and also curve or round-off the points (apex) where the two dart ends meet. I've found a lot of info on making FBA's to an established princess seams, but not much on creating and trimming your own shoulder princess seam after making an FBA in a darless top.

Here's my understanding from what I've read:
1) Cut out the entire inside dart of the two darts along their dart legs, split the front piece into 2 pieces, the round/curve off the pointy tips and add SA's.

My uncertainty is:
2) how much do I need to curve or round-off those two darts at the apex to get a smooth princess seam look? Does the amount trimmed off and rounded correspond to the size of the darts or the FBA bust/cup size? If so, is there a "rule or guideline" to follow in determining what this would be?

3) also, when rounding off those apex dart tips, where should I start and stop with the drawing and curving? (and what's the best ruler/tool to use, if any)?

thanks

-- Edited on 9/15/11 3:27 PM --

hazelnut


USA
Member since 1/7/09
Posts: 2310
Skill: Beginner



Date: 9/15/11 5:11 PM

no suggestions? Ok then, well, for anyone else who might get to this point in altering a pattern and obviously over-think it like I did, here's what I've found after another day of searching:
1) I guess you just round the apex off, period, regardless of cup size. LOL Doesn't seem to be anything scientific about it.
2) The following Burda link demonstrates creating darts and rotating to a shoulder princess and visually answers my questions the best, at least from what I have found so far...Shoulder princess on page 10, Step 13

There is a ton of info here on PR and the net re rotating darts and/or princess seams. Most of what I found refereed to armhole princess seams and nothing really talked about how or where to round off and blend the apex area with regards to rotating a previously created FBA and/or large cup size. ....but I may still be stuck in "over-thinking it" land.

I traced-off another front to play with and plan to start and stop the curving/rounding off of the pointy apex at the spots where I would have ended the two darts had I sewn them separately - which for my cup size should be about a couple inches back from the apex in both directions - and use a curvy design ruler. At least this is what makes sense to me at the moment. I don't want the bullet look. LOL I'll post how it goes if anyone's interested.

SheBear0320


Manitoba Canada
Member since 4/8/08
Posts: 5008
Skill: Advanced



In reply to hazelnut

Date: 9/15/11 5:47 PM

So are you wanting to rotate out a dart that was created as a result of an FBA?

I did this recently and had really good results but I didn't create a princess seam or darts anywhere else. I haven't reviewed the pattern yet but I did take photos of each step and I could post them if you like. I've only done a muslin so far ... but it's wearable so I'm very, very happy.

Are you wanting the princess seam?

Is this for a knit or a woven?



------
Sheila
"sewing very slowly to fill an empty closet"
2014 Stash Tally: 106.625 yds out/145.125 yds in (net +38.5 yds)

2015 Stash Busting:
84.125 yds sewn (as of 11/22/15)
121.25 yds purchased (as of 11/22/15)




hazelnut


USA
Member since 1/7/09
Posts: 2310
Skill: Beginner



In reply to SheBear0320

Date: 9/15/11 6:31 PM

Quote:
So are you wanting to rotate out a dart that was created as a result of an FBA?

I don't want to rotate it out. I already have taken the side bust dart that was created as a result of an FBA and rotated it to the shoulder and then split that huge dart into 2 and rotated half down to the waist to create (hopefully) a shoulder princess seam. Some times I have a hard time explaining things, sorry. I guess what I'm asking is when I have the shoulder dart and the waist dart and connect them into a shoulder princess, is there a guideline for how/where to round-out the point where they meet at the apex?

This is for a knit top that I have made several wearable muslins from (good ol' ks2900) but I want to try it with a shoulder princess seam instead of the big side bust dart. Does this make more sense?

Thank you for wanting to post pic's but it's the rounding of the apex on the shoulder princess seam that I'm questioning and not the rotation itself. I think I've figured out how to rotate the dart around, (the pic's above are clean, new pieces traced from prior tracings and dart rotations LOL), but I wanted to double-check if I'm going about the shoulder princess seam rotation process correctly and if there was anything special I needed to do to round off before I cut into two pieces.
JTink


Member since 4/20/08
Posts: 6599
Skill: Intermediate
Body Type:




In reply to hazelnut

Date: 9/15/11 6:47 PM

I'm gonna take a stab at this...go ahead and cut the pattern, add your seam allowances. I would have the "round out" in the area where your two darts points meet. Perhaps start the "rounding" 3 inches or so from where they meet. You can almost see the rounding in your photo. After you have cut the pattern, I would repin and do another tissue fitting to see if your bust point meets up with the pattern's, just like you would with any other princess seam pattern. Or, you could find one of your princess seam patterns that's already altered and lay it on top, to get an idea.

jenleeC


Western Australia Australia
Member since 6/4/11
Posts: 1214
Skill: Intermediate



In reply to hazelnut

Date: 9/15/11 8:53 PM

Hi Hazelnut, I read your post yesterday and hoped that someone with more extensive drafting experience would give you an answer but it seems there were no takers. I am just finishing a pattern making class but am still at the "pattern making 101" stage! We have covered princess seams so I'll pass on what I know. Your step 1 is correct, and your dart rotation looks good. You can rotate the dart to anywhere you like so your princess line can be created with the seaming at the center of the shoulder as you have done, or at the side of the bust. There is no rule about rounding off the apex; you are just taking off the "pointy" bit so you have a nice curve for the seam. Usually the amount trimmed will be very small, around 1/4", (but may be a little more for a full bust...I have only done teeny tiny model size!) and just tapered above and below to give a nice curve.

You asked about tools for drawing this curve - you can use a french curve if you have one or you can just draw it freehand. If you draw free hand, turn the pattern so your hand is on the inside of the curve - it is much easier to get a nice line like this than trying to draw from the outside of the curve! If you are going to continue with your pattern making, a french curve is a good investment.

You also said you had limited experience sewing princess seams so here's a bit more info on that. Understand that you will need to ease the seams around the bust area. When you are sewing, have the "full" side facing up on the sewing machine that way you can keep an eye on the easing so you don't end up with any nasty pleating instead of a nice smooth curve.

Hope this helps!
Jenny

-- Edited on 9/15/11 10:30 PM --
-- Edited on 9/15/11 10:34 PM --

------
Jenny, Perth, WA

hazelnut


USA
Member since 1/7/09
Posts: 2310
Skill: Beginner



In reply to JTink

Date: 9/15/11 10:53 PM

Quote:
Perhaps start the "rounding" 3 inches or so from where they meet. You can almost see the rounding in your photo

I see what you mean. I'll pin in the darts again, try it on and see how the rounding goes, and try to let it stay pouffed out after moulding on myself and follow that line, good idea, thanks!


Quote:
Or, you could find one of your princess seam patterns that's already altered

hehe, I wish I could! LOL I have no princess seam patterns that are altered and finished. I've only worked on one (an armhole princess), good old MC 2818, whose confusing FBA alterations were finally abandoned after numerous tries and it became a UFO.

hazelnut


USA
Member since 1/7/09
Posts: 2310
Skill: Beginner



In reply to jenleeC

Date: 9/15/11 11:16 PM

Quote:
There is no rule about rounding off the apex; you are just taking off the "pointy" bit so you have a nice curve for the seam. Usually the amount trimmed will be very small, around 1/4", (but may be a little more for a full bust..

Thank you, this is what I was wondering about. I have the clear plastic design curve and was using that earlier on my second tracing. Decided to wait to see if there were any answers before and cut, so I'm happy to see the responses.


Quote:
When you are sewing, have the "full" side facing up on the sewing machine that way you can keep an eye on the easing so you don't end up with any nasty pleating instead of a nice smooth curve. Hope this helps!

Thank you for sharing what you've learned about drawing the curve and sewing! By full piece I assume you mean the front center piece. I will be cutting the fabric on the fold.
---------------
Thanks to everyone here for their advice! I think part of my problem is that when attempting something new, I start second-guessing myself partway through the project, and then get bogged down in the minor details. I'll post back with the results tomorrow. :)
jenleeC


Western Australia Australia
Member since 6/4/11
Posts: 1214
Skill: Intermediate



In reply to hazelnut

Date: 9/15/11 11:45 PM

By "full" I mean the side with the seam that needs to be eased in (as opposed to to side where the seam is being stretched out). In the case of a princess seam, yes, this is the front center piece.


------
Jenny, Perth, WA

hazelnut


USA
Member since 1/7/09
Posts: 2310
Skill: Beginner



In reply to jenleeC

Date: 9/16/11 6:10 PM

Thanks again
---------------------------------------
Everything is going pretty well, I've altered, cut and pin-fitted the pattern, BUT I have another question before I cut the fabric. (and I swear I have looked around for this answer both here and in my books).

Since I cut a one-piece pattern front into 2 pieces, I assumed I had to redraw a grainline on the 2nd piece (the shoulder/armhole piece) that was cut off of the original piece. Prior to cutting out the darts (shown in photo #2 above) I lined up the pattern's grainline on the front piece and then parallel to it drew another grainline on what was to become the side armhole piece of the princess (2nd piece). Now, when the pieces are pinned together, the armhole side grainline (the one I made) is at an inward angle towards the center. The two grainlines are only parallel when I lay them flat and make believe the darts are still in place. Did I establish the 2nd grainline on piece #2 correctly? Did I even need to draw a grainline on the new piece? I would think so....but when it's all pinned together the two grainlines are not parallel. I don't know how to better explain this....I could take a photo if it doesn't make sense. Thanks

ETA: Decided to add a photo - the grainlines are parallel to each other and the folded selvage. However, the grainline on the left piece is not down the middle of the piece, as printed grainlines usually are. I think I'm going to cut as is, and if it's wrong than hopefully someone will let me know how I should draw the grainline (or position the pieces) before my next muslin cutting. (I'm dying to see how this sews up)

-- Edited on 9/16/11 8:04 PM --
Printable Version
* Advertising and soliciting is strictly prohibited on PatternReview.com. If you find a post which is not in agreement with our Terms and Conditions, please click on the Report Post button to report it.
Online Class
Put it on the Bias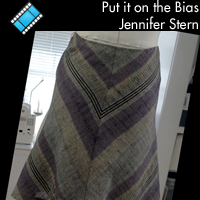 Online Class
The Contemporary Couture Jacket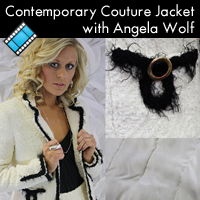 Advance Pattern Company 8571

by: guineveres...
Review
Butterick 5927

by: MrsCharism...
Review
Sewing Workshop Nikko Jacket Pattern

Pattern Details
SewBaby The Twirly Dress Pattern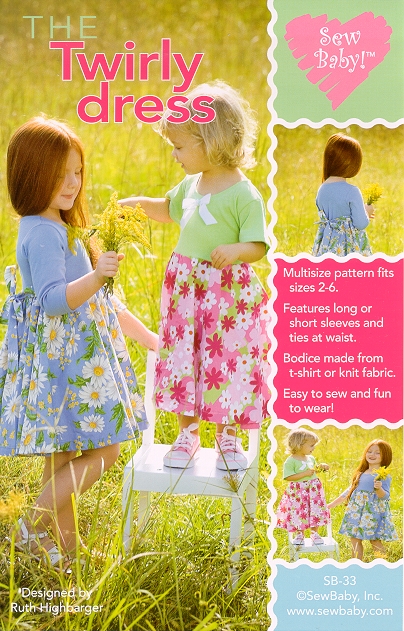 Pattern Details