Learn To Sew


Member since 4/12/05
Posts: 14203
Skill: Advanced Beginner



Date: 10/5/11 1:38 PM

There is a thread on the Misc. topic with the same name, but most of the ones posting are Intermediate to Advanced. They are sewing things that are beyond me and others who are still learning the basics. I thought it would be fun to start another thread here, just for those of us who like to talk about what we are making and how it is coming along. This will help to make us more confident in our skills and build friendships.

I am making a pair of lounge pants. McCalls 6248. Just a pair of elastic waist pants for being lazy around the house. I chose for this trial pair a quilting cotton. They look like pj's as they are nearly done. Next time I will choose a heavier fabric for wearing to town and so forth. I took a Fit Review class at Palmer/Pletsch in Portland a month ago and this is my first attempt to see how I did. We took a 1 inch tuck in the CB from waist to hem, added 1/2 per side seam, shortened 5 inches, and tapered the waist.

Well, not knowing any better as I was making it up, I changed the tapered waist and now they are too low in back. The instructions said on how to fit it and instead of doing what I Knew was right for my body, I did what it said and lowered the waist 1 inch. I think if I had not done this they would be nearly perfect pj pants. As it is, they sit too low in the CB. I ended up using 3/8 inch elastic and not the 1/2 as per the pattern. All I have left to do is hem them and finish the crotch seam so it does not fray. They do look good on me.

Anyone else want to join in this thread and tell us how your sewing is going and what you are learning?

Learn

------
Bernina 630, Bernina embroidery module, Pfaff 2036, Bernina 1200DA serger, Unique Sewing Cabinet 450L

Sewnsewmom


Member since 7/31/08
Posts: 780
Skill: Advanced Beginner



Date: 10/5/11 3:16 PM

Awesome idea!! I am not very advanced myself.

I am currently working on a Simplicity dress pattern for my dd. I made some ties for the back of it. They were a bear to turn! Next I need to gather. Not looking foward to that.

I found a tutorial on a blog today and hope that will help me.

We'll see.

-- Edited on

10/5/11 3:31 PM

--

weekendstitch


Texas USA
Member since 7/22/11
Posts: 164
Skill: Advanced Beginner
Body Type:




Date: 10/5/11 4:06 PM

I am teaching myself how to make a sari blouse, following

this tutorial

. I had to draft the pattern twice, using my own measurements plus looking at a sari blouse I already own. I am now making one out of an old cotton skirt for fitting purposes and I guess it will be tricky, since this particular garment should be tight fitting; so I guess adding for ease of movement is out of the question.

After the fitting I may have to draft new patterns or maybe just add a note here and there. Then I'll be ready to make the real thing! I have about a yard of lacey fabric that I think will work wonderful for this.

rmusic1


Member since 7/3/10
Posts: 1232
Skill: Advanced Beginner
Body Type:




Date: 10/5/11 5:15 PM

I've been working on skirts for the first time and am feeling pretty proud of myself. I feel a bit silly for having made other things but still being a bit daunted by the instructions (I've never done a yoke before).

Skirt one now just needs hemming and skirt two needs the lining to be attached and I plan to do some decorating (top stitching and maybe applique).

The reason for my pride (apart from having tried something new) is that they fit! I had to alter the waist as I am a size bigger then my hips. One of the skirts only went up to a size 14 with the pattern envelope I had so I figured out how to extend the waist band to a 16.

I am now sitting in the half finished result and it is comfortable!

Learn To Sew


Member since 4/12/05
Posts: 14203
Skill: Advanced Beginner



Date: 10/5/11 5:27 PM

You guys are coming along nicely. We learn more and build our skills faster by learning from others. If they make a mistake, we learn what it was and how to avoid (we hope) doing the same mistake.

Sewing blogs are wonderful places to learn how to do things and I really love it when they show the before and after looks and what they did to achieve that look. Often, I admit, I have no clue how they did it until they show me and then I think, "I could probably do that too".

It is not a bad thing to be unsure of the construction of something. Some people can explain it really clearly so you get the idea and can see it being done in your head. Others, let's face it, have no clue how to explain their way out of a wet paper bag. Following their instruction is sure disaster and you and your seam ripper will become close friends!

Learn

------
Bernina 630, Bernina embroidery module, Pfaff 2036, Bernina 1200DA serger, Unique Sewing Cabinet 450L

LifeLovePassion

Minnesota USA
Member since 4/22/08
Posts: 57
Skill: Beginner



Date: 10/5/11 9:04 PM

I am working on making dresses for myself and my girls for a wedding Friday. My dress has now turned into a skirt as the pic on the front of the pattern package did not appear like it turned out. There is no zipper in it and they had it pretty fitted and tapered. Well to slip over the head it couldn't be as tapered as the pic showed. I used the bottom for a skirt now. I am kind of following

this pattern

. I have the elastic in the waistband and the ruffle fabric cut out. I am hoping to get cracking at it again after DH goes to bed.

I have dd2's straps and top band sewn together. I have dd1's straps sewn and pressed, I need to cut her top band pieces so I am ready to sew it in the AM, then add skirts to them. Not sure if I'll try gathering them or leave them more straight and ruffle them at the bottom. I guess we'll see how my ruffle goes

.

This is the pattern I am taking the strap idea from

-- Edited on

10/5/11 9:05 PM

--

------
Rachel


relliotts


Member since 8/30/11
Posts: 167
Skill: Advanced Beginner
Body Type:




Date: 10/6/11 2:08 PM

I have a million projects I want to start, but I'm currently having withdrawals because my machine is in for a tune-up! :-(

------
Singer 15-86
Bernina Artista 200E
Brother 1034D

Learn To Sew


Member since 4/12/05
Posts: 14203
Skill: Advanced Beginner



Date: 10/6/11 2:09 PM

It is getting colder here in WA state, so I am thinking flannel now. Last November I took a refresher class on pj's. I had not sewn anything in over 2.5 years and I did not remember how to do certain things anymore. (blame menopause, as I do for the cloudy memory) Anyway, we started with a large size and she insisted I needed to add 4 inches per side seam to the pants. I told the teacher that was too much ease, but would she listen to a beginner? No way. They eneded up way too large on me. I call them "clown pants".

As of today, they are still not done, and yes, the class was over 11 months ago. The class time was just not long enough for sewing in this 11 hour class. It needed to be 15 hours. No one ever finished the project in this class, so I found out later. Glad to know it was not just me.

The shirt needs buttonholes and butons and it is done. The pants, well... I tried them on last night. They must be 2 sizes too large on me now. I have lost enough weight to go down a size.

My plan of action is to take out the fold down casing first. I think I will serge the waist while I am at it to make it easier for the casing later on. I will measure out 2 inches from the current stitching seams and put pins in vertically, facing down. Then I will try on the pants. I will have elastic tied around my waist to hold the pants up. With a hand mirror, I will get a good look at my body and see how they look. If the 2 inches is not enough to remove, I'll take them off and move the side pins in more, leaving the inseams alone for now. Often the sides need to come in more than the inseams--but not always. From the knee down to the hem, I will deffinately take the inseams in a bit more. They get to "flopping" around if I do not do this step.

I'll try on again and see if this is enough. If not, I'll move the pins and try again. When it is correct for me, I'll mark the changes on the pattern. Then I will mark the new sa's on the pants and trim down. I'll work on these pants and finish them when I have several hours of time. This is not a quick project for me, as I expect to move the pins at least twice. Those pants are huge on me. The fabric was very expensive flannel, so I want to wear them.

I need to finish my lounge pants first. When I find an hour today, I can finish them. The pj's pants could take all day, depending on how much I end up pinning, repinning, and cutting off. Isn't sewing fun?

Learn

------
Bernina 630, Bernina embroidery module, Pfaff 2036, Bernina 1200DA serger, Unique Sewing Cabinet 450L

Sewnsewmom


Member since 7/31/08
Posts: 780
Skill: Advanced Beginner



In reply to Learn To Sew

Date: 10/6/11 3:27 PM

Ok, Learn you are way more advanced than me.

I have not done buttonholes yet. I am too scared!

Maybe one day.

I don't mind zippers. There. I said it.

I am still working on my dd's dress. I didn't get to sew anything last night. We got home too late. If not today, hopefully tomorrow.

Happy sewing!

GammaEagle

Member since 9/28/11
Posts: 22
Skill: Intermediate



Date: 10/6/11 7:32 PM

Lets see last couple weeks I made a Dress shirt, which went alright. I don't know if I fit my pattern wrong, or if I cut badly, but the shirt had more ease in the sides than I wanted. I also made a few bow Ties and a beautiful blue and silver brocade and white satin Vest lining/back. I'm planning on making a matching bow tie for the vest as I have almost enough left to make 2 or 3 vests. I picked it up on sale for 75% off (reg 14.99 yrd) and I was debating on which pattern to use so I bought the 4 yrds they had left (start of a fabric Stash???)

I'm sewing on a Brother CE5500PRW that I picked up at Wal-Mart this summer I think it was about $65.00, as at the time I was planning a few projects with mostly straight seams...it's a pretty decent machine for me right now, best money I've spent in awhile. The button hole foot on this machine works great, and I have five options for the button holes themselves...I'm no longer scared of button holes...now zippers are a field still untouched (scared)

I've just started cutting out the pieces for Simplicity 2333 It's a mens costume frock coat. I'm making view B which is a knee length coat...this is the most complicated thing I've attempted so far. I'm going to use it to make a costume of the Washburn University Ichabod. I hope I can get this project done, because that gives me a week then to do a pair of trousers and make a top hat out of the same material.

By the way anyone know of a basic costume top hat pattern? I think I could figre it out, but I'm hoping I won't have to.
Printable Version
* Advertising and soliciting is strictly prohibited on PatternReview.com. If you find a post which is not in agreement with our Terms and Conditions, please click on the Report Post button to report it.
Online Class
Bust Adjustments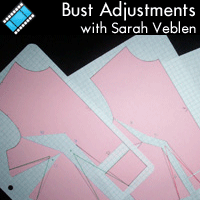 Online Class
Fun with Fitting - BODICE w Darts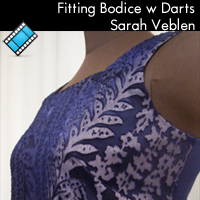 HotPatterns HP1136

by: LlanoGirl
Review
Paradiso Designs Lolita Simple Skirt Formula Pattern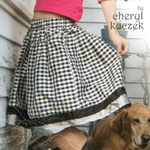 Pattern Details
Fit For Art Eureka! Pants that Fit Pattern
Pattern Details
Simplicity 2325

by: Aly J
Review