a7yrstitch


Texas USA
Member since 4/1/08
Posts: 7171
Skill: Intermediate



Date: 10/14/11 1:24 PM

Well, I've been called weird for a variety of reasons, but waking up this morning with this question on my mind even seems weird to me.

When I think of how some elastics age and items that are no longer useful simply because the elastic component has become brittle or has failed, I am wondering if it is worthwhile to have viscose/lycra blends in a long term fabric stash. I've just started working with these blends and I'm undecided as to whether or not they will provide a good return in my investment of sewing time. My garment sewing expectations are for either something outstandingly special that I'll be able to pull out of the closet year after year; or, for a workhorse garment that will withstand daily wear and not look worn after a few wash/wear cycles like so much rtw.

Has anyone been sewing with these knits for a while? Do they seem to degrade simply with age? Now, confess, there are a lot of PR members with some very old fabric in their stash. will it be a waste of money to stash viscose/lycra for longer than a short period of time?

And, down to the knitty gritty, how are the viscose/lycra blends performing in day-to-day garments? Are they interchangeable with our old cotton t's? Would they withstand a regular physical activity class, the prints are really appealing. Or, are they just something to wear when the down and dirty work of the day is completed?

I understand that there is a difference in quality levels and am willing to pay for quality if the fabric will hold up. And, I hang dry most all of my garments already, I don't mind putting in a little extra care in laundering a garment.

Any thoughts on this, please? And, I would appreciate any comments on fabric longevity of any of the newer fabrics in a stash or as a garment. Thanks everyone.

And, should add, comments on stashing fabric with metallic fibers/components would be appreciated.

-- Edited on

10/14/11 1:27 PM

--

------
I have no idea what Apple thought I was saying so be a Peach and credit anything bizarre to auto correct.

Andi


New York USA
Member since 8/24/02
Posts: 1258
Skill: Advanced



Date: 10/14/11 1:58 PM

All of my Lycra stashed fabrics are still very stretchy, and I have not noticed anything like "aging of elastic". The elastic I have had problems are more rubber based than lycra.

Some R/L blends look worn quickly, others look good wash after wash, and I don't think it is dependent upon the $$$ spent. I am finding that some on line vendors are charging an arm and a leg for "imported" R/L knits, and I am not sure if it is worth it.

I would stash the fabric if that is what you want to do, b/c I think it will age fine...but it is better to sew them up, b/c who knows, maybe in the future there will be a different fiber that does different things, and you won't want what you have stashed!

a7yrstitch


Texas USA
Member since 4/1/08
Posts: 7171
Skill: Intermediate



In reply to Andi

Date: 10/14/11 3:08 PM

Thanks Andi,

I do share your sentiments about not letting a stash keep me from sewing new fabrics as they appear on the market. And, I am a relatively new online fabric shopper and my questions were, in part, generated by the arm and leg $$$ for the imported R/L blends. I'll have access to stores in Dallas and Austin in the next few weeks and hope I can choose some of these fabrics in person and see how they compare to the online merchant that I have been using. Just trying to sort out the real value of this fabric family. Will it be like the new appliances? Invest time and money, get a lot of bells and whistles up front and then a rapid decline or ultimate frustration? I suppose you can tell I have no patience with a garment/fabric that does not wear well. Thanks for your helpful input. Like everyone, I'm trying to be thoughtful about maximizing time/dollar/satisfaction.

------
I have no idea what Apple thought I was saying so be a Peach and credit anything bizarre to auto correct.

Laurie Lou


Member since 10/16/05
Posts: 452
Skill: Intermediate



Date: 10/14/11 3:11 PM

I bought a couple Knits that were at a large Textile Garage sale....some of the stores donate fabric to this as it helps the Textile Center. I found this great knit fabric, a whole bolt of it so bought 5 yards...upon closer inspection when I got it home I noticed the back side looked like the Lycra in the fabric was starting to go. I have no idea how long the store had it but think that is the reason they donated it. I then looked at another similar hunk and it too had that same appearance. So I do think that you will find this with some knit fabrics over time...This is the only time I have seen this but knowing elastic it does fatigue so you might want to at least really look over the back of the fabric just in case it might be defective. I'd like to know if others have had this experience. On the other hand I hve swimming suits that are old but never show signs like this.

------
Laurie Lou

marjoriekh


Virginia USA
Member since 8/28/10
Posts: 550
Skill: Intermediate



Date: 10/14/11 6:09 PM

I know little about these knits, other than having purchased about a dozen different ones at different price points from different vendors -- including online -- and having sewn up about eight of them within the last year. I love how they look, feel and sew -- at least, right after you buy them.

That said, my guess at this point is that these fabrics are

not

yet keepers. Maybe something will change in the next few years to make their long-range prospects better, but right now I'd buy and sew, and enjoy for the relatively short term.

I've had some problems with pilling, and some with lack of stability, you might say, esp. in very lightweight rayon/lycras. I have been very careful with laundering (front-load delicate, inside-out, air dry); it seems to be wear pilling. I've had a similar (worse) problem with ponte knits, and am guessing it's the short-staple rayon/viscose content. Also, I have had one rayon/lycra (and not a cheap one) develop those elastic 'stretch marks' during construction.

This seems to be an argument against the very pricey ones, though I have seen it argued on these boards that the French and Italian rayon/lycras are very high quality, and not to be compared to the less expensive ones. I would want to see reports from 3-4 years out saying that a specific vendor's products wear well before being willing to commit to long-range stashing. (I should say, however, that I would be reluctant to long-term stash just about any knit, except maybe something fantastic in a 100% natural fiber. They somehow don't seem like 'heirloom' fabrics to me.)

But, mmm, the rayon/lycras feel and look good while they last!

------
marjoriekh

Sew4Fun


Victoria Australia
Member since 6/23/04
Posts: 4892
Skill: Advanced
Body Type:




In reply to a7yrstitch

Date: 10/14/11 6:10 PM

As long the fabric is stored in a dark, cool place you shouldn't have any issues. I haven't. Light and heat is the killer and will deteriorate lycra, elastic, etc. over time.

Edited to add: I've got several viscose/lycra knits from a top French mill that have been in my stash for more than seven years. They are as good as new.

-- Edited on

10/14/11 6:15 PM

--

------
Belinda. Melbourne, Australia
http://sew-4-fun.blogspot.com/

MNBarb


Minnesota USA
Member since 4/3/10
Posts: 1544
Skill: Intermediate



Date: 10/14/11 6:50 PM

I second Marjorie. There is a pilling factor, even with gentle care. They might withstand the stash but they don't like alot of handling.

------
Barb
"I have not failed. I've just found 10,000 ways that won't work." Thomas Edison
"I not only use all the brains I have, but all I can borrow." Woodrow Wilson

Sew4Fun


Victoria Australia
Member since 6/23/04
Posts: 4892
Skill: Advanced
Body Type:




In reply to MNBarb

Date: 10/14/11 7:37 PM

I've not had an issue with viscose/lycra knits and pilling, other than the poor quality ones which I try not to buy. I think it's like any natural fibre fabric. Just as there are different qualities of cotton, there are different qualities of viscose/lycra and the difference is quite a bit. The poor quality version pill a lot, the good quality don't pill at all and also last a lot longer. I'm very picky about which viscose/lycra fabrics I purchase. The ones I buy and stash are the good quality, which cost. I don't like the poor quality even to wear so I try not to buy them in the first place and certainly wouldn't bother to stash them. HTH

------
Belinda. Melbourne, Australia
http://sew-4-fun.blogspot.com/

Andi


New York USA
Member since 8/24/02
Posts: 1258
Skill: Advanced



Date: 10/14/11 8:33 PM

I find that online vendors carry end runs of different designers, so you don't really have a "brand" that you can go back to and know you will get the same quality. I also find that some vendors are selling the first or second printing on lesser (but good) quality, and then another vendor sells the "same thing", but the quality of goods is different.

I also think that some Lycra knits are designed with 4 way stretch, some with 2...some have a "snappy" return when stretched, some are drapey with no recovery. All of these qualities have different uses for different projects.

I also find the prices in the higher end vendors have increased by almost $3 in the last month or 2. I wish I like Poly knits more b/c I like the vibrant prints on Poly lycra knits.

Do you have an idea of what you would eventually make with them?
Tops, dresses, cardi? If I am making something a bit dressier I will use R/L b/c it won't get heavy wear, but if you really want a workhorse fabric a drapey Cotton/lycra may work better. I have 3 knit tops I made with better quality med/light weight C/L, wore them almost every day this summer, and they are just starting to show their wear. HTH
-- Edited on 10/14/11 8:36 PM --

simplystitches

Member since 2/12/06
Posts: 2314
Skill: Intermediate



Date: 10/14/11 10:36 PM

In the past year I've sewn up 2 pieces that had been in my stash for at least 8 yrs. One was a lycra blend from Lucy's when she still had fabric. The other was a $1 a yard mystery knit from Walmart, but it definately had lycra in it. Both sewed up beautifully and have been washed multiple times with no problems. The only problem I had was a bit of wrinkling on the Lucy's knit that will not come out. My fault due to the way that I stored it. It's quite subtle and the print hides it.

My only advice would be to watch how you store it.

Debbie
Printable Version
* Advertising and soliciting is strictly prohibited on PatternReview.com. If you find a post which is not in agreement with our Terms and Conditions, please click on the Report Post button to report it.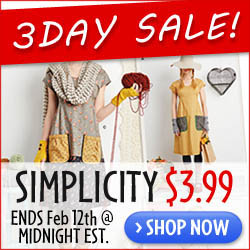 Online Class
Sewing with Slippery & Drapey Fabrics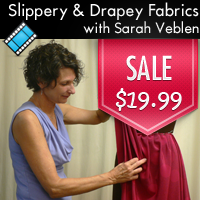 Online Class
Restyling with Exposed Zippers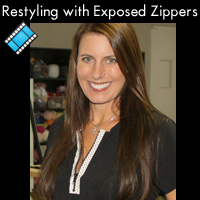 McCall's 6744

by: 3kids1036
Review
BurdaStyle Magazine 08-2012-135

by: shirleyyou...
Review
You Sew Girl 90mm Purse Frame Purse Pattern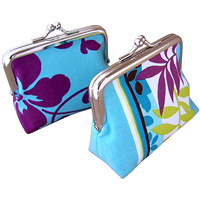 Pattern Details
Sew Chic Phantom Jacket and Pant Pattern (ln1106)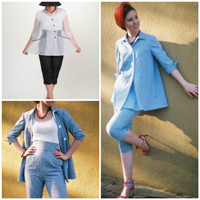 Pattern Details