Terri A


Advanced
USA
Member since 1/16/08
Posts: 1858

1 member likes this.




Date: 10/17/11 3:45 PM

Welcome to the 2011 Official Pattern Stash Contest!

There are rules very similar to previous contests listed below. If anyone has any questions please feel free to ask.


RULES!

This contest is your chance to use all those patterns you've been collecting but haven't had the opportunity to use yet.

1. Enter only those items which have been sewn from patterns which are in your stash AND you haven't used these patterns before. The idea is to encourage each other to use those patterns we bought but never used.

2. You can enter apparel or craft items as long as you SEW them.

3. Pattern Stash is defined as the patterns you have in your possession approximately 6 months or more (in other words, in your stash prior to May 2011). Your guess is good enough; the idea is that you have had it a while and have not gotten around to sewing it. Downloaded patterns may be used providing they were downloaded around 6 or more months ago. Self drafted patterns are not allowed for this contest.

4. Patterns from magazines or BWOF, Patrones, KnipMode, Ottobre, etc. may be used providing the issue of the magazine is May 2011 or earlier. However, you may only enter 4 garments, of distinct types, from any one issue, and they must be patterns you haven't made before. The goal here is to open and use as many issues as you can.

5. You may only enter one item from each pattern (regardless if it is a wardrobe pattern or not). Patterns from magazines or books can be used. Because there are so many patterns included in most of these, you may enter up to 4 garments, but each of distinct types (top, pant, etc), from any one issue. They must be patterns & styles you haven't made before from that issue. The goal here is to open and use as many patterns or issues as you have.

6. Since this is a pattern stash contest, patterns should be new, unused, prior to the start of the contest. Fabric may be prepped, preshrunk, however patterns should be untouched. (For obvious reasons, there can be no muslins in advance of the contest start date.)

For each unused pattern which you make in item from, give yourself one point. The winner will be the person who uses the most number of patterns. (This is not a voted contest.) There will also be a random drawing winner, so even the less prodigious sewers have a chance at a prize.

Clarifications:

-Vintage patterns that you've purchased but not used will count. The fact that some previous owner may have used the pattern already is irrelevant to this contest.

-A pattern in stash must have actual pattern pieces.
Downloadable tutorials with no pattern pieces would not qualify.
An elephant stuffed animal where you had to download and print the pieces would be fine.
The pattern would have to be printed out and in the stash within the same time period that applies to any other pattern.

*Rules that apply to all contests:

1. All reviews must be entered for submission by 11:59 PM Eastern Time on the last day of the contest. Contest dates will be listed for each contest.

2. Note: for this specific contest, it is stated in the rules that patterns may not be drafted, tweaked, and muslined before the contest date. Fabric may be pretreated before the contest date.

3. Items intended for sale, or for which you were or will be paid to make, do not qualify for any contest, but items made for charity are welcome!

4. Unless otherwise stated in the rules, all reviews written for a contest entry must include a picture of the entry.

Contest Eligibility

1. Any member of Pattern Review, either paying (FoPR) or non-paying, who's been a registered member on the site for 90 days prior to the start of a contest is eligible to enter.

2. Any member of Pattern Review, either paying (FoPR) or non-paying, who's been a registered member on the site for 90 days prior to the end of a contest is eligible to vote in a contest.

3. Any member who's won 1st place in a contest on Pattern Review ended in the previous 4 months is ineligible to win another contest (for that 4 month period).

Also, thanks to Spoonflower for sponsering the contest! What a great and generous prize to work towards!

Prizes:

First prize - $100 Gift Certificate from Spoonflower
Random Entry prize - $50 Gift Certificate from Spoonflower


........................................................................................
Oh, before I forget - my friend PS (Pattern Stash) wanted to say a few words now and then throughout the contest, so I thought that would be OK, since he is, you might say, an honorary guest.

PS has a few opening remarks of gratitude to make on behalf of all pattern stash everywhere:

.....
"Hello, I know I speak for us all when I take a moment to thank you in advance for your efforts in emancipating all of us unused patterns. We truly appreciate the full spectrum light at the end of the self-healing mat.

We were thrilled when we were originally acquired, and have been waiting patiently for our lives to be unfolded, our lines followed, our darts darted, our pleats... well you get the picture. :-)

We will be following your progress with great interest!

Sincerely, PS"
.....

I concur with PS - now start thinking what patterns you will make up and check out those rules below!





-- Edited on 11/18/11 6:34 PM --

Renren


Member since 7/20/05
Posts: 3406



Date: 10/18/11 0:45 AM

I like the Pattern Stash talking to us! Very cute.

I think about all the little patterns jumping up and down and squealing in their little pattern voices, "Choose me! Choose me!" Let the emancipation begin . . . November 1.

This is the one I've been waiting for. Thanks for managing it, Terri. It's gonna be a fun ride, right everyone?

------
ren

Terri A


Advanced
USA
Member since 1/16/08
Posts: 1858



Date: 10/18/11 1:12 AM

Looking forward to this contest and seeing the wonderful entries!

Yes, Pattern Stash will have few remarks to make. It's only fair after all:-)

I don't know about all of you, but I LOVE seeing whatever new patterns come out for sale, and I always feel better about buying them if I have made up a few older patterns. The more we make the more new designs we can fit in there!

GBK


Intermediate
GERMANY
Member since 12/24/07
Posts: 900



Date: 10/18/11 8:04 AM

Glad to see this contest lasts 2 months ...

------
Happy Sewing!

JEF


Intermediate
Member since 7/27/05
Posts: 2730
Board Moderator



Date: 10/18/11 1:06 PM

Does enlarging a Lutterloh pattern count as drafting? Lutterloh patterns are in miniature form and then you enlarge them to your own measurements - creating a usable pattern. You still have to alter that pattern (like any other) and I'm not talking about doing that altering step - just the enlarging step. It would be nice if I could do that step ahead of time.

JEF

------
"The trouble with quotes on the Internet is that you can never know if they are genuine." --Abraham Lincoln

Terri A


Advanced
USA
Member since 1/16/08
Posts: 1858





In reply to JEF



Date: 10/18/11 2:47 PM

Yes, you can enlarge away and it would not count as drafting.
That would fall under pattern prep, to my way of thinking. So if tracing is allowed, enlarging Lutterloh (as an inherent feature of the pattern) should be allowed as well. Altering and all that would have to come on the start day of course, for either tracing or enlarging. :-)

-- Edited on 10/18/11 2:50 PM --

Nancy1955


Beginner
USA
Member since 5/10/10
Posts: 279



Date: 10/18/11 3:04 PM

Just curious - how many patterns did the winner sew last year?

Terri A


Advanced
USA
Member since 1/16/08
Posts: 1858





In reply to Nancy1955



Date: 10/18/11 3:14 PM

The contest report states a whopping 45!
Here is a link if anyone wants to browse last year's results in more detail.

Pattern Stash Contest 2010 Contest Report (last year's contest report)

hypergleam

Advanced
Member since 6/7/11
Posts: 7



Date: 10/18/11 3:14 PM

skimmed my pattern collection just a minute ago to weed out ones I couldn't use. I have a pretty pathetic collection compared to some of you hoarders collectors, but I was surprised to see that less than a third of my collection is patterns I'd never made up before. I'm thinking it's a good excuse to buy some more, hahahaha. Might like to join this one, I've never done a contest before, so it's kind of exciting.

Terri A


Advanced
USA
Member since 1/16/08
Posts: 1858



Date: 10/18/11 3:35 PM

OK, for all of you who are seriously looking for all your patterns that you have had in stash since before May 2011, I wanted to remind you that Pattern Stash frequently walks single file to hide their numbers.

Ahem... PS has another thing to say regarding this:

"We would like to make a few suggestions for spotting us in our protective camouflage in our natural environment.
True, many of us get used, but many more of us are feral patterns.
Whether wild or domesticated we need your help for the continuation and proliferation of our kind.

We may be spread throughout the home, possibly blending nicely between coupons and greeting cards. We dislike being used for coasters, or used for swatting at spiders, but we don't mind posing as charming decor. (Hint: vintage patterns framed would fool anyone) We also blend in well in magazine stacks, knitting baskets, craft bags and hanging wall organizers.
Or we may take the sneakiest approach with the -in plain sight- right under your nose- technique.
If sewing has unintentionally become the decorative theme for the living room or kitchen don't forget to scan the room with feral patterns in mind.
To protect your patterns from less sewing impacted members of the family,
Rotate us, keeping ones that would make great gifts toward the front of the plastic see through organizers, for our loved ones to see should they happen to notice us. This will naturally illicit their protective and tolerant feelings.
Thanks for caring, PS"

-- Edited on 10/18/11 3:39 PM --
Printable Version
* Advertising and soliciting is strictly prohibited on PatternReview.com. If you find a post which is not in agreement with our Terms and Conditions, please click on the Report Post button to report it.
Restyling with Exposed Zippers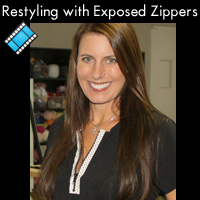 The Contemporary Couture Jacket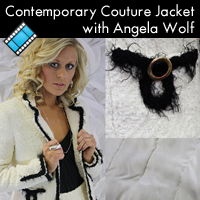 No Pattern Used 0000

by: Renren
Review
BurdaStyle Magazine 04-2011-115

by: HawkeMorni...
Review
Christine Jonson Straight Shirt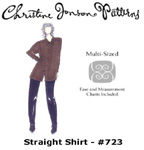 Buy Now
Favorite Things Little Wrap Dress Pattern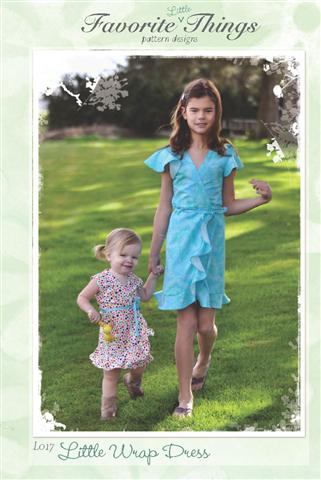 Buy Now