SecondHandRogue


Rhode Island USA
Member since 12/28/05
Posts: 660
Skill: Advanced Beginner



Date: 12/22/11 7:28 PM

I have been serger curious long enough and am ready to take the plunge. Since I've never used a serger, even the most basic of lessons would be a huge help for me, but the stores that are local, and to whom I would like to send my consumer dollars, do not have a whole lot of options at good prices. My budget is fairly elastic right now (under $1000), but I am frugal to the core, so I'm not exactly willing to grossly overpay. I'm hoping that some of you more experienced Sergers can help weigh my options. Most important to me? I want to actually use this machine, so ease of use is most important, followed by dealer support, and quality performance of course. I don't sew a lot of knits, this will likely be mostly for home dec and quilting weight cottons. Rolled hems are very important to me. Coverstitches are not important, but I wouldn't rule the feature out.

The closest retailer, run by someone nice and knowledgeable, sells only Pfaffs. She mentioned the number $899 for the coverlock 3.0 over the phone, I doubt it would get much better. I haven't seen a whole lot of chatter about these Pfaff coverlocks, and I wouldn't otherwise be interested. But the shop owner would really help me learn to use the machine. Also, only 20 minutes away, I might actually get there for a lesson. (I have 2 boys under age 4) Is this machine so maligned that I shouldn't consider it? Why so little info and interest? I very much like the seller.

The next closest retailer is 35-40 minutes away. I like her, and she's been quite nice since I bought my Bernina. She did me a big favor and did my one year free service 18 months past its expiration date, and has earned my loyalty. I am not sure what kind of lessons I might be offered or able to get to at that distance. She has a Bernina 1200DA, used, for $500. It would be warrantied and serviced, to some extent. The computerized screen makes me nervous, but could be a good option. She doesn't carry any Babylock below the Imagine. I also don't get why no one carries the Eclipse that has the air threading, it is at a nice price point. So none of the new options there are right for me (800DL seems steep at $900).

The third local-ish option is an hour south, but very close to my sister. A very nice retailer has taken in a 5 year old seldom used babylock imagine. It is still being cleaned up. It will be in the $800 range, maybe a bit less. I will get initial lesson, but it will be hard to get back for anything further...unless I leave the kids with my sister.

I haven't come across any other local options, unless I beg someone to order me an Eclipse. The one guy who sells Juki locally won't sell me a serger, he says servicing it would be too much work. I am left with the online Juki options ($400 for the 654 up to $750 for an open box 735)

So, in the $400 to $900 range, what might my best bet be? Advice? many thanks!!!!

Miss Fairchild


USA
Member since 8/24/02
Posts: 7936
Skill: Advanced





Date: 12/24/11 0:25 AM

I have a friend who purchased the 654, former Home Ec teacher, and she likes it alot. See if the company you want to purchase your serger from has videos on how to use it.

------
"Play the cards you are dealt, but choose who is sitting at the table"..AARP magazine

SEE MY ETSY SHOP HERE: http://www.etsy.com/shop/AuntMaymesAttic
My blog: http://auntmaymesattic.wordpress.com/

SecondHandRogue


Rhode Island USA
Member since 12/28/05
Posts: 660
Skill: Advanced Beginner





In reply to Miss Fairchild <<



Date: 12/29/11 6:48 AM

There are indeed videos but I would much prefer the real deal--a human! I am going to spend the next week or two trying to find someone to sell me the 1150mda for $850. Otherwise, I may just buckle and take my chances with Juki.

If anyone reads this and can point me to the right new England dealer I'd be so grateful

Snoo


Mississippi USA
Member since 5/2/08
Posts: 66
Skill: Advanced



Date: 1/12/12 3:07 PM

Good luck. The local Bernina here wants $1195 for the sale price on the 1150 MDA. Way more than I expected.
When I bought my first serger (online) the local fabric shop offered serger lessons. Three 2-hour classes for $50.
-- Edited on 1/12/12 3:09 PM --

SecondHandRogue


Rhode Island USA
Member since 12/28/05
Posts: 660
Skill: Advanced Beginner



Date: 1/12/12 8:58 PM

I had a happy ending on this one

There was one more pace to look that I hadn't thought of...and the 1150mda is waiting for me, I'm picking it up tomorrow or Saturday!!! I was able to use the holiday coupon to order the serger, and the very wonderful shop owner is bringing in an overlock specialist to teach me how to use it.

I felt a bit uncomfortable dealing as hard as I did, but in the end I got it for the right price (does anyone know what the actual mark up on these things is? )



Warbler


Member since 4/15/07
Posts: 4047
Skill: Advanced





Date: 1/12/12 9:10 PM

Congratulations! The Bernina 1150 is the equivalent to a Juki Mo734. I think you will love that machine!

------
Janome MC6600 Bernina 240 Juki MO735 Singer 201-2 Singer 221-1

Invisigal

Member since 11/7/09
Posts: 626
Skill: Intermediate





Date: 1/12/12 9:13 PM

Quote: SecondHandRogue
The one guy who sells Juki locally won't sell me a serger, he says servicing it would be too much work.


I have to say that I don't understand that at all. The Juki sergers are some of the most trouble-free -- I can't imagine his refusing to sell you one. What a poor way to do business. I am not trying to talk you out of buying from a dealer by any means, but I definitely would not buy from a dealer with this attitude. I bought a Juki 654 sight unseen and have been extremely pleased with it -- thrilled, actually. I tried out the air-threading Babylock and another model and they were not as sturdy and smooth as the Juki. My Juki came with a set of six additional feet and a carrying case, all for a little more than half the price of the Babylock.

I hope you will find what is best for you. I recommend all of the wonderful reviews found here on different models.
SecondHandRogue


Rhode Island USA
Member since 12/28/05
Posts: 660
Skill: Advanced Beginner





Date: 1/12/12 9:33 PM

It's very strange indeed. The guy is not really a dealer, more a sew vac guy with plenty of experience who is toying with the idea of selling Jukis. He has one new $300 juki in his store for sale; it's Ben there for at least a year, so maybe that's why he's not that interested in investing further in juki dealership. That said, there are so few places to buy Jukis in a brick and mortar that I think there's room for one more dealer in new England.

Anyway, I figured I'd give him a chance, his store is less thn a mile from my house and I like to shop local. But he doesn't like labor intensive jobs, he's refused 3 to date

Kathi R


PR Weekend Volunteer
California USA
Member since 2/28/05
Posts: 2167
Skill: Intermediate



Date: 1/13/12 7:57 PM

I have a Juki 655 (great machine, I love it) included with the sale price was a choice of 1 private lesson or a series of group lessons. I took the private lesson so I could get my specific questions answered. The sales person who did my class provided a stitch chart from the Bernina line of sergers and told me the 2 brands work exactly alike. I think you should be able to get a 655 for less than $500. Maybe you can buy the serger on line and then pay a fair fee for a class from the Bernina dealer?



------
2012 : starting stash 386, net additions 206, used 164, ending stash 428...I'm never going to get in front of this pile of fabric!


SecondHandRogue


Rhode Island USA
Member since 12/28/05
Posts: 660
Skill: Advanced Beginner



Date: 1/14/12 4:54 PM

It's here!!! I'm suffering from an onslaught of toddler germs but I managed to unpack, thread, and overlock the edge of 3 yards of corduroy. Threading took 3 tries, but the bernina 1300mdc video on YouTube was really helpful...and in the end I figured out that the looper thread was catching on a stray on board accessory. After that, no problems--what a lovely piece of machinery.

snoo, I was able to get a local dealer to bring the price down to $999, and then applied the $150 coupon, so it was just over $900 after tax. $1200 seems high. I was really firm on what I was willing to pay, and I didn't enjoy the bargaining much, but was happy to get the right price in the end.

Kathy, I read your accolades of the 655 in a few threads, and I was nearly swayed...but I liked the knobless exterior, and wanted the MTC. I know that there have been questions as to whether the MTC is actually exclusive to bernina, but comparing the diagrams of the juki 734dc to the 1150 mda, the bernina has an extra teardrop shaped dial beneath the cutting blade adjustment dial that both sergers have. Also, my gathering foot, purchased separately, is marked "for MTC", as the MTC makes some feet incompatible. Correct me if I'm wrong!



Oh, and big thank you to warbler for the Bernina serger workbook you posted a while back
-- Edited on 1/14/12 4:55 PM --
Printable Version
* Advertising and soliciting is strictly prohibited on PatternReview.com. If you find a post which is not in agreement with our Terms and Conditions, please click on the Report Post button to report it.
Online Class
The Contemporary Couture Jacket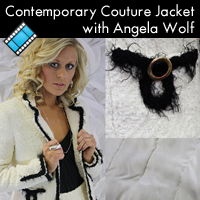 Online Class
Sewing with Slippery & Drapey Fabrics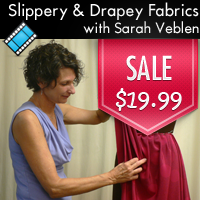 Vogue Patterns 7608

by: Mobycat
Review
SA Curve 3/8th ruler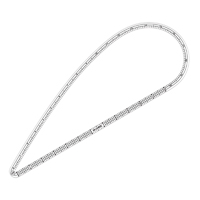 Pattern Details
Full Bust DVD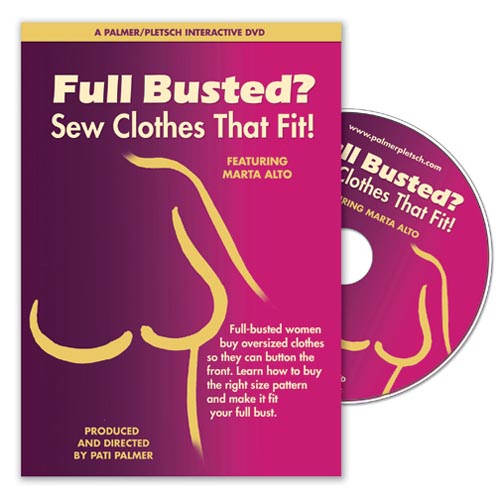 Pattern Details
Butterick 5559

by: stonecutte...
Review