G'day everyone!
I'll be your contest manager for the Jeans contest.
On a personal note, I got into sewing as I was having heaps of trouble finding a good pair of jeans. Being short was half my problem but it was also in a time where distressed jeans were the fashion and most of the stuff in the shops were in worse condition than the pair I was wanting to replace. I still have those jeans today although I must say my sewing has improved a little since then.
So whether you are are on the journey of making your first pair of jeans, a seasoned professional or somewhere in between I hope you can
join
me. I'm looking forward to watching the
gallery
fill up with lots of great jeans.
Get a Badge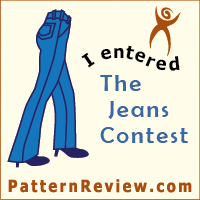 The rules are as follows, but as always, please don't hesitate to ask if you have any questions.
-----------------------------------------------------------------------
Jeans Contest
January 15th - February 15th, 2012
This contest is to make a pair of jeans for yourself or someone else. For the purposes of this contest, we will define jeans as trousers made out of denim. You can sew anything such as the traditional five-pocket jeans, skinny jeans, slouchy jeans, or trouser jeans. Utlimately, your jeans will be judged on how well they fit given the style, how nicely they are sewn and the special details you add to make them stand out from the crowd. Jeans can look a lot alike, so focus your efforts on making your jeans special.
For lots of great tips on sewing jeans, please consult this
thread
: http://sewing.patternreview.com/cgi-bin/sewingclasses/board.pl?t=40960
The rules for this contest:
1) Make a pair of jeans that fits the spirit of the description above.
2) Your jeans can be any color of the rainbow, however, they must be made out of denim.
3) You may use stretch or non-stretch denim; however, the fabric must be woven and the lycra content can be no more than 10%.
4) You must take a minimum of 3 photos for this contest. We would like to see the front of the jeans and the back of the jeans when worn. We would also like to see at least one photo of a special detail you added to your jeans, such as topstitching, embroidery, rivets, etc.
Prizes
Sponsored by:

The 1st and 2nd place winners will be decided by member vote.
First Place Prize: $75 Gift Certificate
Second Place Prize: $50 Gift Certificate
Standard Contest Rules
1. Unless otherwise stated in the rules, patterns may be drafted, tweaked, and muslined before the contest date, but fabric for the pieces entered may not be laid out or cut till the start date of the contest. Fabric may be pretreated before the contest date.
2. Items intended for sale, or for which you were or will be paid to make, do not qualify for any contest, but items made for charity are welcome!
3. Unless otherwise stated in the rules, all reviews written for a contest entry must include a picture of the entry.
Contest Eligibility
1. Any member of Pattern Review, either paying (FoPR) or non-paying, who's been a registered member on the site for 90 days prior to the start of a contest is eligible to enter.
2. Any member of Pattern Review, either paying (FoPR) or non-paying, who's been a registered member on the site for 90 days prior to the end of a contest is eligible to vote in a contest.
3. Any member who's won 1st place in a contest on Pattern Review ended in the previous 4 months is ineligible to win another contest (for that 4 month period).
Guidelines for Voting on Contests:
Because of the high quality of the garments we're seeing entered in PR Contests, we're setting forth some guidelines that may help you choose when voting.
You may choose to assign a point value to each of the following criteria in order to narrow down your choices.
1. How well does the garment/collection/ensemble/item fit the criteria stated in the contest rules? How well does it fit the spirit of the rules?
2. Are the construction methods, including but not limited to seam finishes, lining techniques, etc, well suited to the design? To the fabric?
3. Is the fabric choice well suited to the design? Are the lining and interfacing choices appropriate?
4. Is the review complete and well written?
5. Taking into account the stated ability level of the entrant, how well does the garment fit?
6. Creative points. You may choose to give credit here for extras including embellishment, creative interpretation of patterns, creativity in creating a pattern, or even for having the restraint to leave something strikingly simple.
7. Complexity of the project. Relate this to the skill level of the participant. If a participant is a beginner then a princess seam may get the same complexity level as an underarm gusset gets for an advanced sewer. This is purely subjective, but a complex garment might garner more points than a simple one if a tie-breaker is needed.
-- Edited on
1/12/12 5:15 PM
--
-- Edited on
2/6/12 6:40 PM
--
------
It's the journey, not the destination that counts
https://sewtreefrog.wordpress.com