Quote: PatW
I thought a jacket might be a good plan, but I'm concerned that it might look like a costume.
Wow, if I had that thought, I'd never be able to wear any of my clothes!
Try doing a Google image search for projects that might interest you, like "brocade jacket," and seeing what comes up.
Here, for instance, is a Dolce & Gabbana brocade trench, which I defy anyone to say looks costumey: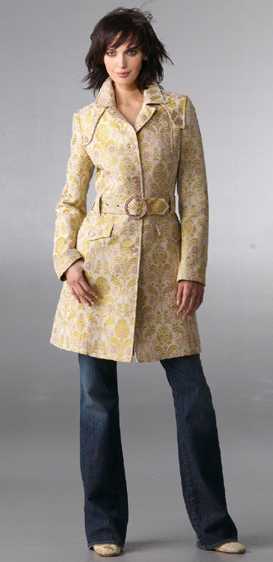 ...And here's the Duchess of Cambridge in a lovely brocade coat (you may not wish to add the hat to *your* ensemble):
This is a really basic, modern style, worn with jeans to make it less formal:
...And here is a picture of me, wearing one of my own favorites, a brocade jacket from J. Jill. This garment does have "costumey" features, like a corset back and 3/4 puff sleeves, but that's part of what *I* love about it. However, this particular brocade is a neutral color, so those details don't stand out as garish or silly (which is in contrast to another brocade jacket I have, with giant, ridiculous velvet bows on the sleeves!).
The one thing I'm finding in my own image search is that many brocade jackets do look very *formal,* like something you'd wear as MOB in a wedding. Gorgeous, but not terribly versatile. I think if you stick with a more casual silhouette (like the one worn with jeans, above, or even something unexpected like a classic jean jacket--saw one once in olive green damask--so cute!) you'll avoid that.
Have fun! 4 yards is a lot to play with.
-- Edited on
12/30/11 2:29 PM
--
------
~Gem in the prairie