whirrclunk


Beginner
UNITED KINGDOM
Member since 8/24/08
Posts: 207



Date: 1/8/12 8:00 AM

I can't work out which shoulder/back/neck/neckline adjustments I need. I think that I have a high round back, forward head and something with my shoulders (not sure what!) but just can't seem to get the right combination of alterations. If that wasn't enough, I'm also not symmetric. I get these problems on all my clothes, to differing degrees.

This is me in an RTW t-shirt. It's too tight across the bust, but it's the shoulder seams and neckline that I would like to fix. I can see that the shoulder seams lie differently on both sides but suspect that simply shifting the shoulder seams will be fixing the symptom rather than the cause.



This is me in KS 2771, which I really like, and would like to make more of. It's a disaster area around the shoulders; both seams are falling back, but in different ways, and the whole top hangs backwards.



Help!

ETA: typo
-- Edited on 1/8/12 8:04 AM --

Julia C


Advanced Beginner
Nevada USA
Member since 7/1/07
Posts: 1169



Date: 1/8/12 8:23 AM

I am anxiously awaiting the answers you get. My upper back & neck look like yours.

janlorraine


Advanced
Georgia USA
Member since 10/6/04
Posts: 150





In reply to whirrclunk

2 members like this.



Date: 1/8/12 8:29 AM

I've found it helpful to make a saran wrap fitting pattern. Put a narrow piece of elastic around your waist. Have someone wrap your torso completely in saran wrap being careful to include your neck and armscyes. Go over this with cellophane packing tape to hold it all together. Mark your shoulder line, your waist line, your bust points, your shoulder blades, your hip line and side seams. Carefully cut this off going up the side seams and shoulder seams. On the front, cut dart openings to your bust points, above and below your waist using the standard fitting shell dart placements. You do not need to be terribly accurate for this. On the back, cut darts along your shoulder seam to your shoulder blades and above and below your waist. You look a bit sway backed in your photo so you might need to cut along your waist seam in the back and make an adjustment there also. When you have gotten your front and back pretty flat, make a paper copy, true your lines and make a fitting muslin using this pattern as a guide. Don't forget to add seam allowances and maybe just a bit of ease to your side seams. This will be a good start for you and once you get this perfected, you will be able to use your fitting pattern to adjust all commercial patterns to fit you perfectly and even draft your own styles. This project is well worth the effort though it will take some time. Good luck.

JTink


Intermediate
Member since 4/20/08
Posts: 6172





In reply to whirrclunk



Date: 1/8/12 9:17 AM

I'm gonna take a stab at this You don't look to have a high round back. You do have a little bit of a forward head. Do you have Fit For Real People by Palmer/Pletsch? There are some very good instructions on how to deal with this. Does the back of your neckline gap? This would be more of a Forward head indication. Maybe you need to get a smaller size pattern for your neck area and then do a slight FBA. What alterations have you tried so far? I would suggest taking one at a time...starting with the smaller neck, then work with a forward shoulder adjustment. Those are the least invasive. I also see a little Sway Back bunching in your blouse...you could take a bit of that out and have less pooling. The side seam in your white shirt is pulling forward and everything is indicating more room for the bust...what size bra cup are you?

AdaH


Intermediate
Iowa USA
Member since 11/21/09
Posts: 2484





In reply to janlorraine

1 member likes this.



Date: 1/8/12 12:10 PM

janlorraine, any tips on how to do the saran wrap fitting pattern?
Is it better to have long continuous strips of saran wrap or short strips? I bought a big roll of saran wrap type stuff at Staples but have yet to try and make a fitting pattern. DH is going to have to help and I was not up to the task of talking him into the job.


------
Ada


Debbie Cook


USA
Member since 4/11/02
Posts: 9748



Date: 1/8/12 12:28 PM

I think you *do* have a round back, but since your posture leans backward, I don't think you need to adjust for it. The adjustment is to add length, but your stance gives you that length ... at the expense of the front. So, you may need to do a "high round back" alteration on the front. Meaning, you need to add length to the front.

And you need to adjust for forward shoulders. This is the adjustment to make first, because all of your tops hang from your shoulders and if those aren't right, nothing else will be either.

I also agree with the earlier comment about a sway back. Do this adjustment last - as the others (shoulders, front) will affect that alteration.

------
--
"I base my fashion sense on what doesn't itch." — Gilda Radner
http://stitchesandseams.blogspot.com

whirrclunk


Beginner
UNITED KINGDOM
Member since 8/24/08
Posts: 207



Date: 1/8/12 2:13 PM

janlorraine, that is a good idea. I will get some food wrap and packing tape tomorrow, rope in my long-suffering DH, and try this out.

JTink, I do have FFRP, I would have long sunk without it! But I still couldn't work out what I needed to do. My back neckline used to gape until I started adjusting for narrow back and narrow shoulders (I'm petite, and the white t-shirt is petite too). My bra cup is small, but I have a huge rib cage (you can see it sticking out almost as far as the bust under the white t-shirt) which, measuring as per FFRP, makes me a C-cup (wehey!).

Debbie, I would never have thought that I needed to add length to the front. I'll do the forward shoulder alteration now. Looking at the photos, and comparing with this alteration in FFRP, am I right in needing to move the seam forward at the neckline as well as the shoulder?

Thank you!!

Debbie Cook


USA
Member since 4/11/02
Posts: 9748





In reply to whirrclunk



Date: 1/8/12 2:17 PM

Quote: whirrclunk
am I right in needing to move the seam forward at the neckline as well as the shoulder?



Judging by the photos in the white tee, I think yes. The shoulder seam at your neck looks to be further back than center. (I can't see the shoulder seam of the other top.)


-- Edited on 1/8/12 2:18 PM --

------
--
"I base my fashion sense on what doesn't itch." — Gilda Radner
http://stitchesandseams.blogspot.com

marjoriekh


Intermediate
Virginia USA
Member since 8/28/10
Posts: 550



Date: 1/8/12 2:30 PM

Whirrclunk, I have a similar shoulder/neck situation, and I now regularly do a forward shoulder adjustment (I move the whole seam 1/2 inch forward) plus an additional 1/4 inch forward adjustment at the neck end of the shoulder seam only (for a total of 3/4 inch there).

Not saying this will work for you, just throwing it out there as a possibility. Most people are more forward at the shoulder end of the seam, but you may, like me, be more forward at the neck end, and may need to rotate the seam that way.

I have also started noticing that those of my RTW tops that I am most comfortable in (actually I am thinking in particular of a Cuddleduds thermal underwear top I want to copy to make regular knit tops from) have the shoulder seam waaay forward. I find this works on me -- esp. in terms of the tops not slipping back at all. And it doesn't look weird either.

------
marjoriekh

m/m


Intermediate
New Jersey USA
Member since 4/4/05
Posts: 428



Date: 1/8/12 7:12 PM

There's a correction that Louise Cutting recommended to me that could help with the neckline issues without changing the size of the neck/collar area. It corrects the neckline bumping into the front of your neck and dipping too low in the back. You can draw a new neckline half an inch lower in the center front tapering to nothing at the shoulder. Then raise the center back neckline half an inch tapering to nothing at the top of the shoulder. I think of this as taking the whole neck opening and tipping it forward (so down in the front and up in the back).

I can't tell where your shoulder seam is in the darker of the two tops but you'll want it lined up with the full part of the top of your arm. Fit for Real People has step by step instructions for where the seam goes and how to make the changes including what order to correct things in.

You've identified your problem well and that's at least half the battle ...
Printable Version
* Advertising and soliciting is strictly prohibited on PatternReview.com. If you find a post which is not in agreement with our Terms and Conditions, please click on the Report Post button to report it.
Online Class
10 Clever Techniques To Help You Sew Like a Pro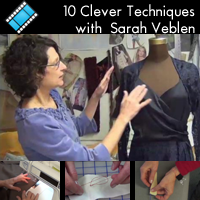 Online Class
Beginners Guide to Dyeing Fabrics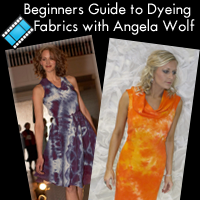 Vogue Patterns 1224

by: jenleeC
Review
Megan Nielsen MN2201

by: MiniandMer...
Review
HANDBAG CONSTRUCTION - A CD Book By Kenneth King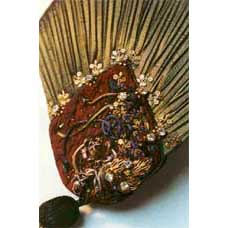 More Info
Christine Jonson BaseWear Two - Straight Skirt, Taper Skirt, & Top with Options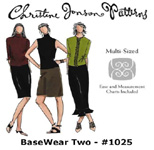 More Info