Dawnabbey


Expert/Couture
Member since 12/18/10
Posts: 382



Date: 2/19/12 9:09 AM

I was thinking about those super awesome TOL machines today and I realized that I had the same attitude towards a new TOL as I do towards a new car

I know of a lot of people, right here on PR that love their brand new machines. There is something so exciting about taking it out of the box, fresh and clean and all your own. I had that feeling with my Brother 770 and my little CS-6000i. I have to admit though, that I was no less excited about sewing on my grandmother's antique Singer that I just inherited and I am absolutely pumped about picking up my Bernina 932 later this week.

I guess I love both - new and vintage. I love the smooth purr of Grandma's 1940's Singer and the solid feel of the Bernina 932. Pure, old school, craftsmanship. The newer machines (I don't have a TOL) are a lot of fun too with all the things they can do. I am, at heart, a garment sewer so when I quilt, I am just dabbling. I just like to have the right machine for the application at hand.

I guess we all have a different approach. I like the TOL machines but the price always makes me think of a new car. I'd like to have one, I just would prefer to pay the depreciated price after someone else drove it off the lot :D!

Like I said, a lot of folks are really happy with new machines, and an equal number seem to be happy with used. I think it would be fun to open a thread about what different members prefer and maybe have a little chat about what makes your particular machine "yours", whether it's new or used.
-- Edited on 2/20/12 0:36 AM --

------
Stitching, sharing every day, makes life sweet in every way, just add a friend and a family and the days drift by so merrily!

www.sewistclub.com

Maia B


Advanced Beginner
Illinois USA
Member since 10/27/10
Posts: 4828



Date: 2/19/12 9:39 AM

My 820 is worth more than my car. For me, the car-sewing machine analogy doesn't work. I enjoy buying vintage machines more than new, but I enjoy computerized machines, too. Sometimes, the savings buying a used computerized machine is worth the risk of no warranty, sometimes not.

------
🌸 Plenty of machines, mostly Berninas 🌸

Michelle L


Intermediate
Missouri USA
Member since 1/20/08
Posts: 1301



Date: 2/19/12 9:49 AM

I'm not sure the car/sewing machine analogy works.

I'd never have the skills to maintain a car built in 1957...but that is the year that the newest machine that I sew on was made.

Also, the machines I have were the TOL for the time period that they were made, but my car is most definitely "middle of the road." And while the machines were TOL at the time they were made...I rarely pay more than $50.00 for a machine.

I think that we just have our preferences. I prefer the vintage machines. I like the solidity of them. I don't like sewing on new machines, and the way that I budget my income, thousands of dollars for a sewing machine is something I would never spend.

------
Michelle

http://cheapandpicky.blogspot.com/

poorpigling


Advanced
Texas USA
Member since 12/28/07
Posts: 11070





In reply to Dawnabbey



Date: 2/19/12 10:30 AM


Oh wow.. tough to compare. but I do. The same thought goes thru my mind when I look at the prices for the new TOLs.

In fact.. I think I spent less on my first home. That should shock some.. and date me no doubt..

I also buy cheap cars though.. so maybe I am not the one to ask.. but IMHO a Versa or a Accent will get you to the grocery store in the same time a Porsche would.. providing you obey the speed limits. My DD strongly disagrees with this philosophy and drives a Mercedez.. after tiring of paying for gas for her Land Rover. Needless to say she doesn't own a lot of sewing machines. TOL or otherwise. I don't know where I went wrong in raising her.

Somehow.. sooner or later I manage to acquire all the machines I truly want.. and by waiting a bit on them.. I often decide by the time I do get a chance to buy one.. that I really don't want it after all. I have had my SMAD satisfied by the Juki.. until that PINK Brother Laura Ashley edition came out.. and I know I will have to have one of those sooner or later. seems like later in this case. What will make it ''mine'' are the built in exclusive designs.. And some money .. hopefully not a whole lot of money. but I don't see those machines going cheap enough to get me to bite on one anytime soon.

tourist


Intermediate
British Columbia CANADA
Member since 7/23/07
Posts: 6484



Date: 2/19/12 10:42 AM

If price were no object, I suspect I would buy both, but probably lean toward more cool vintage ones, again in both categories.

DH was watching me sew (carefully) over pins yesterday with a 50's era machine and I explained that the computerized models are much fussier about that and I wouldn't dare do it if I had one. But a friend (and PR people) have said how great some features like needle up/down are and I would love to play with that. Jet air threading for a serger - yes, please! OTOH, my vintage machines look and feel so cool and "drive" so well. Much like DS's 1985 Porsche.

Someone here has a thread about wishing sewing machines could be made to order and it reminded me of the people who buy cars (old or new) and have them customized. How cool would that be? Not just paint, but features - adding extra power to an under-powered, but otherwise awesome machine, lights and magnifiers for us vision-challenged folks, chopping and extending the bed for quilters or just for the cool factor. We need a new reality TV show!

------
http://bgballroom.wordpress.com to follow the progress on my next ballgown.

Liz92B

Advanced
Alberta CANADA
Member since 12/21/09
Posts: 157



Date: 2/19/12 12:07 PM

I like a machine that is new in the box ... but a couple of years after all the bugs have been worked out!!

------
Liz / Calgary

Learn To Sew


Advanced Beginner
Member since 4/12/05
Posts: 12497





Date: 2/19/12 12:15 PM

I like my new Bernina 630. Not a TOL line machine, but mid point. It was the most expensive machine I have ever bought.

Yes, I like the bells and whistles and when I have time, I will really enjoy my new machine. Right now things are busy and my time is spent with repairmen and quilting classes.

I tried an older Singer T&S, and just did not bond with it. I still long for a vintage Singer 201-2 in a cabinet and most likely always will.

Learn

------
Bernina 630, Bernina embroidery module, Pfaff 2036, Bernina 1200DA serger, Unique Sewing Cabinet 450L

PhaVic

Advanced Beginner
Member since 9/16/11
Posts: 138



Date: 2/19/12 1:07 PM

I like the idea of vintage, and provide I had the space, I would gladly play with a vintage sewing machine. But between new TOL and vintage, I'd choose new.
But I do agree, they are like cars. Let me tell you the story : 10 years ago, I finally got my driving license & my DH wanted to buy me a car. We didn't want to spend too much so we only looked at second-hand. One day, my DH fand a car he said was so great, so pretty & so much better than modern ones and of course, it was a vintage. I drove it despite small rearview mirrors, "vintage" seat belts, and strong oil fumes. The car was born in 1966 and was a little beauty. One day, going strongly on the highway, as I was passing into 4th gear, the clutch stayed in my hand. I cannot describe the feeling.
After a few minutes, I stopped the car, shakily called DH and went home in a fine modern car (office car). After repairing the clutch -and it was always difficult to find a good mechanic- I was still driving it but was always scared of
having a problem at a bad time (like being stranded in a bad neighborhood in my cute but my-doors-aren't-staying-shut-even-when-locked car). Shortly after that, we had to leave for another country, but we never sold the car. We learnt the following lessons with a vintage car :
- it might be difficult to find a good mechanic / and parts
- you can get "surprises" when driving it
- and when it's time to say goodbye, you just can't because it would be like parting with a family member (we never sold the car, we lend it to my BIL who takes good care of it).
This is why I'm not so keen on sewing on a vintage SM if I can get a TOL recent one, but I understand the passion :-)
-- Edited on 2/19/12 1:23 PM --
-- Edited on 2/19/12 1:24 PM --

------
Always a novice



Member since 12/31/69



Date: 2/19/12 1:44 PM

I have always preferred vintage. I sew on a treadle because it is what I wanted...and I waited a bit to find one that fit my specs (goes in reverse, uses a normal bobbin not a shuttle, low shank). Not a new thing, I wanted one since I was 5 years old.

I have also used a TOL machine in a store. I don't care for it. To me, they are impersonal and the quirks of my machine is part of what I enjoy. Modern machines just don't seem to have a personality, not to mention all the attachments I have, the modern ones do not do them in the same way...a way I prefer in the older ones. I also like the fact that it is a far more personal experience instead of stomping on a pedal to make it to go. I do the work and there is something hugely satisfying about every stitch being made by me in total.

I also like the fact that I can, and do, repair my own. I never have to worry about something being obsolete on it, because someone can always work on it, even though my machine is 83 years old.

It also suits my need for learning. I have had to learn to sew in a way that I am involved with it, not relying on my machine to do the work. I have to know how to manipulate the fabric for a sleeve (it's all flat), how to sew stretch knits...it's just so much more involved then the bells and whistles. I AM the bells and whistles.


-- Edited on 2/19/12 1:46 PM --

lisalu


Advanced Beginner
Georgia USA
Member since 10/5/08
Posts: 2277



Date: 2/19/12 2:24 PM

Well the only correlation I can come up with for myself is that I love vintage sewing machines with all their levers and screws and solid mechanical parts. As for my car, I drive a Mustang (not a vintage model, but still reminiscent of vintage) and I enjoy the manual transmission. In both cases I like a good, solid workhorse that does one thing and does it well. My car drives and my sewing machines sew -none of them have fancy computerized functions - and I like the hands on feeling of the manual functions.
-- Edited on 2/19/12 2:25 PM --

------
Jim (Singer 301), Margaret (Singer 201-2), Betty (Singer 15-91), Bud (Singer 503), Kathy (Singer 221), Liz (Singer 221 Centennial Edition)
http://runningstitches-mkb.blogspot.com/
Printable Version
* Advertising and soliciting is strictly prohibited on PatternReview.com. If you find a post which is not in agreement with our Terms and Conditions, please click on the Report Post button to report it.
Online Class
Leather 101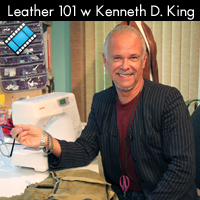 Online Class
Clone Your Favorite Garment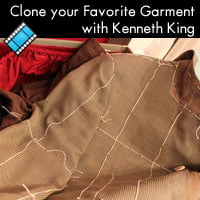 PerfectFuseTailorUltra White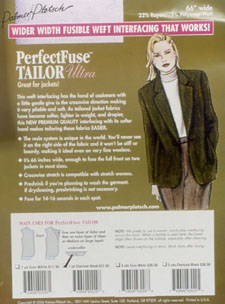 Pattern Details
Islander Sewing Systems Men's Classic Dress Shirt Pattern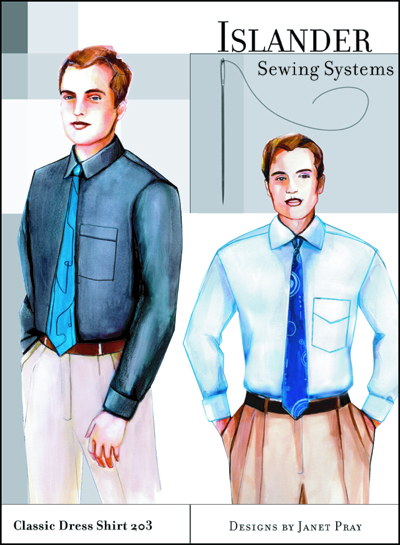 Pattern Details
HotPatterns Fabric.com Gypsophelia

by: Sixtiesgir...
Review