CraftAddict

Intermediate
Ohio USA
Member since 9/1/10
Posts: 721





Date: 2/20/12 2:49 PM

Is there a list some place that lists things you should be able to do/sew in each category?

Fictionfan


Advanced
Vermont USA
Member since 5/19/06
Posts: 1268



Date: 2/20/12 6:57 PM

Nope. This question comes up from time to time. You rate yourself according to how you think your skills stand in the beginner, advanced beginner, intermediate, advanced, and expert/couture.

There are a lot of people posting on PR whom I would rate higher than they rate themselves, and not many that I would rank lower. There are several discussions about this if you search the board. Some people have a list of things they think they should do well, such as put in a zipper or make a fitted jacket or make a pair of pants or be able to handle a particular fitting problem, before they would consider themselves ready for the next level.

One guide for beginner and advanced beginner might be in the previous beginner contest rules. Again, if you search the board, you should be able to find the rules for the last contest in the early part of the discussion about that contest.



------
Fictionfan

Kemish


Intermediate
California USA
Member since 4/24/06
Posts: 282





In reply to CraftAddict



Date: 2/20/12 8:09 PM

I was wondering about this too. When I read someone's review I always check to see how they have rated themselves.

The one rating that has me perplexed is Advanced Beginner - isn't this an oxymoron?

------
Kemish

Fictionfan


Advanced
Vermont USA
Member since 5/19/06
Posts: 1268



Date: 2/20/12 8:16 PM

Here is something from the 2009 beginner contest official rules:

3. Defining Sewing Level and Ability.

We leave it to you to define your sewing level and ability, with the aid of these qualifiers:

If you think you truly are a Beginner, then you probably have no doubt about your categorization as such, and you should choose the Beginner Contest. However, if you think you may fall somewhere between Advanced Beginner and Intermediate and aren't sure whether you qualify to enter the Advanced Beginner Contest, the following list of skills will aid you in making your decision. If you've attempted and are proficient with more than 5 of the following techniques, then you're ready to bump yourself up to the Intermediate level. (Congratulations!)

A. Zippers (lapped, slot, fly, invisible)
B. Buttonholes
C. Facing
D. Lining
E. Curved seams (such as princess seams)
F. Collars
G. Set-in sleeves
H. Welt pockets
I. Sewing with knits
J. Various hand stitches, including but not limited to: hemstitch, fell stitch, hand rolled hem, catch stitch.

------
Fictionfan

StacieG2002


Advanced Beginner
Illinois USA
Member since 4/12/07
Posts: 212





In reply to Kemish

1 member likes this.



Date: 2/20/12 9:33 PM

Quote: Kemish

I was wondering about this too. When I read someone's review I always check to see how they have rated themselves.

The one rating that has me perplexed is Advanced Beginner - isn't this an oxymoron?


As an advanced beginner, allow me to chime in

I view a beginner as a true novice...still learning the lingo, maybe sewing less than 6 months, sticking to basic patterns and easy to sew fabrics.

Advanced beginners know most terminology and have started challenging themselves with more difficult projects/fabrics. They have been sewing for a longer period of time.
Vintage Joan


Intermediate
Ontario Canada
Member since 7/16/07
Posts: 10617





In reply to Fictionfan



Date: 2/20/12 10:10 PM

Quote:
If you've attempted and are proficient with more than 5 of the following techniques, then you're ready to bump yourself up to the Intermediate level. (Congratulations!)



Yes, this list is what finally made me decide to bump my level up to Intermediate. Although there are people on here who classify themselves as advanced beginners or even beginners who are making coats, jeans, fitted jackets, pants with welt pockets, etc. etc. So I'm not sure it means much.

-- Edited on 2/20/12 10:11 PM --

------
my shield and my very great reward ~ Gen. 15:1



CraftAddict

Intermediate
Ohio USA
Member since 9/1/10
Posts: 721







In reply to Fictionfan



Date: 2/21/12 9:30 AM

Quote: Fictionfan
Here is something from the 2009 beginner contest official rules:



3. Defining Sewing Level and Ability.



We leave it to you to define your sewing level and ability, with the aid of these qualifiers:



If you think you truly are a Beginner, then you probably have no doubt about your categorization as such, and you should choose the Beginner Contest. However, if you think you may fall somewhere between Advanced Beginner and Intermediate and aren't sure whether you qualify to enter the Advanced Beginner Contest, the following list of skills will aid you in making your decision. If you've attempted and are proficient with more than 5 of the following techniques, then you're ready to bump yourself up to the Intermediate level. (Congratulations!)



A. Zippers (lapped, slot, fly, invisible)

B. Buttonholes

C. Facing

D. Lining

E. Curved seams (such as princess seams)

F. Collars

G. Set-in sleeves

H. Welt pockets

I. Sewing with knits

J. Various hand stitches, including but not limited to: hemstitch, fell stitch, hand rolled hem, catch stitch.


So this is the list for Advanced Beginners? I have done most of those things. I detest hand-sewing but I definitely realize it is necessary sometimes for the best finished results.


Member since 12/31/69



Date: 2/21/12 10:30 AM

That is the list for intermediate.

Vintage Joan


Intermediate
Ontario Canada
Member since 7/16/07
Posts: 10617





In reply to CraftAddict



Date: 2/21/12 10:40 AM

Quote:
So this is the list for Advanced Beginners?


No, like Elaina says, it's the list for Intermediates. It says


Quote:
If you've attempted and are proficient with more than 5 of the following techniques, then you're ready to bump yourself up to the Intermediate level.

------
my shield and my very great reward ~ Gen. 15:1



lisalu


Advanced Beginner
Georgia USA
Member since 10/5/08
Posts: 2215





In reply to Fictionfan



Date: 2/21/12 11:00 AM

@Fictionfan, I have never attempted a welt pocket - the idea makes me break out in a cold sweat - but I've done all the other techniques many, many times. (Well except for maybe hand hemstitching, but I didn't know anyone did this anymore and I've never had occasion to do it.)

I just picked "Advanced Beginner" at random, but maybe I am Intermediate. I have "only" been sewing for 40 years!

------
Jim (Singer 301), Margaret (Singer 201-2), Betty (Singer 15-91), Bud (Singer 503), Kathy (Singer 221), Liz (Singer 221 Centennial Edition)
http://runningstitches-mkb.blogspot.com/
Printable Version
* Advertising and soliciting is strictly prohibited on PatternReview.com. If you find a post which is not in agreement with our Terms and Conditions, please click on the Report Post button to report it.
Altering Pants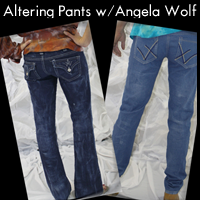 Break your Serger Out of the Box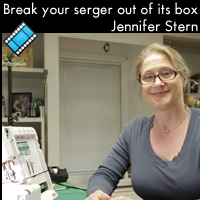 Simplicity 7161

by: Judy Kski
Review
Sew Chic Phantom Jacket and Pant Pattern (ln1106)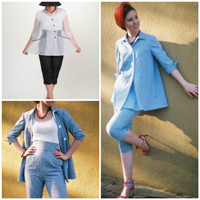 Buy Now
Sewing Workshop Siena & Cortona Shirts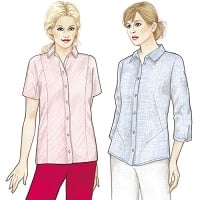 Buy Now
McCall's 4236

by: Miss Jasmi...
Review