marjoriekh


Virginia USA
Member since 8/28/10
Posts: 550
Skill: Intermediate



Date: 3/19/12 1:34 PM

I sewed up a dress using a very comfy bamboo/lycra jersey from FabricMart last summer, but find that I don't wear it because the color is just wrong for me. (I ordered the 'claret,' which looked to be a wine red, I thought, but when it came it was lipstick. I sewed it up anyway, alas.)

I love the dress, which has a surplice front binding and midriff in contrasting navy blue (also bamboo/lycra), and would like to try to salvage it.

Dharma Trading has cold water procion dyes that sound like they will work on this 93% bamboo 7% lycra fabric (I understand I will have to use more dye because of the lycra content, and may possibly get uneven results). However, I'm not sure what color to overdye with.

Does anyone know of a website that discusses what colors you can expect to end up with when you overdye one color with another? I'm dealing with both a lipstick red and a navy blue here, and would like to achieve a wine-red, without turning the navy parts brownish.

Thanks for any help!

------
marjoriekh

CraftAddict

Ohio USA
Member since 9/1/10
Posts: 962
Skill: Intermediate



Date: 3/19/12 1:54 PM

i was going to suggest dharma trading. probably the best bet would be to get a dye remover to remove all the dye from the fabric and then dye it with a clean slate.

Sherril Miller


Member since 8/24/02
Posts: 7502
Skill: Advanced
Body Type:




Date: 3/19/12 3:10 PM

Do you have any scraps left. You can always dye those first, if you don't like the results, then don't do the dress.

------
Visit my blog at http://sewingsaga.blogspot.com

If it's worth sewing, it's worth sewing well;
and if it's worth sewing well, it's worth FITTING FIRST! - TSL

Elona


USA
Member since 8/24/02
Posts: 9050
Skill: Advanced
Body Type:






Date: 3/19/12 3:23 PM

At the Rit site, there is a small section on overdyeing and what you can expect. It's not too bad, but experimentation on scraps beforehand is a real help.

For example, I just finished overdyeing a knit shawl that was a mess of pale orchid, bubblegum pink, fuchsia, and a surprising amount of red. According to the Rit chart, blue dye should have been a good choice to produce a purple or wine-color, but surprisingly, the result on a small sample skein was a kind of pruney-brown. Not lovely.

Then I tried Kool-Aid dyeing small hanks of the original wool yarn with Black Cherry, and the outcome was MUCH better: That one came out in shades of warm, dark roses and apricots. Another sample dyed with Kool Aid Cherry came out a fine reddish-orange blend. There was nothing about the original yarn colors that would have suggested these results.

------
Elona

JKimes


Member since 11/4/05
Posts: 639
Skill: Expert/Couture





Date: 3/19/12 3:50 PM

Hi marjoriekh,

I've done a lot of dyeing--in college and since. Bamboo/lycra will take dye very nicely, and I use Fiber Reactive as much as possible.
I recently dyed a similar color in rayon/lycra with Better Black. I was hoping for a nice, solid black, but that is really hard to achieve, especially with these dyes. (Direct dye like Rit is best for black, but not colorfast.)
What I did end up with, though, was a really pretty dark red (wine) color, which sounds like you want. The Better Black is blue-hued black (there are different 'casts' of black), so the Navy should just get darker, not turn brown. Absolutely test a swatch first.
Here's the catch: the thread you used is probably poly, which won't take any color from the fiber reactive dyes. If you don't like how the brighter thread looks, you can do one of two things: 1) "cross-dye" with iPoly (also sold through Dharma) or 2) rip out the obvious threads and resew with a matching color.

Have fun and good luck!
Juliette

------
Juliette near Austin, TX
Bernina 830LE
Bernina 350PE
Babylock Evolution
ElnaPro 905DCX
BabyLock Melody


marjoriekh


Virginia USA
Member since 8/28/10
Posts: 550
Skill: Intermediate



Date: 3/19/12 4:37 PM

Wow -- thanks for all the advice, everyone.

I do have plenty of scraps left over, so I will be sure to test out my dyes first. I've thought about removing the color, but one of my motives for making this dress was to try out the red-with-blue-trim combination, and I'd like to keep the contrast. Maybe if I really mess up I can try that route later?

The RIT site is helpful in terms of thinking about color interaction. I also just found some info here: Joan Moshimer Over-Dyeing Guide. This one's for wools, so it could possibly turn out somewhat different with rayon.

Elona, I had not heard of Kool-Aid dyeing. Doesn't it fade or wash out? Or do you use a fixing agent? Your results are fascinating.

Juliette, thanks for that very helpful information. I would not have thought of black. And of course I had forgotten about the thread being poly. The hem and sleeve hems are easy to rip and redo, but the neck binding stitching is more of a problem. I will try adding some stitching to my test samples and see how they come out. I looked at the iDye at Dharma Trading, but it sounds like they are not as colorfast as the procion dyes. It will probably be worth it to me, if the basic dye process works out well, to re-topstitch.

My plan now is to order the 2 oz sizes of Better Black, Strong Navy, and Imperial Purple and test them all. I have some leftover yardage of my lipstick red, and just realized I have another cut of raspberry-ish cotton/lycra I'd like to turn a wine red as well, so this will be worth some effort.

Thanks again to everyone! Please feel free to chime in with additional info.

------
marjoriekh

rivergum


Member since 12/17/06
Posts: 1770
Skill: Advanced

1 member likes this.




Date: 3/19/12 4:40 PM

I second JKimes suggestion of black. I keep some black dye especially for when I see some great quality wool or silk fabric, but the colour is yucky. Generally I can tone down really bright, brassy colours to the muted shades I like to wear with a bath in the black dye. I adjust the strength of the dye bath to suit the original colour. Sometimes just a light grey overdye will be enough, sometimes it needs more. And I agree that you won't get a solid black with the fiber reactive over another colour, and that the original thread colour will be an issue. The suggestion to do a test dye on some leftover scraps is a good one.

Oh, and when you dye yourself you will realise how standardised the colours in fabrics and RTW clothing are. What thar means is that your shades will be hard to match. With RTW they stick to certain colours, so you can always find articles to match reasonably easily. With dyeing you are on your own

------
Taking in is happier than letting out.

Sydney, Australia
theinsouciantstitcher.wordpress.com

marjoriekh


Virginia USA
Member since 8/28/10
Posts: 550
Skill: Intermediate





Date: 3/19/12 4:54 PM

Oh, no! I feel a new craft obsession coming on, which can be endlessly fueled by my perfectionist drive.

Please don't let me become forever-after discontented with the fabric colors I can find commercially, and then, as the ultimate in perfectionism, end up dyeing my thread to match!!

No, no -- maybe I should just stick with the lipstick-red dress.

(I am still valiantly resisting the urge, inspired by Loti, to learn how to make my own shoes. My apologies if I should spread this urge to anyone who clicks on the link.)

------
marjoriekh

Elona


USA
Member since 8/24/02
Posts: 9050
Skill: Advanced
Body Type:






Date: 3/19/12 8:54 PM

Quote:
Elona, I had not heard of Kool-Aid dyeing. Doesn't it fade or wash out? Or do you use a fixing agent?



Unsweetened Kool-Aid is an acid dye, as I understand just perfect for natural fabrics, and it is indeed colorfast. My merino shawl took the dye up exactly as described here.

Here are some more lovely before and after shots of transformed yarn colors.

But here's a link to a google search for info about dyeing fabric as opposed to yarn.

------
Elona

marjoriekh


Virginia USA
Member since 8/28/10
Posts: 550
Skill: Intermediate





Date: 3/19/12 10:20 PM

Those links make me interested in trying it. I'll have to wait for the right piece of fabric to come along.

I mentioned to my nine-yr-old daughter that you can dye your hair with Kool-Aid. She got quite a glint in her eye.

------
marjoriekh
Printable Version
* Advertising and soliciting is strictly prohibited on PatternReview.com. If you find a post which is not in agreement with our Terms and Conditions, please click on the Report Post button to report it.
Online Class
Fun with Fitting - BODICE w Darts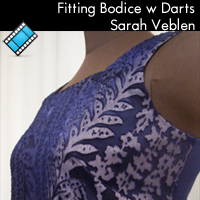 Online Class
More Knits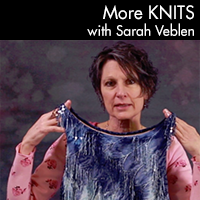 No Pattern Used 0001

by: BADBamaBun...
Review
New Look 6227

by: SewDoItAlr...
Review
Sewing Workshop Tamari Apron Pattern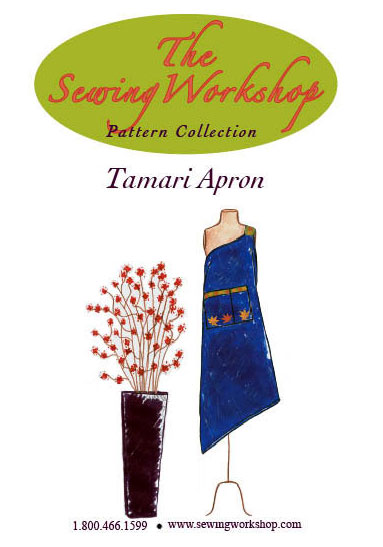 Pattern Details
Victoria Jones Collection Busy Diva Apron and Star Potholder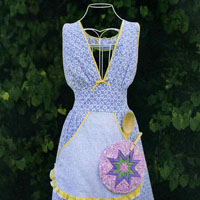 Pattern Details