MagsRags


Advanced
NH USA
Member since 1/14/06
Posts: 5
Login to reply to this post

Date: 3/21/12 9:22 PM

I'm looking for the type of dowels that were used in the popular 70s preppy handbag. They had slits on each end so the strap would tie through onto one side and close the top of the bag. I remember a pattern of this bag, but none would really be necessary. It's the wooden dowels that are needed. Any thoughts on the dowels or even the old pattern of this bag? Thanks!
Miss Fairchild

Advanced
USA
Member since 8/24/02
Posts: 7810
Login to reply to this post



Date: 3/22/12 10:07 AM

I so know what you're talking about!!! My favorite handbag of all time!!! Lost while riding on a motorcycle. It was leather, with a zippered compartment in the middle, and had leather straps, with wooden dowels. Just a few years ago, I managed to find a similar bag at my Goodwill. But here's the thing about the dowels: They are flat on one side, almost like cove molding. It's the flat side that goes toward the inside of the purse, to close it.

The pattern I don't have, but it's pretty easy to make. You make a regular rectangular handbag, with a gusset, and add a casing at the top, on both top edges (two casings) , about 2-3" shorter than the top edge, to allow for the hole of the dowel. Use one strap, so you can use this also as a crossbody bag.

I've looked on the Internet and can't find handles. I don't know why they stopped making these; the concept is excellent--pull on the straps, and the bag closes. Pull on one strap and you have a shoulder bag. Easy peasy.

Wish I could help more.
EDITED TO ADD: Here's a photo of the bag with a casing, to help you (of course, the handles aren't what you're looking for) The casing should come within two inches of the left and right edges of the bag; this photo shows it farther away.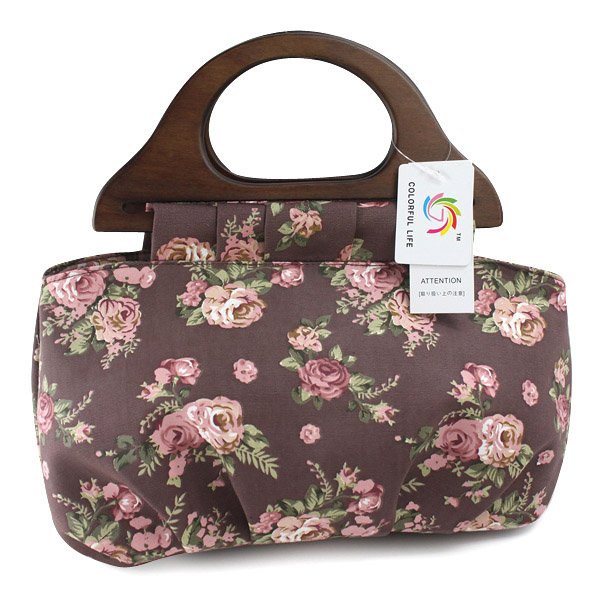 -- Edited on 3/22/12 10:11 AM --
------
"Play the cards you are dealt, but choose who is sitting at the table"..AARP magazine
Avatar: broken wrist in hard cast with a Wonder Woman cuff
I am woman, hear me sew!!
My blog: http://auntmaymesattic.wordpress.com/
My Etsy shop: http://www.etsy.com/shop/AuntMaymesAttic
MagsRags


Advanced
NH USA
Member since 1/14/06
Posts: 5
Login to reply to this post

Date: 3/22/12 1:01 PM

Miss Fairchild,
Thanks for your reply! I'm interested in this bag because a local business Kiel James Patrick that makes preppy style bracelets and headbands from fabric is now going to market this same style. You can check out a picture on the blog called Classy Girls Wear Pearls. Go to the post earlier this week called Mashantucket. With all the patterns and bag styles out there, you'd think this one would turn up more frequently.
Mag
justgail


Intermediate
IA USA
Member since 1/19/06
Posts: 645
Login to reply to this post

Date: 3/22/12 1:25 PM

Would it work to drill holes in dowels far enough apart to simply wrap fabric around the dowels? The strip of fabric would go through the holes and keep the dowels and bag from sliding apart?

Maybe there is a local woodworker that could make some, if you can't find exactly what you are looking for.
Andys Mom

Expert/Couture
CO USA
Member since 6/22/08
Posts: 8
Login to reply to this post

Date: 4/9/12 11:20 AM

I have recently bought a purse made like this. A local shoe store sells them and said they were made by an elderly lady in Utah. I made myself a couple of these handles and they were a snap. I bought some 1" X 1/2" trim wood, which is really <3/8", at the lumber yard and cut down to 14" for my bag. Near each end we drilled holes about 1/2" in and 1" long and 3/8" diameter which was wide enough for my straps. After drilling or boring, I ran sandpaper over all the edges and spray painted the wood black. I had to spray it a few times to get the glossy finish I was looking for. If you didn't have the tools to do the drilling yourself, take a sketch with dimensions over to a lumber yard that sells hardwoods and trim stock. They either can do it up quick or point you in the direction. Also ask anyone you know if they have a know a trim carpenter. My trim guy said he could whip out these in minutes. Even our local Ace Hardware can recommend someone. We have a machine shop in our residence and my husband has also machined these for me out of acrylic he bought on the internet. It was a beautiful smoky gray color. If you got a design you liked, maybe have whoever make up a bunch for you and you could sell them on Etsy! I hope this helps.

------
Sometimes it is just too hot and you want to sew.
jadamo00

Advanced
NY USA
Member since 3/13/06
Posts: 1264
Login to reply to this post



Date: 4/9/12 12:51 PM

Andys Mom: could you post a picture? For the life of me, I can't picture these handles!



-- Edited on 4/9/12 12:52 PM --